realme entered the Philippine market two years ago on November 29, 2018. Back then, they focused on bringing their A-game to a product line they know best: smartphones. For a time, they sold accessories such as powerbanks and headsets, which later expanded to include wearables such as the realme Watch. Today, realme ventures into new territory by adding AIoT devices into the local product line, starting with the realme M1 Sonic Electric Toothbrush.
So when realme first told us about it, I couldn't help but wonder: Out of all the products in the world, what made realme decide to go with a toothbrush? Why couldn't they lead with common household items like the smart bulb or the smart plug?
I mean, it's not even on the official realme India website yet, but guess what's there? The realme Selfie Tripod and the realme Adventurer Backpack.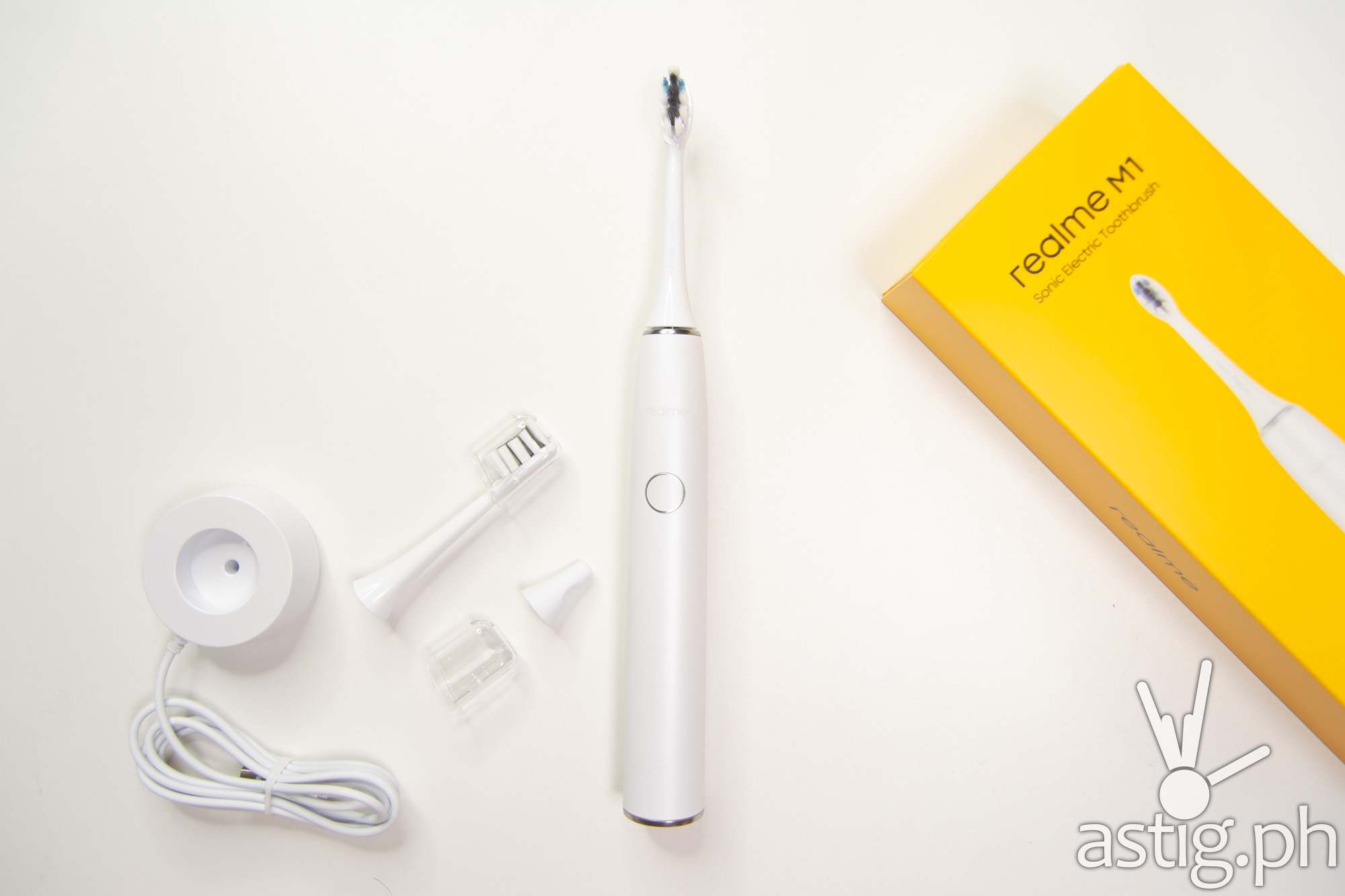 The answer soon came to us as we were reviewing this product. Spoiler alert: it's the best toothbrush we've ever used. Read on for our Super Duper Mega Over To The Max Review the realme M1 Sonic Electric Toothbrush.
Unboxing the realme M1 Sonic Electric Toothbrush
We were pleased to find that the realme M1 Sonic Electric Toothbrush comes packed in the usual manner that we've become accustomed to in realme's smartphones: the bright yellow box and welcome cover is something that we're so used to, we half expected a note that says "Welcome to the realme family."
It's not there, fam, so allow us to say: "welcome to the realme family."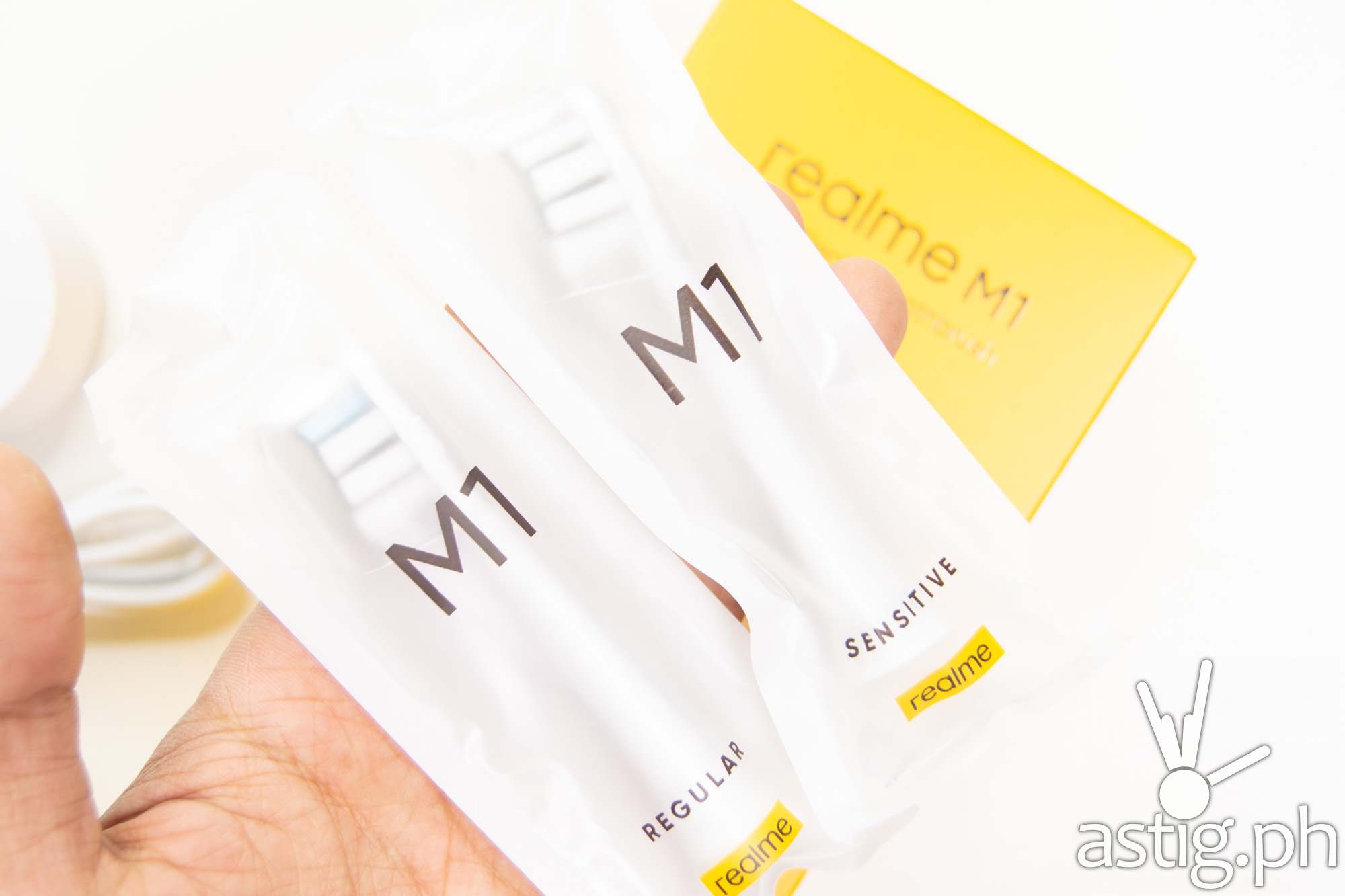 You get two brush heads with protective covers: a regular one and a softer brush head for sensitive teeth, a wireless charging dock, and a user manual which we aren't going to read, as usual.
Build quality, design: pearly white, just like your teeth
The brush handle is clean-looking and ergonomic. It has curves in all the right places so there are no hard edges, and the matte plastic finish is comfortable to hold, even for long periods of time. It's not slippery, and although the weight distribution makes it roll a little to the side, it will stop at one point so you wouldn't worry about it falling off the sink. The feel resembles the back of the realme 6i, and there's a pearl-like shimmer that reminds me of automotive plastic wraps, if you know what I mean.
We have the White-colored unit which to us, kinda looks like pearly white teeth. It's beautiful.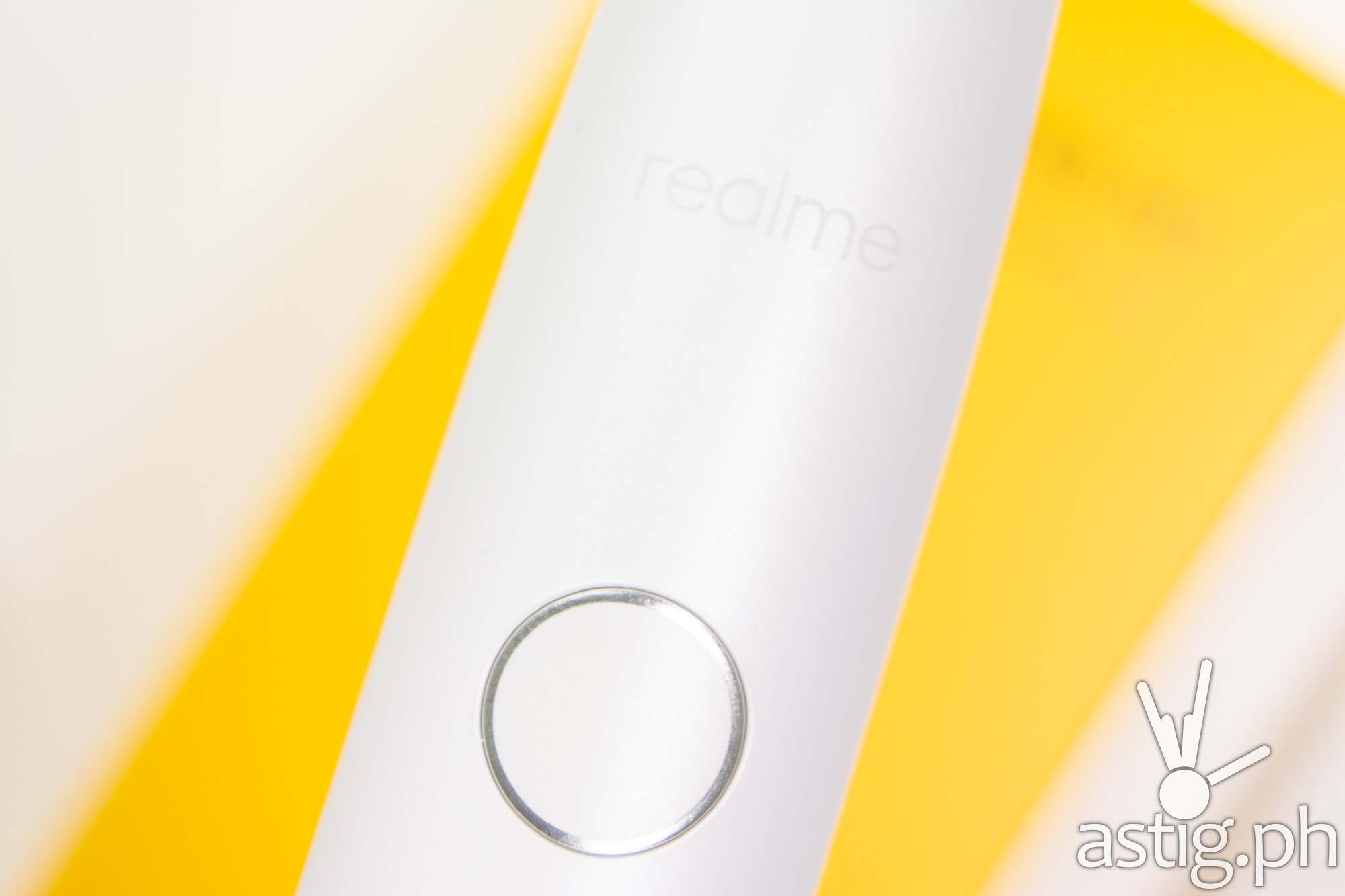 There's a single physical button, as well as LED displays for the battery level and current operating mode: Soft, Clean, White, and Polish.
Battery life: Just fire and forget, baby.
The device has a built-in 8000 mAh battery that charges wirelessly via an induction which comes supplied along with the package. It also functions as a stand / dock when not in use, which is great. According to realme, one charge is enough for 90 days (3 months) worth of use which means you only have to charge it four times and you're good for the entire year.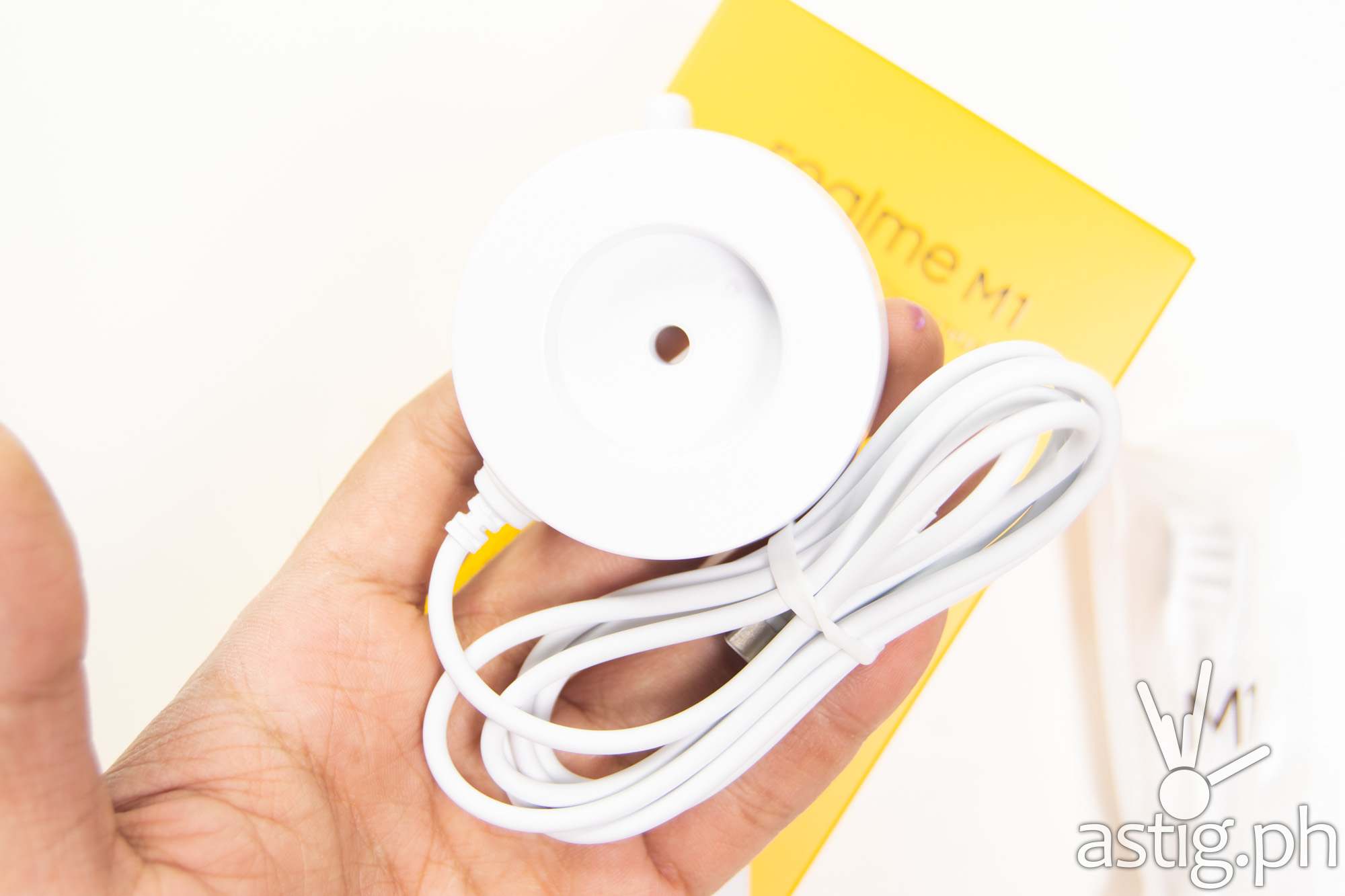 As long as you dock it when not in use, you probably won't even consciously think about charging the device but if you're interested, it takes 4.5 hours to charge it in full. realme also claims that a single five-minute charge is enough for two days of use. Again, I highly doubt this will happen but hey – nice to know.
While we're on the topic of interesting facts, the battery is rated to last 6 hours when operating in soft mode.
Soft mode: 360 minutes
Cleaning mode: 215 minutes
Whitening mode: 165 minutes
Polishing mode: 220 minutes
Is the realme M1 Sonic Electric Toothbrush waterproof?
There doesn't appear to be an easy way to remove the battery, so you'll have to send it in for servicing once it starts failing.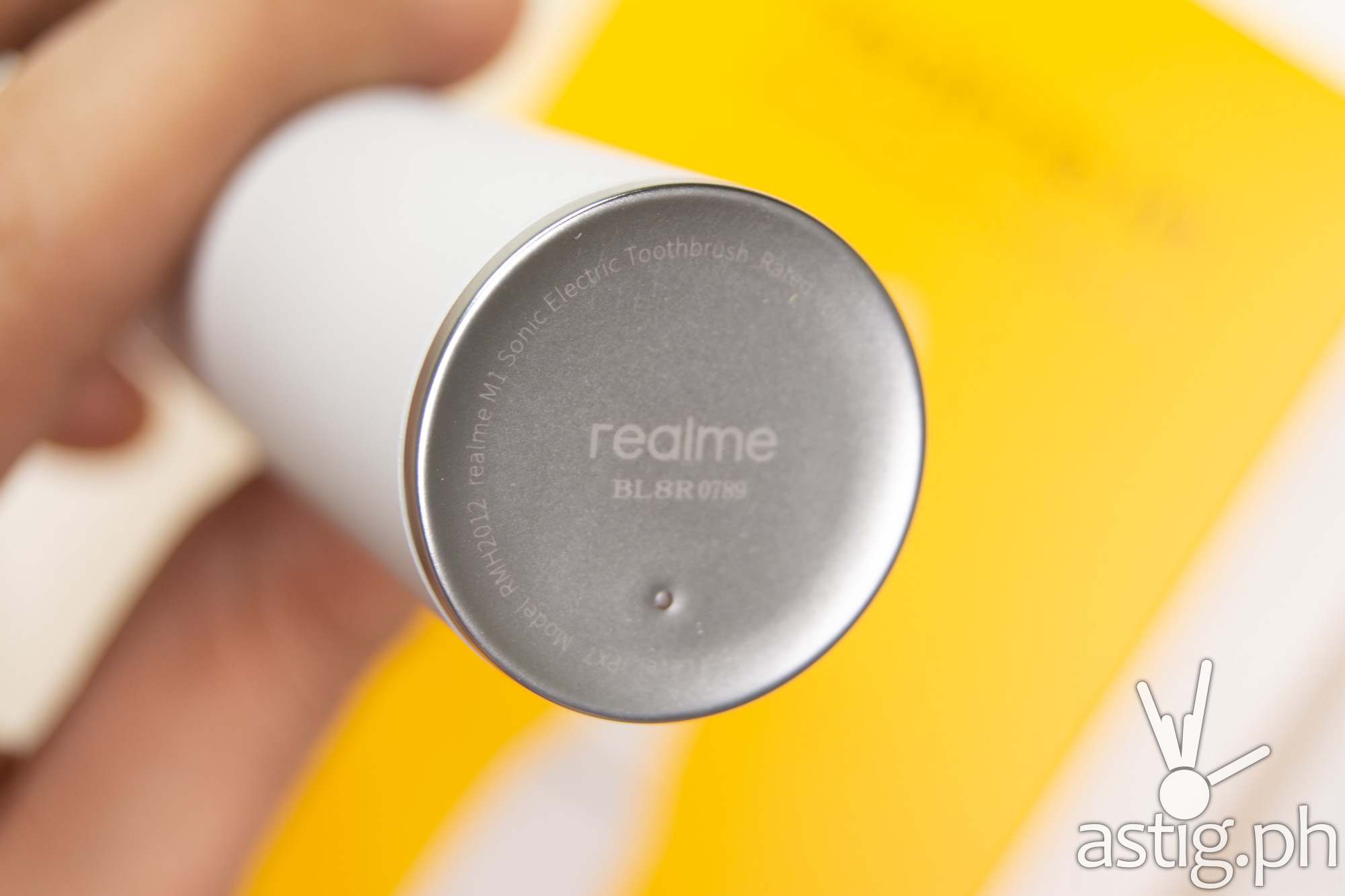 Its construction may have something to do with it: the realme M1 Sonic Electric Toothbrush is rated IPX7, which means it can be submerged by in water up to 1 meter deep for up to 30 minutes.
So go ahead and brush your teeth while taking a shower. We know you want to.
Performance: A sonic motor so intense, you could feel the vibrations (feel it, feel it)
If you were like me, you might wonder where the "Sonic" part in the product name comes from.
Apparently, the high frequency sonic motor of the M1 can vibrate up to 34,000 times per minute, creating 60dB of noise. That's faster than a hedgehog, and more powerful than a vibrat-uhmm hair clipper.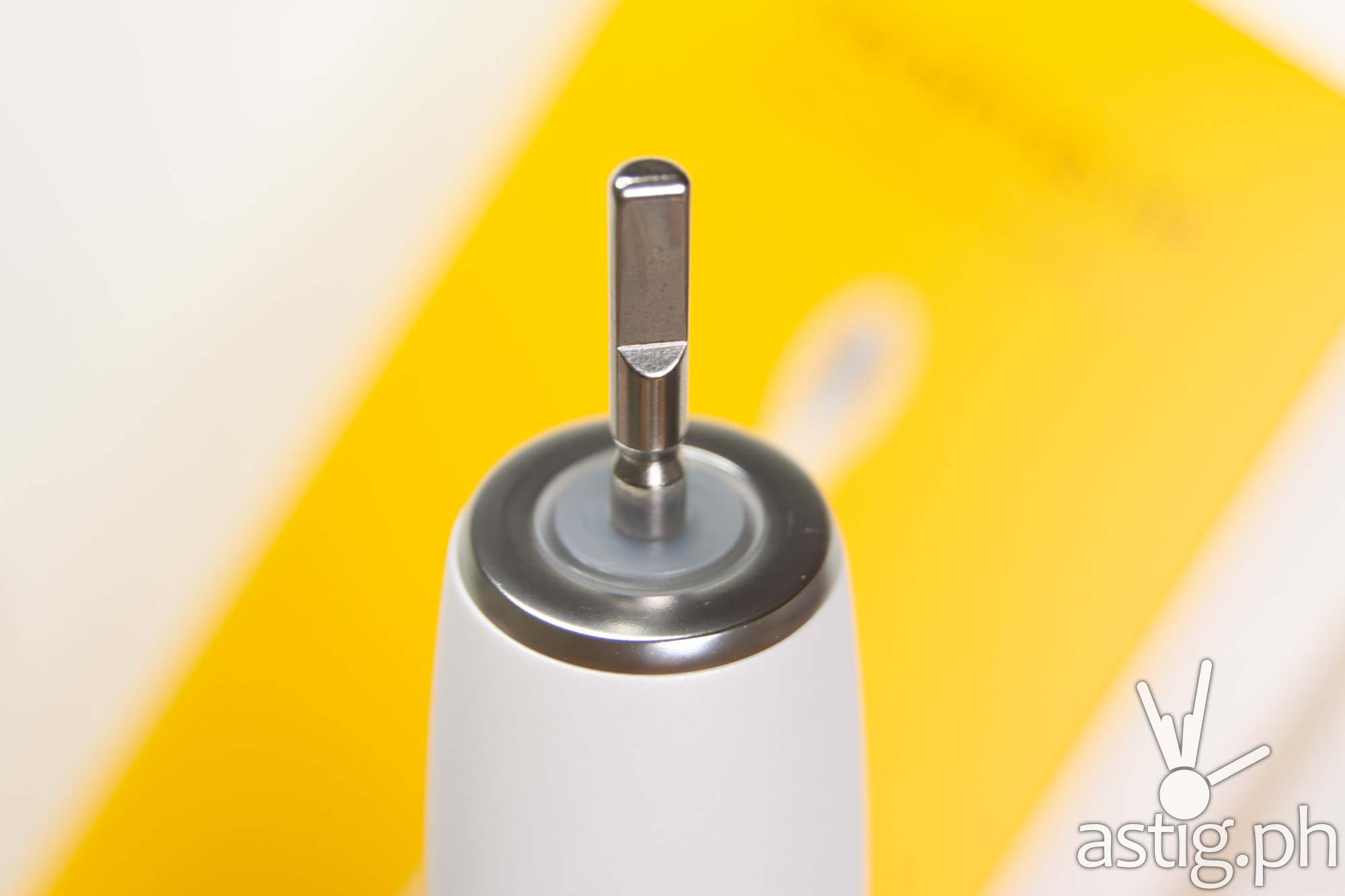 So with a motor this strong, it must feel like drilling a jackhammer on your mouth, right?
What about kids or sensitive teeth?
Real talk: I have sensitive teeth and gums which are prone to bleeding, so I was really worried about the M1 being too strong for me.
For years I used several electric toothbrush, including ones with rotating heads from Braun.
I'm not sure how they did it it, and as a non-medical person, I would describe the brushing experience on the M1 as something akin to getting an oral prophylaxes from a dentist.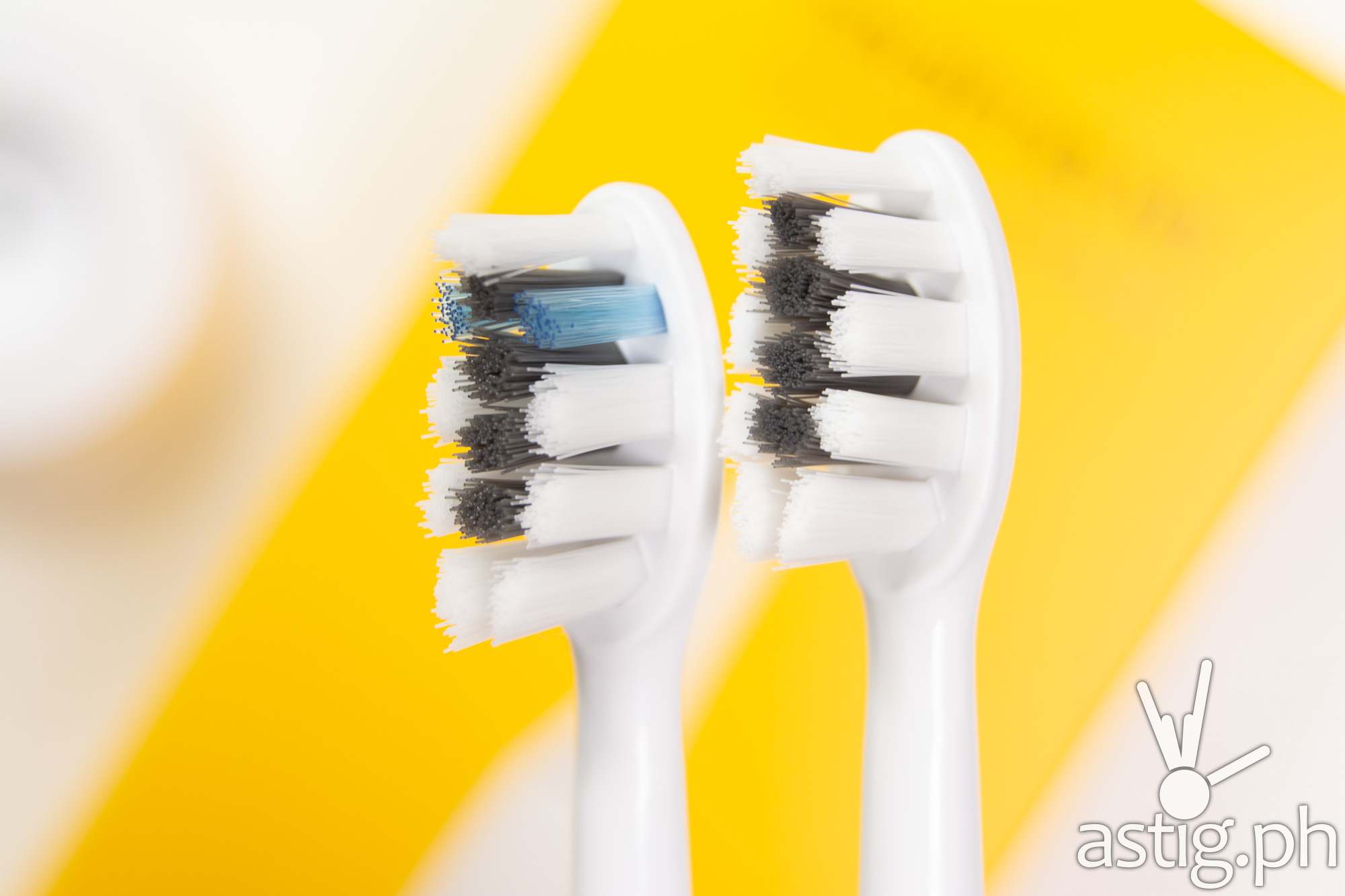 According to realme, it swings by up to 10 degrees to penetrate deeper into the mouth.
It can be ticklish at the beginning, and I'm really happy with the result. It always feels like my teeth are super clean after using it, which is unlike the experience with other brands.
There's a small gap between the brush head and the handle which initially triggered my OCD. I was worried the head might eventually become too loose, and why couldn't it sit flush against the handle? It wasn't until I started using it that I realized that the gap is by design, separating the handle from the vibrating head.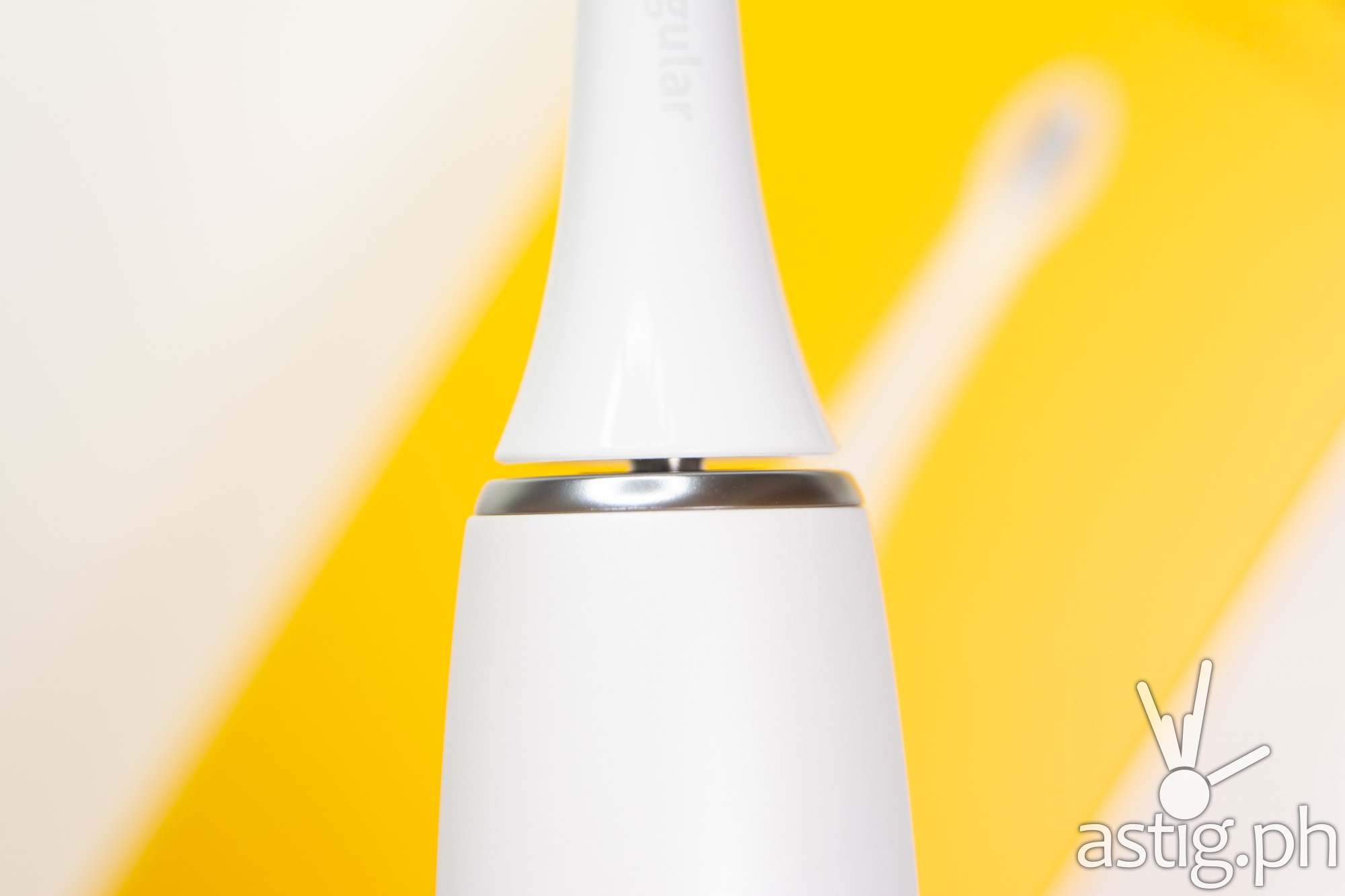 The brush heads are made with Dupont-branded bristles, which has 99.99% antibacterial properties. Blue-colored bristles are designed to fade in color when it's time to replace the brush head.
Speaking of which, the metal-free brush head itself is only 3.5mm thin. There aren't any brush heads specially designed for kids, but it's small enough for use on young adults who are old enough to use an electric toothbrush.
There are four cleaning modes: Soft, Clean, White, and Polish. I personally use Clean mode because I feel that it gives the best cleaning experience, but Soft mode is also quite strong.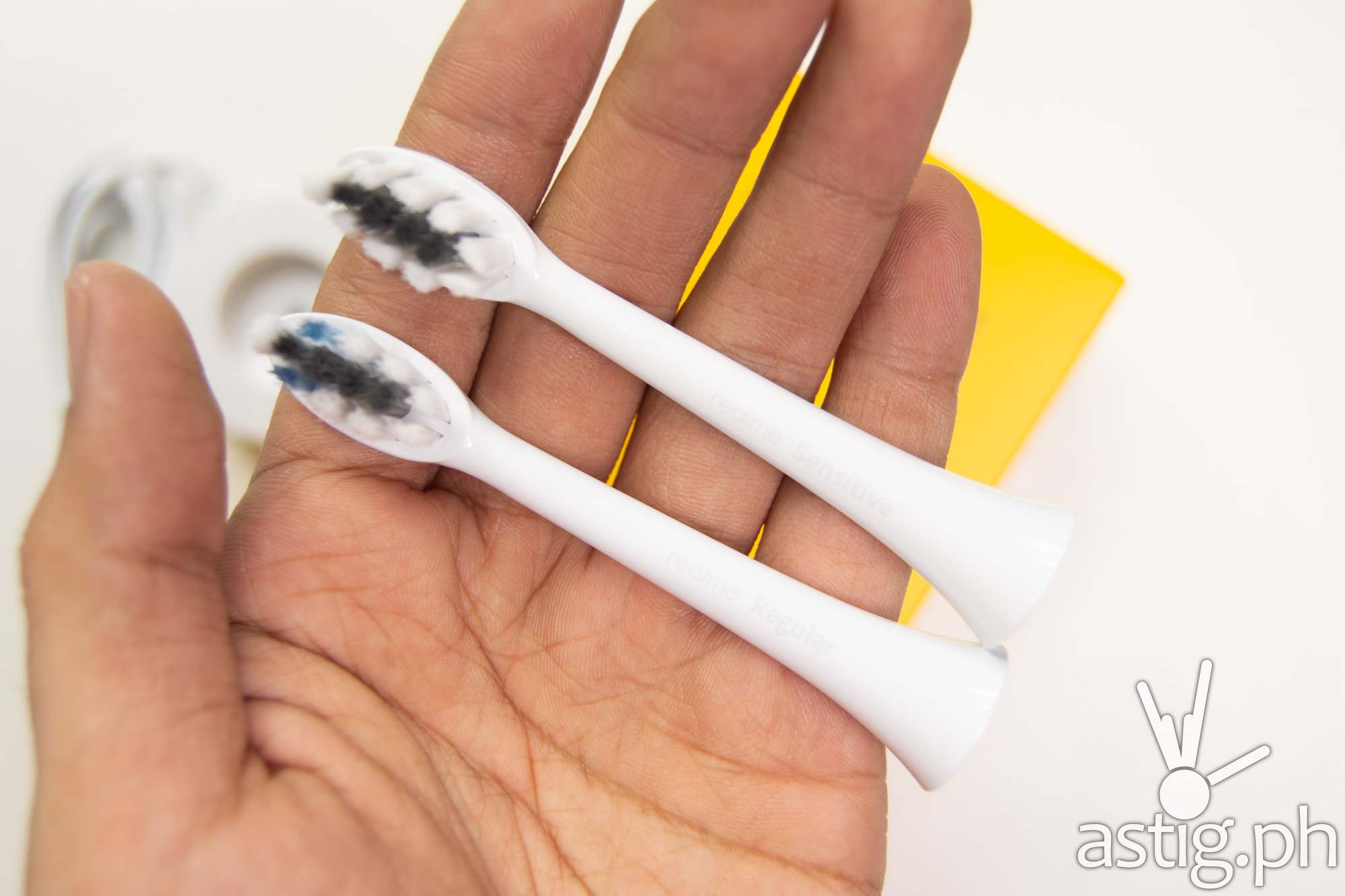 Regardless of the operating mode, the vibration is strong enough to send the toothpaste flying, so you will have to put it in your mouth before turning it on. Personally, I like to put the toothpaste on the brush and manually go around my teeth once to coat them before turning it on.
When running, it vibrates for about 2 minutes before automatically stopping. Here's a quick run-down of the four operating modes:
Soft: Ensures effective cleaning and improves care for users with sensitive gums
Clean: Suitable for routine oral cleanliness as brushing with high frequency vibrations generates fluid flow in the mouth, the foam becomes finer while dental plaque and other impurities can be cleared more quickly
White: Clean using high frequency vibrations for deep cleaning and whitening that protects the enamel at the same time
Polish: Different frequencies are used to alternate the vibrations so that the bristles' movements can cover each tooth from various angles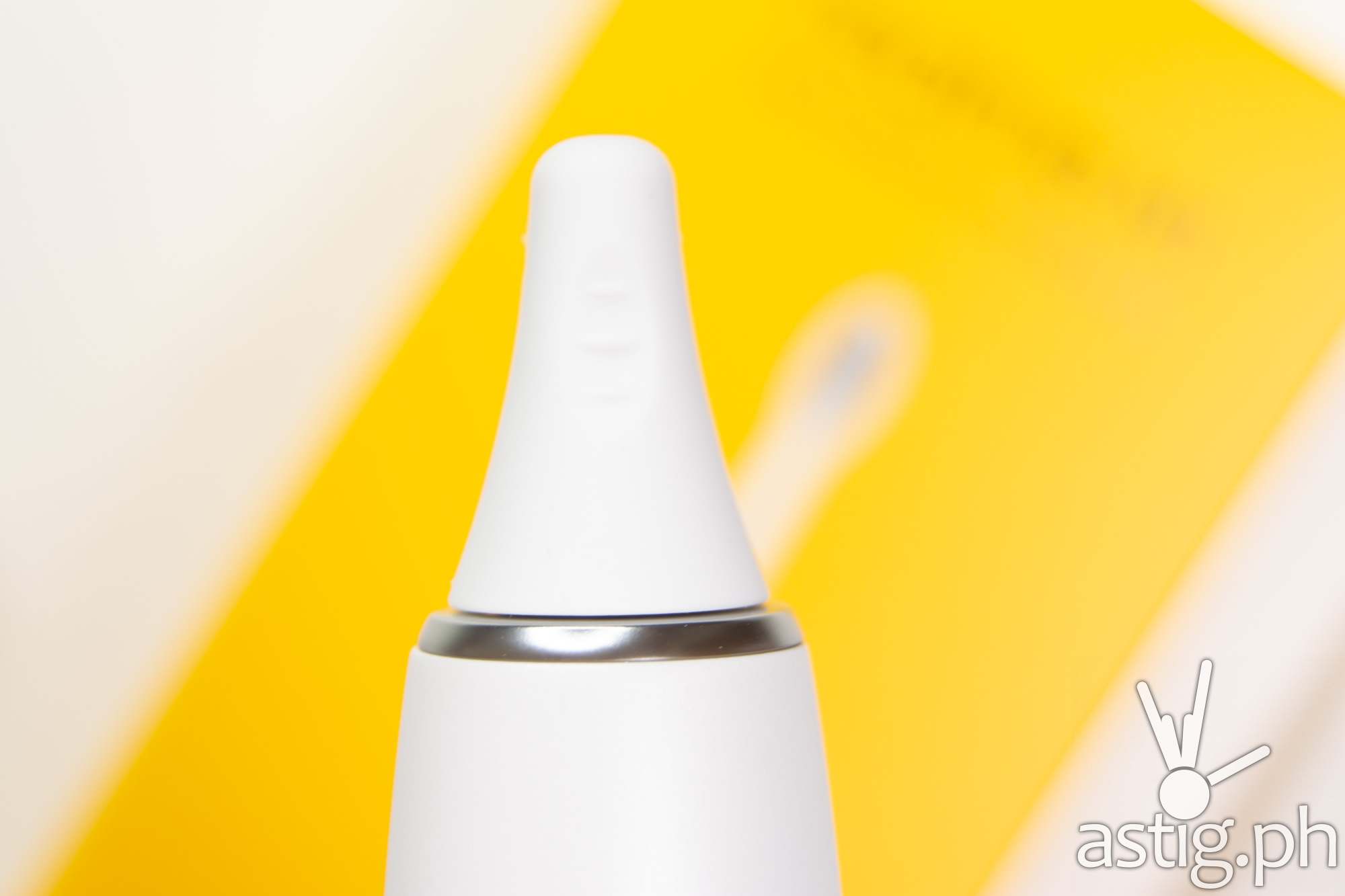 Does it have any AIoT features?
Currently, the realme M1 Sonic Electric Toothbrush does not come with any connectivity options like Bluetooth, NFC, or Wi-Fi. It also doesn't come with any features that can be considered AI (artificial intelligence) or ML (machine learning) driven.
There's only so much that the humble toothbrush can do, but hopefully a future release could integrate with a smartphone or a smartwatch and provide health metrics and recommendations based on your usage patterns. Maybe someone could even invent a sensor to measure the amount of bacteria, plaque, and tartar in your mouth.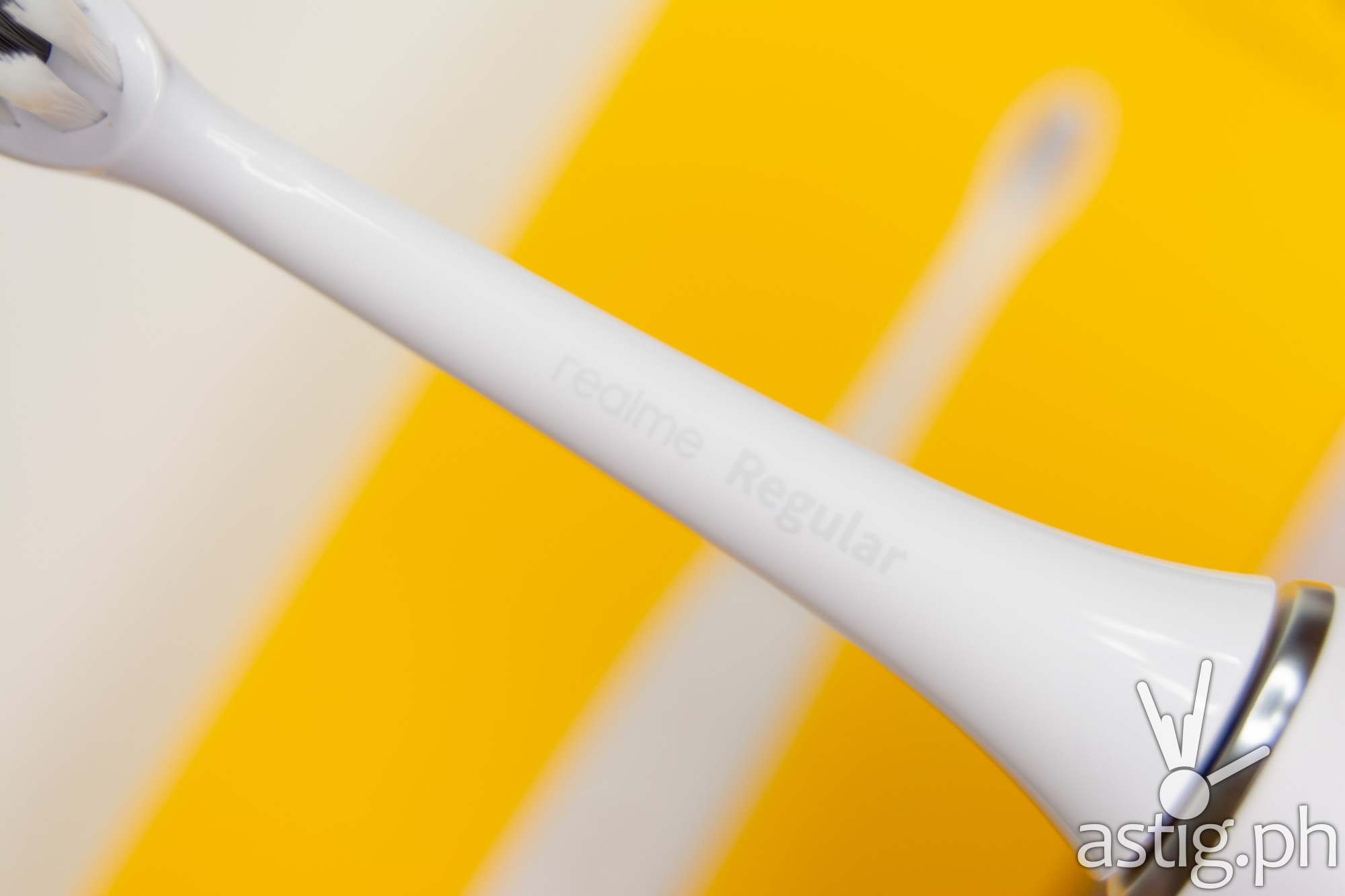 Seriously though, an alert to remind you when it's time to brush would be cool.
Verdict, price (Philippines)
realme M1 Sonic Electronic Toothbrush will make its Philippine debut with an SRP of Php 1,990. That price places the M1 at the upper end of the electric toothbrush market, but still considerably cheaper compared to "professional" units from Philips and Oral-B.
This places it within prosumer territory, where it's more affordable than the Xiaomi SOOCAS X3 Sonic Electric Toothbrush, a similar product which comes with Bluetooth connectivity.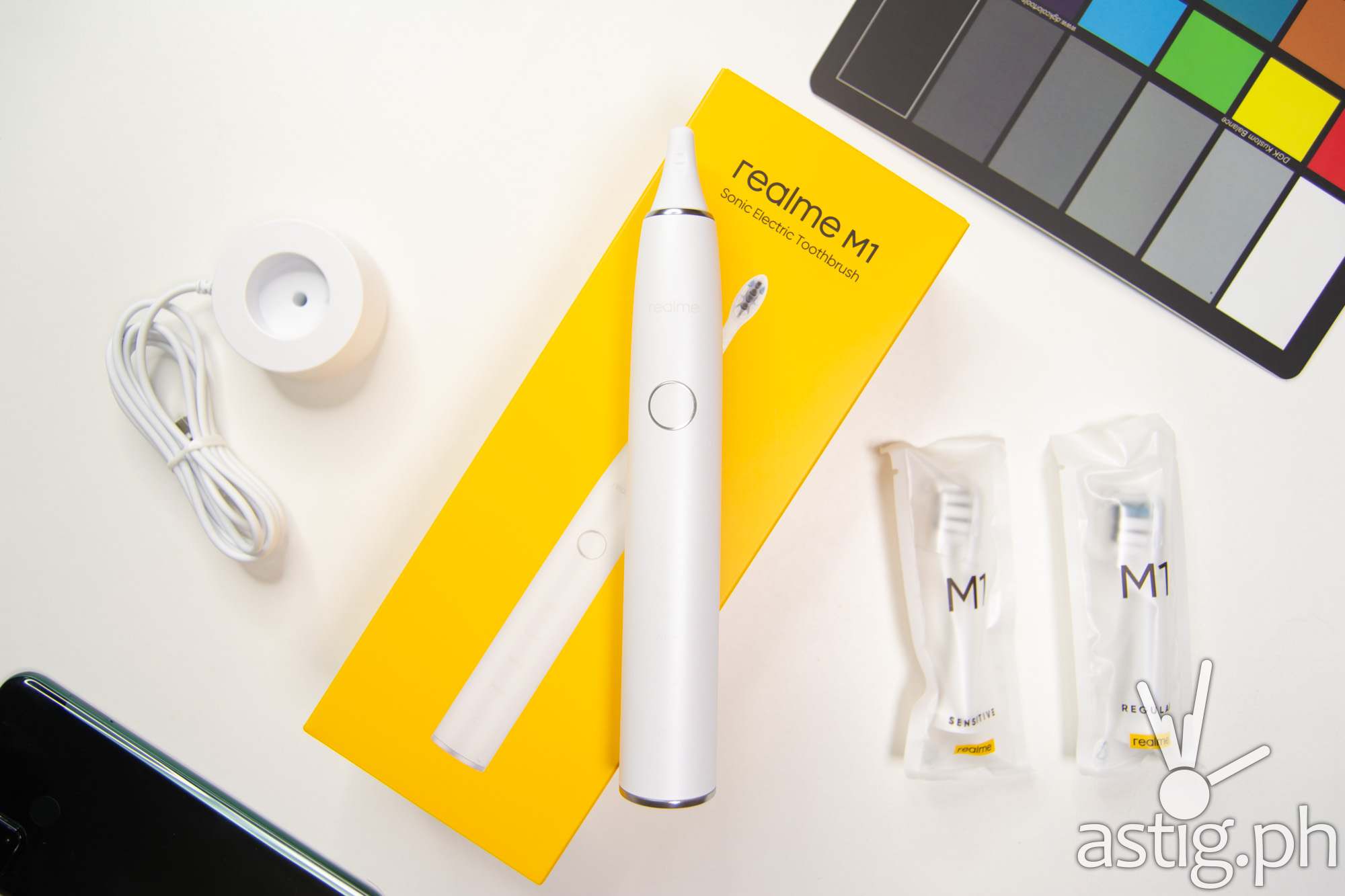 Can you buy replacement brush heads for the M1? realme Philippines has yet to confirm this, but we're confident they will.
Assuming the handle lasts at least five years, considering the quality of the results, the realme M1 Sonic Electric Toothbrush is a worthy investment for your personal hygiene and health.
The realme M1 Sonic Electronic Toothbrush will be available online via Shopee and Lazada starting November 11 at an introductory price of Php 1,590.
Purchases worth Php 5,000 and above made via Lazada wallet will get an additional discount of Php 400.