Pinoy rocker fans from all over came and trooped at the Circuit Makati recently to celebrate the annual gathering of various rock bands of indie, pop rock, mainstream hard rock and fast rising artists for what was touted as the biggest celebration of OPM music…the Rakrakan Way!
Some bands came all the way from north to south just to dish out their original compositions.
Rakrakan Festival 2019 had Peace, Love and Music as this year's theme featuring the best of the best and the loudest when it comes to Pinoy Rock.
On Day 1 (March 1, 2019)
The following artists performed on the INDIE STAGE: MILES EXPERIENCE, BETTER DAYS, BRWN, LIONS & ACROBATS, INTERTWINED, ANG BANDANG SHIRLEY, BRISOM, LOLA AMOUR, SHE'S ONLY SIXTEEN, BITA & THE BOTFLIES, OVER OCTOBER, BENNYBUNNYBAND, SANDIWA, NOT INFORMED, SLEEP ALLEY, MAY,  ABSOLUTE PLAY, RED LIGHT GO, THE LATE ISABEL, and THE VOWELS, THEY ORBIT!
On CENTER STAGE we had JUAN KARLOS, SPONGECOLA, HALE, GLOC 9, SHANTI DOPE, JUST HUSH, BECAUSE, STICK FIGGAS, QUEST, GEO ONG, AGSUNTA, FREESTYLE, SIDE A, BARBIE ALMALBIS, MIGZ HALECO, DOTTY CHAN, RIOT, MOJOFLY, FERN and ISABELLE DE LEON.
According to the feedback of the band's we met during this festival, this year's venue was a lot better than the previous because it was less dusty and it provided a more conjusive atmosphere to enjoy non-stop rock music until the wee hours of 3AM!
The MOVE STAGE featured MAYONNAISE, THIS BAND, MOONSTAR88, GRACENOTE, QUESO, TYPECAST, 6CYCLEMIND, IMAGO, ROUGE, KJWAN, TANYA MARKOVA, JOIN THE CLUB, WOOPIS, DRIVE ME TO JULIET, CHNDTR, MADELINE, MARYZARK, SUD, and RED HORSE MUZIKLABAN CHAMPION.
Day 2 (March 2, 2019) SOLD OUT DAY!
MOSH STAGE saw the performances of SLAPSHOCK,  ULTRA COMBO, URBANDUB, BASTI ARTADI, COLN, CHICOSCI, WILABALIW, HILERA, LION & THE SCOUTS, , GINILING FESTIVAL, EVEN, SAYDIE, PHILIA, VALLEY OF CHROME, FASPITCH, 123 PIKIT, REBORN, DICTA LICENSE, and RED HORSE MUZIKLABAN CHAMPION!
The PEACE STAGE was dominated by DECEMBER AVENUE, I BELONG TO THE ZOO, AUTOTELIC, MUNIMUNI, CHOCOLATE FACTORY, BROWNMAN REVIVAL, THE CHONGKEYS, BANDA NI KLEGGY, PEDICAB, ROCKSTEDDY, REGGAE MISTRESS, COLLIE HERB, ENGKANTO, ULTRA COMBO, FRANCO, URBANDUB, KADANGYAN, WRITTEN BY THE STARS, SAGIP ADIK FOUNDATION, SLOWDOUGH, JEJAVIEW, and SALVATION ARMY! 
SLAM STAGE had all out performances from WUDS, PHILIPPINE VIOLATORS, CATFIGHT, SUNFLOWER PROJECT, SUBCULTURE, BAD BURN, MANILA UNDER FIRE, SHOTGUN COMBO, ATTHISMO, HAPPY THREE FRIENDS, MORPHINE KINGS, MR. BONES & THE BONEYARD CIRCUS, ARCADIA, EMBERCORE, VIE, JURASSIC PARDS, SWITCH, SKYCHURCH, THE REPUBLICATS, and RUNBYNINE.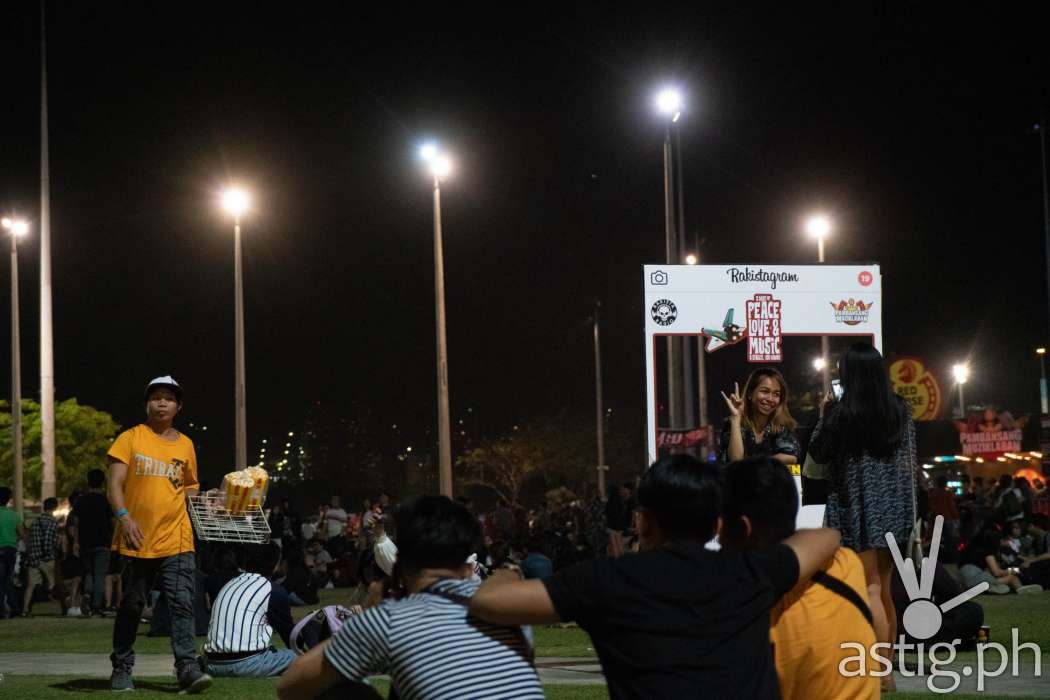 Not only did we see and witness throngs of adult and teenaged barkada's and tropa's cheering for their local bands, but we also saw families and parents who brought in their very young children who got exposed to these kind of music at an early age. It was surprising and I hoped the message of some of the songs were explained properly.
JK Labajo's performance set was one of the most cheered at and attended and controversial portion of the recently concluded Rakrakan Festival 2019 held for two days. We saw how Juan Karlos progressed from being just a mere teen singer a few years back to now big time and with a monster hit and mastering his fave guitars and chords.
As expected, the crowd went crazy wild when he sang "Buwan".
Many thanks to the founders and organizers and people behind Rakrakan Festival 2019. We thoroughly appreciate the All ACCESS provided to us as one of the media partners. Rarely we experience being so close mingling and talking to our rock idols casually having photos taken with them. These are the artists we have idolized for so many years and seeing them all come together with friends from other bands and groups is a such a cool rock and roll experience!
Special shout out to Banda ni Kleggy for  always being wacky and warm, to Daniel and tropa of Better Days band, you'll go places indeed and to one of the youngest female performers who made her Rakrakan debut, singer-actress Isabelle de Leon, who together with her band which includes her father, dominated the stage and performed like she's been to Rakrakan before. You were amazing, girl!
Congrats RAKRAKAN FESTIVAL 2019! See you all again in 2020!!!