The ASUS ROG Strix Scar II GL 704 was officially launched last January of 2019. It is one of the first to have the latest NVDIA RTX video cards, and it gives clarity and sharpness to the images and graphics and superb performance on video and animation. Lucky for me to test this big boy to see what's in store for this gaming laptop.
Initial impressions
It's not everyday that I get to review a gaming laptop this big and bulky, for The ROG Strix Scar II comes with the 17.3 inch display and weighs at 2.9 kg. It doesn't fit to standard laptop bags but the feel resembles its 15-inch laptop counterpart, the GL504 because of its ultra-slim bezels.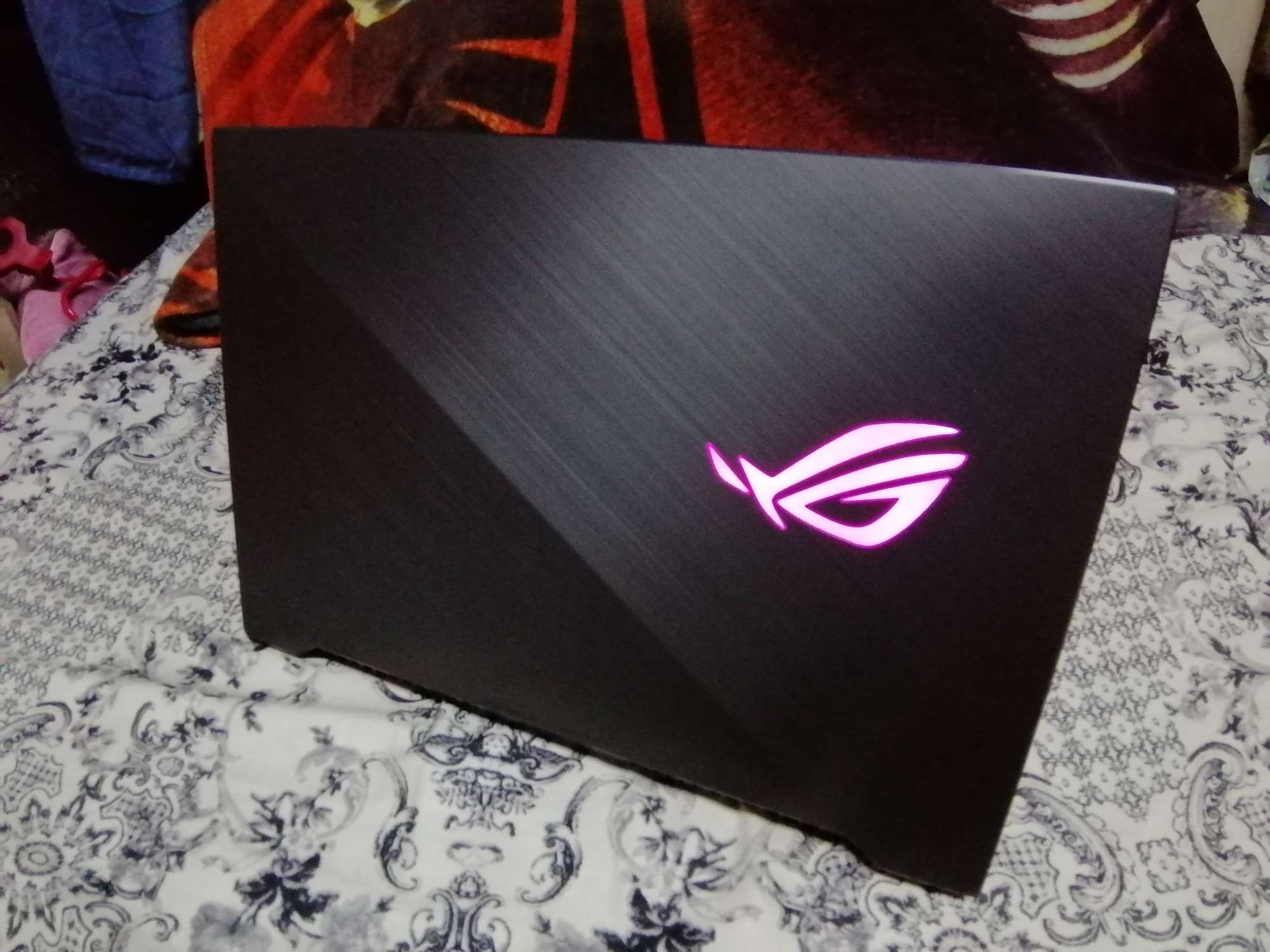 But despite its bulky exterior, I like its sturdy look and feel. The top chassis is built with brushed aluminium with the ROG logo that lights up with RGB colors when then machine is on.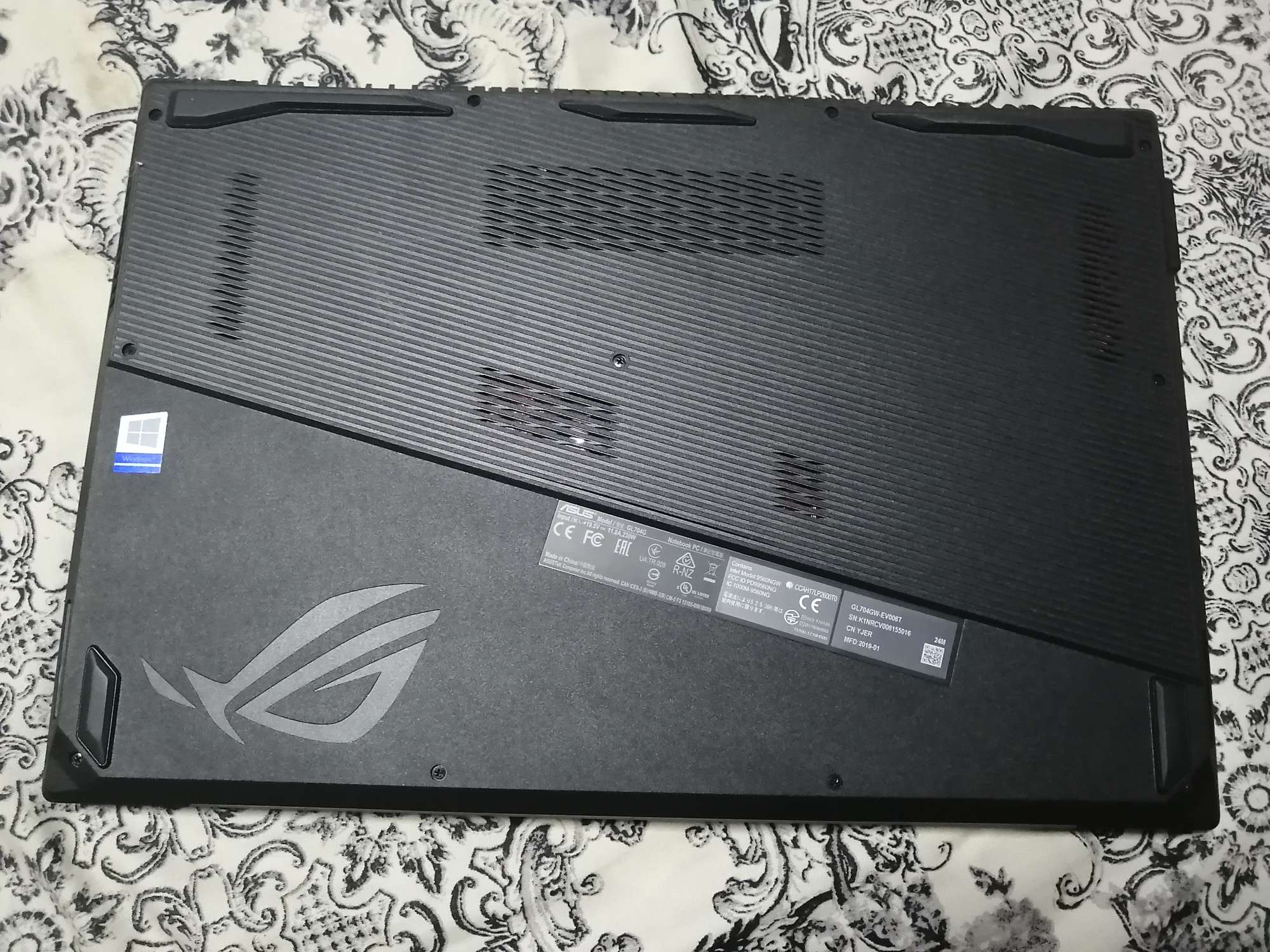 Strategically-designed vents are seen on the laptop's underbelly that helps a lot in cooling the device. no problems for me placing the Strix Scar II on my lap for hours (despite its weight) and complain on its underbelly heat, thanks to its HyperCool Pro Technology that provides a stable cooling system that helps to boost performance.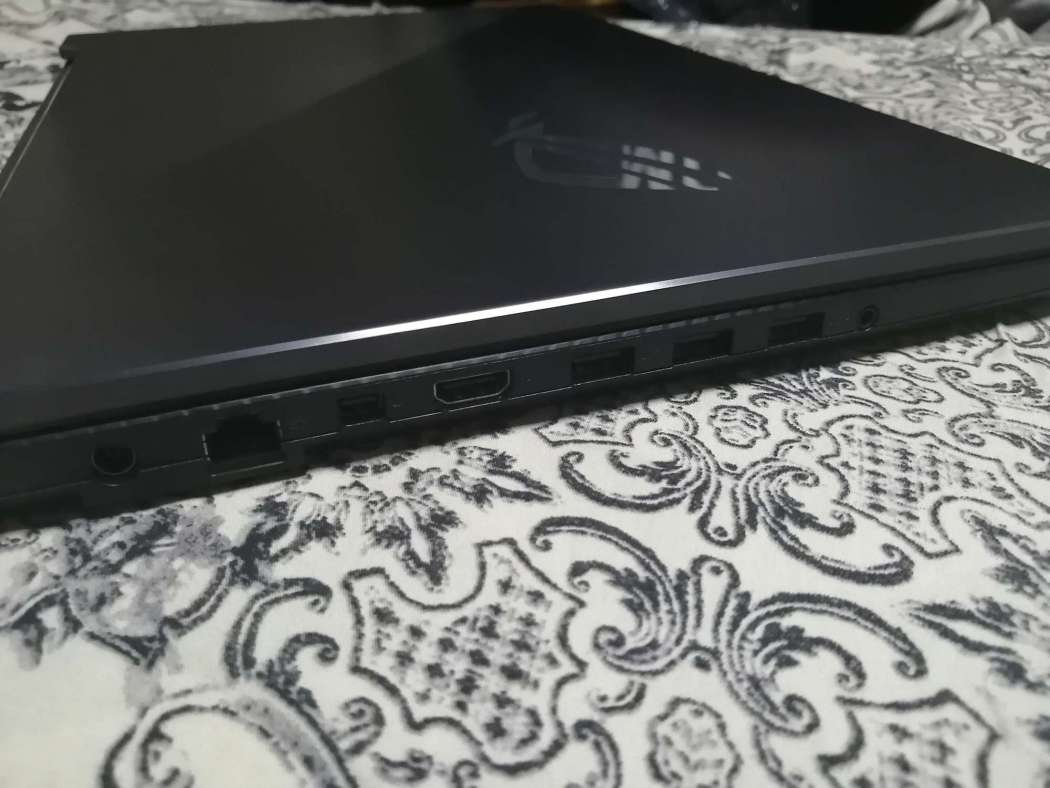 Ports are also packed on both sides. On the left you can see the power port, ethernet, mini-display port, HDMI, 3 USB-A ports and 3.5mm audio port.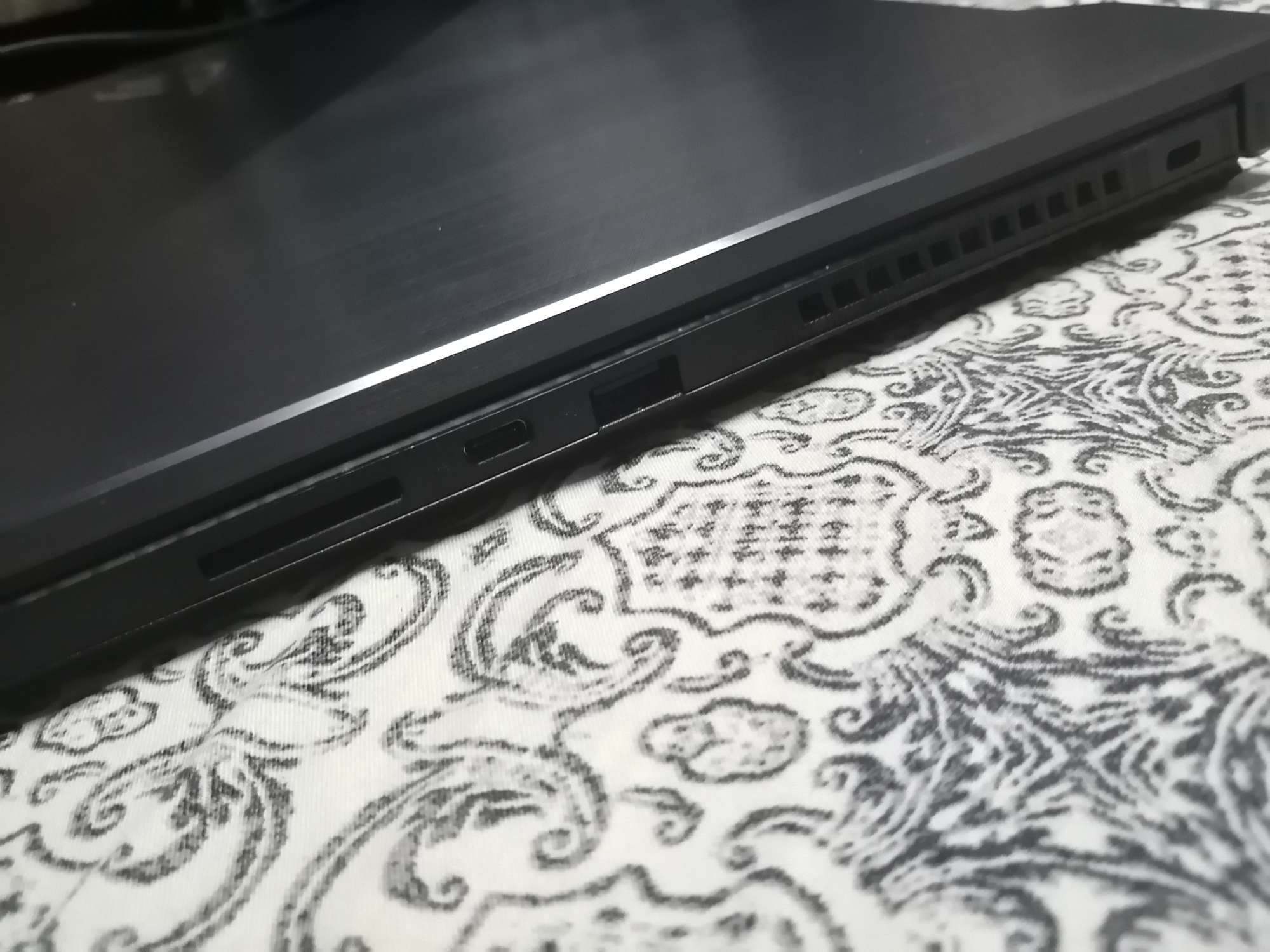 On the right side you can also see the SD card slot, USB-C port, USB-A port and Kensington lock.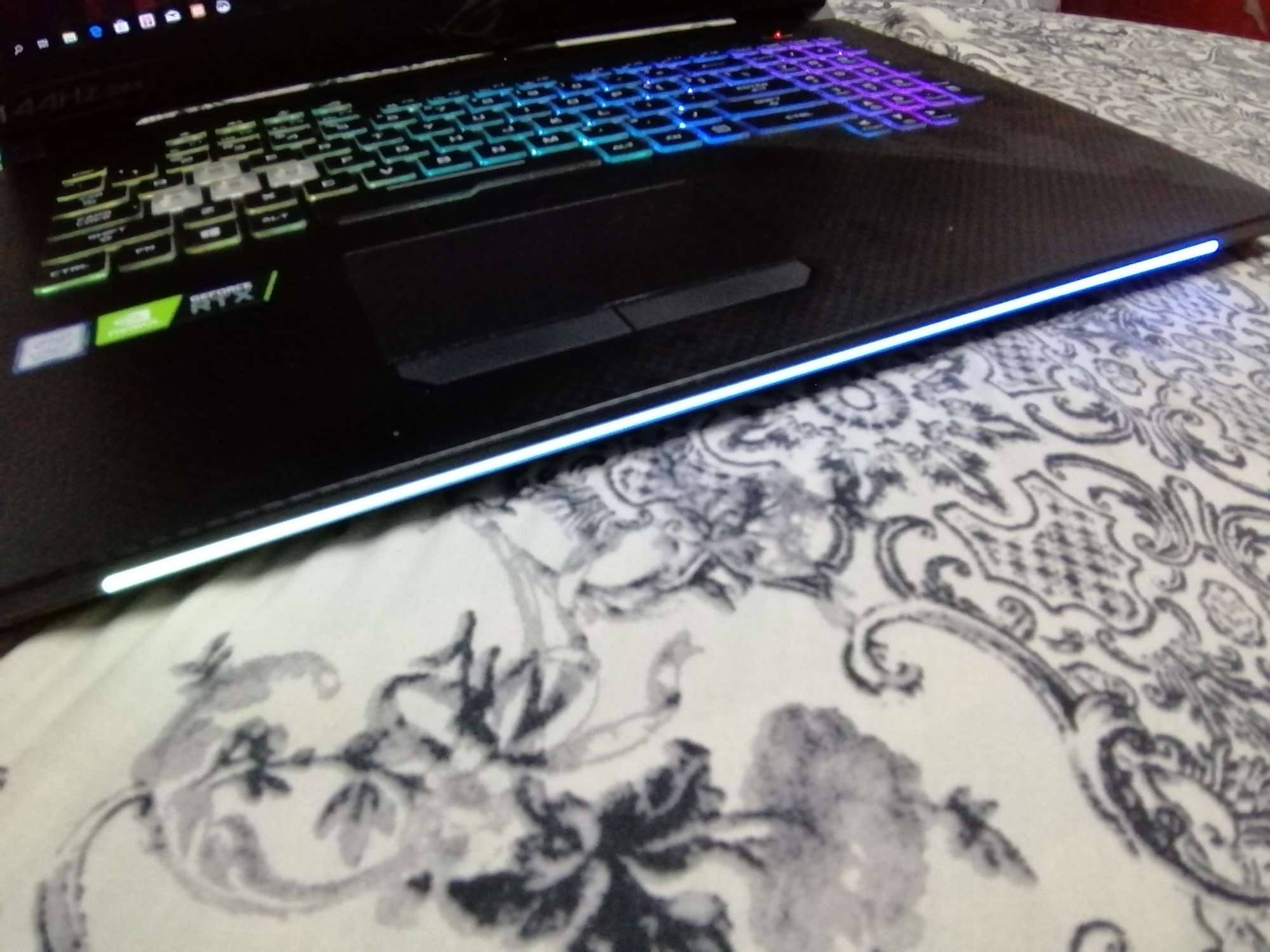 A light bar with interchanging RGB lights can also be seen at the front.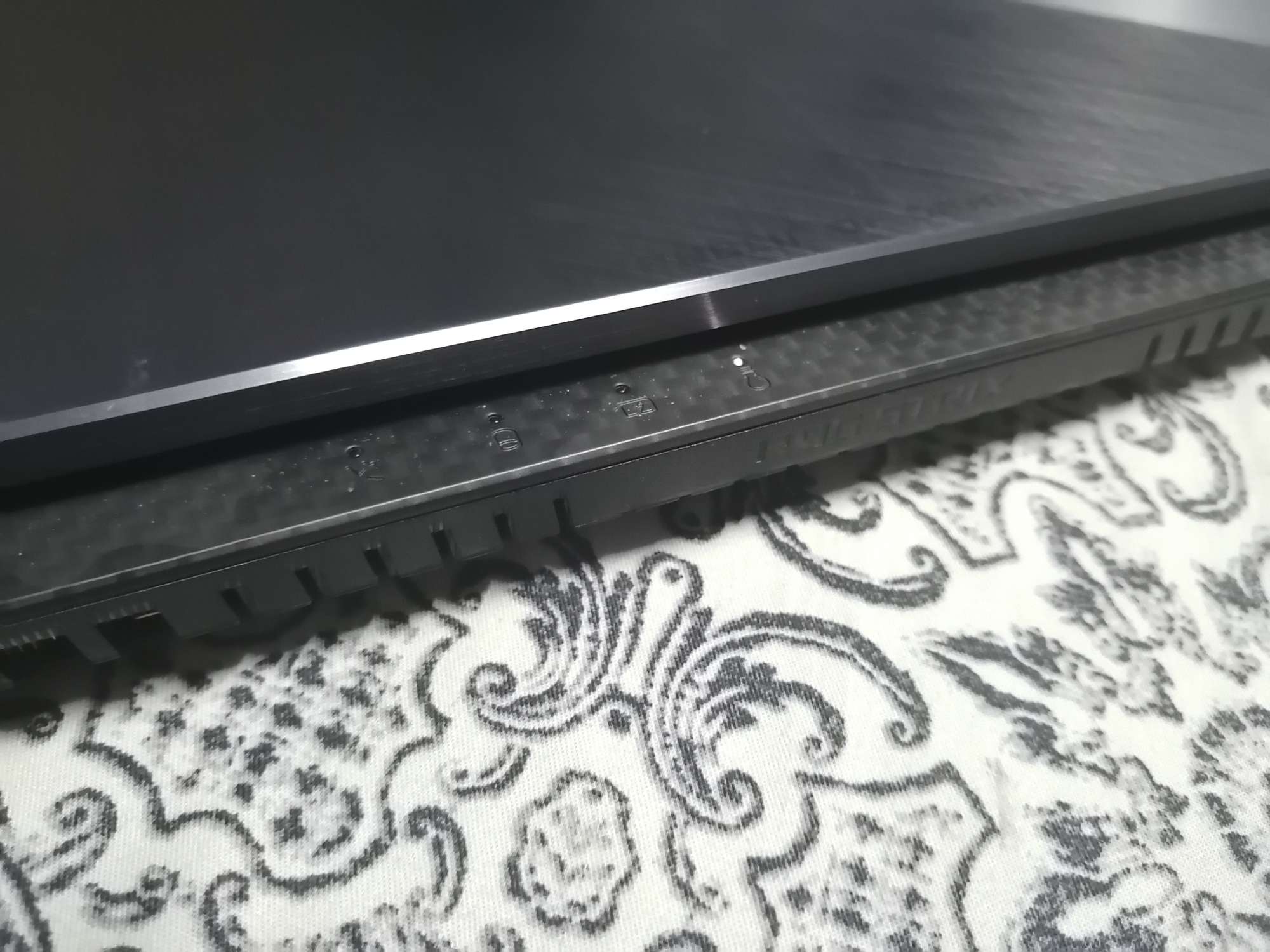 At the back there's a provision for exhaust, and a light indicator for the power and battery.
There's also a built-in surround-sound speakers that is clear and sharp, which is ok for me.
Keyboard experience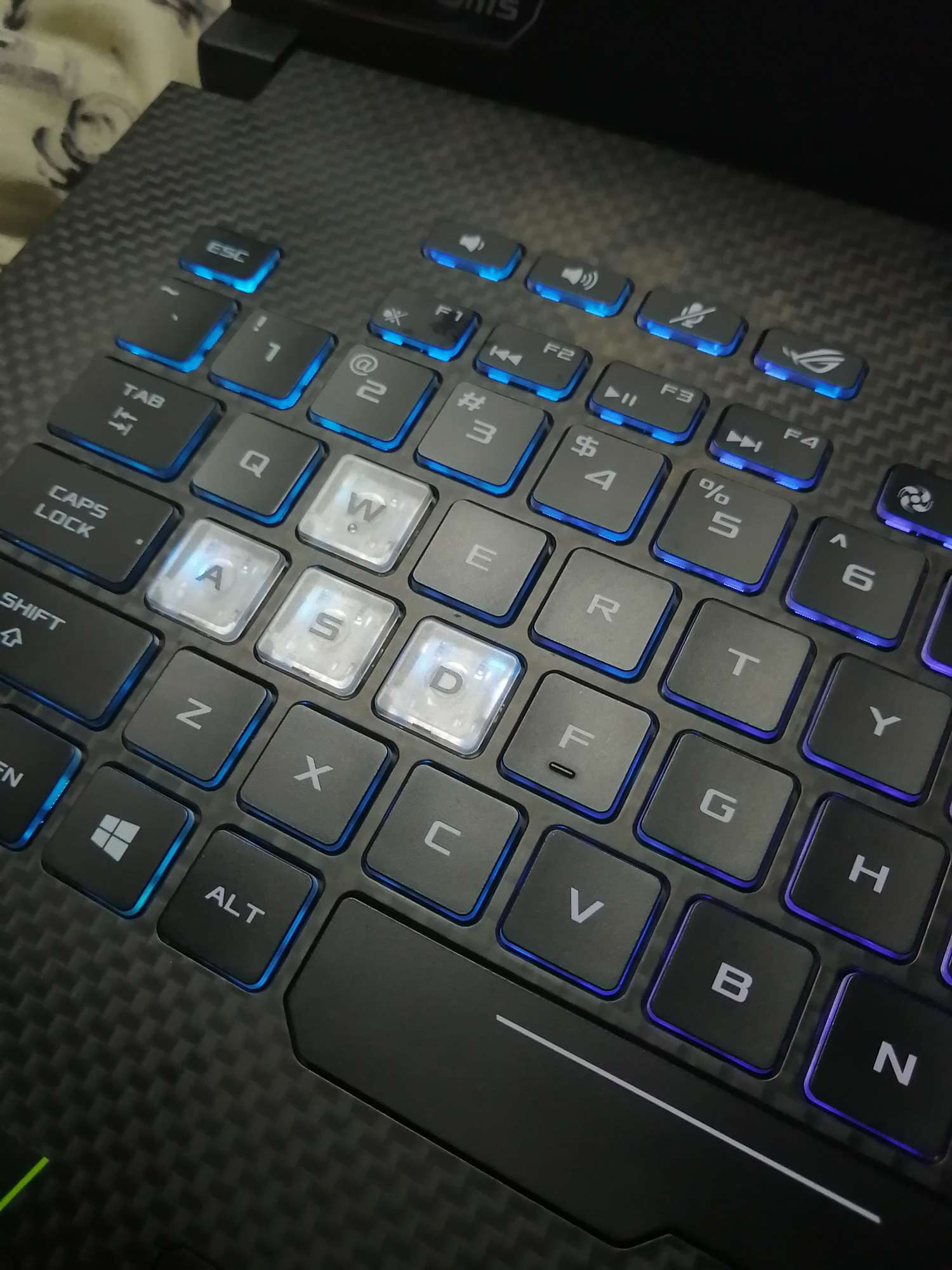 Its chicklet keyboard, known as the Hyperstrike Pro keyboard, has a cameo design and highlights the hotkeys that are used for games. Number keys are also present. Its RGB back-lit lights are interchangeable and can be customized through the pre-installed Armoury crate.
The Armoury crate can be accessed directly and its button is can be seen with the microphone and volume buttons on the upper left side of the keyboard.
Customize the experience through the Armoury Crate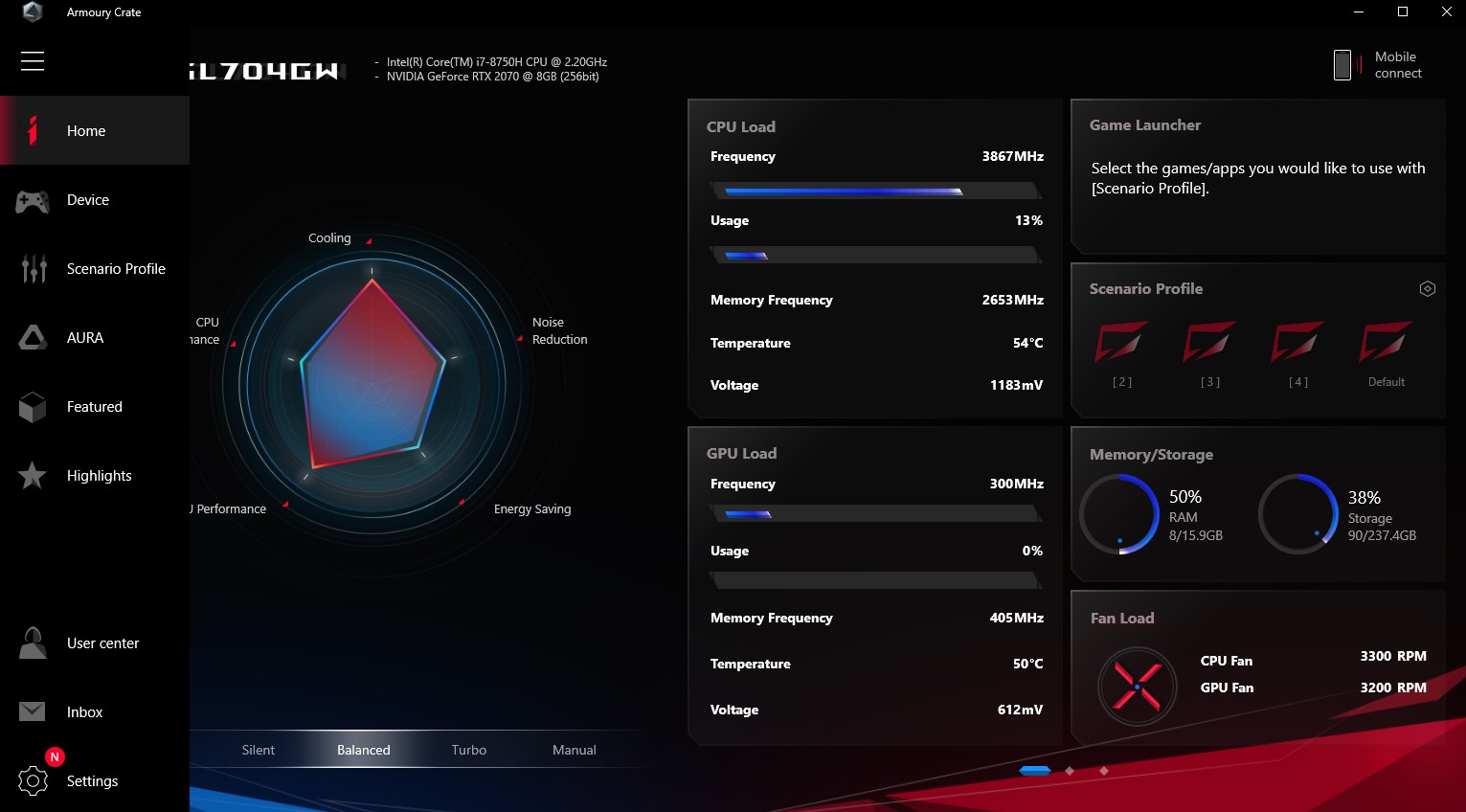 The ASUS ROG Strix Scar II comes with the pre-installed Armoury Crate, Asus' software suite that is designed to act as a central hub in monitoring the gaming laptop's performance. Its straightforward approach makes its settings easy to configure according to your prefered performance.
The Armoury Crate also has an Aura Sync feature that lets the user manage the lighting effects of the laptop.
Display and multimedia clarity and performance
The laptop's 17-inch IPS-level display is great for everyone who is into multimedia and games, for it has an Ultra Narrow Bezel packed with the latest NVDIA GeForce RTX 20170 for a much-improved, larger-than-life gaming and streaming experience.
I personally like the anti-glare coating as it keeps away the reflections from the screen. Also it produces saturated colors when creating and editing videos, photos and other graphic designs.
Performance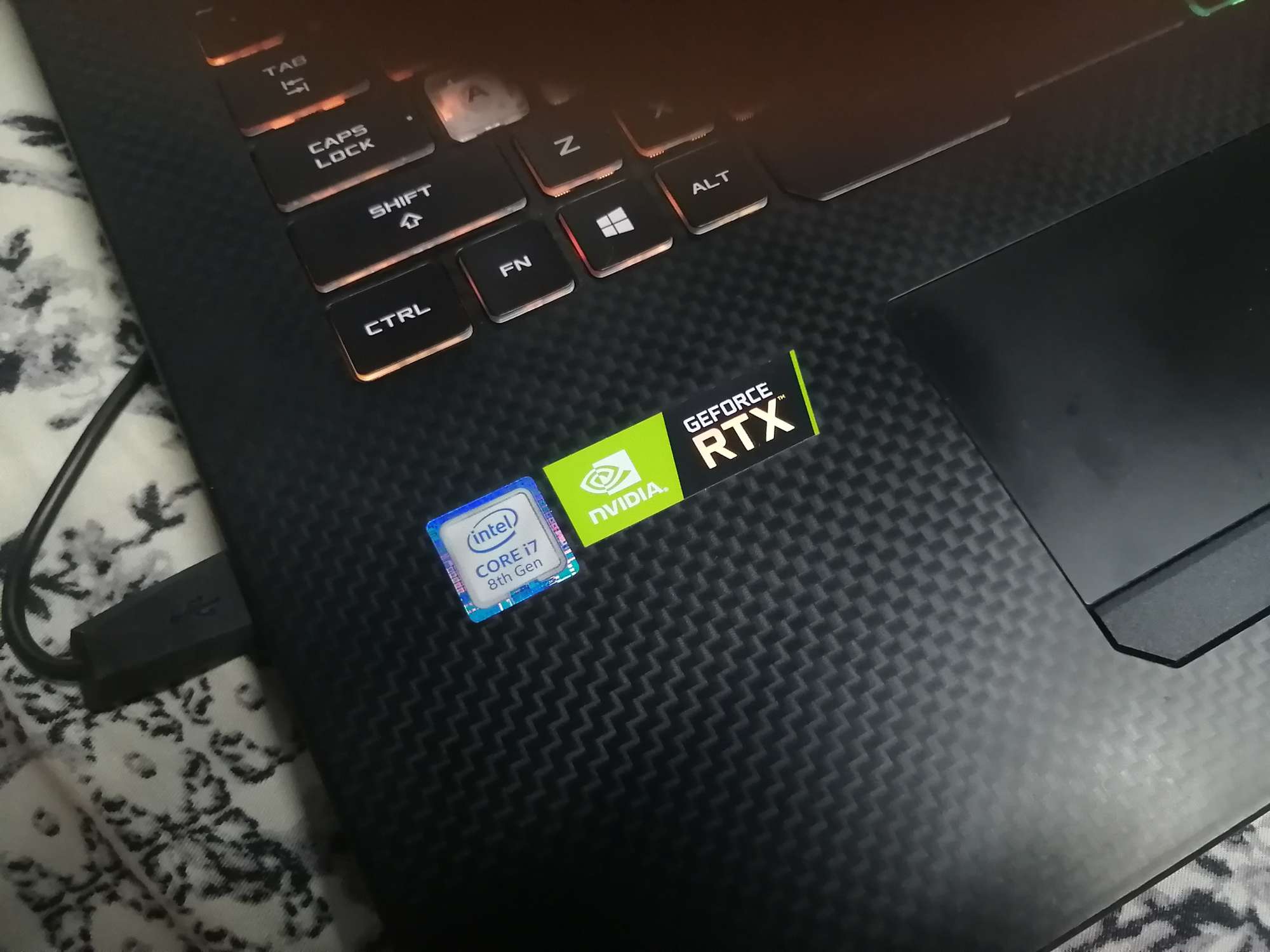 The Strix Scar II is powered by the latest 8th Generation Intel® Core™ i7-8750H six-core CPU that provides extreme performance, especially when using simultaneous applications (graphics, multimedia, games, streaming). it is also fitted with an ultra-responsive M.2 NVMe PCIe® 3.0 SSD and an Ultra Efficient SSHD for secondary storage for games and media files.
Current Benchmark Scores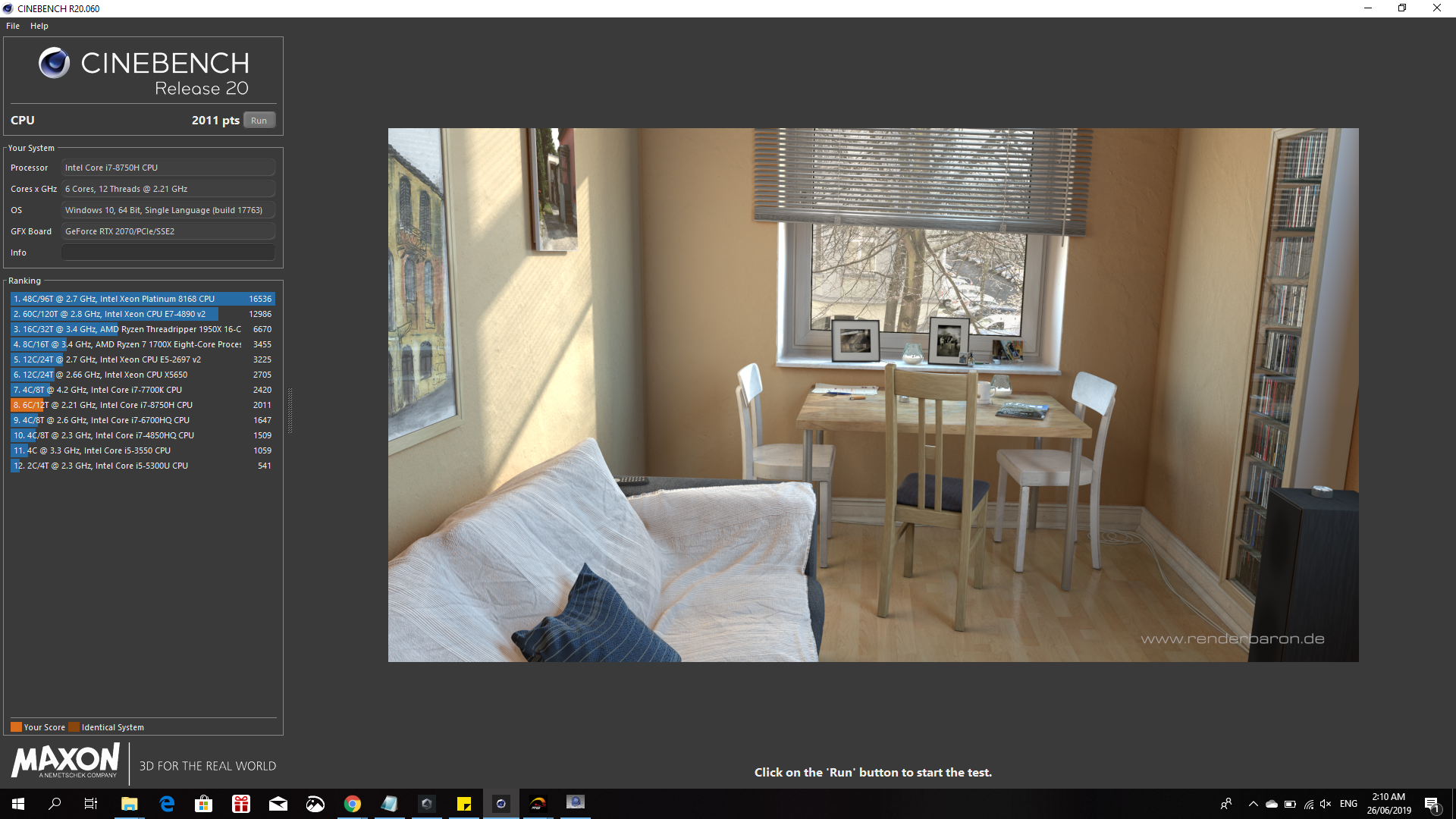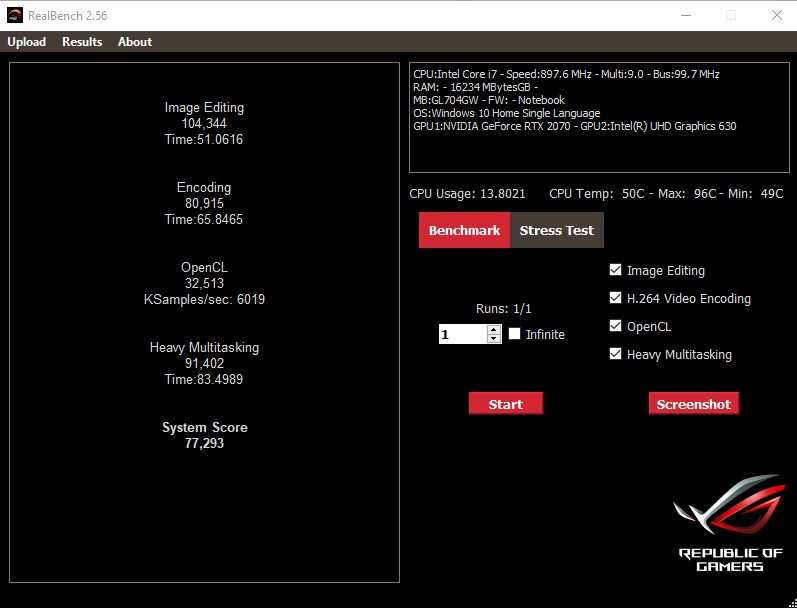 Battery life
When not plugged, the Strix Scar II lasts for 5 hrs and that includes hours of streaming and using multimedia applications.
Verdict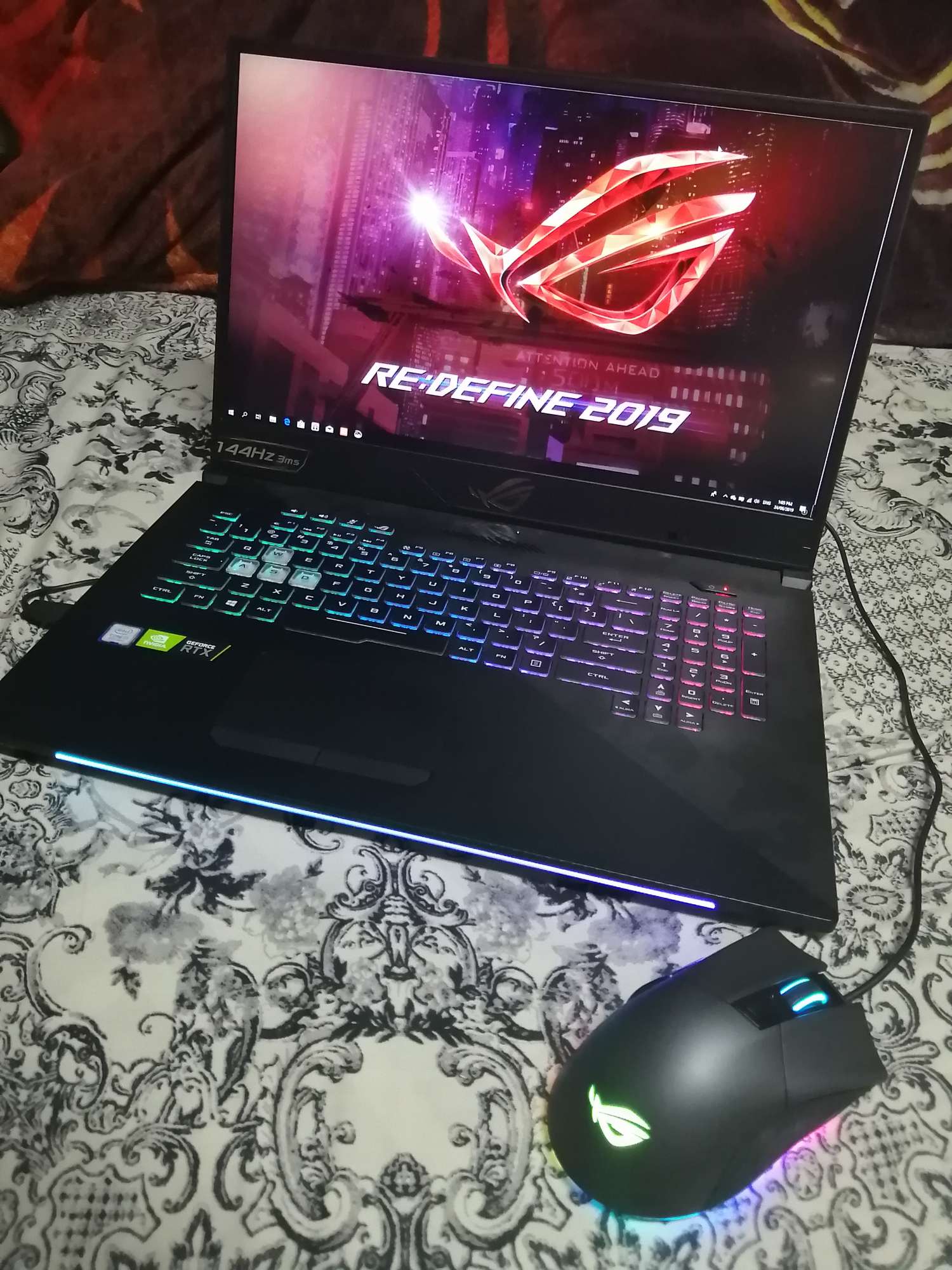 It is given that the ASUS ROG Strix Scar II is a powerful gaming laptop with amazing features. Those who are into aesthetics will definitely love its RGB lighting and for gamers, the 144hz refresh rate display with 3ms response time is a sure hit.
For Php 149,995, the price is on the high range but given the specs and its features but it'll be a sure hit for gamers and those who are into multimedia creation. This may not fit for those who are looking for mobility but those who are looking for a laptop that has a solid and premium build, this one tops the bill.
ROG Strix Scar II GL 704 Tech Specs
Category
Esports Gaming – FPS
Operating System
Windows 10 Home
Windows 10 Pro – ASUS recommends Windows 10 Pro
Processor
Intel® Core™ i7-8750H
Intel® Core™ i5-8300H
Graphics
NVIDIA® GeForce RTX™ 2070
8GB GDDR6 VRAM
Memory
2666MHz SDRAM (Dual-channel)
Up to 32GB
SSD
M.2 NVMe PCIE 256GB/512GB/1TB SSD
HDD
2.5" 5400rpm 1TB SSHD
Display
15.6-inch Non-glare Full HD (1920×1080) IPS-level panel, 144Hz, 3ms, 100% sRGB
VR Ready
YES
Keyboard
Backlit chiclet keyboard
RGB 4 zones
Aura Sync
Marked WASD keys
Hot keys: Volume up/ Volume down / Microphone mute / ROG Armoury Crate
Travel Distance 1.8mm
Keycap curve: 0.25mm
Audio
2 x 1W speaker with Smart AMP technology
Array Microphones
Software
ROG Armoury Crate
GameFirst V
Game Visual
Sonic Studio & Sonic Radar III
Aura Core
XSplit Gamecaster (Free)
Android/iOS App
I/O Ports
1 x USB 3.1 Gen 2 (Type-C)
2 x USB3.1 Gen1 , 1 x USB3.1 Gen2
1 x mDP 1.2
1 x HDMI 2.0b
1 x RJ-45 Jack
1 x SD card reader
1 x 3.5mm headphone and microphone combo jack
1 x Kensington lock
Power
230W Power Adaptor
Wi-Fi / Bluetooth
Intel® 802.11ac (2×2) Gigabit Wi-Fi
Bluetooth 5.0 * Bluetooth version may vary as the OS upgrades
Weight and Dimensions
Width: 36.1cm
Depth: 26.2cm
Height: 2.61cm
Weight: 2.4kg
Peripheral Recommended
ROG Gladius II gaming mouse is designed for FPS gameplay.