Last time, we wrote about our hands-on experience with a pre-production ROG Zephyrus S unit, the first Max-Q Design and the most compact gaming laptop from ASUS.
A few days later, we were able to get our hands on its MSI counterpart, another Max-Q Design gaming laptop called the MSI GS65 Stealth Thin 8RF.
So, we put these two babies side-by-side to see how these two compact gaming laptops stack against each other.
Which is better: ROG Zephyrus S GX531 or the MSI GS65 Stealth Thin 8RF?
Let's kick things off with a quick spec sheet comparison:
Category
ROG Zephyrus S
MSI GS65 Stealth Thin
Dimensions
 360 x 268 x 14.95mm
357.7 x 247.7 x 17.9mm
Weight
2.10kg
1.88kg (total weight PC + PSU + cable = 2.49 kg)
Chassis
Alunimum, magnesium
Aluminium alloy with sandblasted finish
Screen
15.6 in 144Hz 1920×1080 IPS LCD
3ms response time
G-Sync supported
15.6 in 144Hz 1920×1080 IPS Level LCD
7ms response time
Chipset
CPU Integrated
Intel HM370
CPU
8th gen Intel Core i7-8750H, 6 cores max speed 4.10 GHz 45W TDP
8th gen Intel Core i7-8750H, 6 cores max speed 4.10 GHz 45W TDP
Cooling
Active Areodynamic System (AAS)
2x 12 volt dual fans
5 heat pipes
Cooler Boost Trinity
2×47 blade fans
1×37 blade fan
5 heat pipes
GPU
NVIDIA GeForce GTX 1070 Max-Q @ 1101-1379 MHz 8192 MB GDDR5 RAM
NVIDIA GeForce GTX 1070 Max-Q @ 1101-1379 MHz 8192 MB GDDR5 RAM
iGPU
Intel HD Graphics 630 (Optane supported)
Intel HD Graphics 630
Memory
16 GB DDR4 2666 MHz (8 GB onboard + 8 GB expansion)
16 GB DDR4 2666 MHz
Storage
512GB PCIE NVMe M.2 SSD (Hyper Drive)
256GB PCIE NVMe M.2 SSD
Audio
2x2W OEM speakers
2x2W Dynaudio speakers
MSI ESS Sabre HiFi DAC (24Bit / 192 KHz)
7.1 surround sound w/ Nahimic 3
Keyboard
Backlit chiclet keyboard
4 zones RGB backlight mode
1.2mm travel distance
Backlit chiclet keyboard
Steelseries Engine 3 per-key backlight control
Connectivity
OEM 802.11 ac
Bluetooth 5.0
Killer AC 1550 (GTX1070)
Bluetooth 5.0
Ethernet  LAN port
I/O ports
1x USB 3.1 Gen 2 (Type-C)
1x USB 3.1 Gen 1 (Type-C)
1x USB 3.1 Type-A
2x USB 2.0 Type-A
1x 3.5mm audio combo
1x Kensington lock
3x USB 3.1 Type-A
1x Thunderbolt USB 3.1 Type-C
1x 3.5mm headphone jack
1x 3.5mm micriophone jack
SD card reader
1x Kensington lock
Display output
1x HDMI 2.0
1x HDMI 2.0
1x mini DisplayPort 1.2
Battery
50W 4-cell Li-Pol
82W Li-Pol, 180W adapter
Price
129,995 PHP
134,995 PHP
Enclosure quality and aesthetics
The MSI GS65 Stealth has a sand blasted aluminum outer chasis while the external layer of the ROG Zephyrus S is made of magnesium alloy.
A glowing LED-lit ROG logo graces the top cover of the Zephyrus S, which looks cool as hell. It can dance in unison with other Aura Sync capable devices, if you're into that.
The problem with mechanical parts like this though, is that they can deteriorate over time. You may not want that with a lighting element like this, since the front cover is always exposed and the cover tends to get bumped around.
Case in point: we noticed that one corner of the logo is starting come off. This can easily be mitigated by using a protective laptop sleeve, of course, so just make sure you do so from day one if ever you get the Zephyrus S.
Speaking of mechanical parts, opening the lid engages a lever that lifts and opens the back portion of the Zephyrus S. Called the Active Aerodynamic System (AAS), this mechanism exposes the rear intake which provides additional cooling, and once again, RGB elements illuminate the intake area.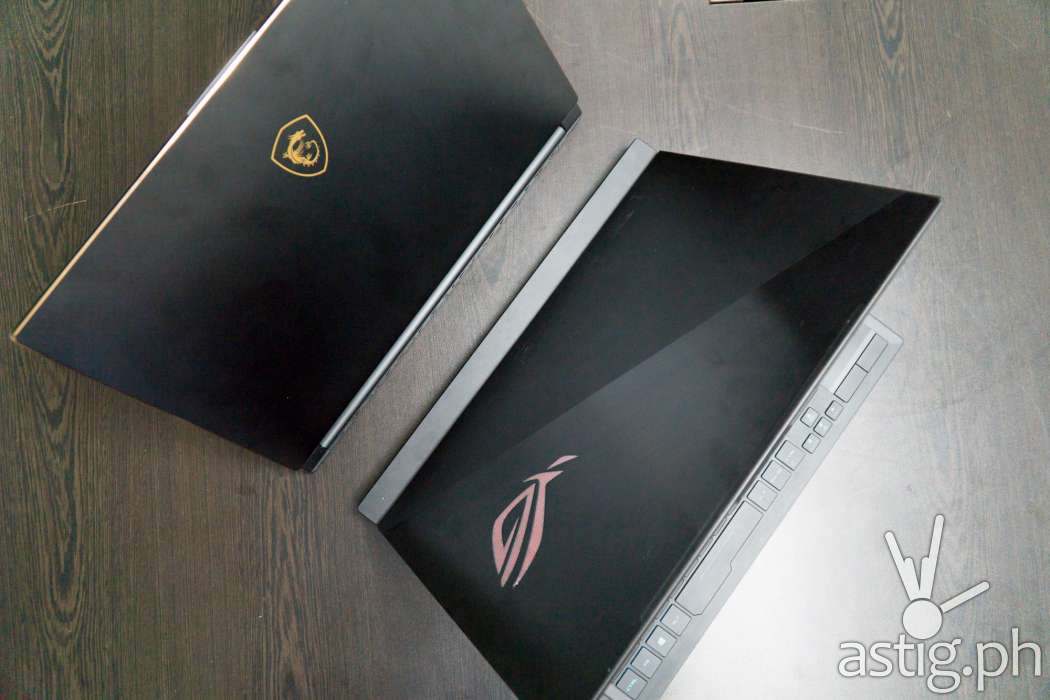 You know that meme / inside joke among the PC gaming community that RGB boosts your FPS? In this case, the entire mechanism actually does just that.
Not that the RGB has anything to do with it, but it does make the entire setup look +5 points cooler, figuratively and literally speaking.
In contrast, the MSI GS65 employs a more traditional design with an elegant-looking all-black exterior accentuated by gold trims.
Slap an MSI logo on the cover, and you have what looks like a Lamborghini laptop. Vroom vroom!
You won't be embarassed with either the ROG Zephyrus S or the MSI GS65, but the RGB-tastic Zephyrus S with its rear hydraulics just looks like an autobot ready to transform at any time. It simply looks more "gamery", though some might not be into that. Since this is a gaming comparison, we will give the round to the Zephyrus S.
Winner: ROG Zephyrus S GX531
Keyboard and touchpad
Zephyrus' bold and unconventional design carries over to the keyboard and touchpad, which is positioned at the bottom half, since the top part is occupied entirely by the AAS cooling system.
It's an awkward position, though I can see myself getting used to it.
The trackpad awkwardly placed awkwardly at the lower right corner instead of at the bottom center like most traditionally designed laptops.
As a result, your right hand will need to travel all the way down to reach the trackpad. It looks pretty slick though – it doubles as a numpad with LED backlights illuminating the numbers.
Speaking of LED, the keyboard is segregated into 4 RGB lighting zones on the Zephyrus S.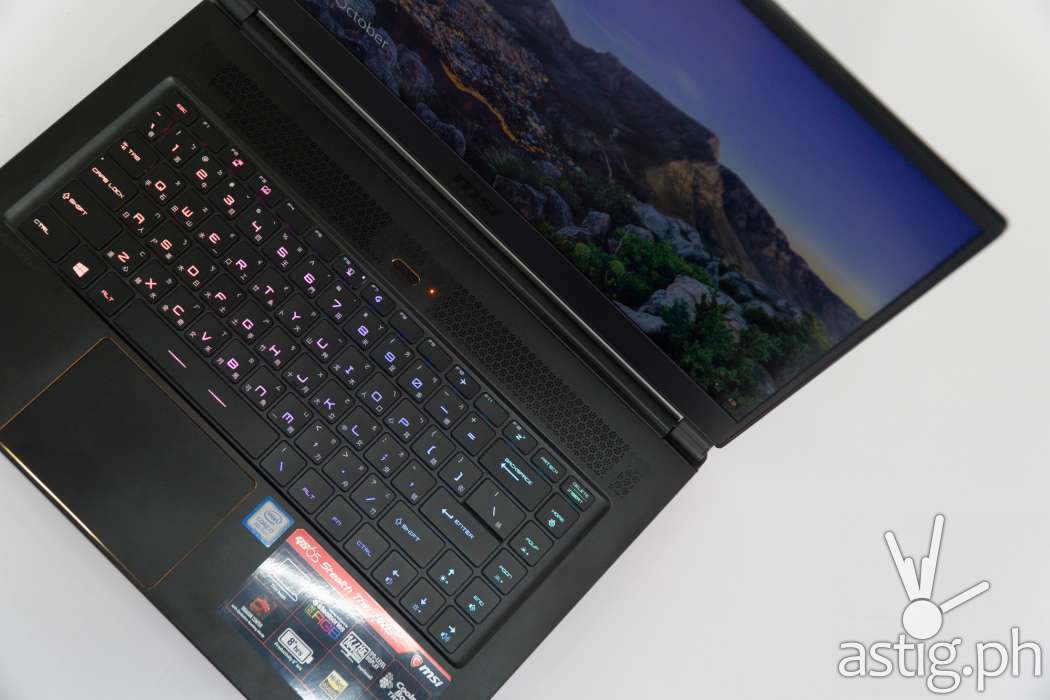 On the other hand, the MSI GS65 is fitted with a SteelSeries keyboard with individually controllable backlight.
Key travel distance and overall feel is much more better on the more traditionally-styled GS65, despite the fact that it does not have a numpad.
Winner: MSI GS65 Stealth Thin 8RF
Portability
Without taking into consideration the weight of the adapter and cable, the MSI GS65 Stealth Thin notebook is 10.5% lighter than the Zephyrus S, weighing in at 4.14 pounds vs 4.9 pounds on the Zephyrus S.
It is also 14% smaller, with a surface area of 96.726 inches vs 112.475 inches.
Though MSI wins by a slim margin, it is important to note that until now, most gaming notebooks with discrete GPUs weigh at least 3kg, so the fact that we are now in 2kg territory is impressive nonetheless.
Winner: MSI GS65 Stealth Thin 8RF
Screen
The Zephyrus S and the GS65 have identical 15.6-inch displays. Both use IPS LCD panels with a native resolution of 1920×1080 pixels and a refresh rate of 144 Hz.
MSI's display panel is reportedly well-calibrated out of the box, but, unlike the Zephyrus S, it doesn't support NVIDIA G-Sync.
For those who are not familiar with G-Sync, it is a proprietary display technology used to reduce input lag and prevent screen tearing. It is developed by NVIDIA and designed specifically for NVIDIA GPUs – which is what we have in the case of the Zephyrus S.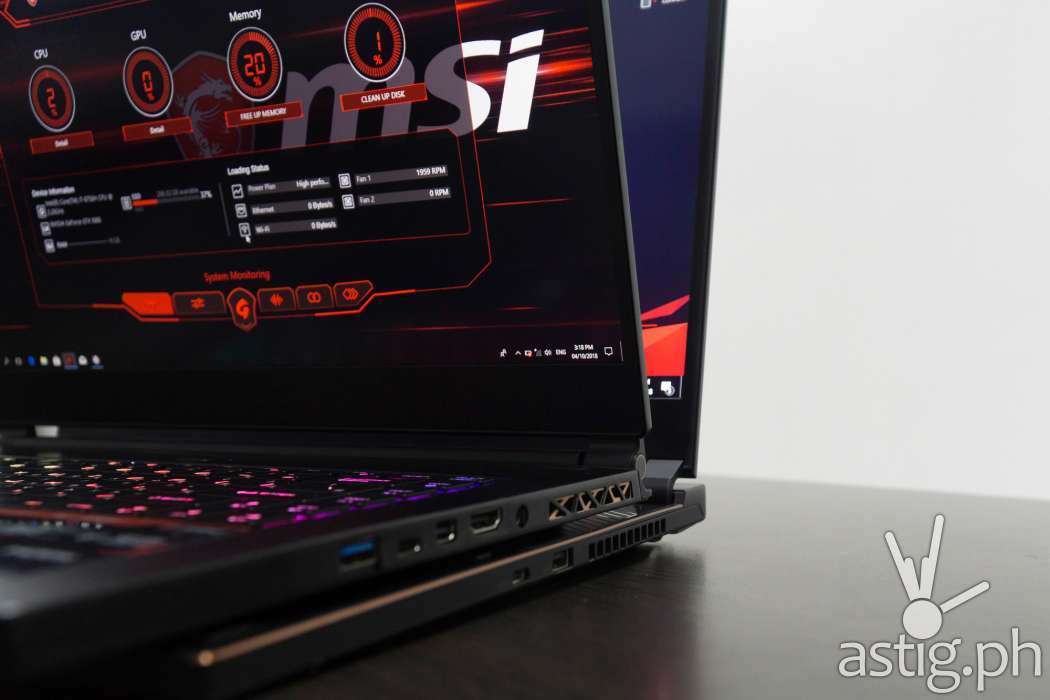 G-Sync technology needs to be licensed from NVIDIA, and as far as I recall, it requires additional hardware on the panel's signal processor which is why it is very expensive to produce. AMD has a similar technology called Freesync which does not require additional hardware other than support from the GPU and chipset, so it is much cheaper. I could be wrong though, so don't quote me on this.
In addition, the Zephyrus S has an impressive response time of 3ms – more than double that of the GS65.
Speed is king when it comes to gaming, and G-Sync support is a nice addition, especially if you consider the fact that G-Sync monitors are pretty expensive when bought separately.
Winner: ROG Zephyrus S GX531
Audio
It is interesting to note that on the GS65, the speakers are placed in a more traditional location at the top of the keyboard, as opposed to the GX531 whose speakers are located at the bottom.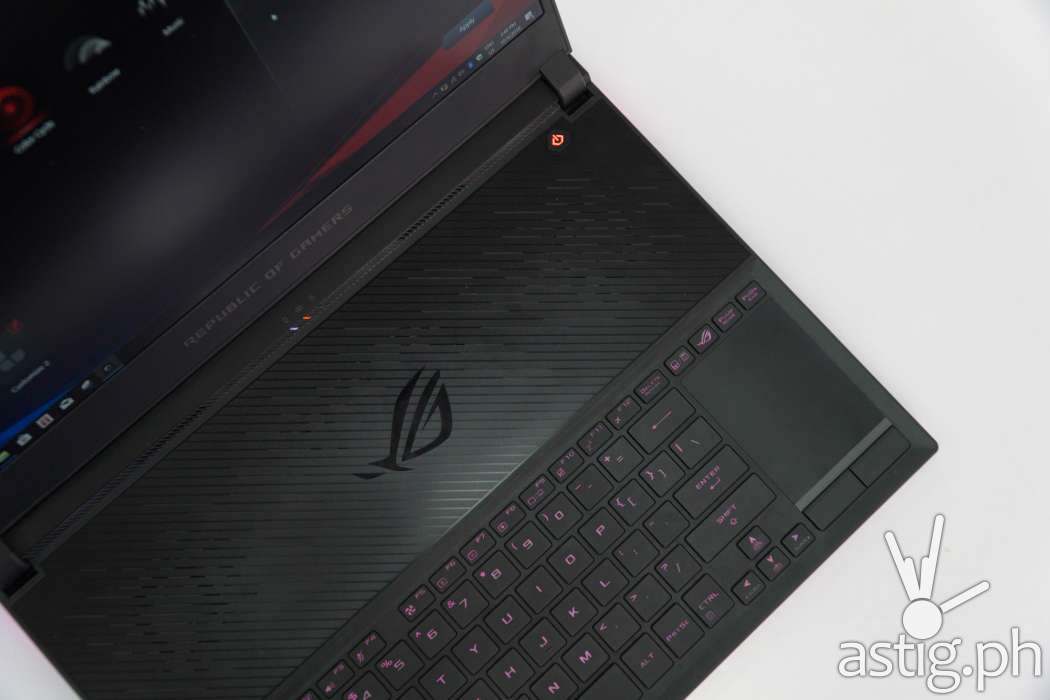 Both devices have dual 2W speakers, and MSI partnered with Dynaudio this time to create speaker technology that's 50% louder than the previous generation.
In addition to this, the GS65 has separate 3.5mm headphone and microphone jacks, while the GX531 uses a combined 3.5mm headphone and microphone jack.
We were unable to test audio performance on the headset, so we will leave the verdict open for now.
Winner: TBD
I/O and connectivity
For some reason, ASUS decided to kill the ethernet port on the Zephyrus S. This is a mobile computer after all, but I personally prefer a wired option over an extra USB port.
I also don't understand why ASUS still bothers with lower generation USB Type-A and Type-C ports. It doesn't make sense if the latest gen Type-C (Thunderbolt) and Type-A (USB 3.1) are backwards compatible. I'd rather have three USB 3.1 Type-A on the GS65 versus two USB 2.0 and a single USB 3.1 Type-A port on the GX531.
Most of the time, I simply cannot be bothered to properly plug my external drive on the 3.1 port and the mouse on the 2.0 port. Having all ports run at 3.1 is just more intuitive.
Speaking of which, we get two USB Type-C ports on the GX531, one Gen 1 and one Gen 2. The GS65 only has one, but it is happens to be a Thunderbolt port, which is more valuable due to the sheer amount of utility that it can provide.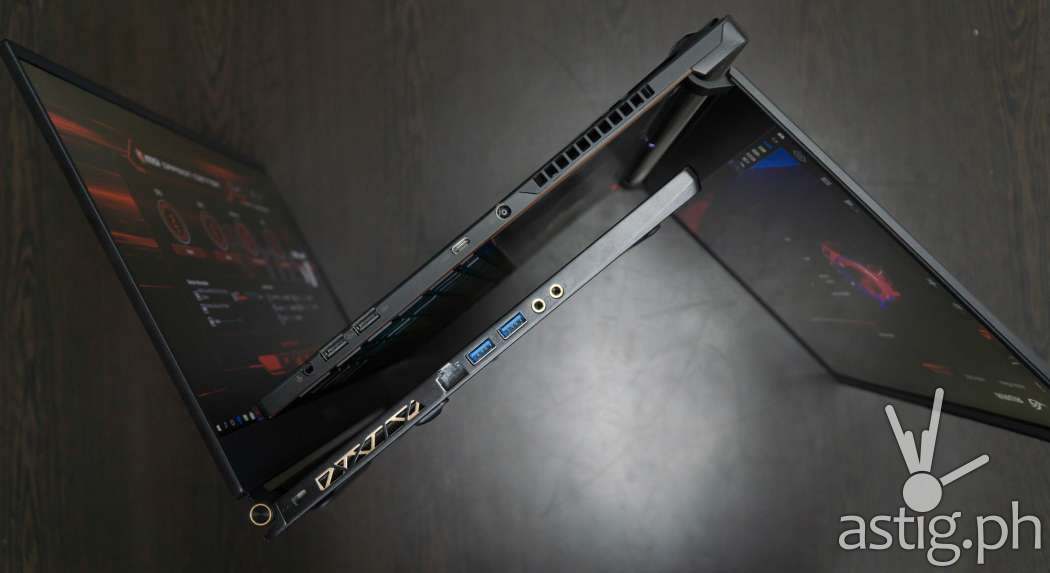 You can use it with the HDMI 2.0 port and a mini DisplayPort to connect up to three external displays.
I personally connect at least two external displays with my laptop, so the Thunderbolt port and the two display connectors are very important to me.
Winner: MSI GS65 Stealth Thin 8RF
Thermals
Although both laptops take strides to meet NVIDIA's Max-Q Design requirements, the Zephyrus S takes things one step further by implementing a system that elevates the top half when you flip the screen.
This further exposes the back vent, resulting in increased air intake, cooling the internal chambers even further.
We have yet to fully test how this design resists dust and other particles. Note that in the Philippines, MSI provides free cleaning and re-paste service after 6 months of purchase.
It's no surprise that thermal tests from our friends over at B2G revealed the GX531 running significantly cooler than the GS65, despite the fact that the latter has one more fan. Heat is more evenly distributed, resulting in less hot spots which theoretically lowers the possibility of throttling.
This also means that you can theoretically do a much higher overclock on the Zephyrus S compared to the GS65, resulting in overall better performance.
Winner: ROG Zephyrus S GX531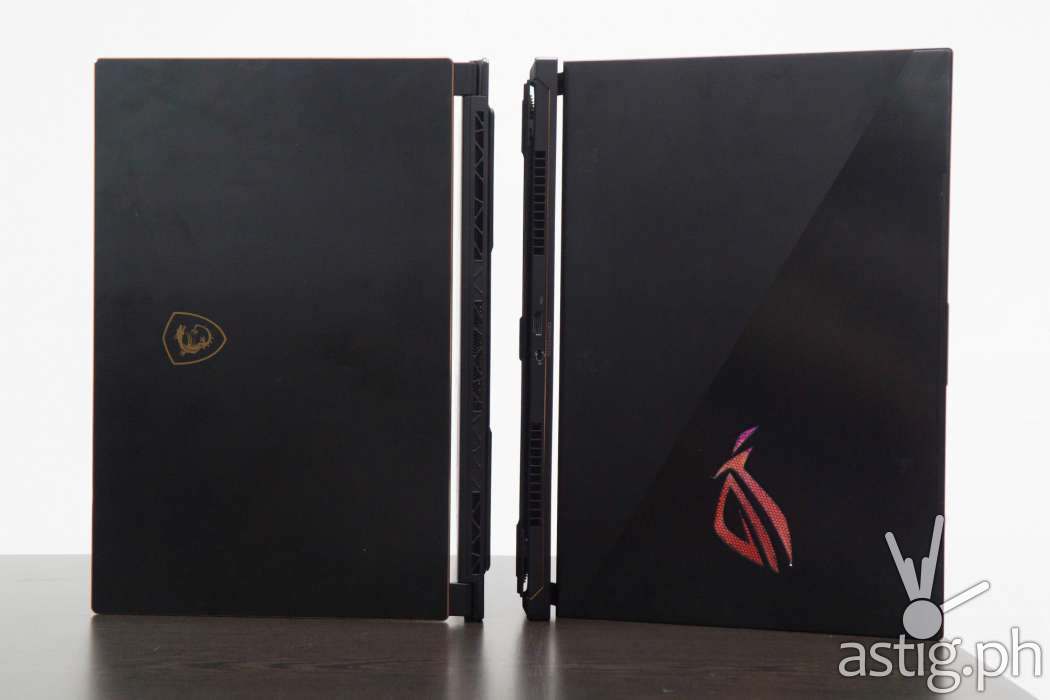 Battery life
The GS65 has an 82Wh battery, 40% larger than the Zephyrus S which has a 50Wh battery.
We did not get a chance to do a actual battery drain tests though, but in our experience, two machines with similar internals generally yield similar results.
In the case of the MSI GS65 Stealth Thin 8RF vs the ROG Zephyrus S GX531, they both have the same i7-8750H CPU rated at 45W TDP and a GTX 1070 Max-Q, so let's say that the variance in terms of battery life should be minimal.
So theoretically, we the GS65 should yield 40% longer battery life compared to the Zephyrus S.
Winner: MSI GS65 Stealth Thin 8RF (theoretical)
Conclusion
If you are looking for a portable gaming laptop, the MSI GS65 and the Zephyrus S are both solid choices. However, there is no clear winner and you may have to choose one or the other depending on your priorities.
The MSI GS65 Stealth Thin 8RF wins in terms of usability and theoeretical battery life, while the Zephyrus S has better thermals and thus, theoretically should perform better of the two.
Again, we stress here the theoretical part, since we were working on a pre-production unit back then. Retail units of the Zephyrus S are available starting this week, so it may be worth mentioning that it's the more affordable option of the two, though not by a lot.
Hopefully next time, we can do actual performance tests to arrive at a clear winner.