There was a time when SAMSUNG smartphones were associated with premium prices and to some extent, they still are with the recently-launched Galaxy Z Fold3 fetching a hefty price tag ranging from anywhere between 90 to almost 100 thousand Philippine pesos.
In a way, it works to the South Korean brand's advantage, but it poses challenges when positioning the brand in the budget markets.
That is quickly becoming a thing of the past, and the prices of the new SAMSUNG Galaxy A 2021 Series will surely raise eyebrows and turn heads.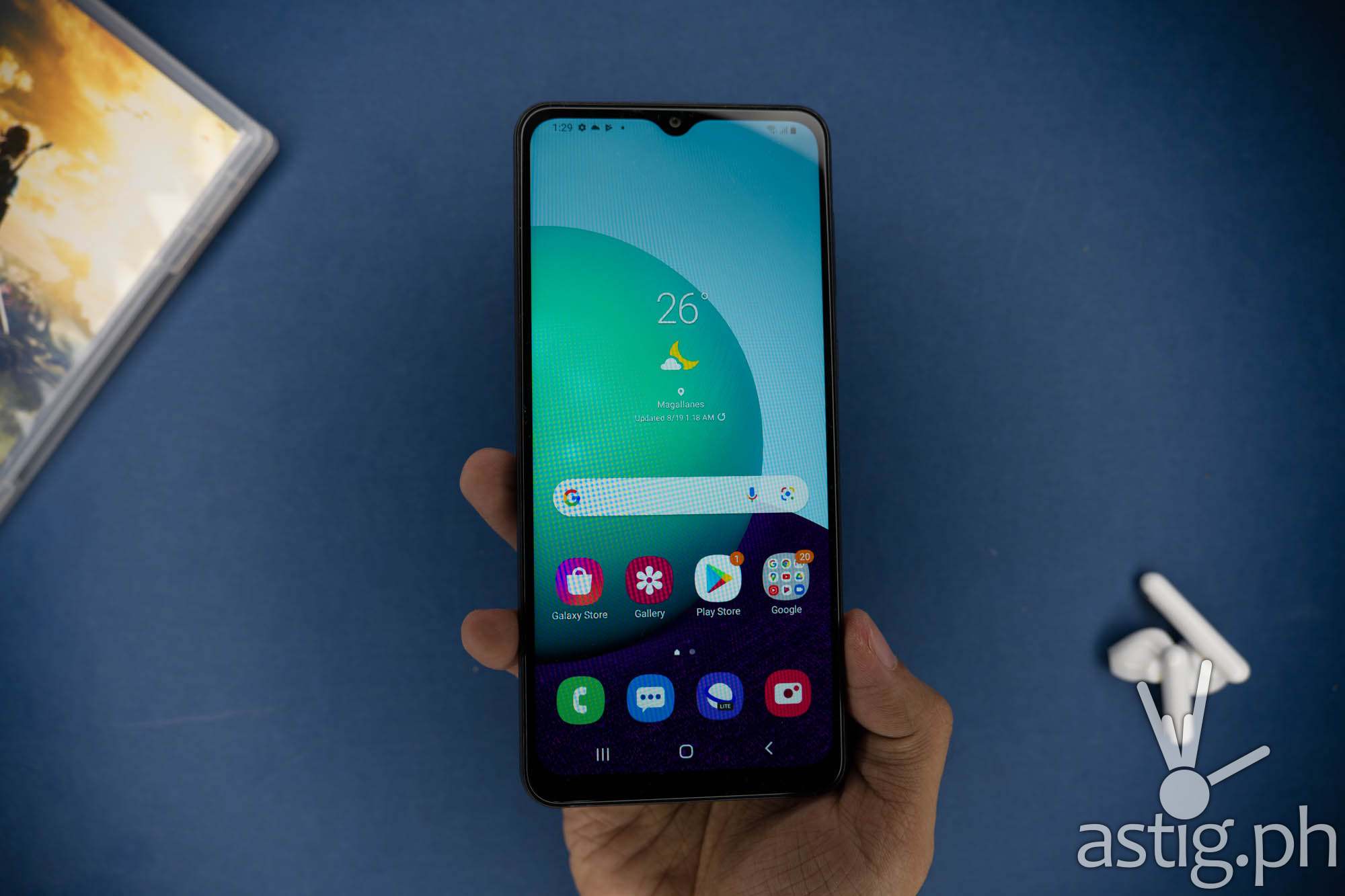 For starters, we have the Galaxy A02 which, for P4,990 gets you a quad-core Android 10 phone with a 6.5-inch HD display, 13MP dual rear cameras, and 5,000 mAh battery.
Take, for example, the Galaxy A22: For P11,990 you get a Helio G80-powered Android 11 phone with a 48MP quad system and that nice 6.4-inch 90Hz HD 720×1600 Super AMOLED display panel that Samsung is known for.
Hit the play button above to watch our hands-on review video or read on for our full take on the SAMSUNG Galaxy A22 5G
Pros

Good build quality with 5G mobile connectivity
90Hz high refresh rate display

Samsung ecosystem

Affordable

Cons
SAMSUNG Galaxy A22 5G design and display
For an additional P2,000 or P13,990 you get the SAMSUNG Galaxy A22 5G which runs on the much faster MediaTek Dimensity 700 5G platform. The screen gets "upgraded" to a 6.6-inch full HD 1080×2400, but with a TFT panel instead of Super AMOLED.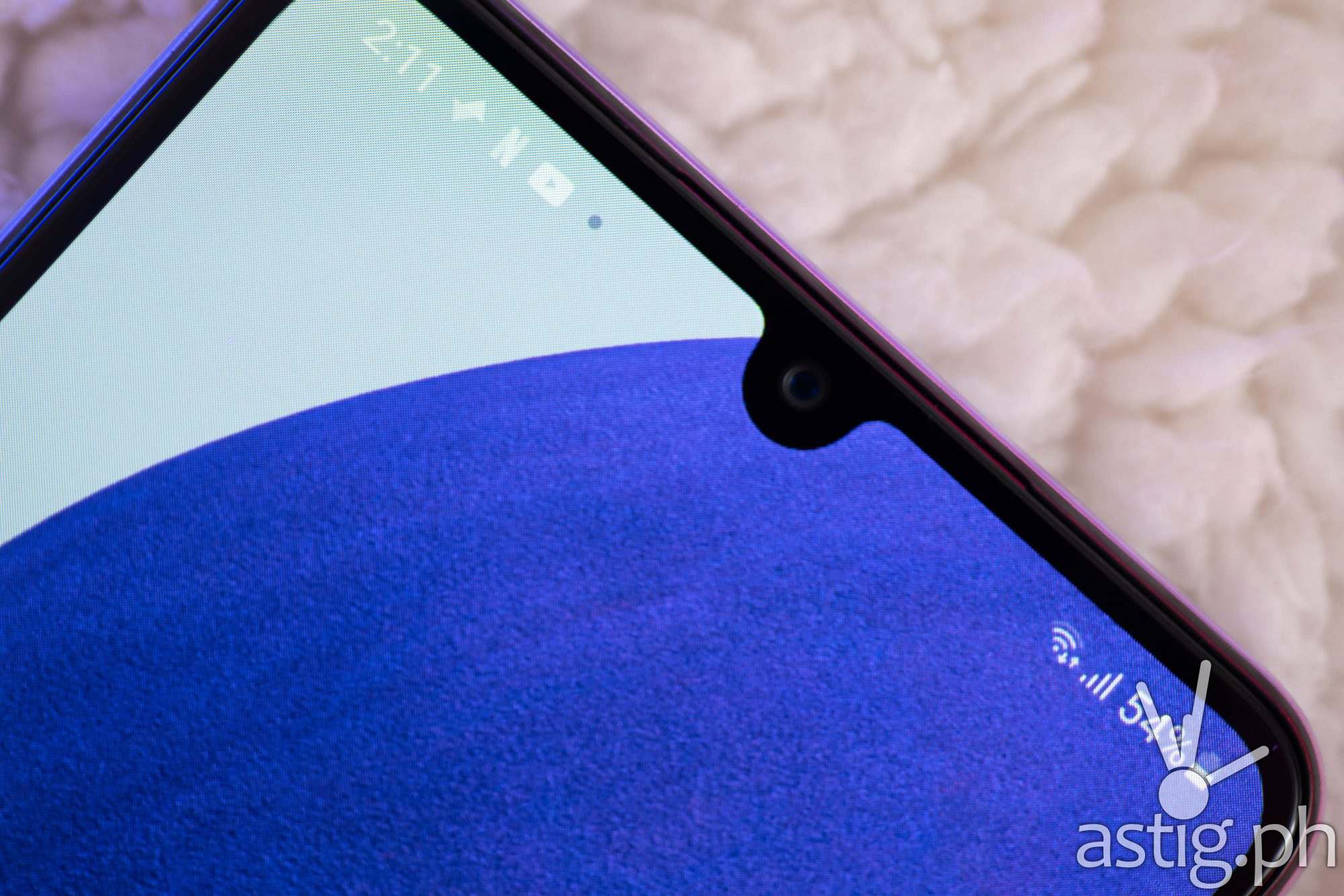 Considering the quality of the panel, we'd like to think that it's a fair tradeoff if it meant keeping the price tag below 15k pesos. It's still a vivid and beautiful display panel that doesn't look too far off from an IPS LCD, unless you look too closely.
Truth be told, we mistook it for IPS LCD when we first got our hands on the Galaxy A22 5G, only realizing later on that the phone had a TFT panel after reading the spec sheet.
Centered on the top edge is the Infinity-V notch. The bottom edge is thicker, so it still has that "budget smartphone" look. Samsung has been making phones with razor-thin edges since the Galaxy S10, so we suspect that the costs of manufacturing these displays are considerably high enough to not make it into the final product.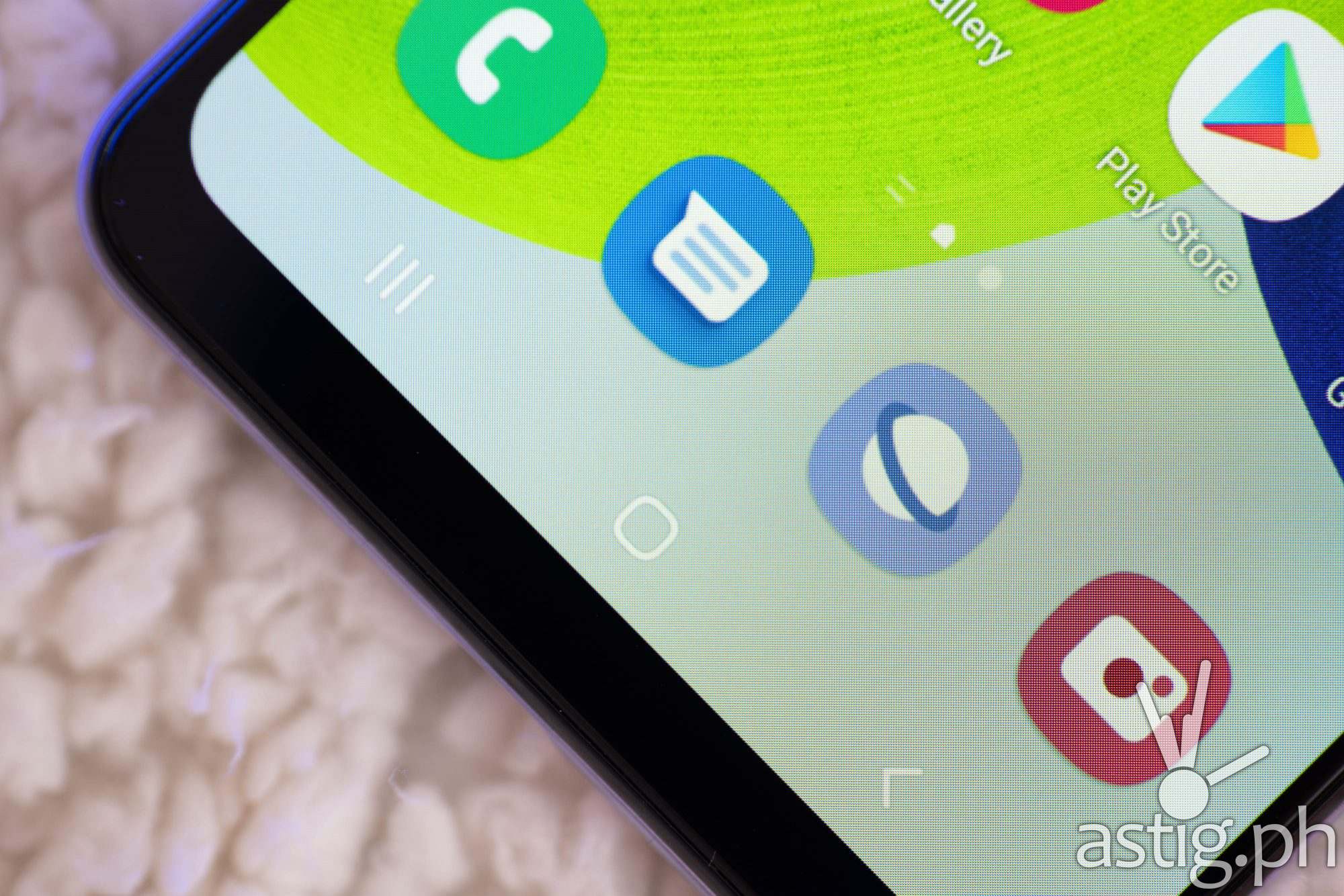 The phone's rear panel is made of a solid colored polycarbonate material with a slightly glossy finish. It's not the usual glasstic look but rather something simpler – perhaps too simple to the point of being plain-looking. We do have the Violet-colored unit which we think looks very enticing, but apart from the SAMSUNG logo there's really not much to get excited about.
On the plus side, it doesn't really need a jelly case, so you can happily use the phone naked without worrying too much about scratches or smudges.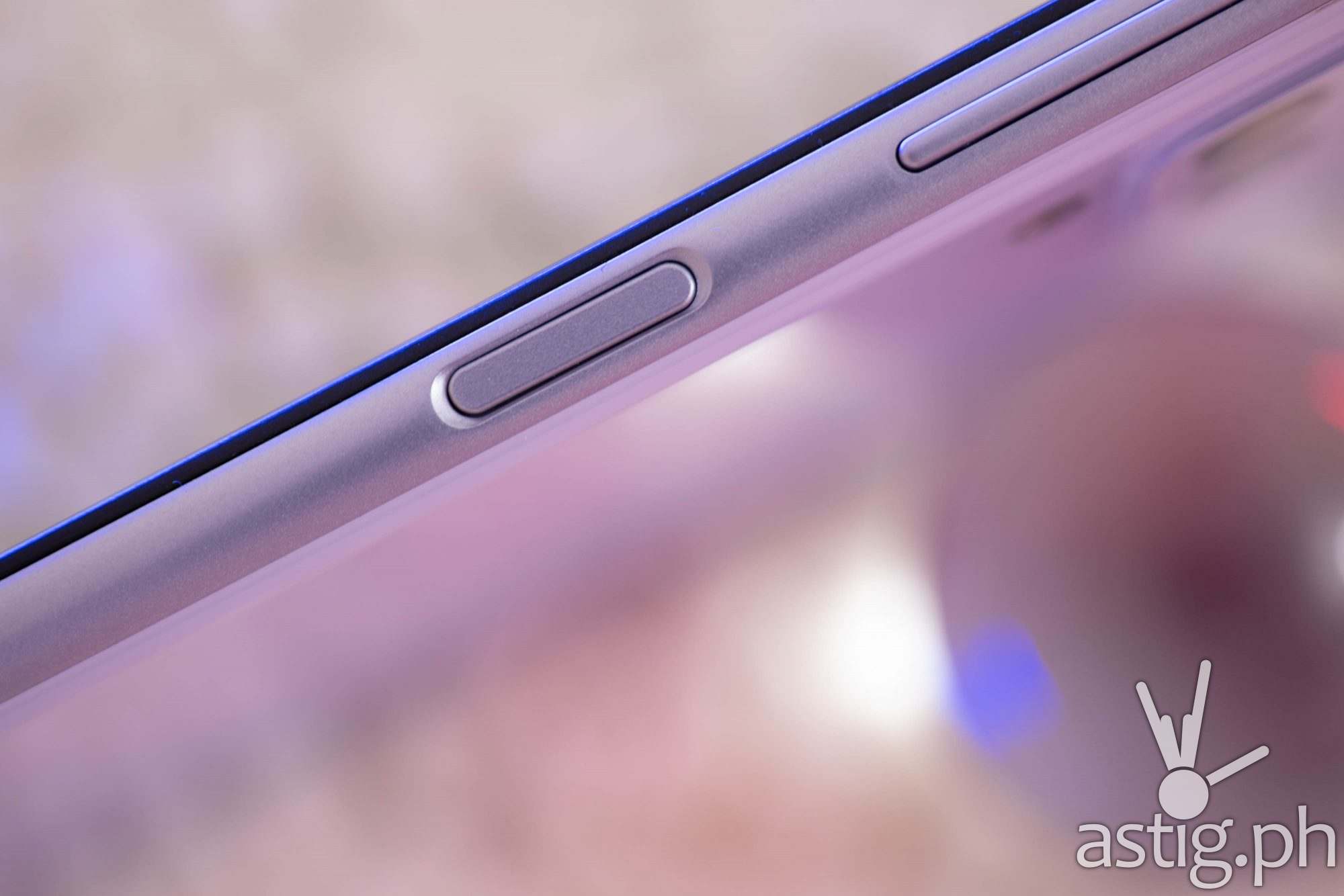 In case you were wondering, the fingerprint scanner is mounted to the side – something that the Galaxy A-Series has been doing for quite some time now. We are not sure who started it, but we think it's one of the smartest design decisions made by team SAMSUNG.
It's really intuitive to be able to touch the power button while unlocking the phone at the same time.
Apart from that, both the Galaxy A22 and Galaxy A22 5G come with nifty features that you'd look for on a mid-range phone: dedicated dual SIM and expansion card slots, a USB Type-C port, and a 3.5mm audio jack.
User experience and performance
Inside it's either the Helio G80 for the Galaxy A22 or the Dimensity 700 5G chipset for the Galaxy A22 5G. Dimensity 700 is ridiculously powerful, despite being the lowest of the Dimensity line.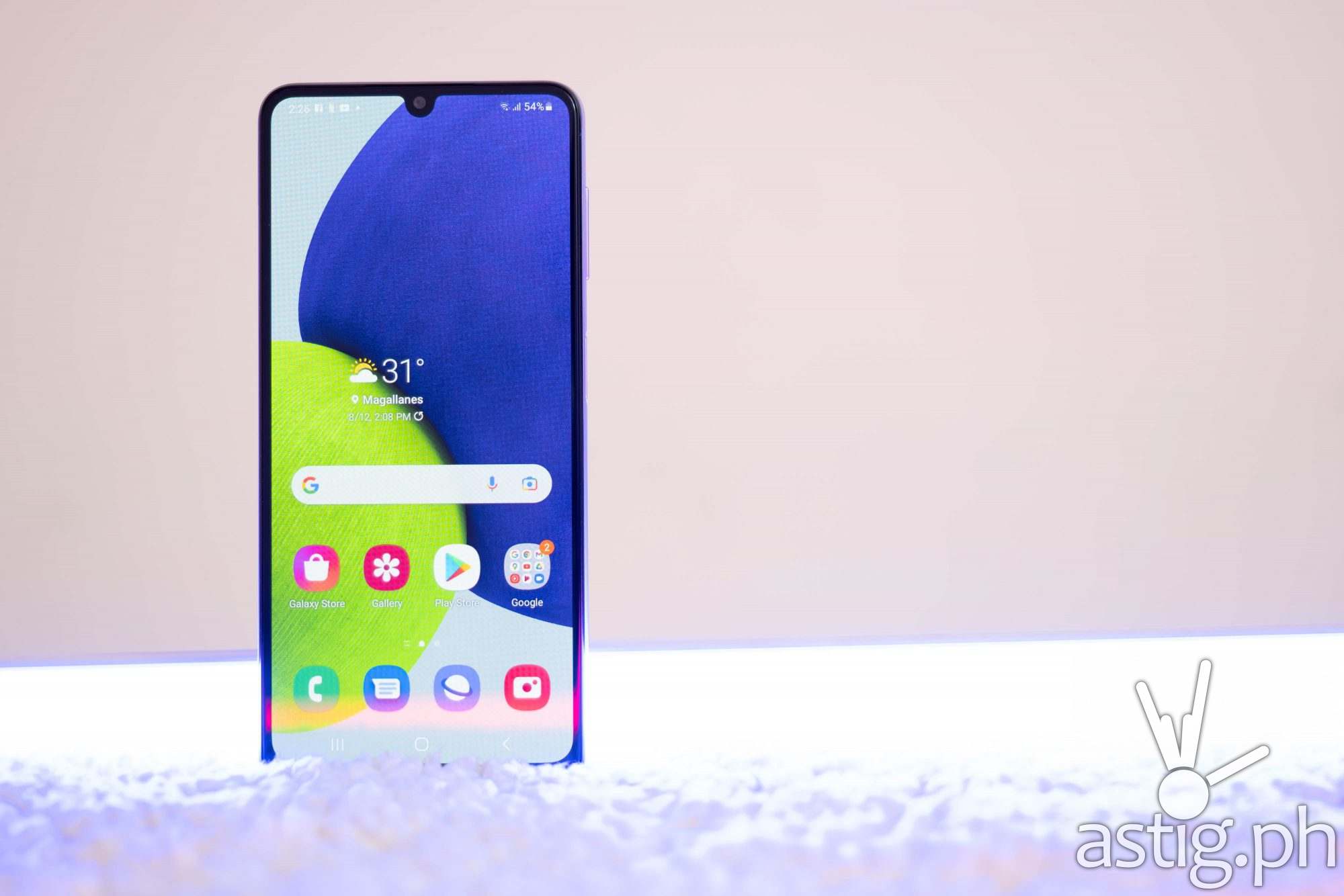 Manufactured with the 7nm process, it is a power-efficient chipset with an octa-core CPU that offers competitive mid-range performance comparable to the Snapdragon 730G and the Helio G95 with the advantage of having an integrated 5G modem.
It outperforms its direct competitor, the Snapdragon 480 5G from Qualcomm, by a significant margin. Performance-wise, it's much closer to the Snapdragon 690 5G, so it's no surprise that more manufacturers are going with MediaTek's platform for their entry-level 5G handsets.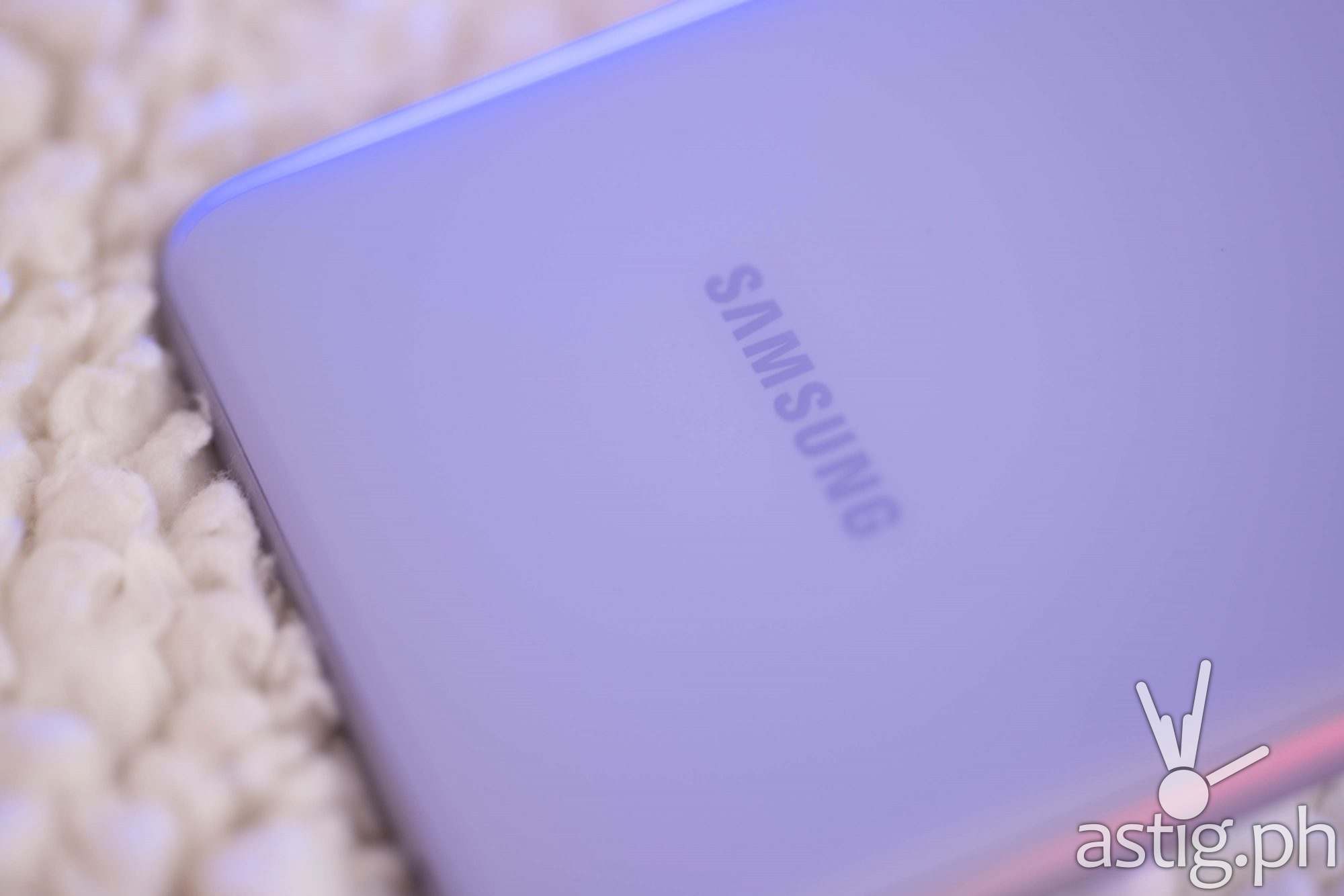 We ran PassMark and achieved a total of 5129 points for the overall System, with a notable high of 36454 points for Disk performance and 25788 points for 2D performance.
System memory is more than generous at 6GB, and the built-in 128GB storage is quite ample for most average users. We don't normally see mid-range phones with memory sizes above 4GB, so having double the average capacity is a huge plus. Not only does it allow us to load more applications at the same time, but it also has the effect of speeding up I/O intensive-apps.
Prime examples are image and video editing software such as Snapseed, Adobe Photoshop, VSCO, Adobe Lightroom, Quik, Filmora Go, VivaVideo, and KineMaster.
The Samsung Ecosystem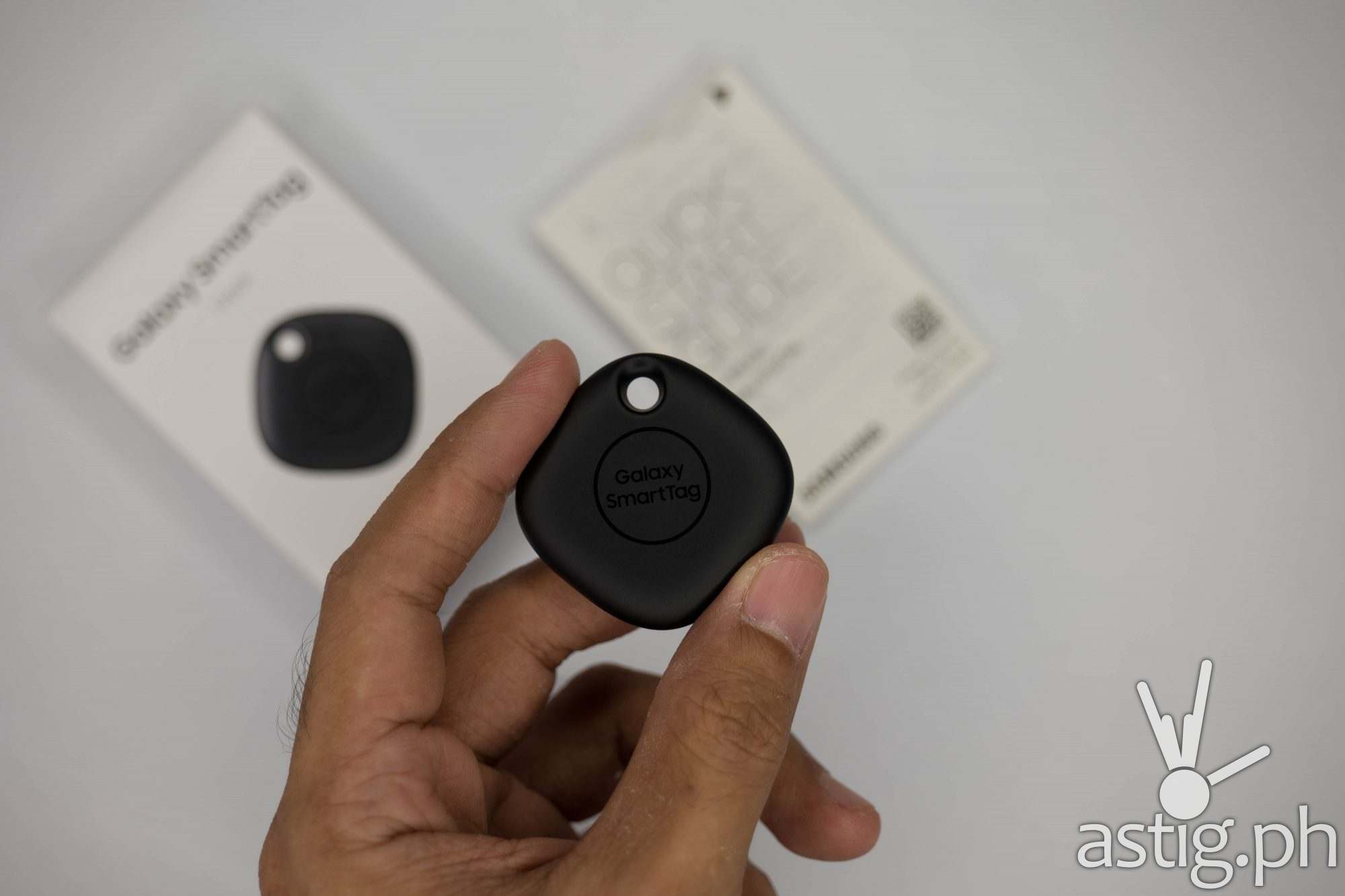 The best part of the SAMSUNG Galaxy A22 is that it naturally integrates with the Samsung Ecosystem. Having a Galaxy device allows you to seamlessly connect with other Samsung appliances, accessories, and wearable devices with ease.
This includes Samsung TV, Galaxy Watch Active, Galaxy Buds, and more! We even paired it with the Galaxy SmartTag – Samsung's answer to the Tile or  AirTag from Apple. It's a nifty little device with a built-in Bluetooth radio that you can attach to almost anything from keys to cars that you can then locate using Samsung's SmartThings Find.
Entertainment and mobile gaming
For entertainment, that plus-sized 6.6-inch full HD screen is perfect for social media consumption and entertainment. SAMSUNG Galaxy A22 5G comes with Widevine L1 certification for full HD playback of DRM-managed content such as Netflix and Amazon Prime.
The benefits of a having a big screen carries over to mobile gaming, and it really helps that the display supports 90Hz high refresh rate. Despite what people say, gaming on the Galaxy A22 looks and feels smoother compared to a 60Hz phone.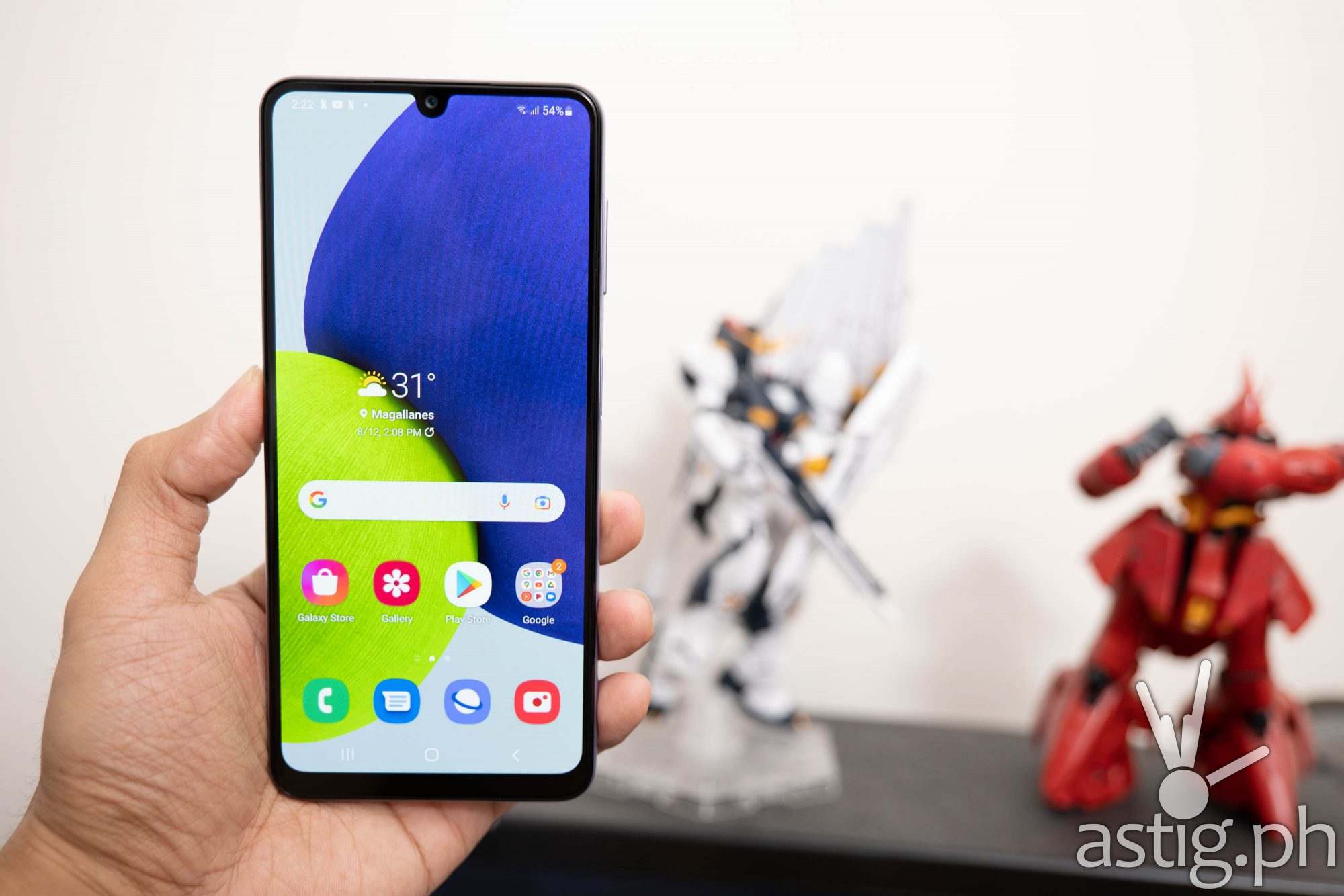 We installed our usual set of reference games including popular MOBA (multiplayer online battle arena) titles Mobile Legends, Wild Rift, and Marvel Super War. Mobile Legends ran smoothly in Ultra settings at 60 fps, while Wild Rift and Marvel Super War averages around 55 fps.
This falls well within our expectations given the phone's specs. Dimensity 700 5G is still a considerable chipset, despite the fact that it was designed to be an all-rounder, unlike the Helio G-series gaming SoCs.
Passmark gave it a 2D score of 25788 and a 3D performance score of 16695. For reference, we achieved a 2D score of 18300 and 17455 on a Helio G85 device. There doesn't appear to be any extra heat management features on this phone because the phone heats up quite a bit, especially with 5G turned on.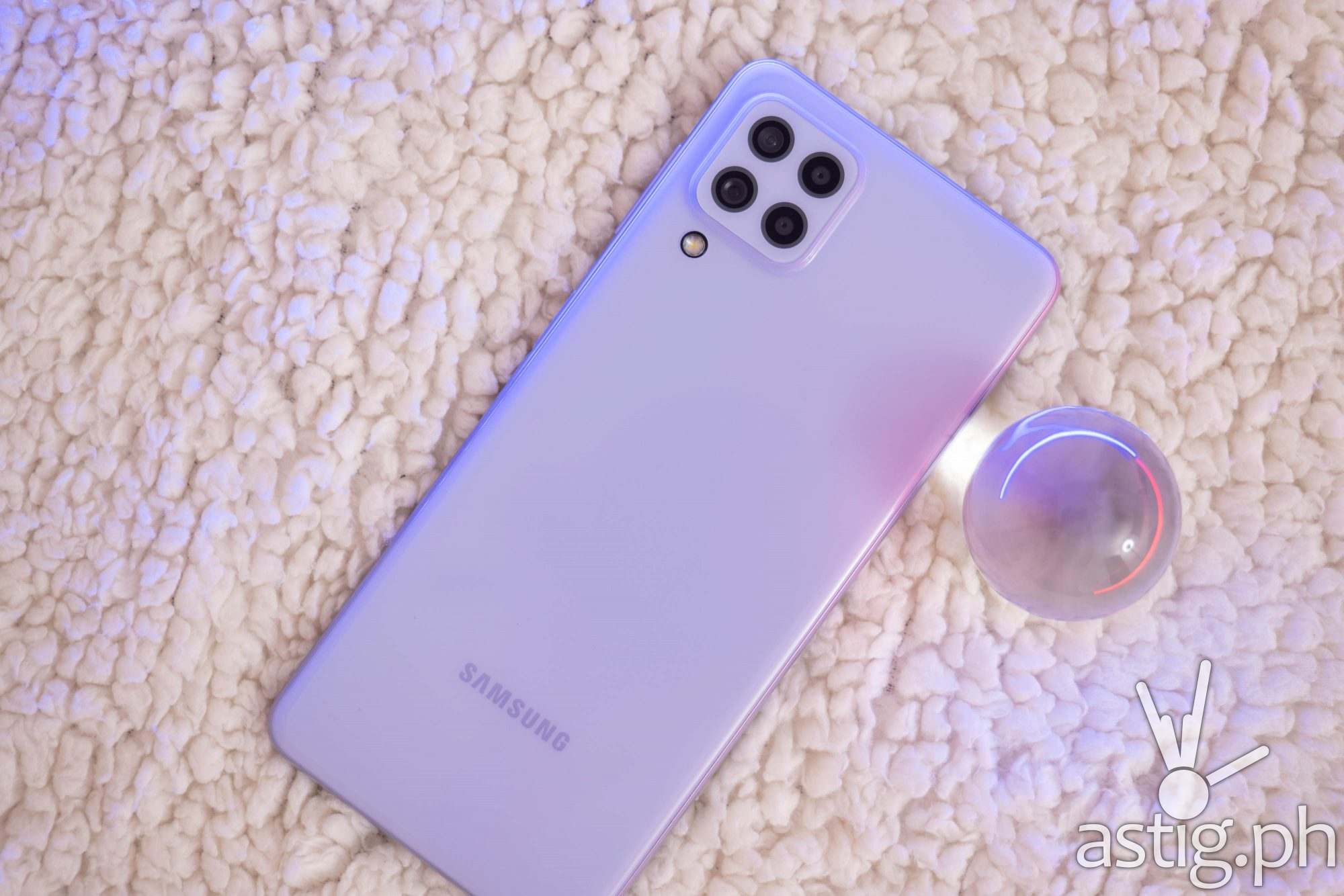 As a result, thermal throttling kicks in after playing for some time, forcing us to either dial down on graphics settings or disable HFR (high frame rate).
We also tried running MMOs such as Black Desert Mobile, Marvel Revolution, and Genshin Impact at the highest settings. Both Black Desert and Marvel Revolution fared surprisingly well, although not as smooth as flagships and phones designed specifically for gaming.
Genshin Impact was much harder to drive, with frame rates fluctuating wildly depending on your location. We recommend playing it on Medium settings to get more consistent frame rates.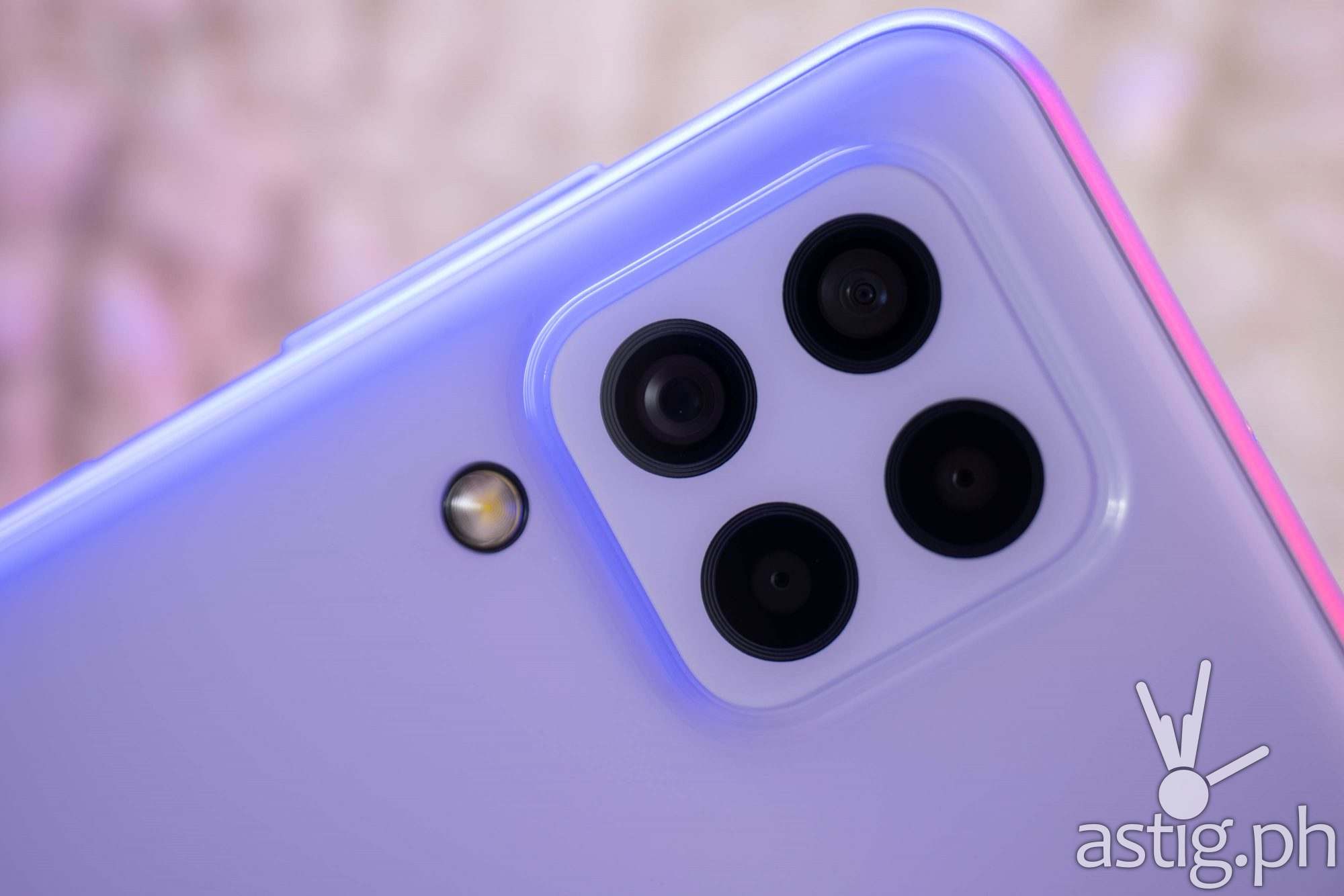 By the way, Samsung has its own gaming assistant called "Game Launcher" baked into the system. It automatically tunes the system and allocates its resources to get maximum performance when playing games, and there's an in-game console called "Game Booster" that lets you do things such as block notifications and calls, take screenshots and screen recordings.
You can also configure it to configure third-party apps like WhatsApp and Messenger in a floating window so you don't have to close or do an app switch away from your game to do that.
Photography and content creation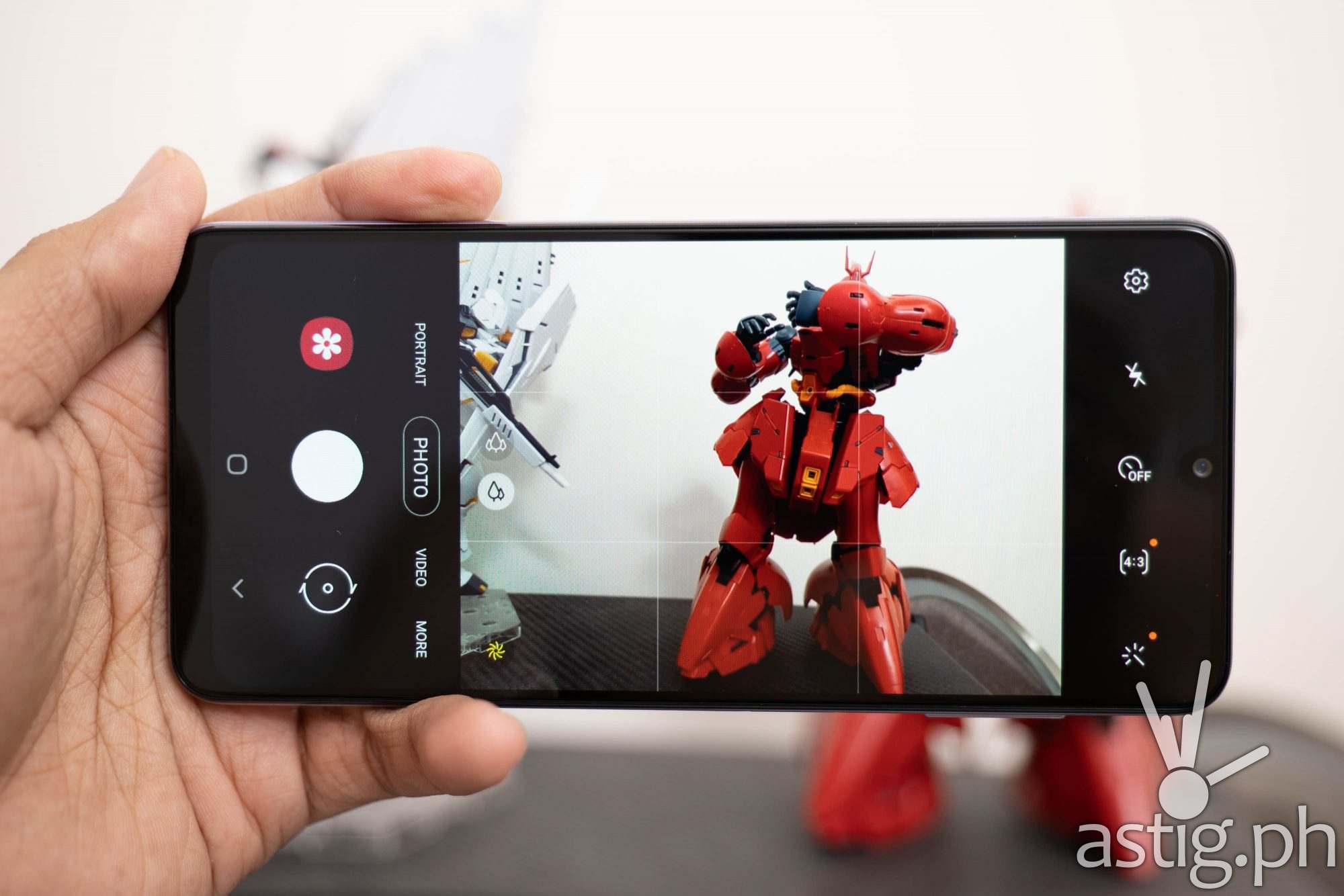 Photography enthusiasts and content creators will be happy to learn that the Galaxy A22 has a triple camera module with two usable lenses: a wide-angle 48MP f/1.8 and an ultrawide-angle 5MP /f.2.2 shooter.
The 48MP main lens takes reasonably sharp and natural-looking photos in broad daylight. Noise is kept reasonably low and under control in low-light situation, and the images come out looking crisp despite the absence of OIS (optical image stabilization).
View this post on Instagram
For some reason, the Product Team decided to cut out OIS hardware and the additional 2MP macro lens from the 5G version, two features found on the camera of the 4G version. Could it be a cost-conscious decision? If it were, we wonder how much more expensive the phone could have been if we added them onto the Galaxy A22 5G.
It also has a less powerful selfie camera with an 8MP sensor (versus 13MP on the 4G version), but don't let that deter you because it still takes great photos and videos.
Like we mentioned earlier, photo and video editing is a breeze on this phone thanks to its powerful chipset and generous 6GB of memory.
Check out our samples by hitting the play button above!
Battery life and charging
A 5,000mAh battery module powers the SAMSUNG Galaxy A22 5G – more than enough for the phone to last around a day and a half to two days for general use. This mostly consists of social media, streaming videos, and some gaming.
Mobile Data performance is up to par with our expectations, hitting highs of 400-450Mbps in the business districts. Of course, location and time plays a big part here so results may vary.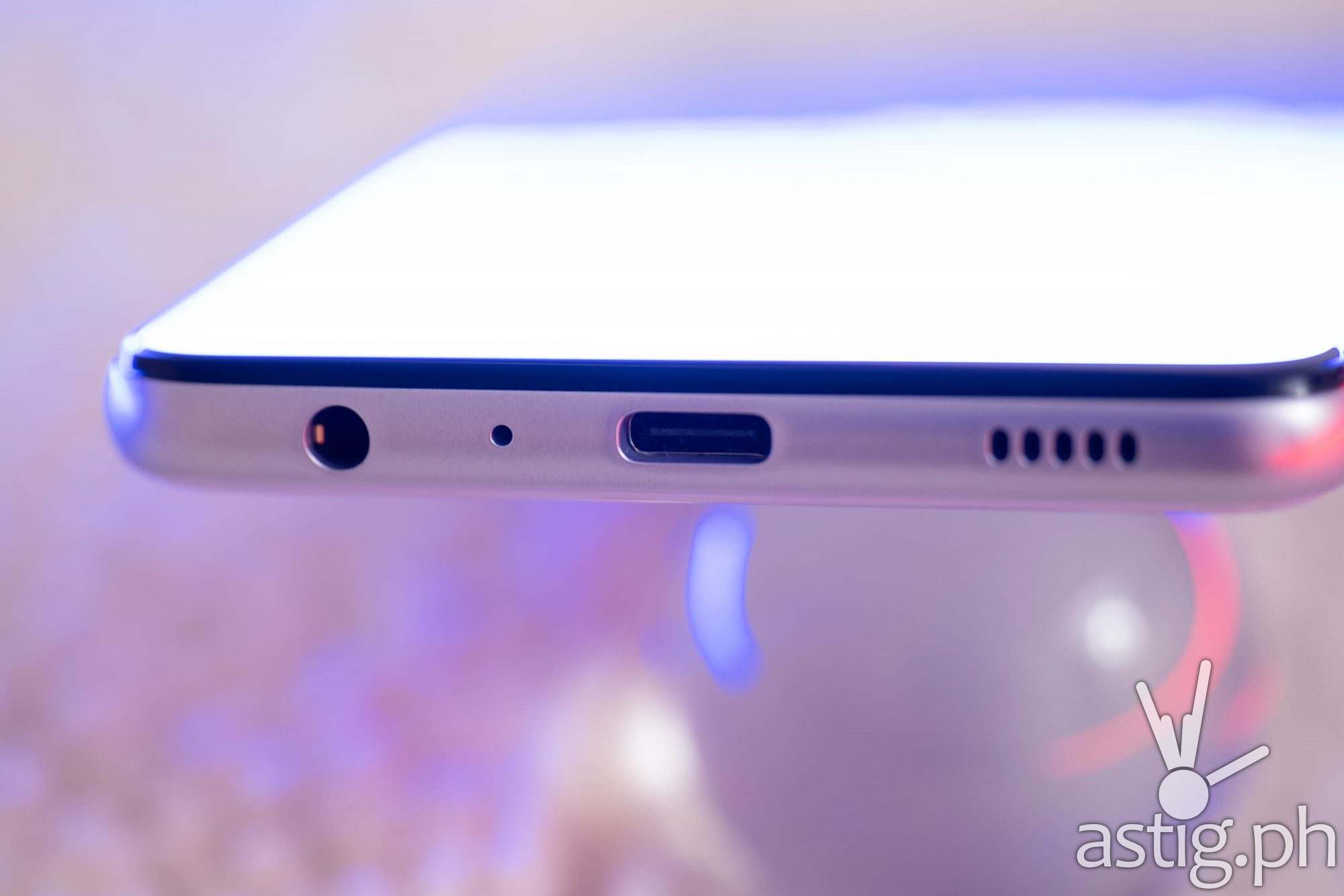 With a maximum power draw of 15W, the A22 is not the fastest charging phone around – it takes at least two hours to fully bring the phone to 100 percent all the way from zero. This is in a year where we've seen charging speeds of 25, 65, and even 90mAh.
It doesn't really bother us since there's more than enough juice to last you a day. You can simply leave the phone overnight and you'll be good for the next, but you may want to keep that in mind if you do a lot of mobile data and/or mobile gaming.
The bottom line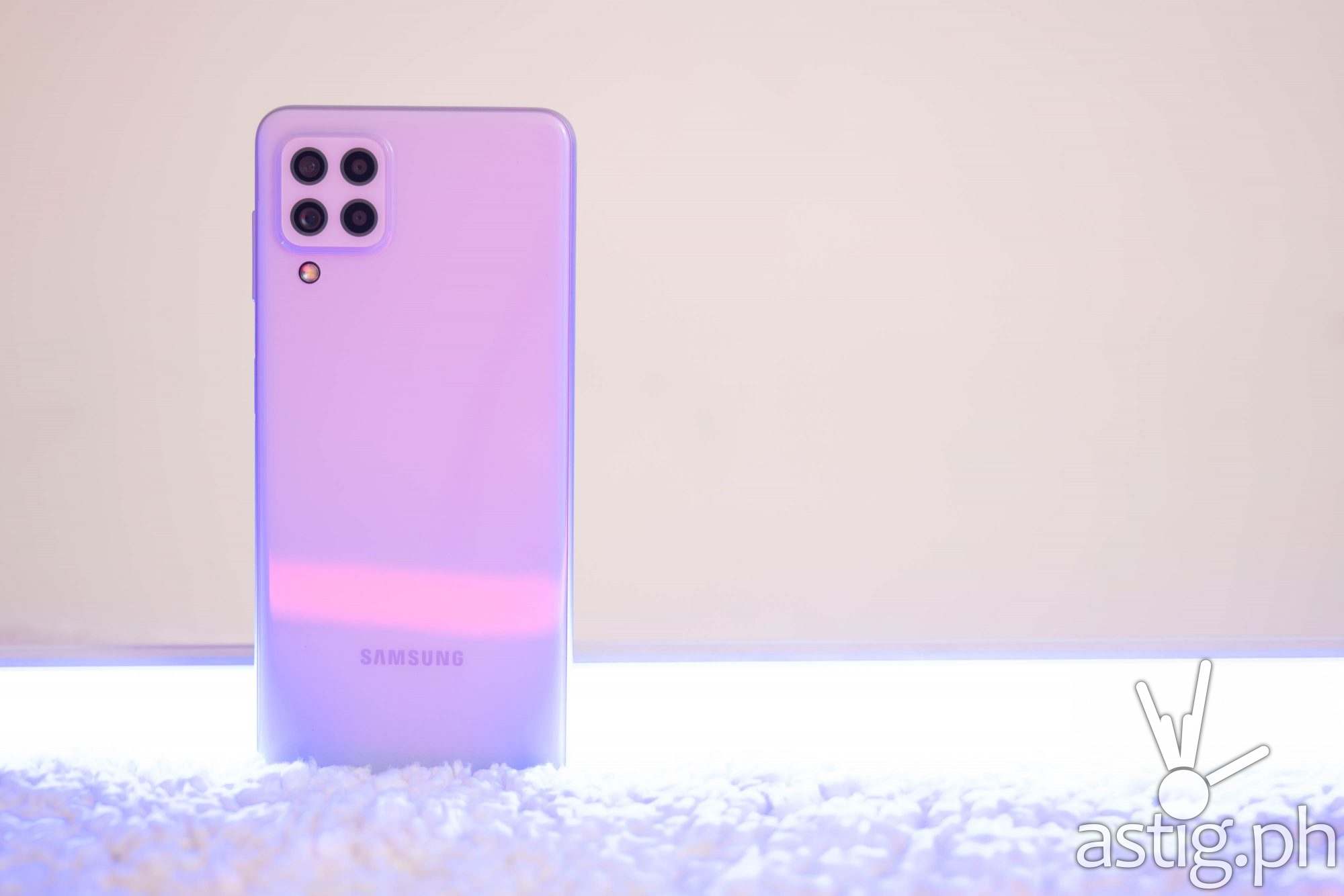 Aesthetically speaking, the SAMSUNG Galaxy A22 does not look as exciting as its underlying hardware, and it's a shame because this phone deserves more attention. Apart from that, we are hard pressed to find any faults with this phone without nitpicking. After all, beauty is in the eye of the beholder, and we are okay with what we're seeing here.
IPS LCD display panel would be the highest on our wish list, but we're not sure what else. Better software, perhaps? One UI is amazing, but it could use some updates.
Other than being the most affordable 5G smartphone from Samsung, it delivers solid mid-range performance, while the camera produces good quality results.
This balancing act of good hardware design, performance, camera, battery life, and fair pricing makes the SAMSUNG Galaxy A22 5G a well-rounded device for almost any task ranging from media consumption, casual gaming, and content creation.
Best of all, its integration into the SAMSUNG Ecosystem makes it a no-brainer for fans and power users looking for a budget device to serve as a gateway into the Samsung world.
SAMSUNG Galaxy A22 5G technical specifications (Philippines)
Display: 6.6 inches; 1080 x 2400 pixels; TFT; 90Hz
SIM: Dual SIM (nano-SIM, dedicated slots)
OS Android 11, One UI Core 3.1
Chipset (SoC): MediaTek Dimensity 700 5G (7nm)
CPU: Octa-core (2.2GHz max)
GPU: Mali-G57 MC2
Memory (RAM) + storage (ROM): 6GB+128GB
Expansion: MicroSDXC (dedicated slot)
Main camera (rear): 48MP f/1.8 (wide) + 5MP f/2.2 (ultrawide) + 2MP f/2.4 (depth)
Selfie camera (front): 8MP f/2.0 (wide)
Connectivity: 2.4/5 GHz Wi-Fi 802.11 b/g/n/ac; Bluetooth 5.0 A2DP, LE
I/O: USB Type-C, 3.5mm audio jack
Biometrics: side-mounted fingerprint sensor
Battery: 5,000 mAh; 15W fast charging
Colors: Gray, White, Mint, Violet
Price (Philippines): Php13,990 (6GB + 128GB)