The Samsung Galaxy A7 (2018), is the company's first triple camera phone featuring a 24MP, 8MP and 5MP rear camera, as well as a 24MP front facing camera.
Samsung Galaxy A7 (2018) screen and build quality
Samsung Galaxy A7 (2018) comes with three colors: Blue, Black and Gold. It has a glass back that looks elegant especially once you've held it. Despite having glass back, it does not appear to catch fingerprints easily, which could be attributed to a special coating used on the phone.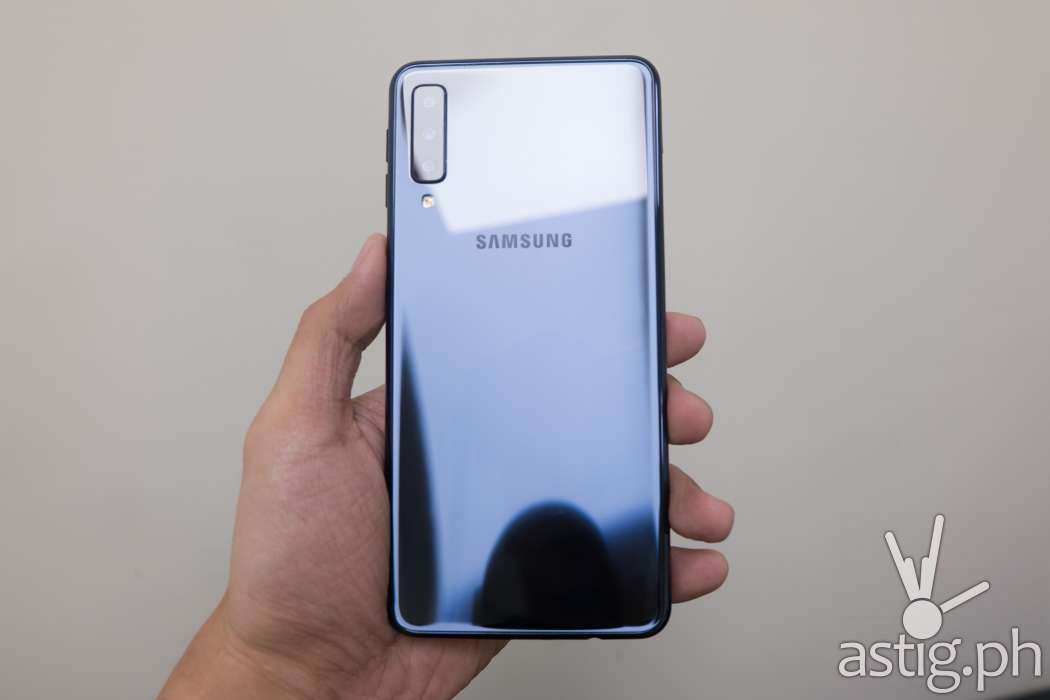 The corners are curved, making it feel very smooth when held on one hand, despite the size.
Going against the trend, its 6-inch Super AMOLED display does not have a notch. Despite this, the screen looks big thanks to thin top and bottom bezels.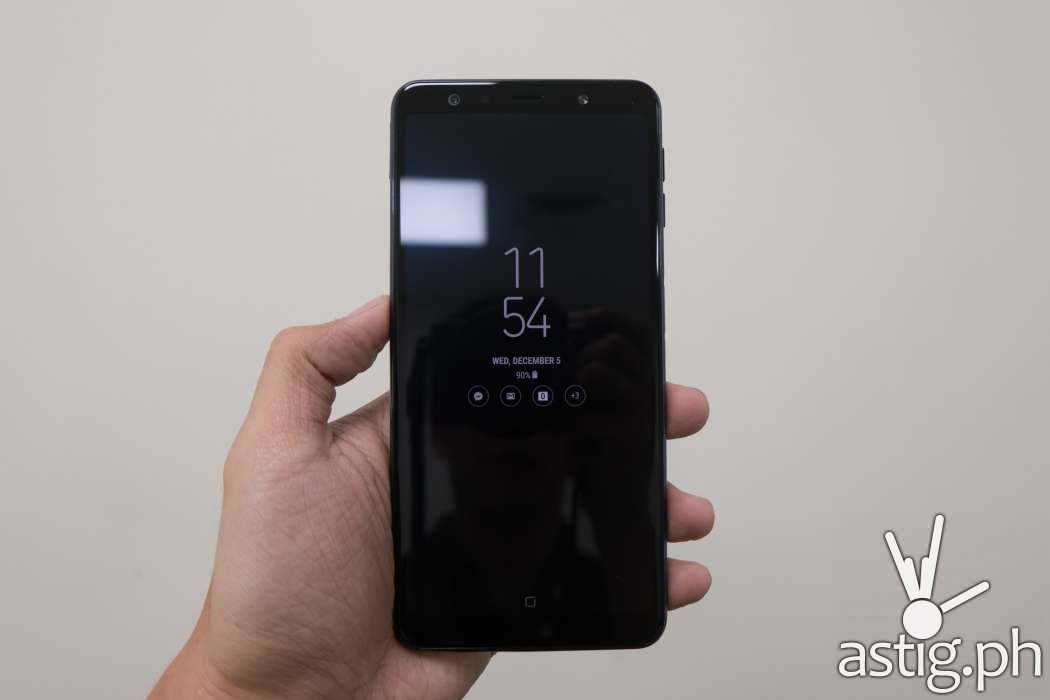 Samsung's Super AMOLED screen is simply the best display that you can get on a smartphone today, and the Galaxy A7 (2018) is no exception. It produces vibrant, vivid colors and crisp, clear lines that look very natural. One of the features we especially like about the Samsung Galaxy series is the Always On Display (AOD), we're certainly glad to have it here.
One of the major design changes in this update is the removal of the hardware home and navigational buttons. With the 2018 version, It looks like Samsung is finally killing its trademark physical home + capacitive button combo in favor of on-screen software buttons.
We do get an extra button on the side dedicated Samsung's AI assistant Bixby, as well as a soft-touch power button that supports gestures such as swiping to bring down the Android notification / status bar.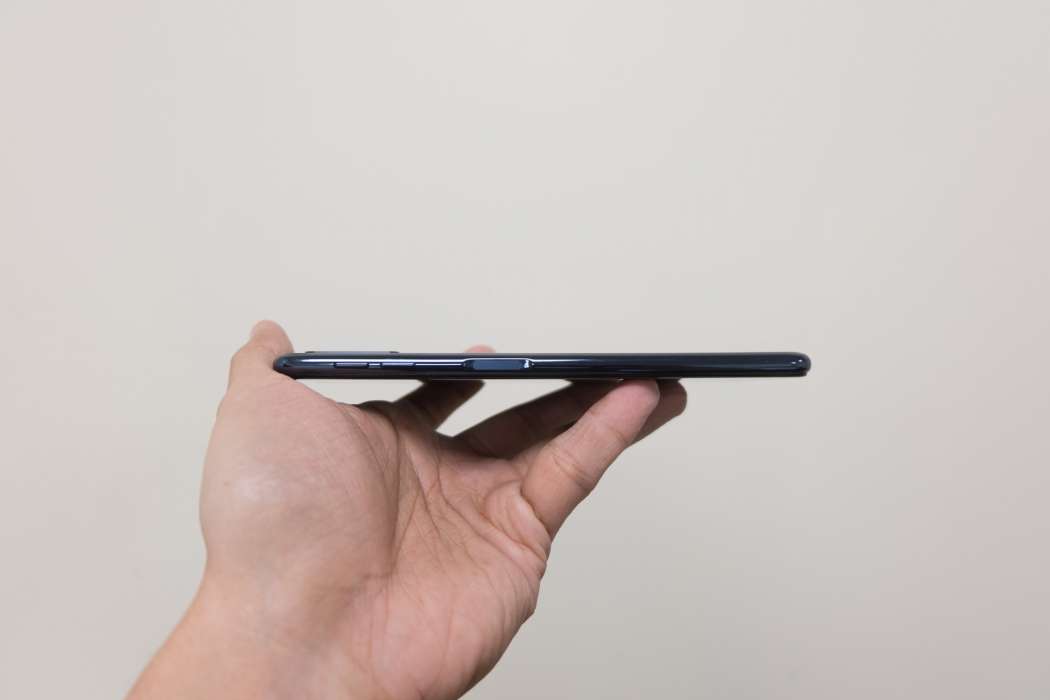 It also acts as a fingerprint scanner, though it took us a while before figuring it out. It's not your typical "tap to unlock" scanner, and it takes some getting used to. The technology itself isn't new – we've seen this kind of fingerprint scanner in laptops before, but we're not totally sold on the idea of having it on a phone.
The fingerprint registration process may be a little challenging: it takes more than the usual amount of tapping before your finger is fully recognized by the system. Don't worry, it will be worth it – the fingerprint unlock system is fast! Because the scanner is located on the power button, the system is already unlocked by the time you click it. It's so much more intuitive than any other implementation out there, including the in-display fingerprint scanners.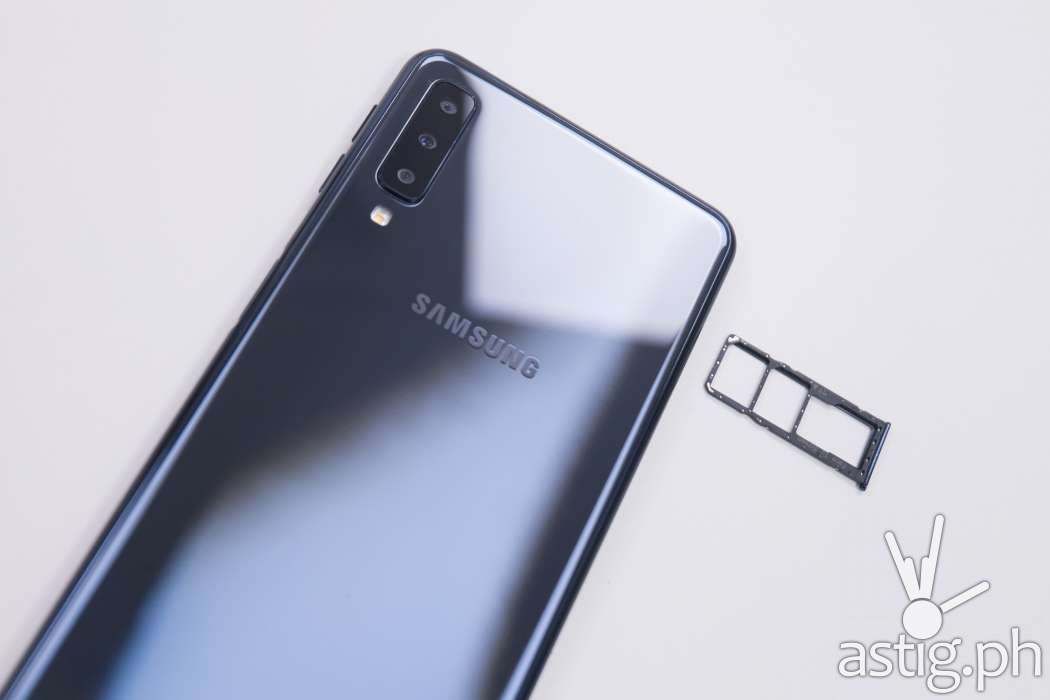 Those of you who prefer wired headsets will be happy to learn that Samsung is keeping the 3.5mm headphone jack – for now, at least, as we have one at the bottom of the phone. Dedicated dual-SIM slots are also available, in addition to a third slot for a microSD expansion card for external storage.
We were slightly disappointed to find a microUSB connector instead of the expected USB Type-C found on its predecessor. It is baffling to see this kind of regression, especially on the Samsung A-series.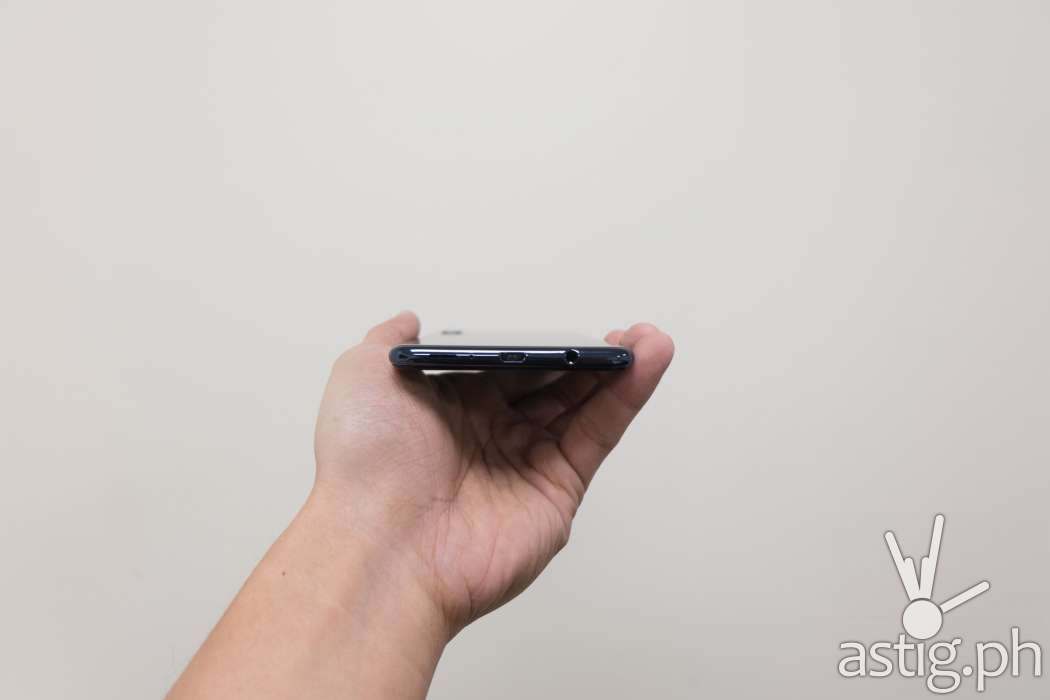 Samsung Galaxy A7 (2018) application and gaming performance
Samsung Galaxy A7 (2018) packs 4GB RAM running on an 8-core Exynos 7885 CPU clocked at 2×2.2 GHz and 6×1.6 GHz. It comes with Android 8 (Oreo) out of the box, with Android 9 (Pie) coming soon as an OTA (over-the-air) update.
The A7 (2018) handles mobiles games very well, pumping out decent frame rates at medium-high settings. It should be capable of handling the most demanding 2018-2019 games such as Ragnarok M, Mobile Legends, PUBG, and Mu Origin 2, and Fortnite.
The 3300mAh battery is a bit low for 2018, a year where most phones average around 4000 mAh. Given that its predecessor came with 3600 mAh of battery life, we were hoping it could at least be maintained for us to get more battery life out of this generation's improved power draw.
Still, the A7 lasts a solid 8-9 hours for mixed usage scenarios, which includes SMS, calls, data, and a few minutes of gaming.
Heavy workload such as non-stop music, web browsing, and continuous gaming with background updates typically yields around 5.5 – 7 hours on a full charge.
It takes around 2.5 hours to reach 100% battery life on the A7, which is a relatively underwhelming figure in a year when most phones can fully charge in under an hour, especially considering the fact that the capacity of its battery is already on the lower end.
Samsung Galaxy A7 (2018) audio and loud speakers
Do you watch plenty of movies or do you listening to a lot of music on your phone? It is worth noting that the Samsung Galaxy A7 produces very good sound quality, especially when listening over a pair of earphones, headset.
Added support for Dolby Atmos technology delivers more depth and 3D-sounding positional audio. Although it can sound artificial at times, it doesn't really distract, so we simply leave it on all the time.
Samsung Galaxy A7 (2018) camera
Now we move on to the triple camera, which is the highlight of this update. It is interesting to see Samsung's first triple-camera module appearing in a mid-range smartphone, whereas the latest features normally make their debut in the flagship Galaxy line.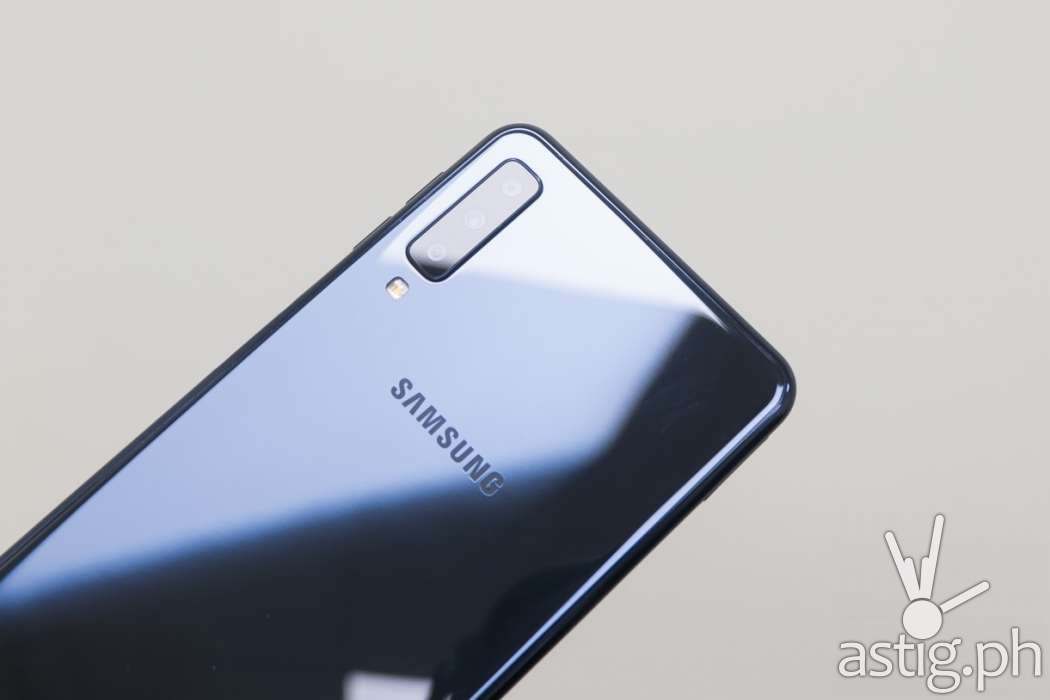 We have a 24 MP main camera, an 8 MP wide angle camera, as well as 5 MP depth sensor in the rear. AI (artificial intelligence) automatically optimizes capture settings such as brightness levels, saturation, and white balance depending on the scene.
These settings can also be controlled manually, and we prefer to shoot this way.
Since I love taking scenic views, the ultra-wide lens gave me the ability to capture more details without having to move too far away from the subject.
Picture quality during the day is very good, however, low-light photos tend to be pixellated and soft. Refer to sample photos below – take not that all these are point and shoot with no edits.
Well-lighted. ISO 40
Night shot – ISO 400
Night shot. ISO 100
Portrait shot at night. ISO 40
Samsung really needs to improve the quality of low light photos, especially on a photography-centered smartphone like this.
I took the shot blow during afternoon, notice the amount of pixellation and noise.
Wide-angle shot
Ultra-wide angle shot
Photos captured with the front camera appear significantly warm, resulting in a yellowish tint, so you may want to adjust the white balance and other shooting conditions manually. Otherwise, you can adjust it via post-processing.
Here are a few sample videos shot with the Samsung Galaxy A7:
Samsung Galaxy A7 (2018) verdict
The 2018 refresh of the Samsung Galaxy A7 continues its legacy as a well-built phone with excellent display, Dolby Atmos support, and an exciting triple camera.
Priced at 17990 PHP in the Philippines, it is decent option for those looking for a regular and ultra wide-angle lens, and the Samsung experience without the distractions that come with notch displays.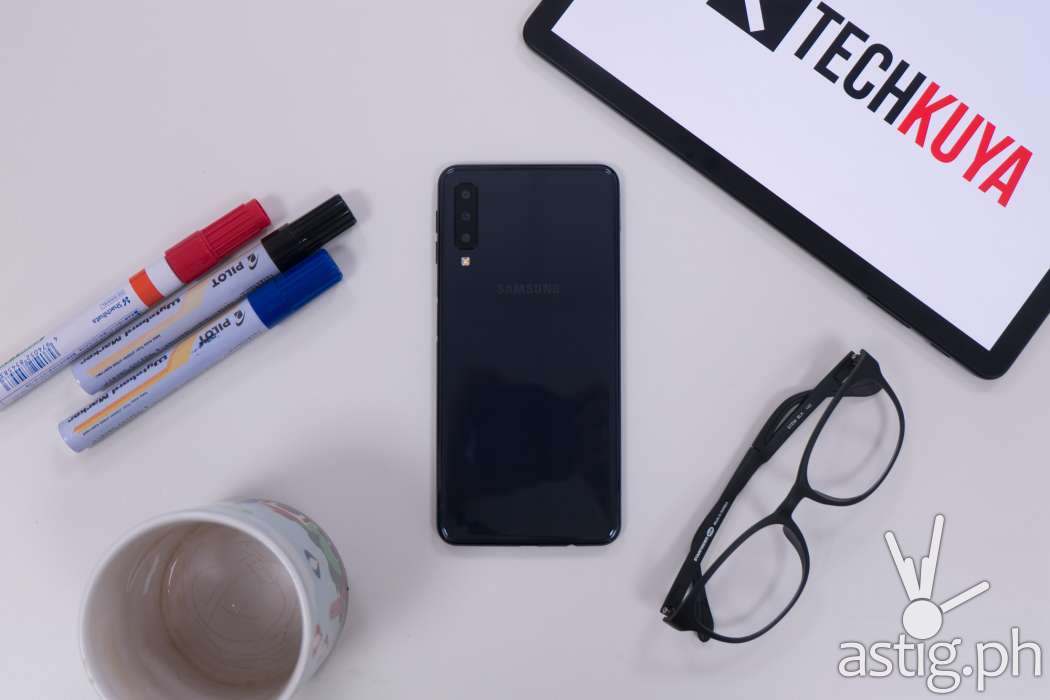 Samsung Galaxy A7 (2018) technical specifications
https://www.samsung.com/ph/smartphones/galaxy-a7-a750/SM-A750GZBUXTC/
Samsung Galaxy A7 (2018) photos
Samsung Galaxy A7 (2018) videos