How much money are you willing to spend on a phone or a tablet? Like, if we were to put a price tag, what would that be? 25 thousand pesos? How about we double that to 50 thousand?
For most of us, 25 thousand pesos is already lot of money. Given the average salary of around Php12,500 in the Philippines, that's at least two months worth of savings – one if you're lucky enough to be working a high-paying job. So that cool Php50,000 peso phone is something most of us can only aspire to get through months of saving and frugal living.
Given this, we can only assume that spending 100 thousand pesos on a phone is not just impractical, but also impossible and unthinkable, and we agree with you.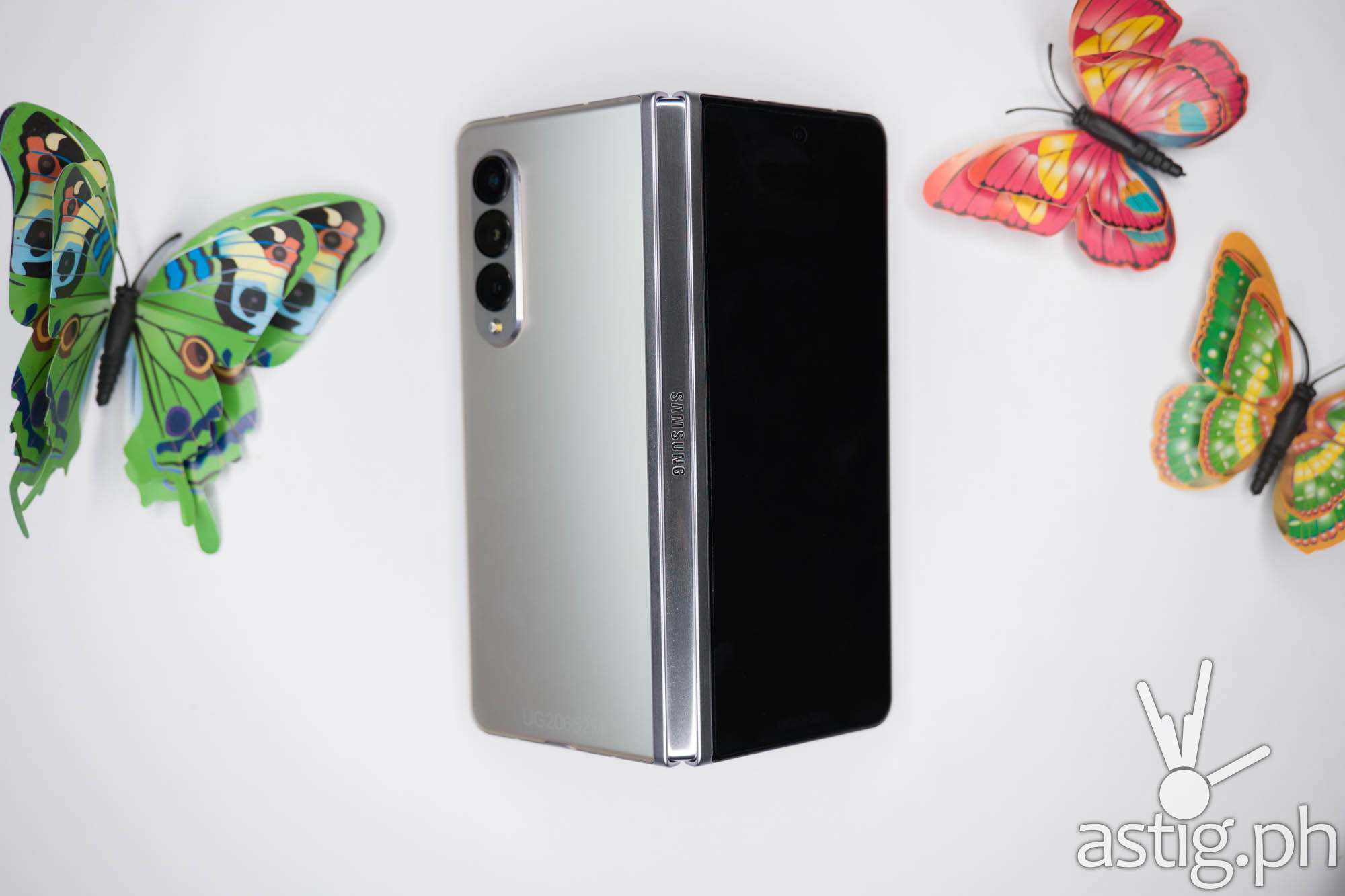 So more than a few eyebrows were raised when the Galaxy Z Fold3 made its Philippine debut to the tune of Php87,990 for the base 256GB model or Php95,990 for the 512GB variant.
We can read your thoughts: With such a high barrier of entry, only the privileged few would be able to enjoy such a product, right?
The cost of early adoption
First, if you're asking that question, then you are not the target market. Not everyone can afford a Lamborghini or a Ferrari, but that should not stop us from appreciating it.
The fact that you can't afford a supercar won't stop you from taking a photo or a selfie when you encounter one, does it?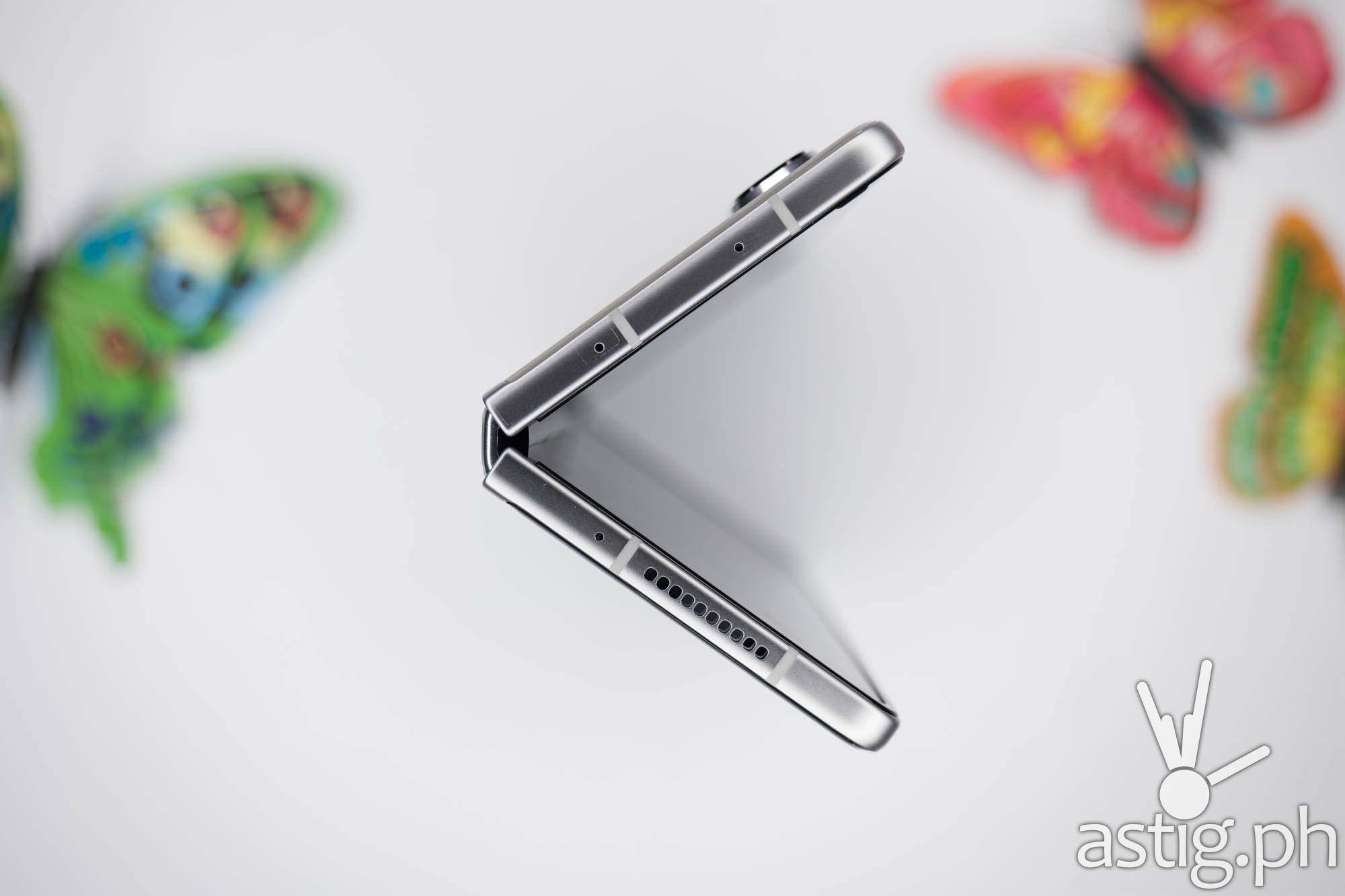 Second, foldable display technology is still really new, and this is one of those use cases that showcase what it can do to its full potential. Foldable displays are the future, and early adopters are helping us drive innovation.
With time and demand, prices are bound to go down.
If you below to this niche group of people who are willing to spend for this phone, we get you. Is it worth the price tag? Maybe. The technology is still in its infancy, and there's very little competition.
Let's just put it this way: If you could get a Galaxy Z Fold3 for half the price, would you get one?
For us, the answer is a definite YES. Here's why: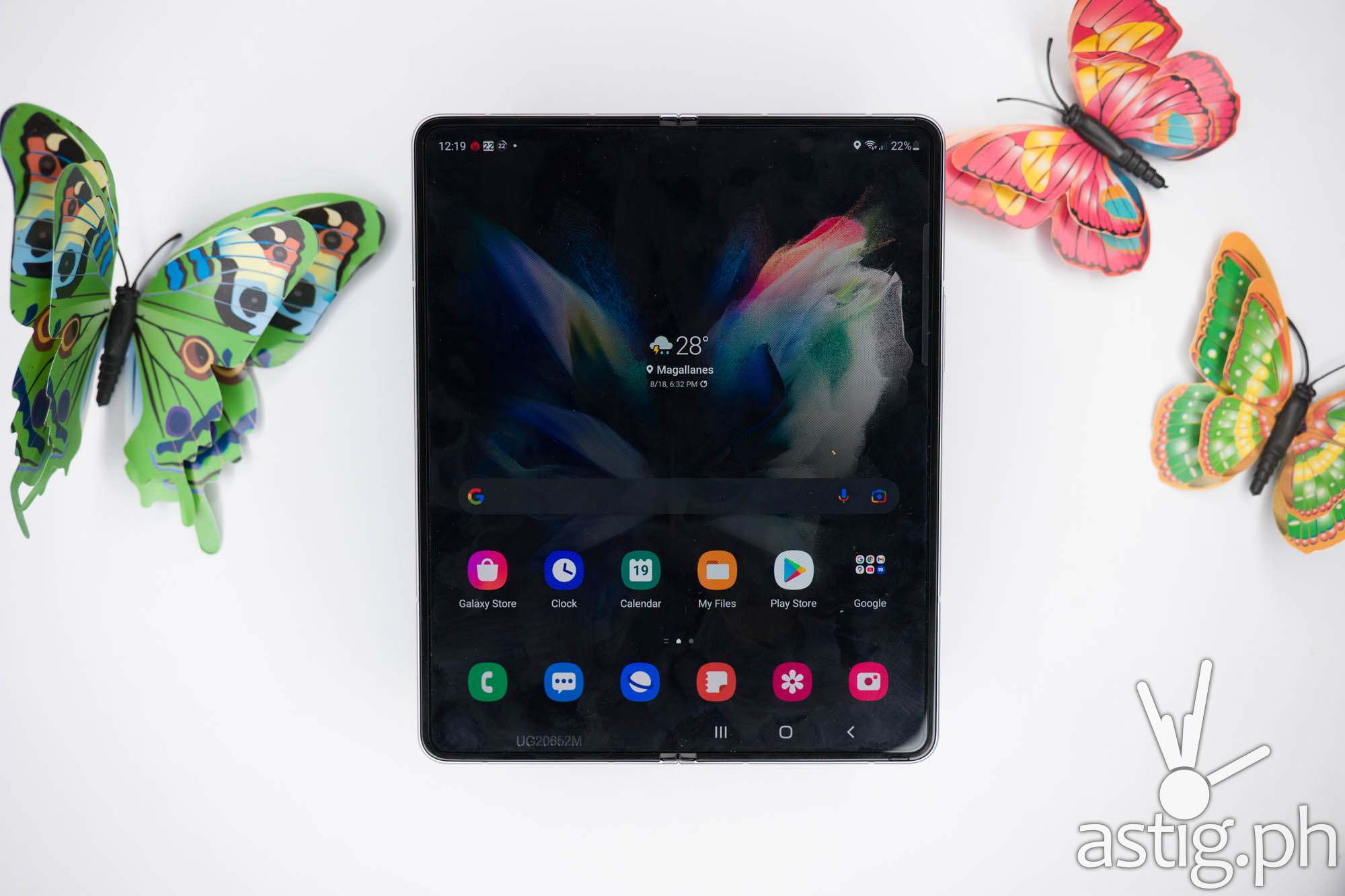 We first covered the Galaxy Fold when it came out exactly two years ago. Back then, it is the first commercial product of its kind to offer a unique solution to what can only be described as a physical limitation: How can you increase the display of a phone while keeping it pocketable?
The answer comes in the form of a timely but intuitive solution: By using foldable displays, manufacturers can double the display surface area of a device and keep it portable when not in use.
Stigma surrounding foldable displays
However, it was not easy: The first Galaxy Fold was marred with durability issues, most notoriously of which has to do with peeling off the pre-installed screen protector.
The phone comes with this protective layer/film. Samsung says you are not supposed to remove it. I removed it, not knowing you're not supposed to (consumers won't know either). It appeared removable in the left corner, so I took it off. I believe this contributed to the problem. pic.twitter.com/fU646D2zpY

— Mark Gurman (@markgurman) April 17, 2019
Things improved significantly with the arrival of the Galaxy Z Fold 2, but screen durability issues remain.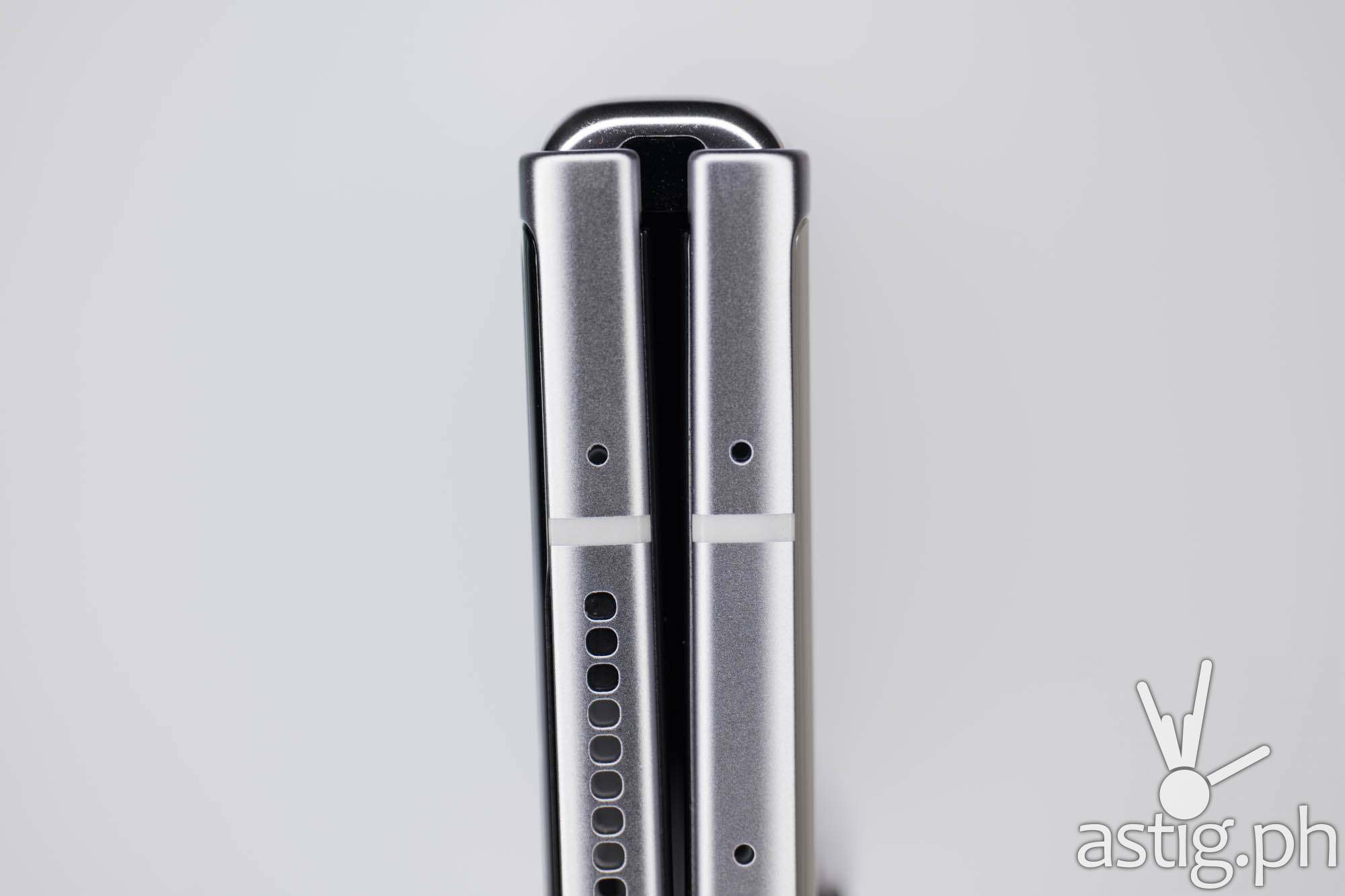 Understandably, there was quite a bit of hesitation and stigma surrounding foldable devices that future releases needed to overcome. So when the Galaxy Z Fold3 arrived, we spent a lot of time on that screen, testing it and trying to find any signs of weakness and boy, it was such an experience.
SAMSUNG only sent us an engineering sample, but the moment we held it, we could already tell that we had a mature product in our hands. What we had was a rigid and robust foldable device that has the structure in place to keep things intact and withstand the wear and tear of everyday use.
It's a tablet in your pocket … or mini-laptop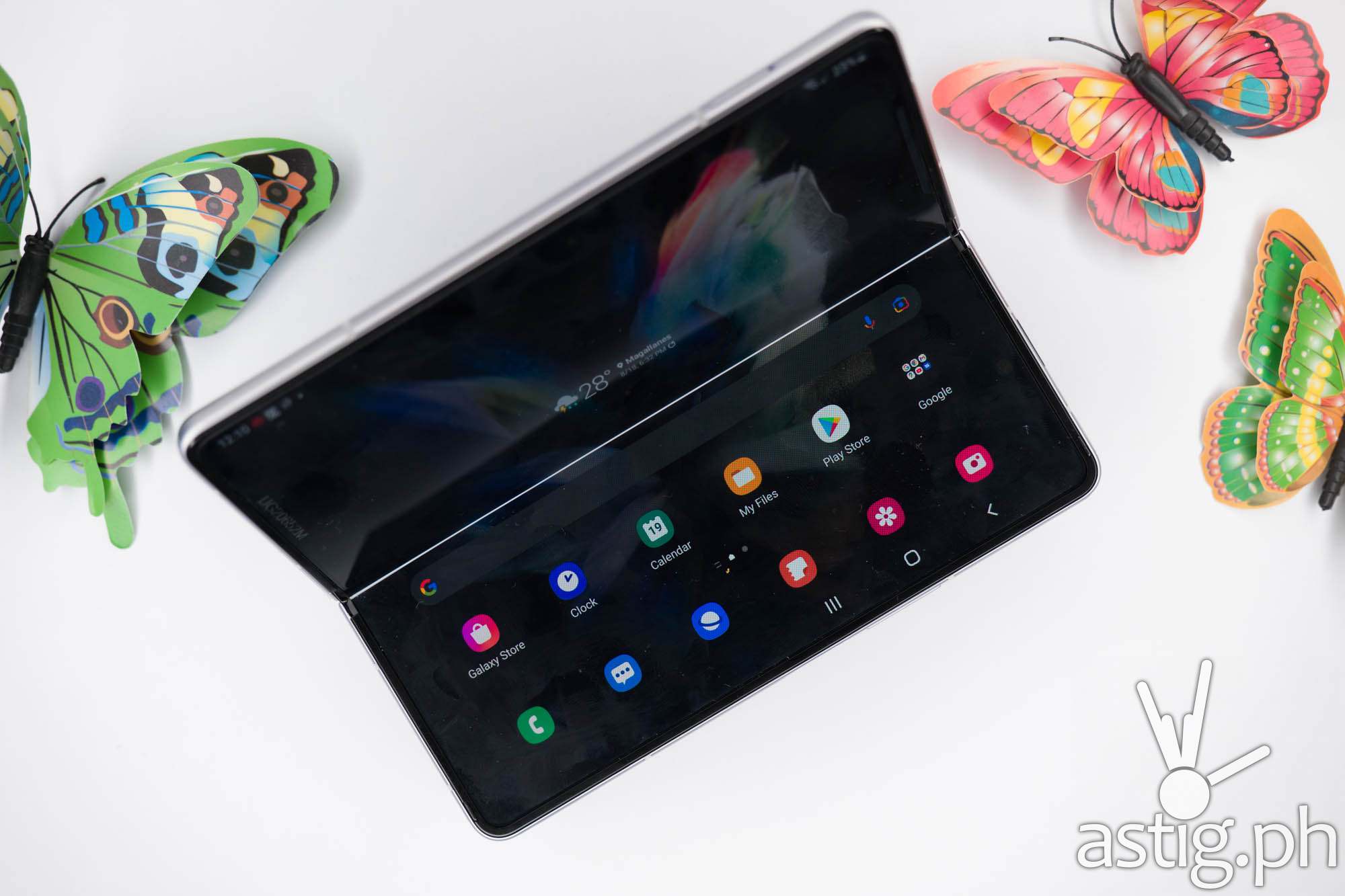 The improvement in the quality of the foldable screen is so massive that it has left us thoroughly impressed. Compared to its predecessors, it does not feel like a foldable screen at all. Unfolded, it looked and felt like a tablet, and the only thing reminding us that it wasn't is that indentation running through the middle where it's supposed to fold.
We want to liken the foldable experience to the a laptop: Those things have been around forever, but those hinges don't just fall apart. It's the same thing with the Fold3, only it's a much smaller form factor, and the two sections are connected by a display panel.
SAMSUNG has done an excellent job of protecting that center area, reinforcing the exposed edges with a thick metal border.
Under-display camera tech makes its SAMSUNG debut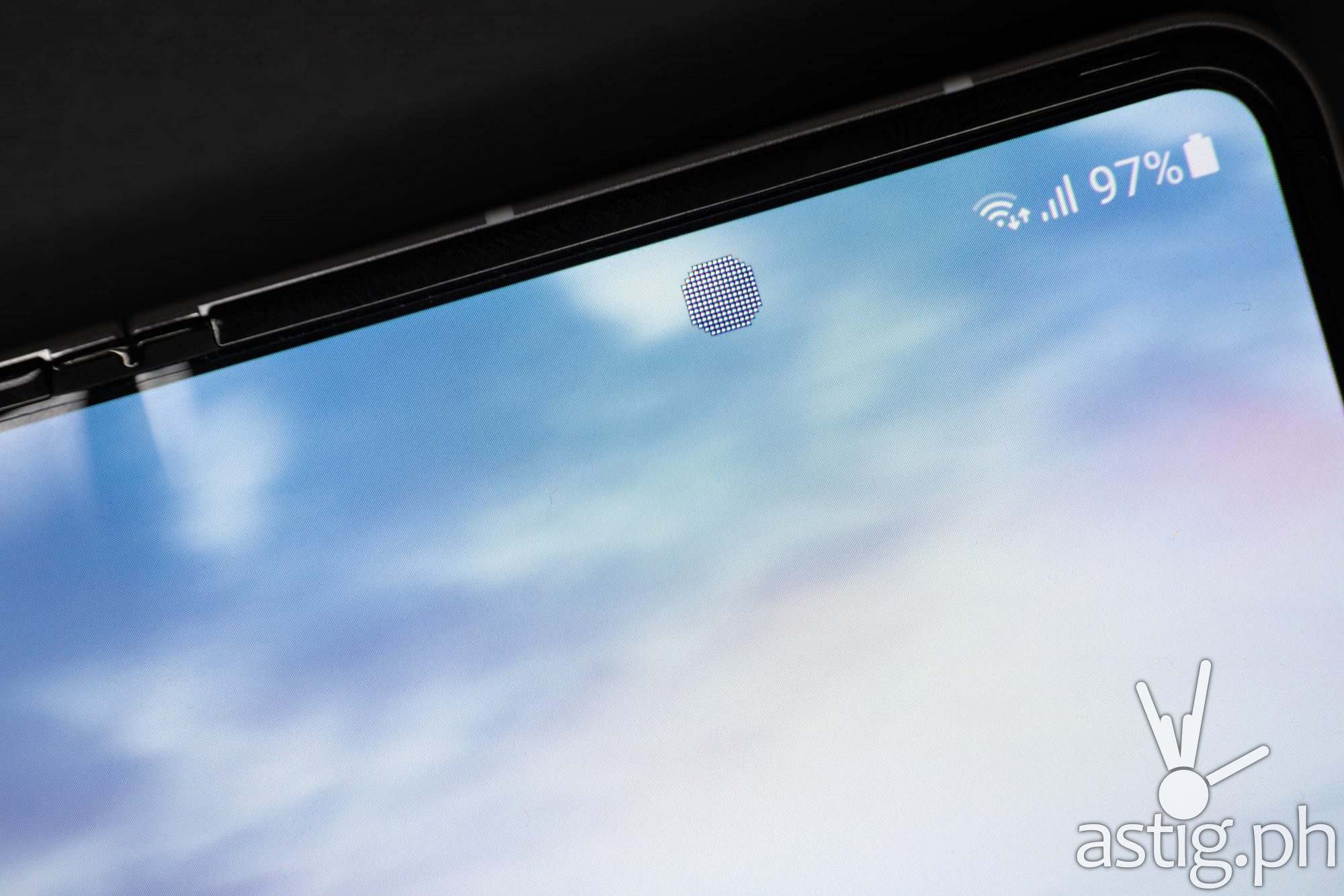 That foldable display may be impressive, but that's not all that the Galaxy Z Fold3 has going for it, though. Underneath that folding display is a selfie camera that can "peek" through when the pixels are turned off. The under-display camera is really easy to spot because there's a circular area where the pixels are spaced further apart.
It's the first time we're seeing under-display camera technology from SAMSUNG, but for some reason, the product team decided to ditch the 10MP f/2.2 sensor of the Galaxy Z Fold 2 and go with a smaller, 4MP f/1.8 sensor instead. It really baffles us why they did this on the debut of SAMSUNG's under-display camera technology, because the photos are bound to look terrible.
Do we really need 2 screens and 2 'selfie' cameras?
We also feel that it's not really necessary to have that many cameras. There's already a selfie camera inside that hole on the cover screen, and if that's not enough, you can take selfies with the triple camera module by flipping the cover screen.
Speaking of unnecessary, we're not sure about how we feel about that cover screen. On one hand, it's nice to be able to quickly check your phone without unfolding, but on the other hand, we feel that display area is simply too small for any actual, productive use.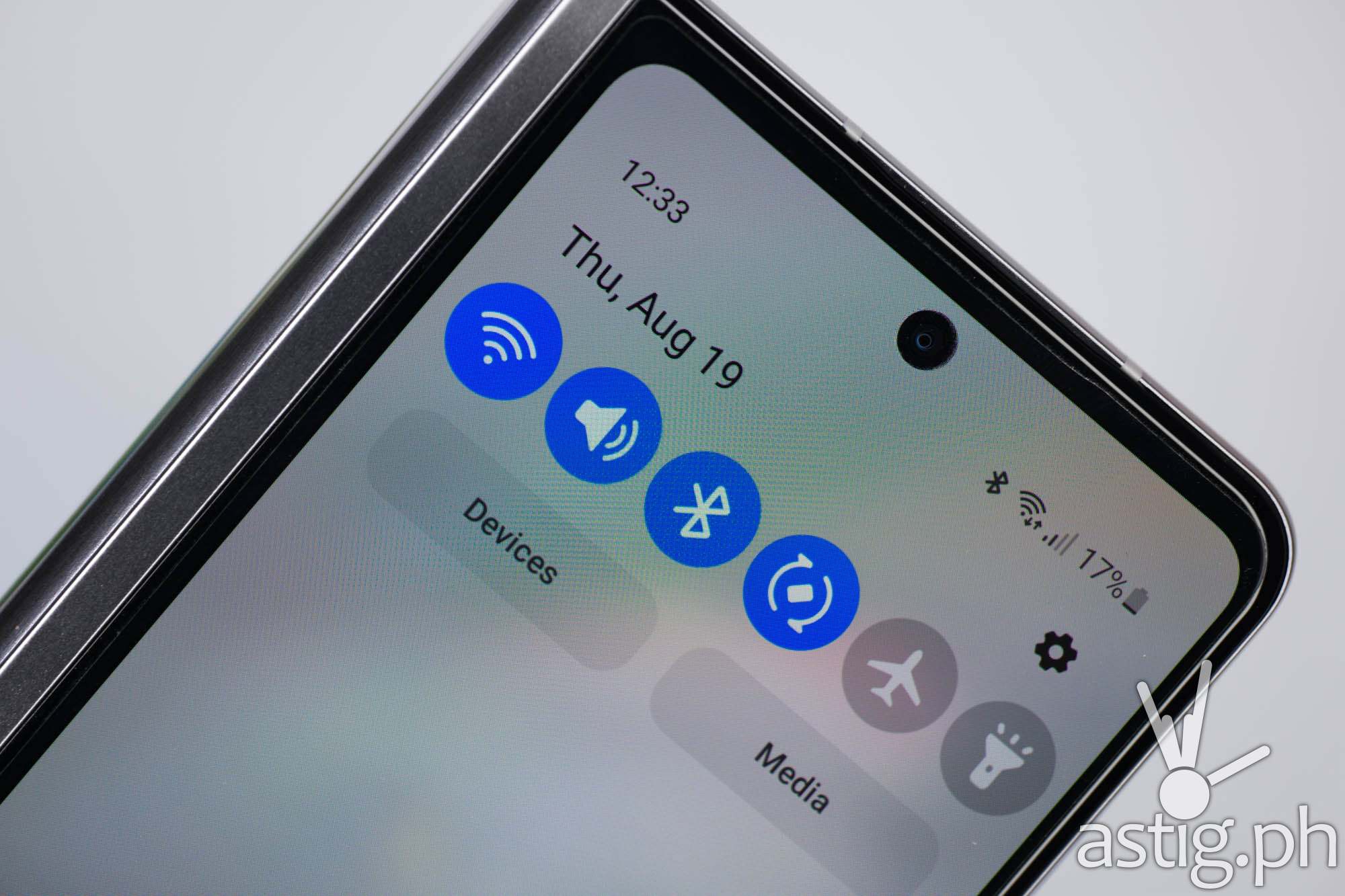 Like, if you were going to use your phone beyond just checking your notifications then you probably wouldn't mind unfolding and using the main display which is so much larger and so much easier to use. Not to mention the fact that the cover screen is an additional weak point. At 271 grams, the device is already heavy as it is, and you can't completely fold the two halves flat.
It's scary to think of dropping it face-first on the pavement because there's nothing protecting the screen from all that weight and the power of gravity.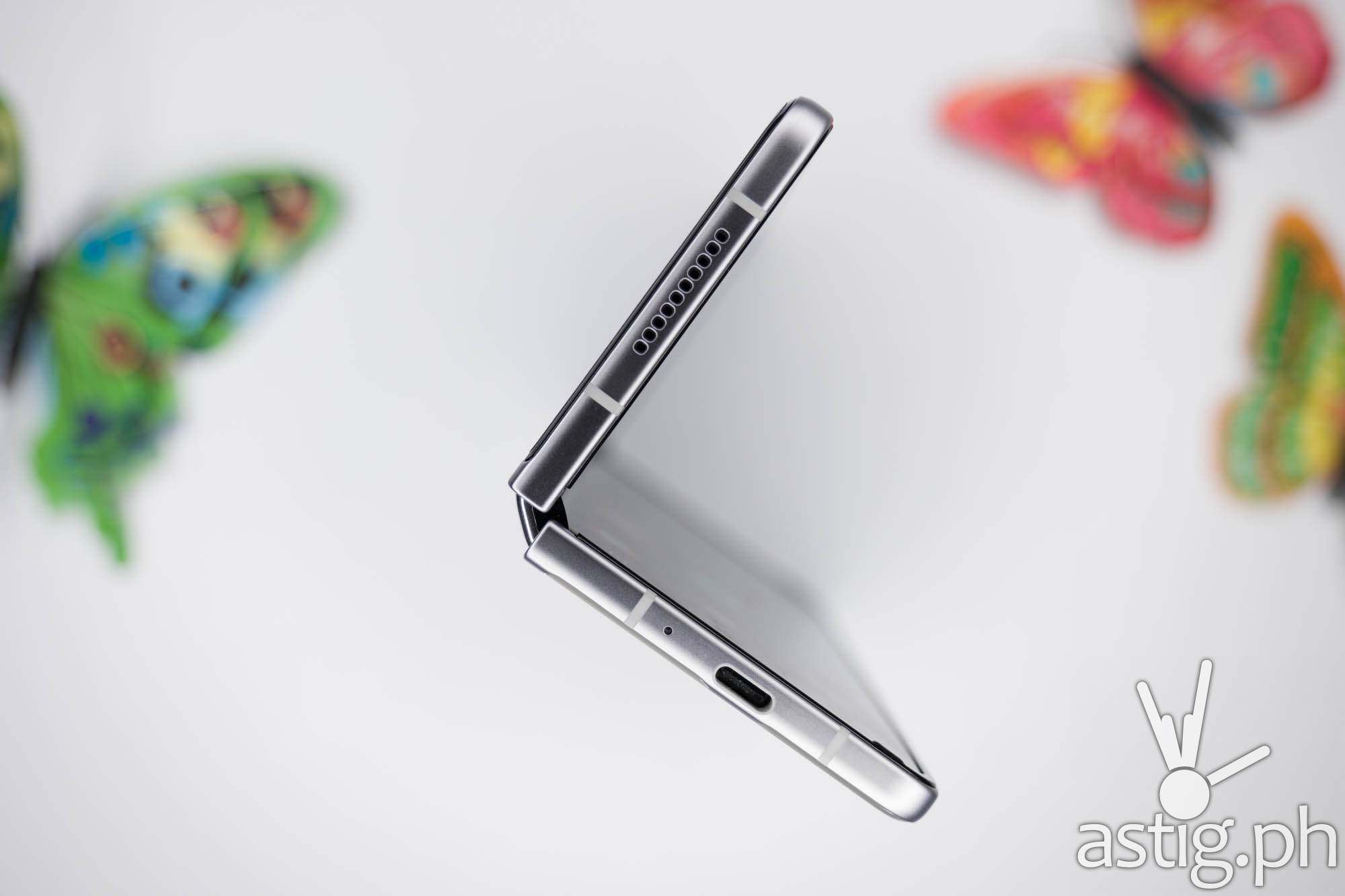 Part of us wonders if a foldable device with no cover screen would do well commercially if it meant a lower price point for the Galaxy Fold Series. Maybe even a smaller screen like what's on the Galaxy Z Flip3? The only thing we really find it useful for are notifications anyway.
Just think about it and share your thoughts in the comments section. Do you agree or disagree and why?
True flagship performance
What that out of the way, what remains of the Galaxy Z Fold3 needs little explanation. It is a flagship phone through and through, and there's little point to discuss it here when there's almost no competition. Apart from the Mi Mix Fold, the only other alternative is the Huawei Xs, a phone which is not even worth discussing here due to the absence of Google Play Services.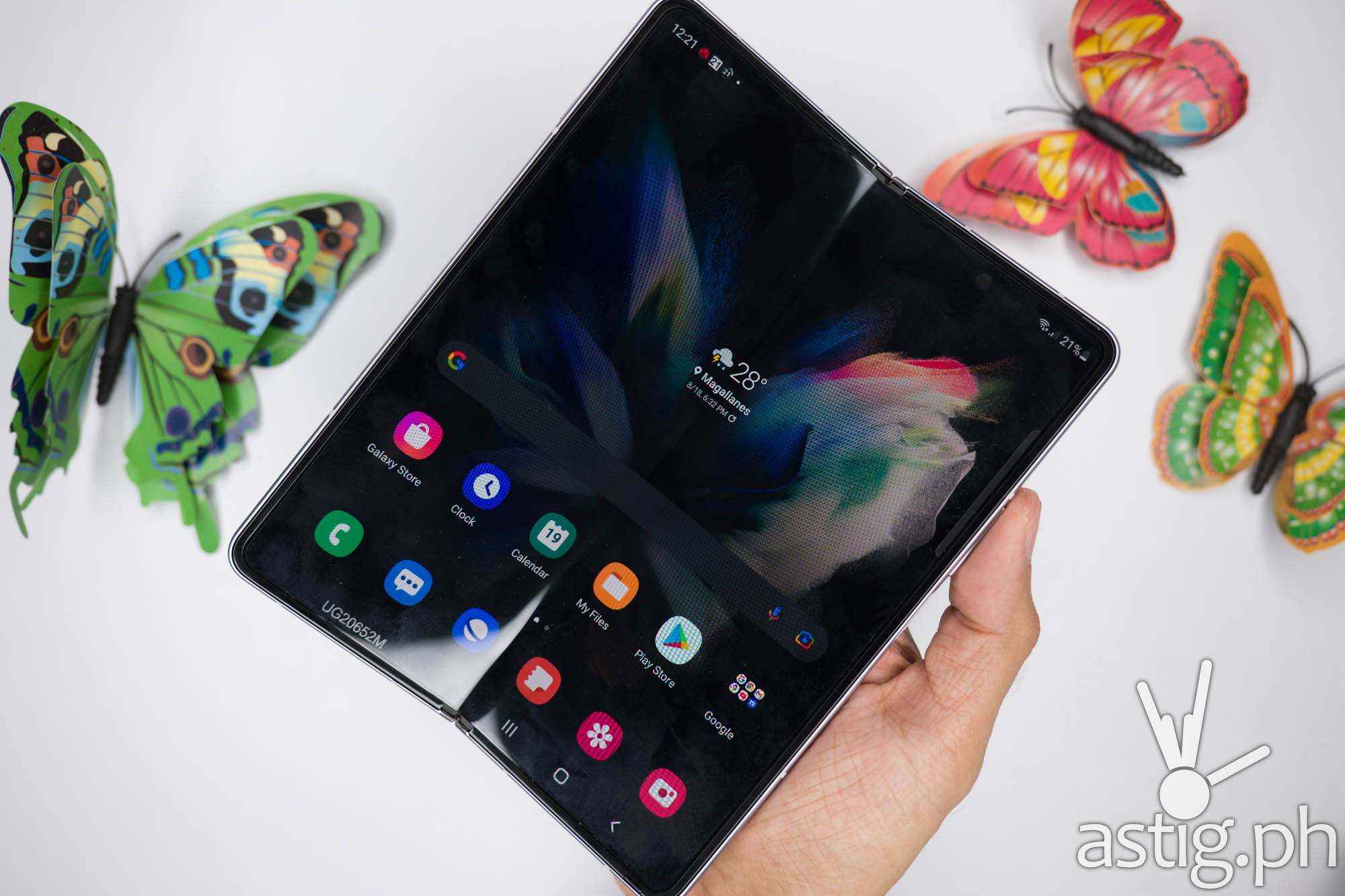 Furthermore, the Galaxy Z Fold3 runs on the Snapdragon 888 5G chipset. It is no longer the latest and greatest 5G platform from Qualcomm since they released the refreshed Snapdragon 888 Plus mid-year. However, the performance difference between the is marginal.
It rocks 12GB of memory – more than enough for even the most resource-intensive tasks such as photo and video editing.
You can choose from either 256 or 512GB of storage, both of which benefit from the enhanced read and write speeds of the UFS 3.1 format.
We used the Fold3 extensively to edit videos using apps like Quik, and we also did quite a bit of photo and image editing using Lightroom Mobile. Never at any point did it feel sluggish or slow.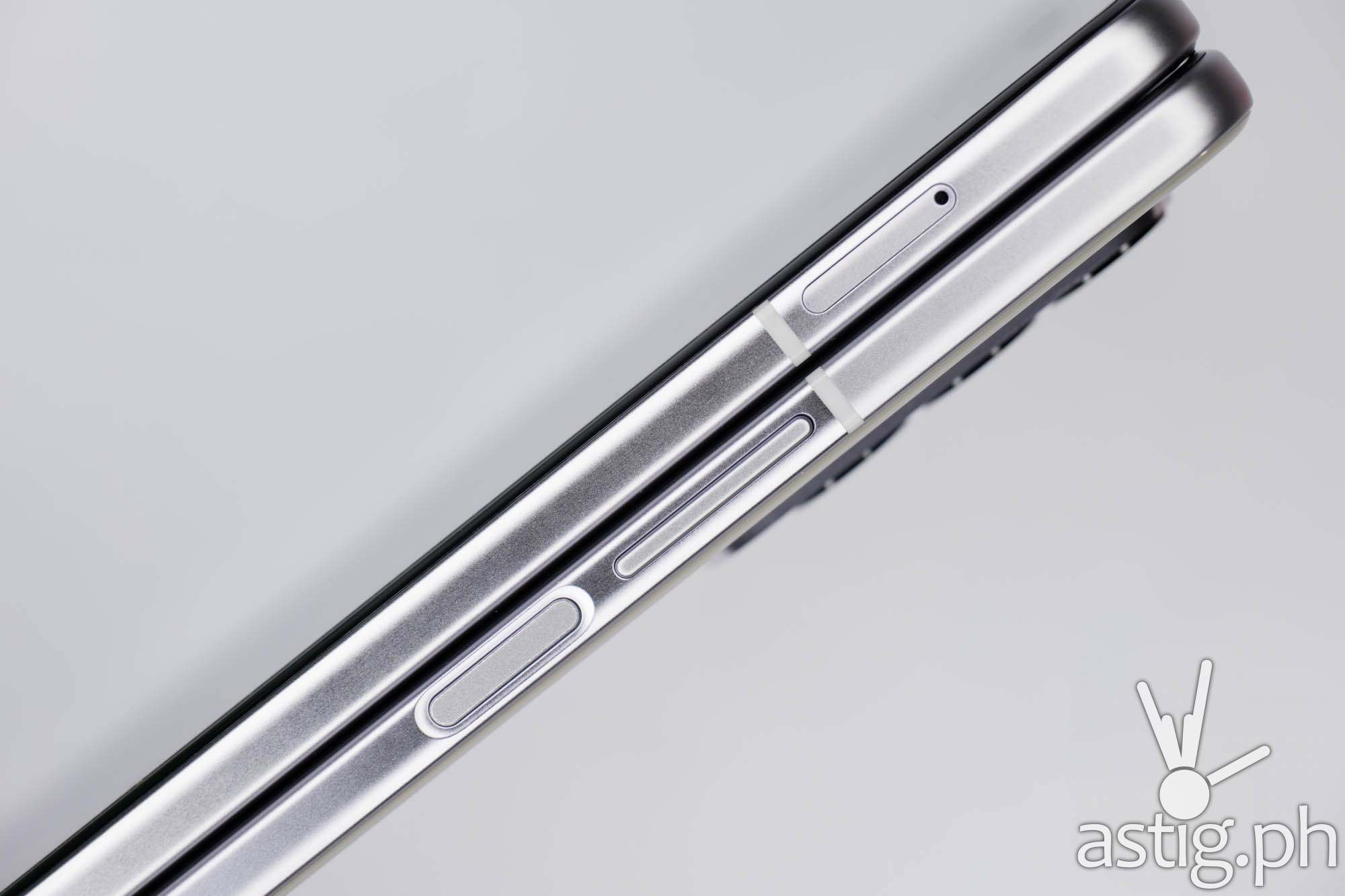 Of course, we had to run our benchmarks, and it performed extremely well. Numbers were not the highest comparatively speaking, but it was enough to put it at the top 5% of all phones this year. What's interesting to note is that the disk speeds were off the charts, scoring 107k points where the average barely breaks 50k points.
Here are the complete scores from a single run of PassMark PerformanceTest Benchmark:
System: 7097
CPU: 3102
Memory: 17335
Disk: 107528
2D: 34695
3D: 79385
You can never go back from this one …
Performance is just part of the reason why we love using the Fold3 for just about everything. What makes this phone truly enjoyable is that foldable 7.6-inch screen. It's like having a tablet in your pocket that you can simply take out and unfold at any time, and that's just for starters.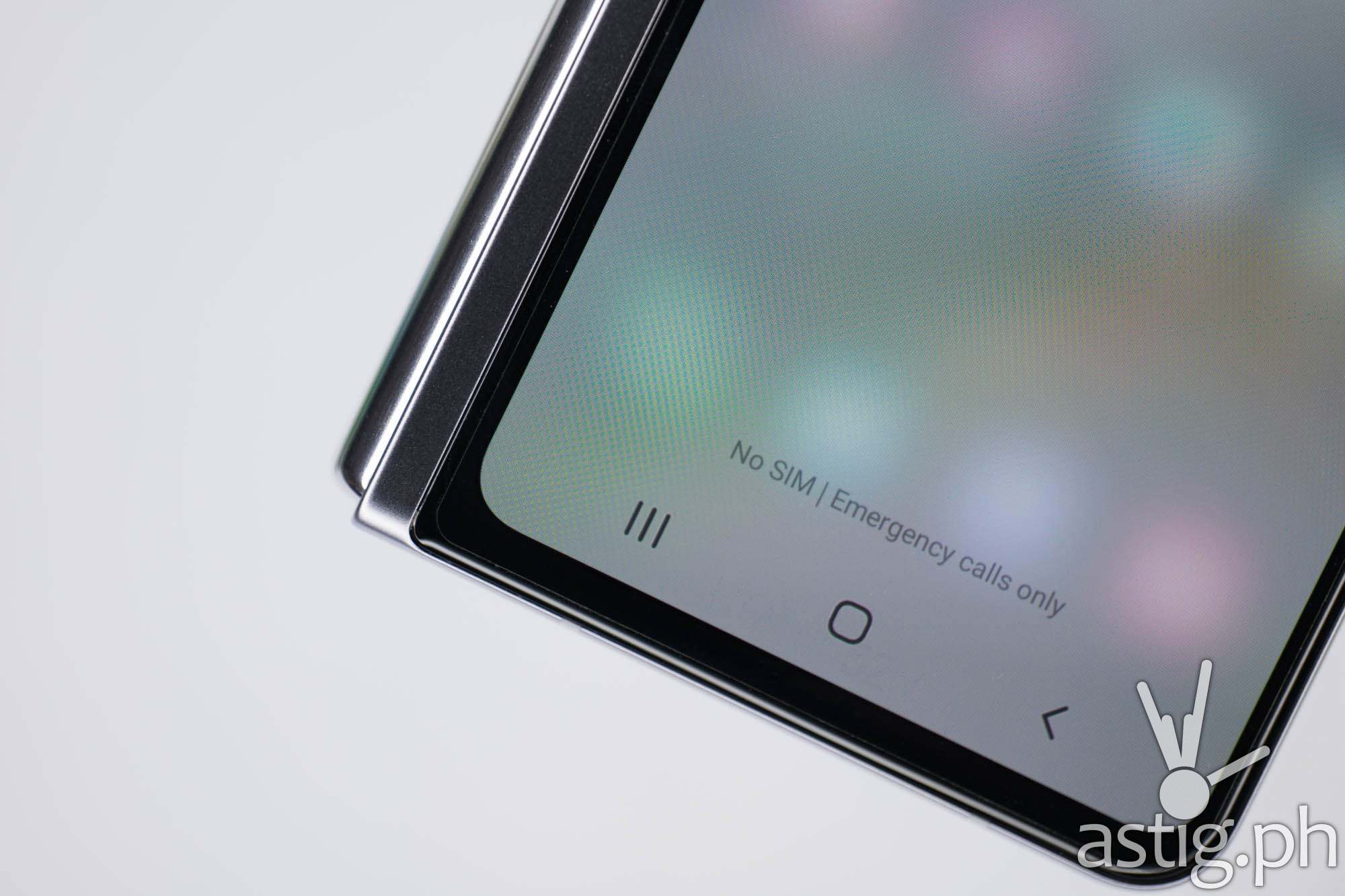 The kicker is the panel itself. SAMSUNG proves once more why they are one of the top panel manufacturers with Dynamic AMOLED 2X technology. They managed to put not one but two of these on the Fold3: one on the cover and a foldable one inside. The main difference between the two is that the cover panel has Gorilla Glass Victus while the foldable screen relies on a pre-installed plastic screen protector.
According to the official product page, the main screen is made of ultra thin flexible glass and is 80% more durable than the previous generation. There's a reminder that you are not supposed to remove the protective film on the Main Screen, which makes perfect sense.
Even if you are the most careful person in the world, micro scratches from dust particles could compromise the foldable display's structural integrity, so you'd want to keep it as pristine as possible.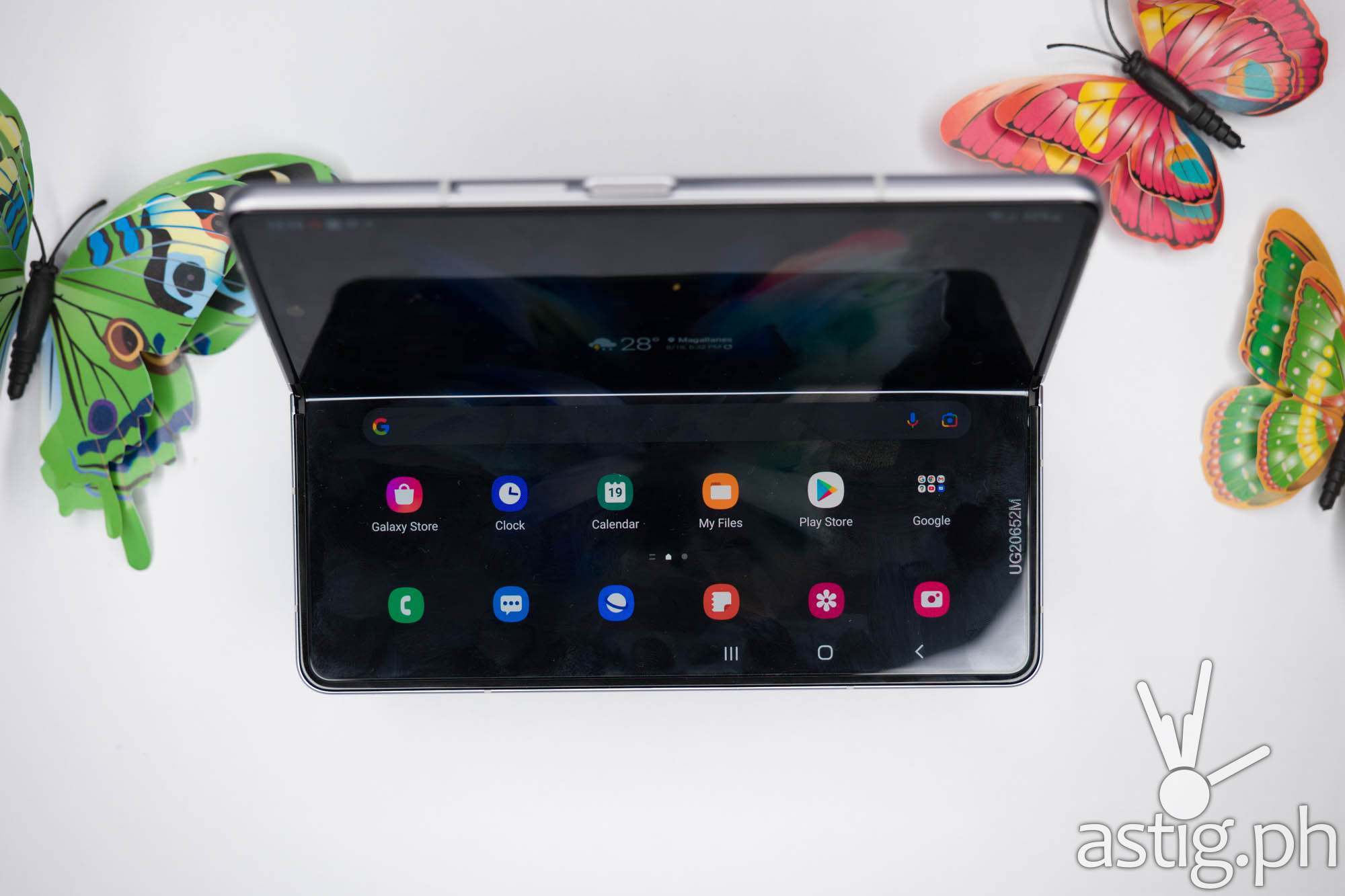 It's though to go back to smaller screens once you get used to the size of that 7.6-inch foldable. Like, that cover screen looks so tiny in comparison that I have to squinch just to read the text.
Streaming videos is always fun and exciting not just because of the size and picture quality, but also because of those AKG-tuned dual stereo speakers. It doesn't have the deepest bass, though – the sound profile is a little flat, but it doesn't sound muddy and the dynamic range is satisfying enough for casual listening.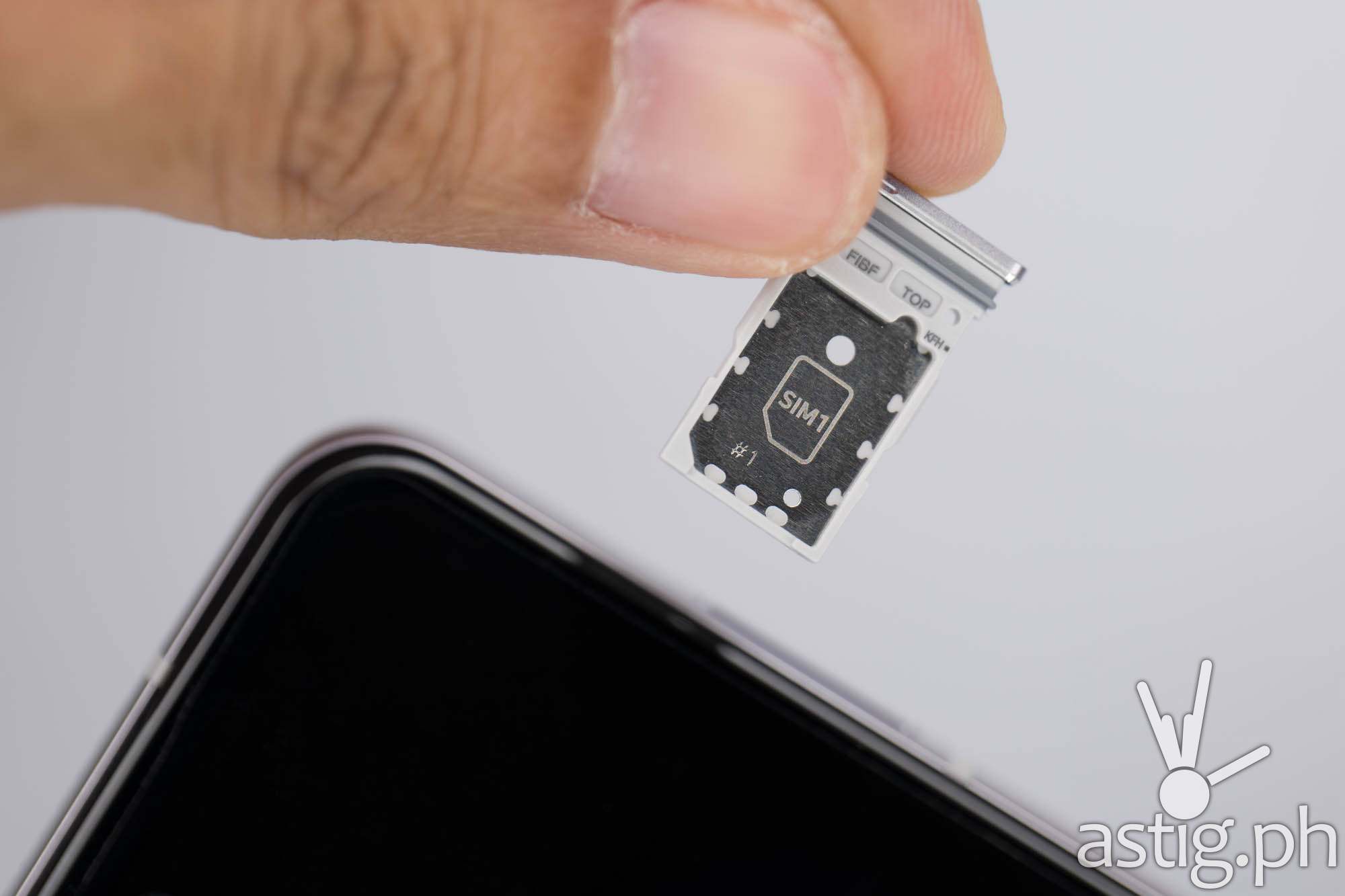 Mind you, the system is Widevine L1 certified, and that 7.6-inch screen supports HDR10+! The sky is the limit, so stream to your heart's content!
Competitive mobile gaming: Wi-Fi 6e and 5G
All of the benefits of having a good screen and sound system for enjoying content that we just talked about also applies to mobile gaming, and we're glad that the Galaxy Z Fold3 has enough muscle under the hood to run, well, just about anything from casual AAA titles to competitive games used for e-sports and gaming tournaments.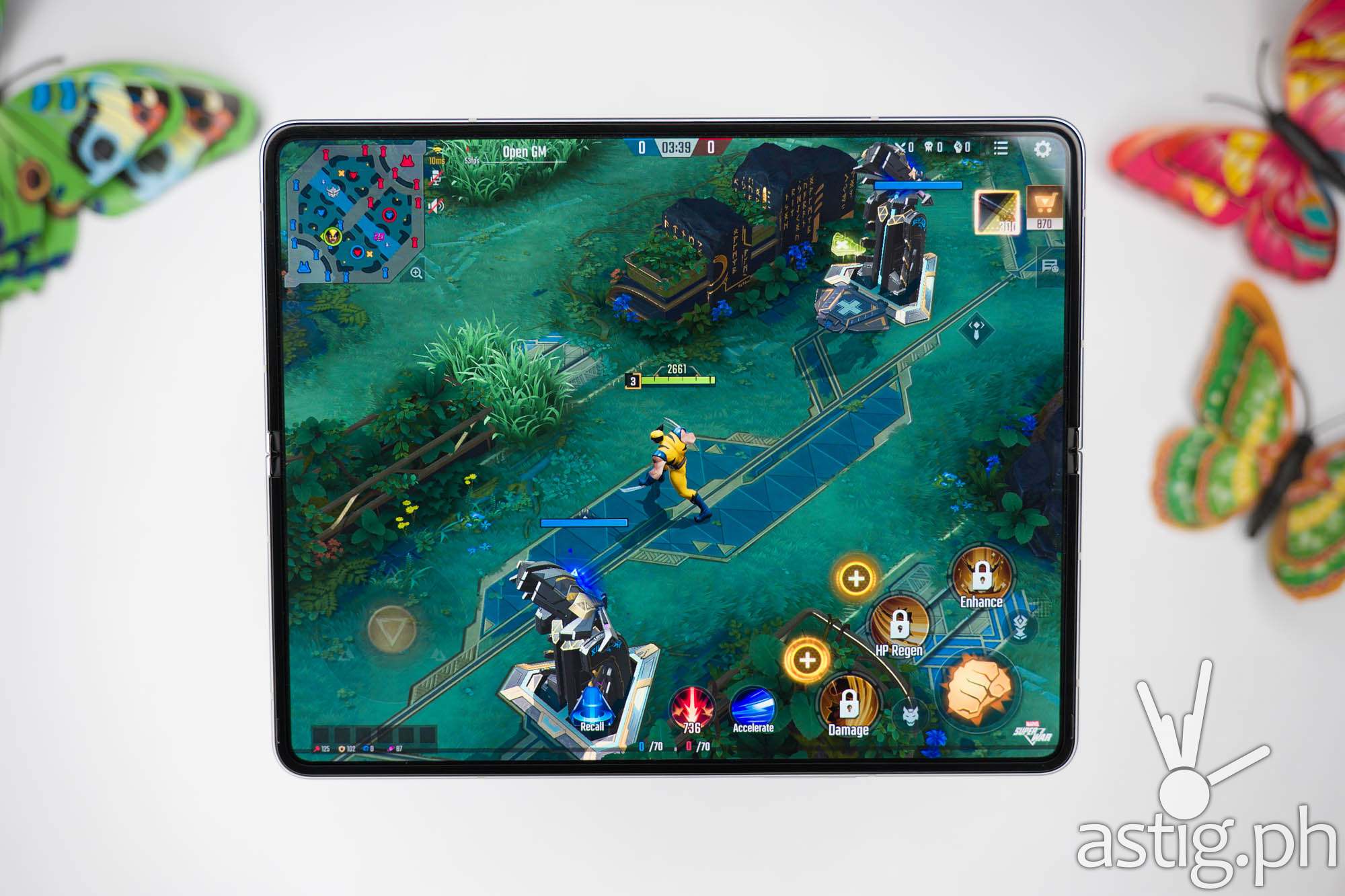 Network speed is another important and often overlooked component in mobile gaming. Unless you're into purely casual gaming, a lot of the popular mobile games right now such as shooters, battle royal type survival games, MMORPGs (massively multiplayer online role playing games), and MOBAs (multiplayer online battle arena) require an Internet connection.
More often than not, having good, stable network connection is key to dominating such games. Thankfully, the SAMSUNG Galaxy Z Fold3 supports both the 5G mobile data standard as well as the newer 802.11 ax standard, also known as Wi-Fi 6 / 6e. If you've ever used 5G for mobile data, then you know that it is leaps and bounds faster than 4G not to mention latency is lower – a critical component in competitive gaming.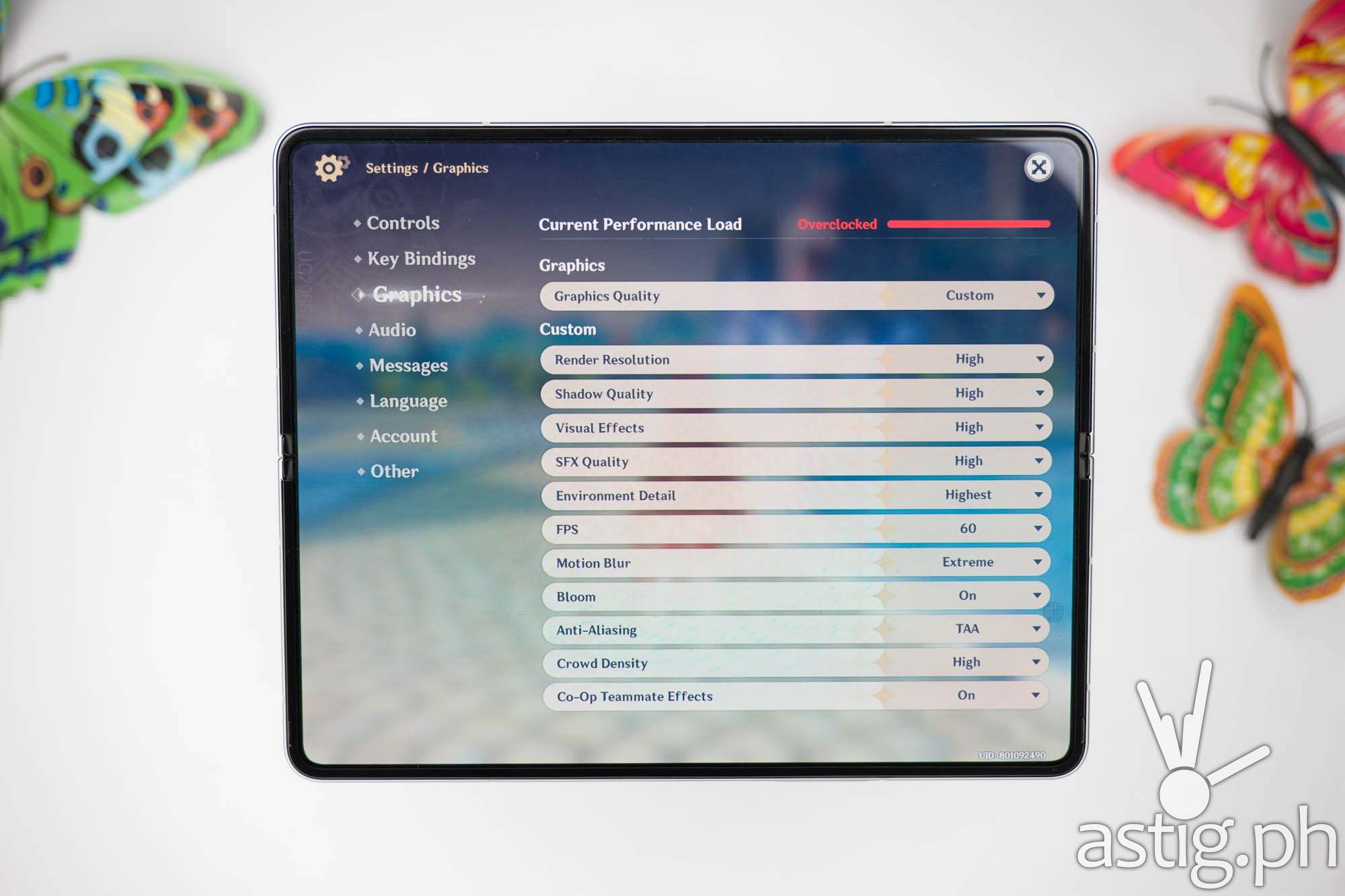 For our baseline test, we installed our standard suite consisting of competitive MOBA titles Mobile Legends: Bang Bang (MLBB), Marvel Super War, and League of Legends: Wild Rift. We set all titles to the highest graphics settings possible and set high frame rate (HFR) on for that buttery-smooth 60 FPS.
Needless to say, the Fold3 did not disappoint – it was pumping out a stable 60 FPS the entire time. What's even more amazing is that the system stayed cool the entire time, and we know this because of SAMSUNG's in-game panel called Game Booster, which monitors the temperature while we play.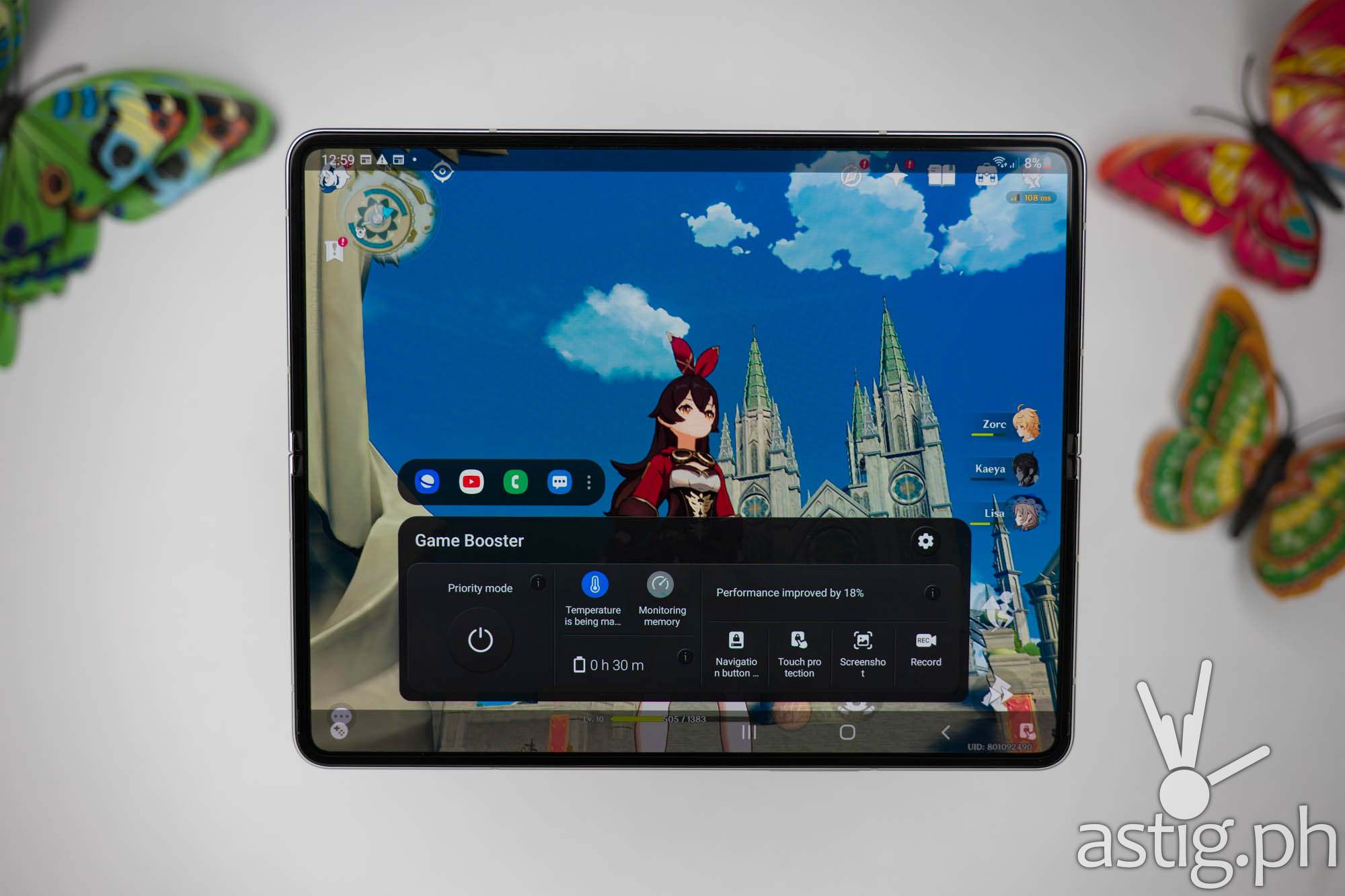 You can also do other things like chat and browse and watch YouTube in a mini PIP (picture-in-picture) window. There's also a feature called "Priority mode" that disables the navigation buttons, blocks calls and notifications, and closes unnecessary apps in the background.
Just remember to check and make sure that your game is added to the Game Center before you play. The system automatically detects and adds game titles, but it occasionally misses some games.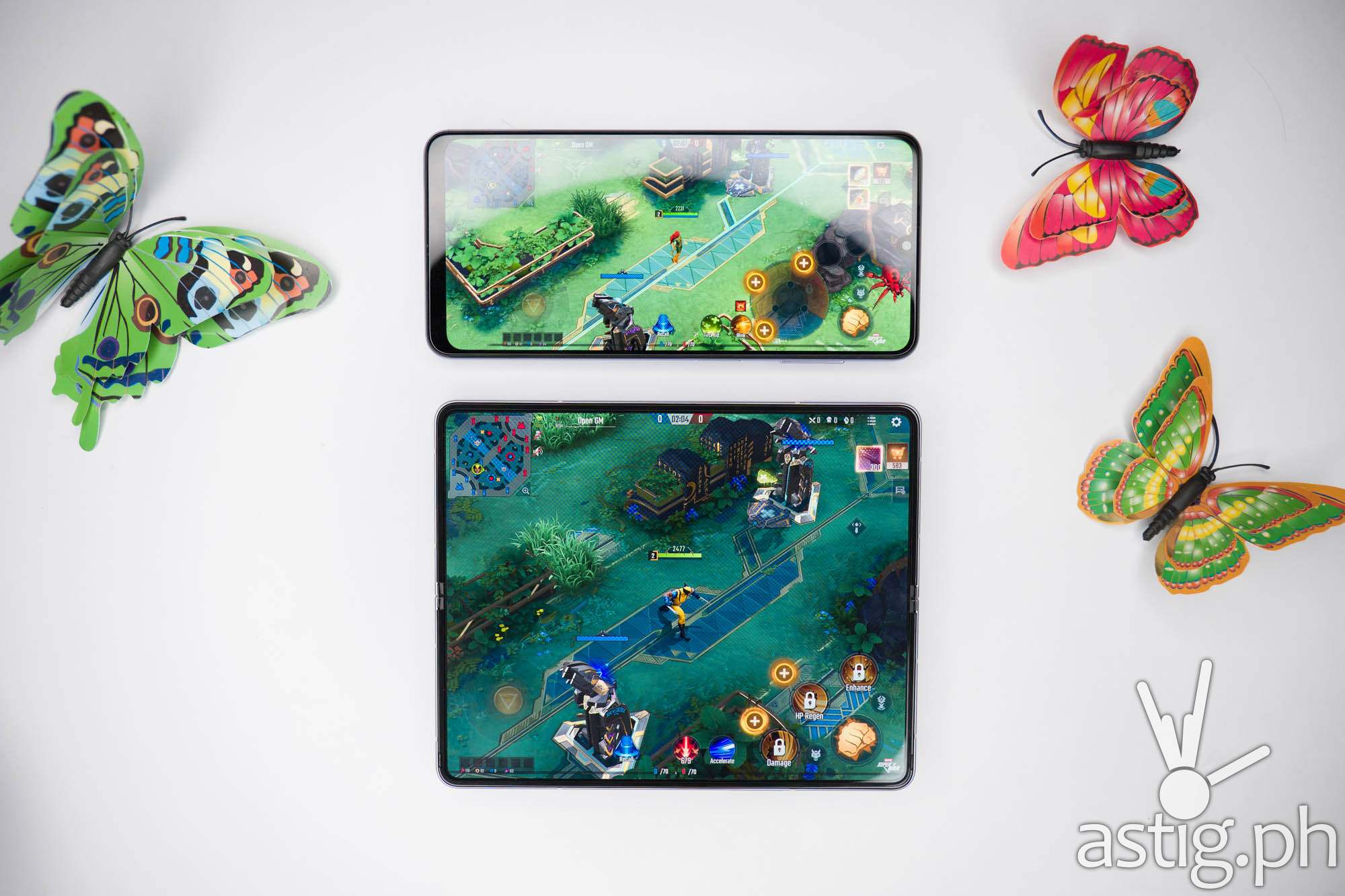 Playing on the Fold3's 7.6-inch Dynamic AMOLED screen is so much fun, and we catch ourselves admiring the vivid colors and deep backs from time to time. You may want to look out for that fold though – in the heat of the battle, we accidentally hit that center more than once.
It's not really an issue but rather a minor annoyance that can take away from the immersiveness of a game.
Cover screen camera: redundant?
The Fold3 gives us three camera modules to choose from: an in-cover selfie camera, an under-display selfie camera, and a triple camera module at the back.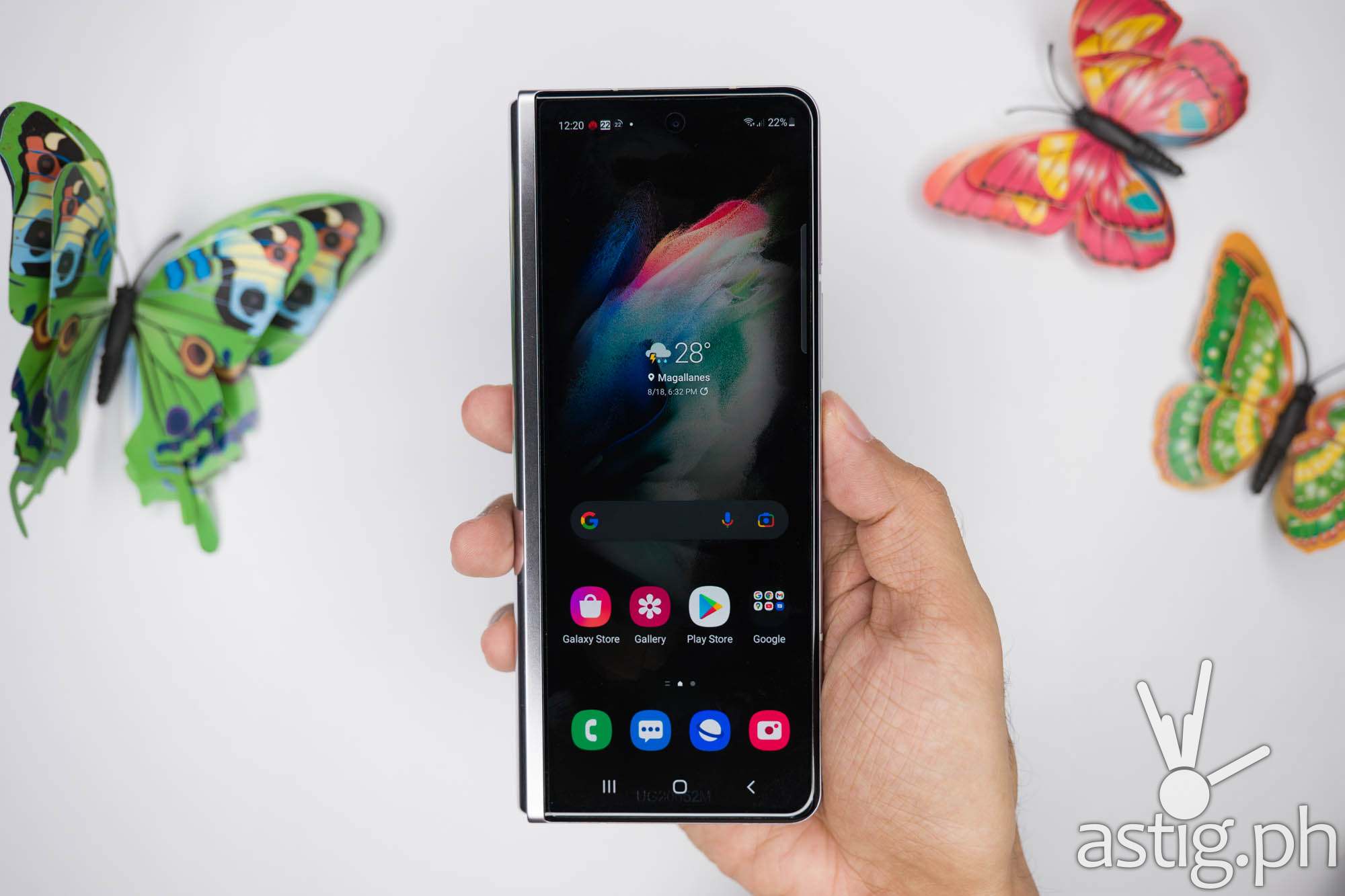 Starting with that cover camera: That 10MP f/2.2 sensor inside the hole punch notch takes sharp, beautiful pictures despite the absence of OIS (optical image stabilization). The field of view is a little wider than what we see with our naked eyes, so there's a small amount of distortion.
Its wider than normal field of view makes it a good camera not just for selfies, but also for 'wefies' – you know, shots with other people in it.
My only problem with it is that there's really no point using it to take selfies when you can accomplish the exact same thing by activating selfie mode which lets you take photos with the superior rear camera system whilst operating it with the cover screen. It only takes a second to tap the selfie icon and unfold the device.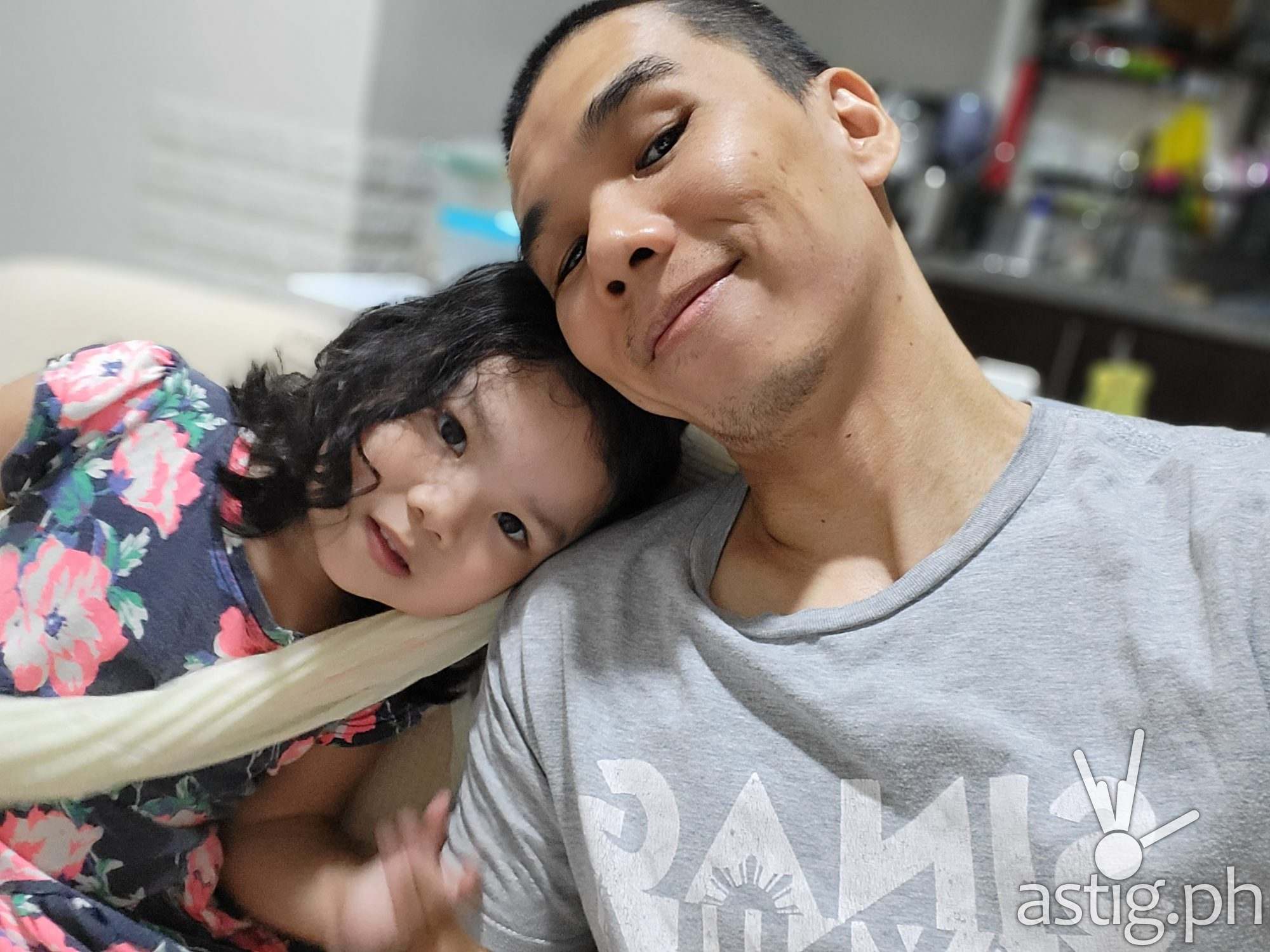 Our theory is that the only reason the cover camera exists is for non-native applications to have a selfie camera to work. To clarify, active display automatically switches from the cover screen to the inner, foldable screen when you unfold the device and so far, the only application that has the ability to bypass that and continue running on the cover screen while the phone is UN-folded is the stock camera app.
It's sad that the best selfie camera on this phone is made redundant by the three other cameras at the back.
How can we improve this?
We searched for a way to make apps run exclusively on the cover screen regardless of the phone's status whether folded or unfolded, but the only thing that came close was the "Continue apps on cover screen" which basically keeps an application running on the foreground when folding and unfolding the device.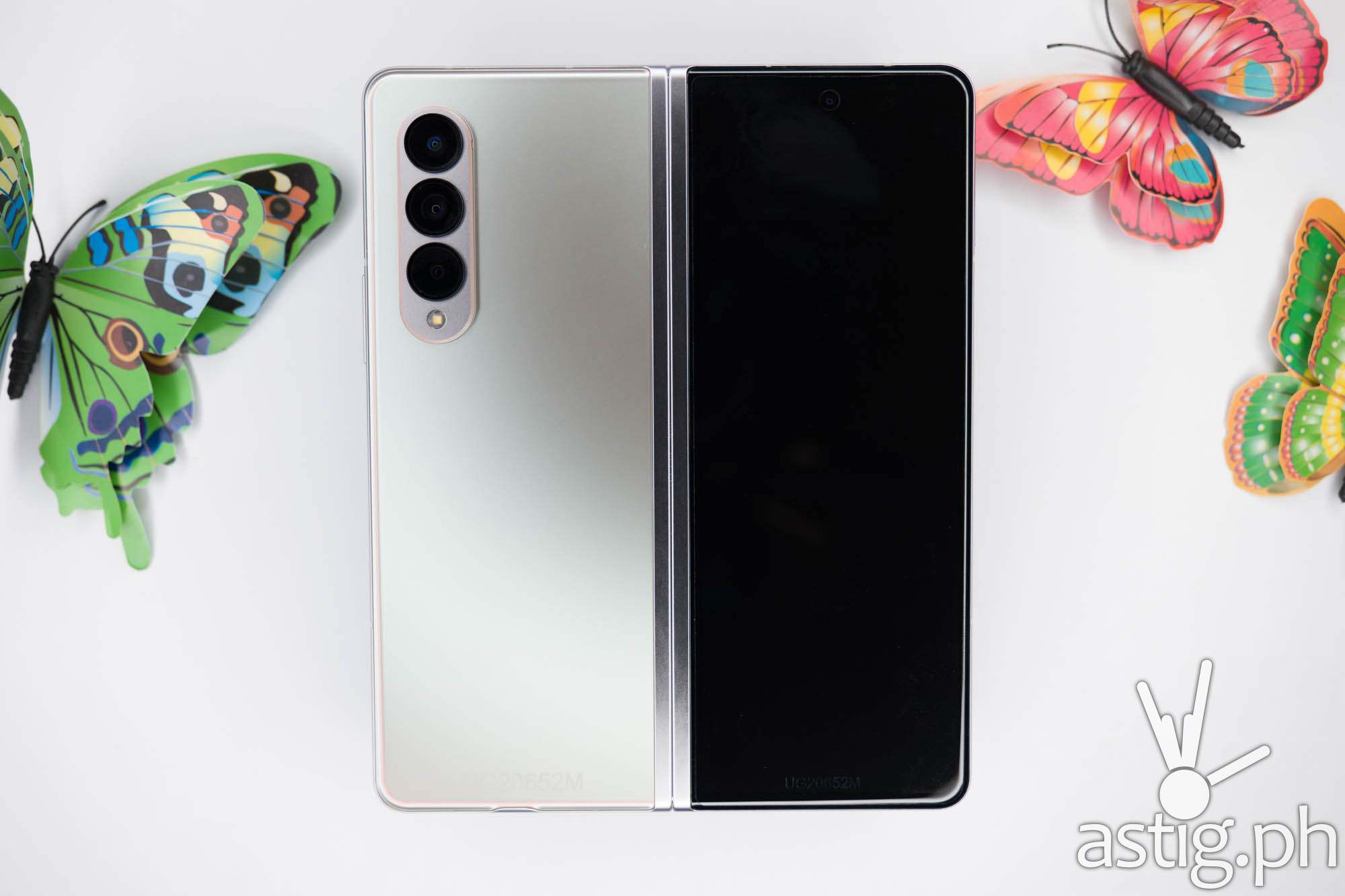 So it may not actually be too farfetched to hope for a "Pin to cover screen" option in the future.
This way, we can force video conference applications like Messenger, Zoom, and Teams to stream videos from the main (rear) camera while running on the cover. Until then, the only way to do a selfie video call is through the camera mounted under the foldable screen.
Underwhelming under-display camera
So about that under-display camera: it's the first time we're seeing this tech from SAMSUNG so we think it deserves more attention. Like, hello? Under-display is supposed to be the next big thing in smartphones, the key to making the notch obsolete!
Yet here it is and it barely makes a squeak let alone a roar.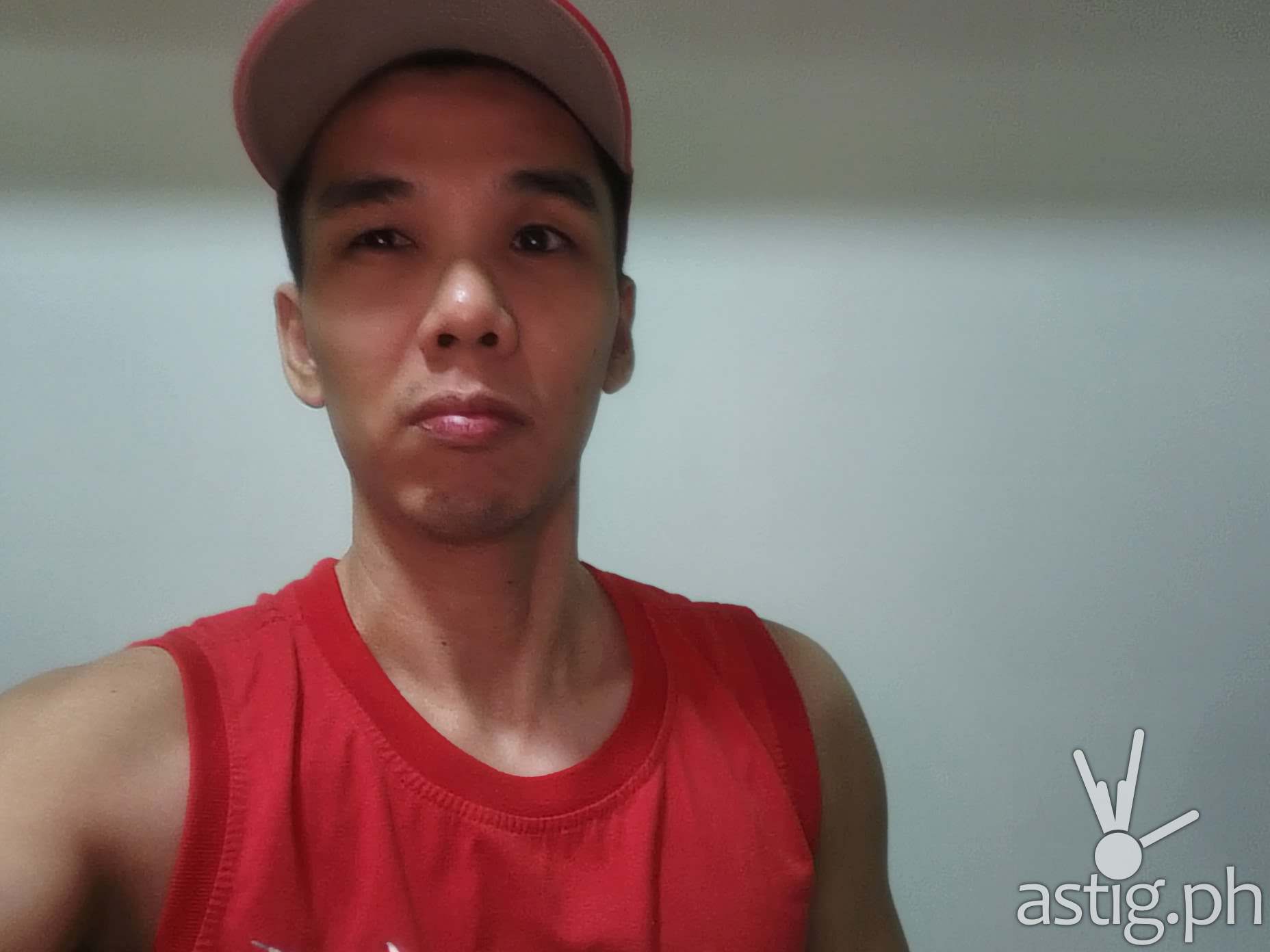 Upon seeing the photos, we understand why: the results from the 4MP sensor were workable, but the thing is, you can really see the gap in image quality because you have four other really strong cameras on the cover and on the back of the phone.
You don't even need a computer or a TV screen to see the lower amount of detail and how much darker, noisier, and softer the photos are. Even the preview shows some serious amount of grain.
Go on, click on the thumbnails and see the difference for yourself.
Given the choice, we'd swap cameras with the cover screen so we can take better selfies and video calls but what are your thoughts? Is this a fair assessment or are we over-reacting?
Photography and content creation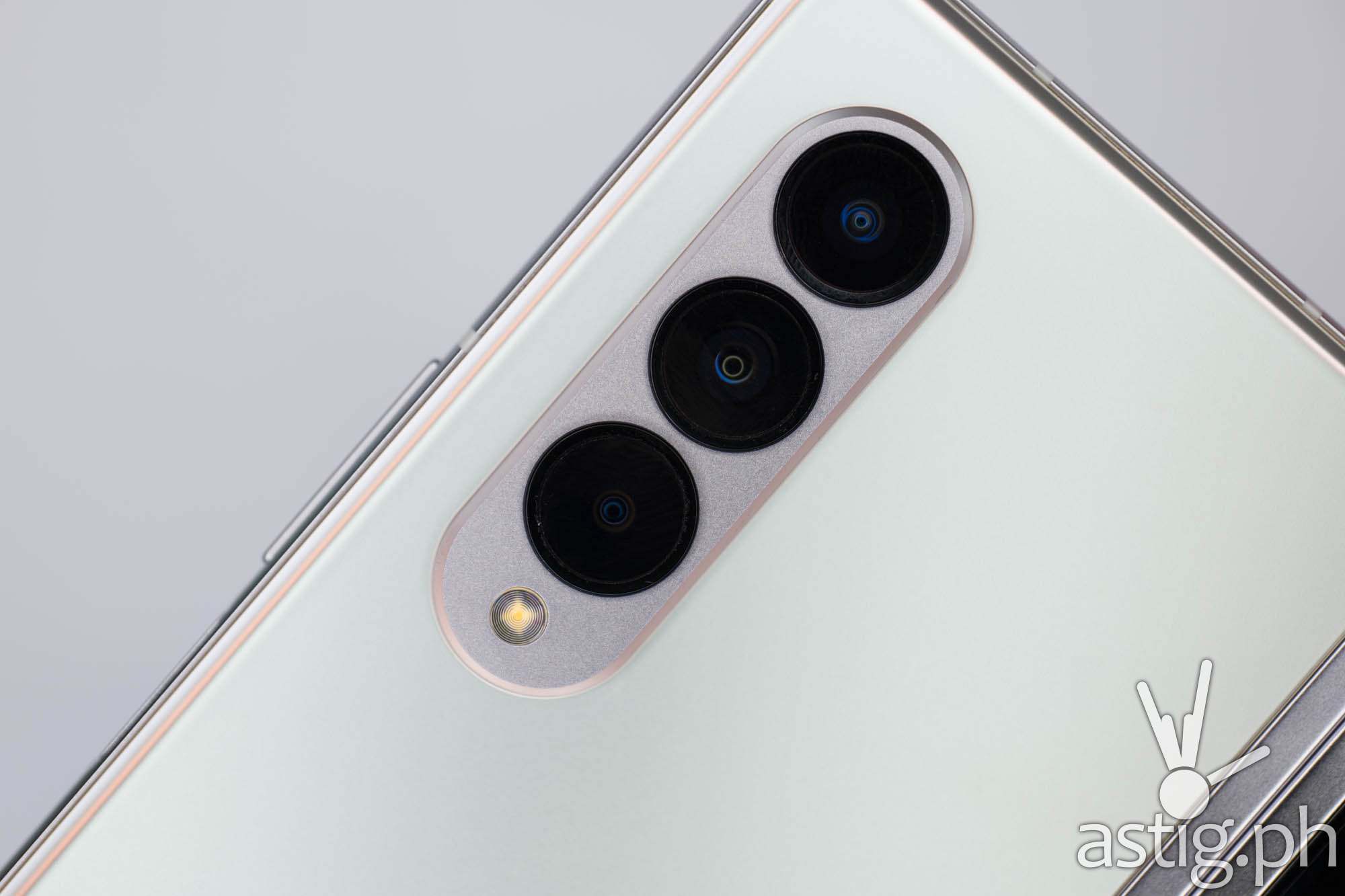 For its main camera, the Fold3 touts three 12-Megapixel sensors, two of which have OIS (optical image stabilization): a 12MP f/1.8 wide-angle camera and a 12MP f/2.4 telephoto camera with 2X optical zoom. The wide-angle camera reportedly uses a Sony IMX555 sensor and takes the best photos out of all the sensors on this device.
We're talking sharpness, detail, colors, and noise levels – most of our hand-held shots were on point, even when we were shooting with limited light.
The 2x telephoto camera is a blessing for vloggers and content creators. Its extra reach lets you take close-up shots without needing to get too close to the subject, which can sometimes block your light source and introduce unwanted shadows. OIS on this lens really helps in taking sharper photos and steadier videos, especially since we're shooting at a longer focal length so even the slightest camera movement is magnified and very noticeable.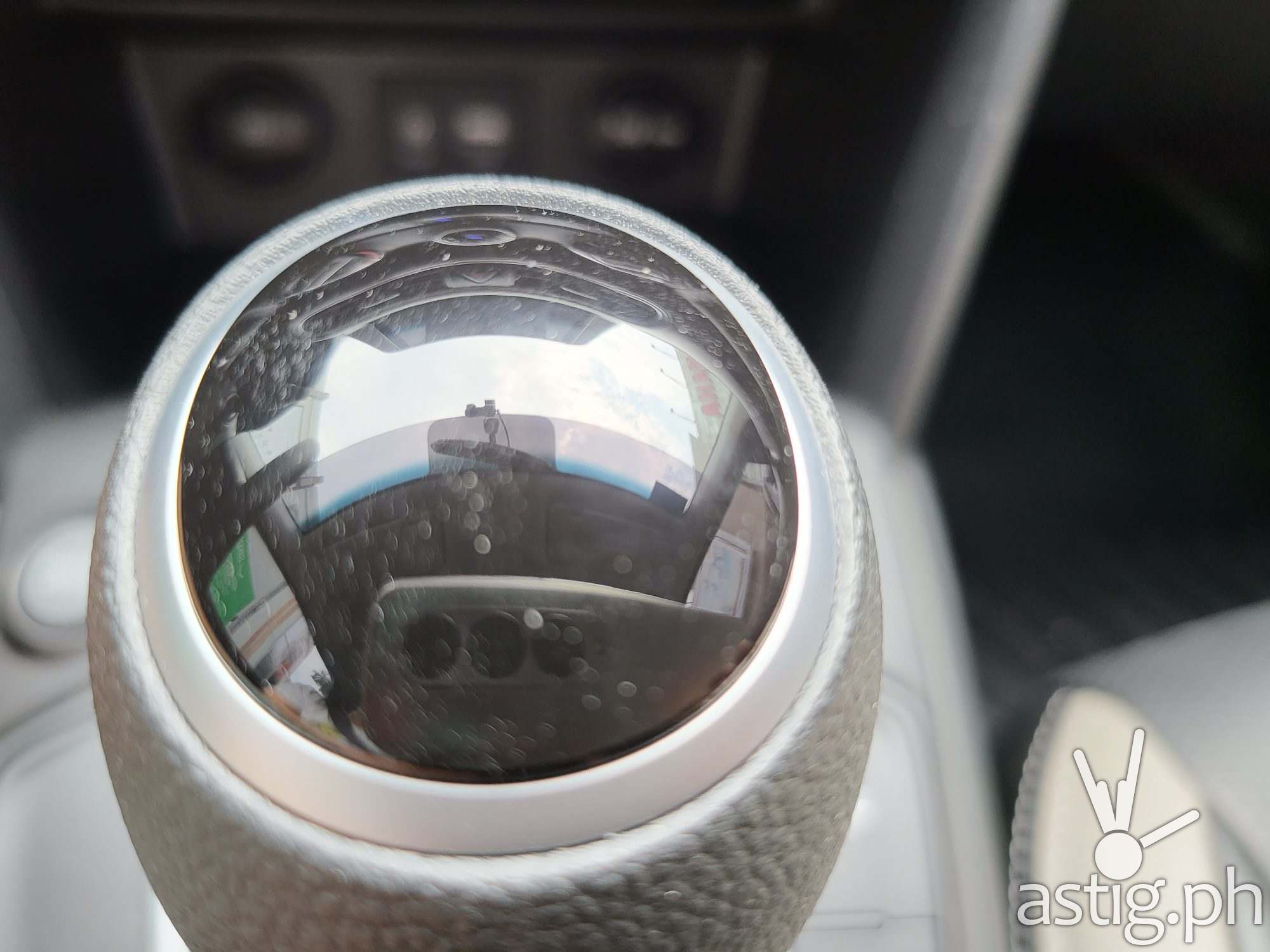 Is is a little strange that the telephoto lens is not available in the "Pro" mode for photos, although it is available in both Director's View and "Pro Video" mode which is much more important.
Among the three rear cameras, the 12MP wide-angle lens is the weakest. Our indoor photos have a noticeable amount of grain and noise, and that's weird because we thought the telephoto lens would be weaker. It's almost as if the telephoto lens uses a much lower quality sensor compared to the other two.
We could be wrong, and it could be the post-processing algorithm. At the end of the day, the ultrawide lens is ideal for landscapes and big rooms, and those shots are best taken during the day with a lot of light or at night with a tripod.
All three rear cameras are available in Auto, Pro Video, and Director's View. There's an option to enable cover screen preview in Auto and Pro so you can see yourself while taking "selfie" or vlog-style videos. You can shoot with both the rear cameras and the selfie camera all at the same time in Director's View, but you can only do this with the cover camera and not with the under-display camera.
Sample video – SAMSUNG Galaxy Z Fold3 rear camera (12MP main):

We create a ton of video content for our tech review channel on YouTube, so we truly appreciate all the nifty features that come with the stock camera like the histogram, live audio monitor, tracking auto-focus, and software stabilization. We are amazed at the quality quality of the raw videos, and we love the flexibility of being able to shoot in 4K 60FPS, HEVC format, and HDR10+.
Sample video – SAMSUNG Galaxy Z Fold3 under-display camera:

There's no 8K video option and that's okay. Videos taken in 4K 60FPS are large enough as they are and take a lot of resources to process, so we're all good here! Check out our sample raw, unedited vlogs over at the TechKuya Facebook Page!
Sample video – SAMSUNG Galaxy Z Fold3 cover camera:

Battery life
With all that space, we expected more than just the 4,400mAh battery module that's on the Galaxy Z Fold3. Perhaps the product team wanted to keep the weight down – the thing already weighs 271 grams right now.
Do we want more battery life? Always, absolutely. Does it NEED a bigger battery? No, not really.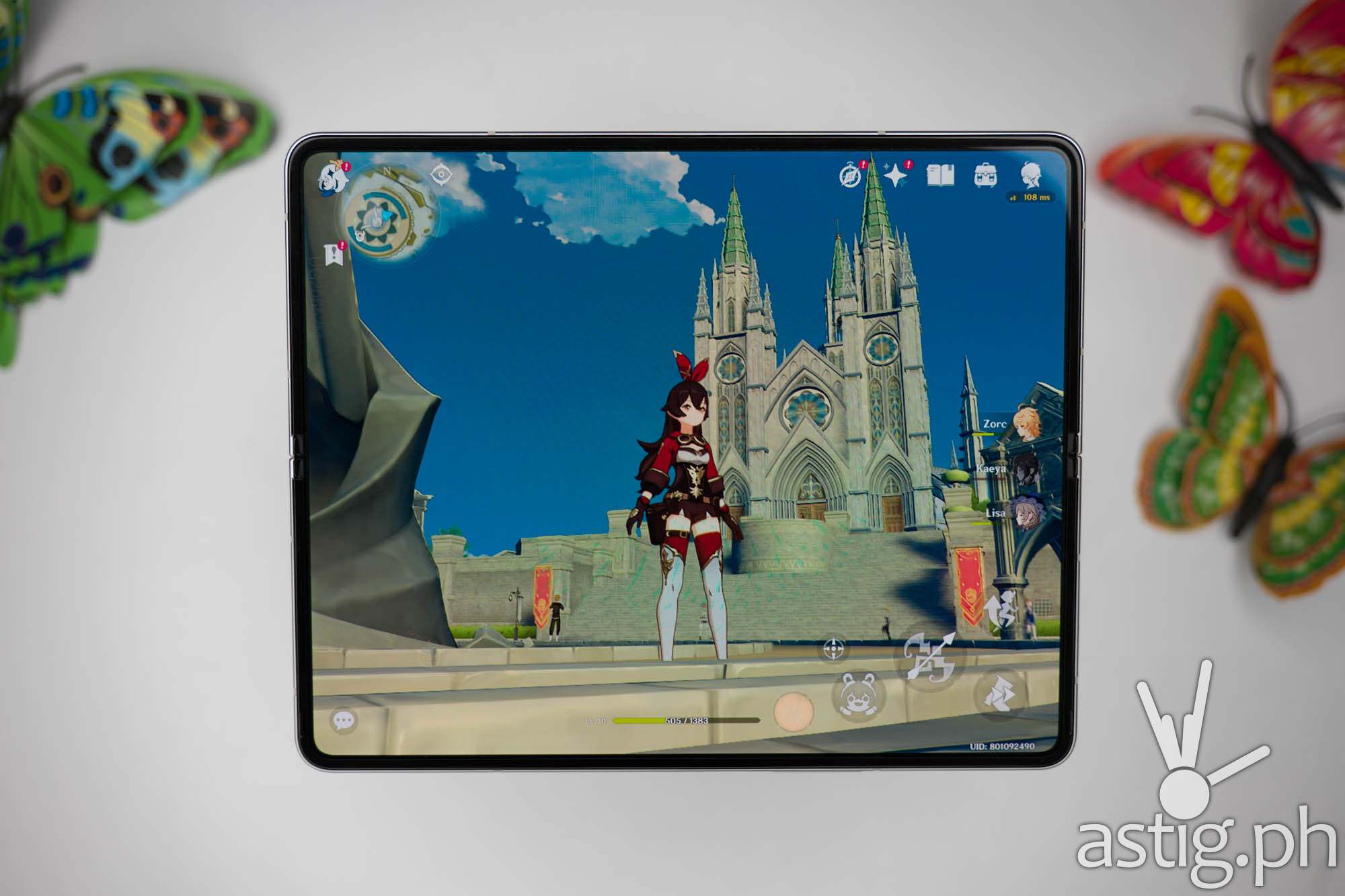 Here's why: Despite having two screens, the Galaxy Z Fold3 actually holds up quite well in real life. Starting our day with a fully charged phone, we have enough battery life left over at the end of the day to carry us through whatever we want to do with our phone at night, be it some casual browsing, gaming, or content streaming. From here, we can either leave it overnight without charging, or charge it overnight as we sleep and start fresh the following day.
So unless you are heavily into games or mobile data, you only really need to charge the phone once a day. It supports wireless charging too, so you can just leave it to do its thing overnight while you sleep.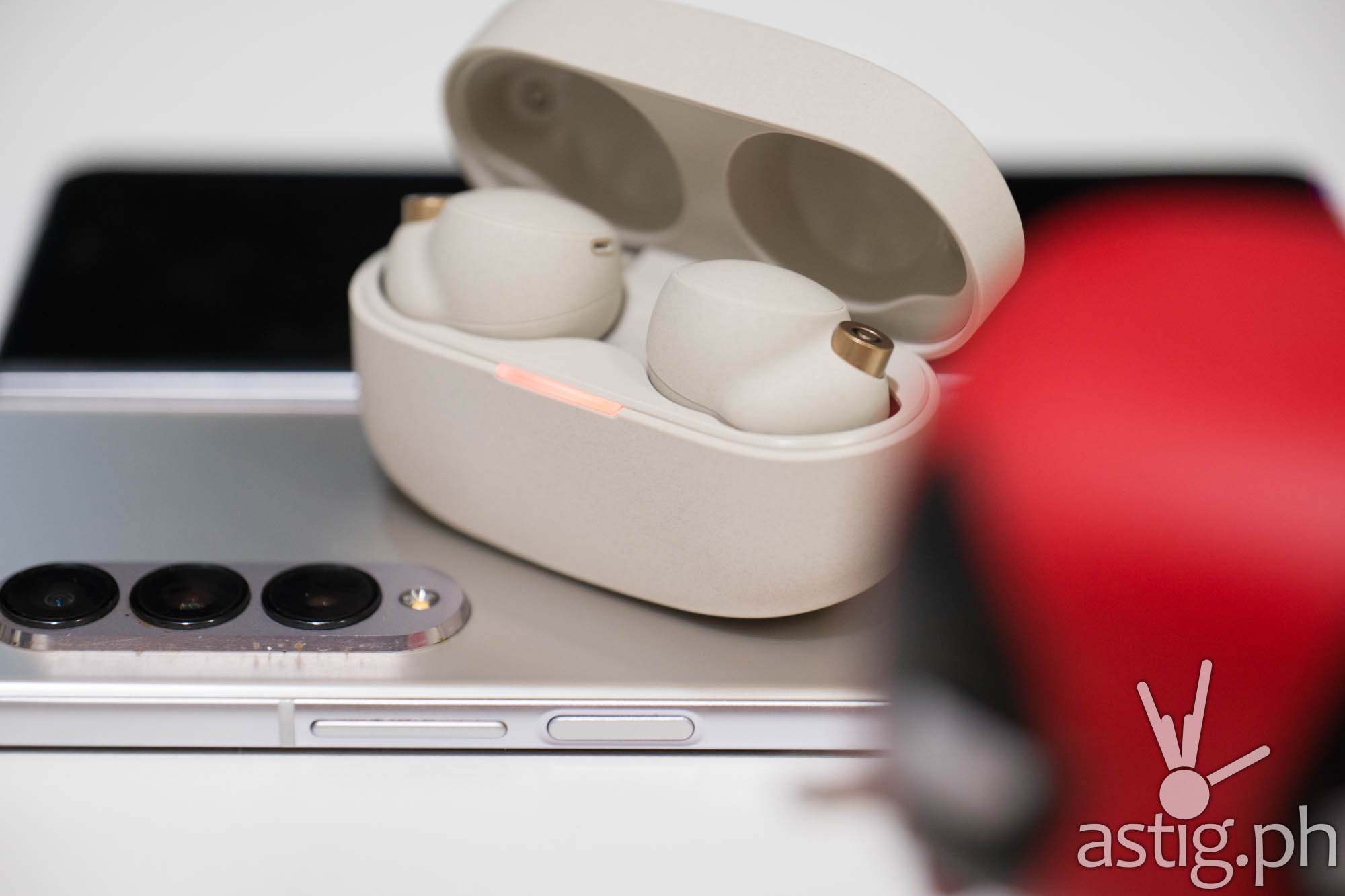 According to AccuBattery, we have an average screen on time of 6 hours and 26 minutes, which is slightly above our 5-hour average. For combined use, we managed to get an average of 17 hours and 31 minutes, which is reflects our real-life experience of having enough juice to go from one morning to the next.
GSam Battery monitors gave us slightly more optimistic numbers, despite the fact that we installed both applications on day one. According to GSam, our screen on time averages 8 hours, while our combined average is about 19 hours and 25 minutes.
Verdict: No longer just a concept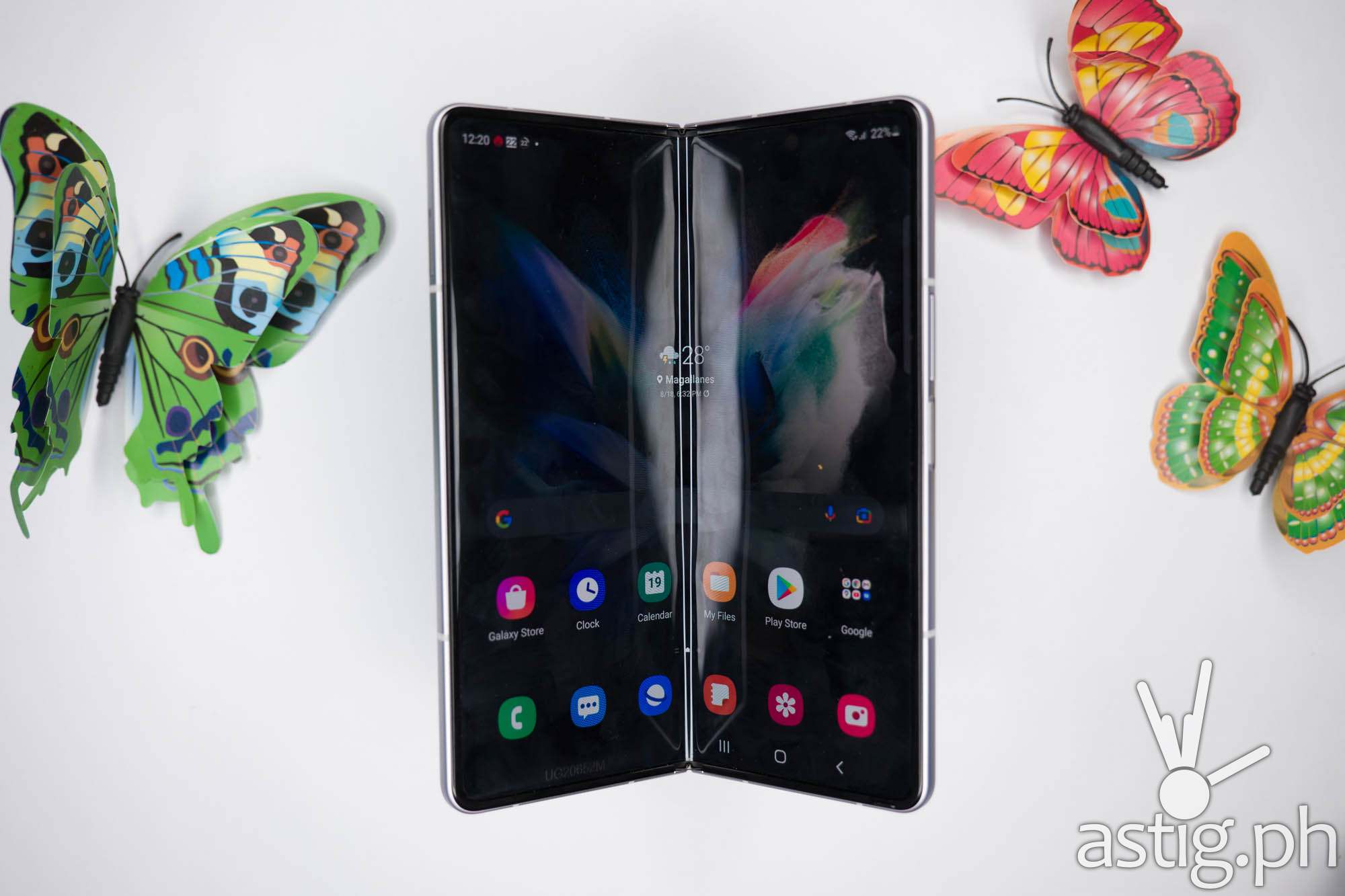 If there were ever any doubts about the future of foldable smartphones, the SAMSUNG Galaxy Z Fold3 serves as an assurance that foldable devices are no longer mere "concept phones". While foldable displays will always remain a point of failure, the question of its durability in hand-held devices should now be seen as something akin to laptops in the sense that it will only break in a bad fall.
While there certainly is a lot of room for improvement, we are now more confident than ever that the foldable display will not simply break with the wear and tear of regular use. In fact, we are more worried about the cover screen, being the portion of the phone that is most vulnerable in the unlikely event that it gets dropped.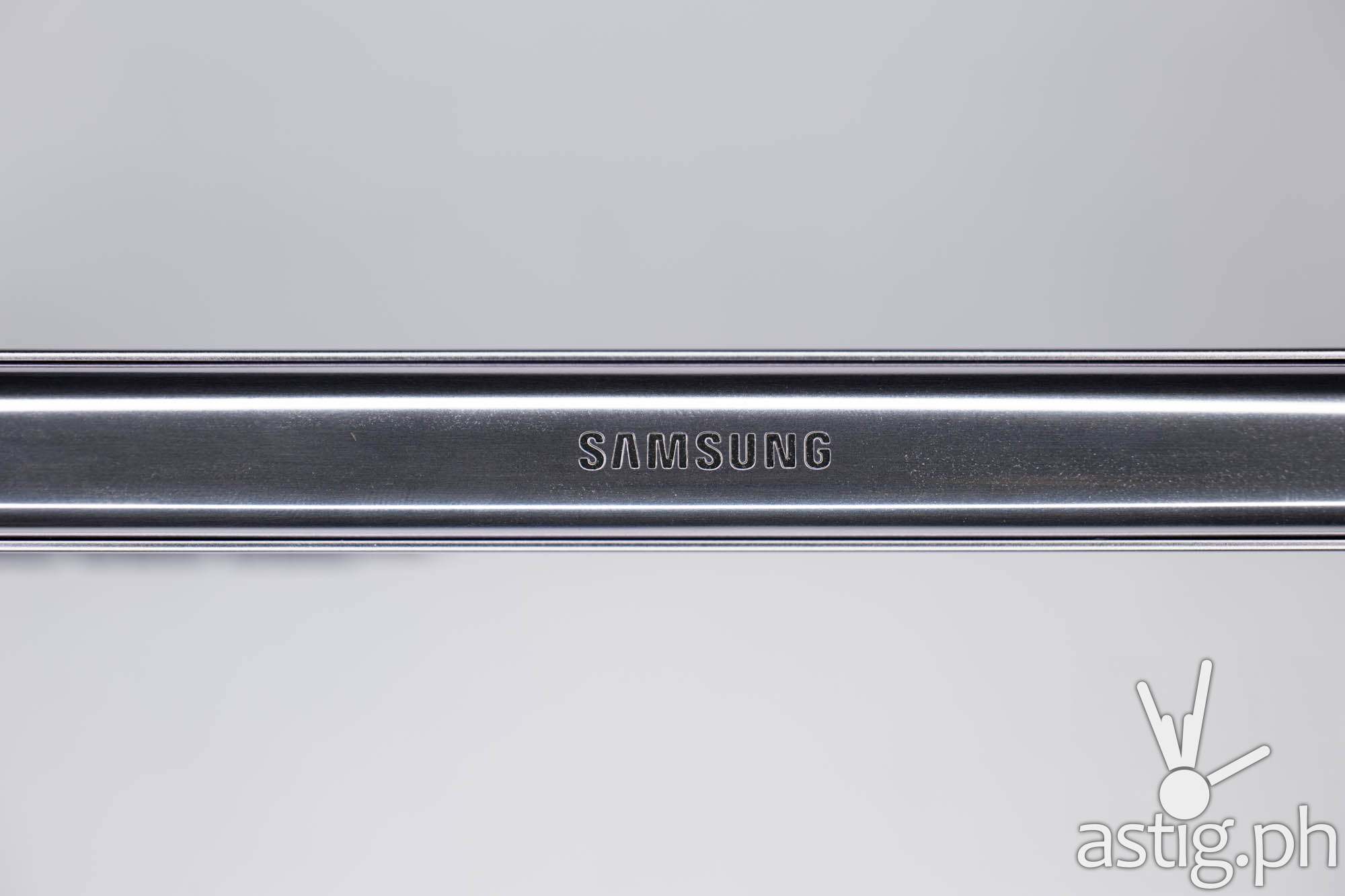 We also expected more out of SAMSUNG's first under-display camera, a wasted potential that got outshone by four other cameras with better sensors.
Software and battery life also needs to improve, but without a doubt this is the most mature foldable device in the market, the one that we can finally show to everyone and say, this is it: this is what a foldable device should be. It's a tablet in your pocket, and SAMSUNG has set the standard for everyone else to follow.
We just need to refine it little by little but clearly, there is no turning back now.
SAMSUNG Galaxy Z Fold3 technical specifications (Philippines)
Display (cover): 6.2 inches Dynamic AMOLED 2X; 832 x 2268 pixels; 120Hz
Display (foldable): 7.6 inches Foldable Dynamic AMOLED 2X; 1768 x 2208 pixels; 120Hz; HDR10+
SIM: Nano SIM, eSIM
OS Android 11; One UI 3.1.1
Chipset (SoC): Qualcomm Snapdragon 888 5G (5nm)
CPU: Octa-core Kry0 680 (1.8-2.84GHz)
GPU: Adreno 660
Memory (RAM) + storage (ROM): 12GB+256GB / 12GB+512GB; UFS 3.1
Expansion: None
Main camera (rear): 12MP f/1.8 (wide), OIS + 12MP f/2.4 (telephoto), OIS, 2X optical  zoom + 12MP f/2.2 (ultrawide)
Selfie camera (cover): 10MP f/2.2 (wide)
Selfie camera (under display): 4MP f/1.8
Connectivity: 2.4/5 GHz Wi-Fi 802.11 b/g/n/ac/6e; Bluetooth 5.2, LE, aptX HD
I/O: USB Type-C 3.2
Biometrics: side-mounted fingerprint sensor
Battery: 4,400 mAh, 25W fast charging; 11W wireless charging; 4.5W reverse wireless charging
Colors: Phantom Black, Phantom Silver, Phantom Green
Price (Philippines):  Php87,990 (12+256GB) / Php95,990 (12+512GB)