TAGUIG, Philippines – Online shopping superstore Shopee will be holding its biggest sale of the year so far starting today. Entitled "Shopee 9.9 Super Shopping Day", the 11-day mega shopping will be held from August 30 to September 3. It will involve over 500,000 sellers, 800 brands and more than 60 partners. Up for grabs are items with discounts up to 99% off, as well as massive giveaways worth over ₱15 Million.
In last year's 9.9 event, Shopee saw a three-fold uplift in orders and a five-time increase in traffic.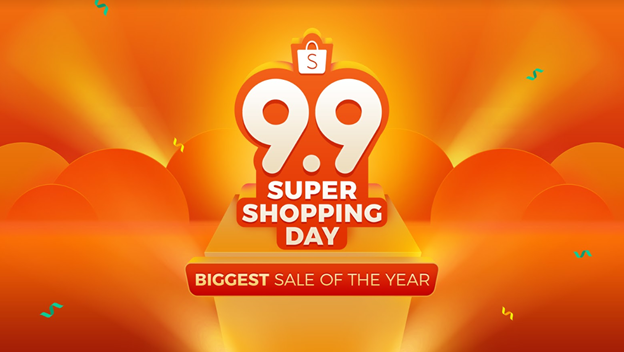 "Shopee has grown tremendously in the past year. We now boast around 160 million users across the region, including over 16 million in the Philippines. At the same time, the number of sellers on Shopee has more than doubled to over 500,000 in less than a year, showing how we are quickly becoming the online shopping destination of choice for both shoppers and sellers in the region," said Terence Pang, Chief Operating Officer of Shopee.
"To thank all our users for their continued support, we extended this year's Shopee 9.9 Super Shopping Day to feature almost two weeks of non-stop promotions across all product categories. We have also continued to strengthen our ties with leading brands and partners to bring our users even more exclusive deals and promotions on Shopee," he added.
Shoppers can expect perks such as free shipping with lowered minimum spend during this period.
Major dates to remember are as follows:
August 30 is Super Flash Sale Day and will feature flash deals as low as ₱99 happening nine times over the course of the day
September 3 is Super Vouchers Day where a total of over ₱900,000 worth of vouchers cab be be redeemed.
September 5 is the first-ever Super Brand Festival, which will feature leading brands such as P&G, Maybelline, Samsung, Vivo, Colgate – Palmolive, Oppo, and ASUS, comprising the largest collection of deals from major brands on Shopee Mall.
September 8 and 9 is Super Shopee Shake Day and Super Shopping Day, which highlights the return of the Shopee Shake, a mini-game played on the Shopee App.
This time around, there will be a new group mode where users can play together with friends to earn bonus coins from a total pool of 9 million possible Shopee Coins.
Shoppers can can play up to 18 times in 48 hours for a chance to win Shopee coins, vouchers and prizes.
Shopee is also holding a nationwide Shopee Dance competition called Shopee Dance to Win. Prizes include a 5-inch Ace 50 TV and up to ₱100,000 worth of hard, cold cash.
Celebrity endorser Anne Curtis stars in Shopee's TVC, where she does the Shopee Dance.
To qualify, participants must post a video of themselves doing the Shopee Dance on Facebook or Instagram with the hashtag #ShopeeDancePH.
The competition will run from August 31 until September 9. Winners will be announced on Shopee's social media pages at the end of the competition.