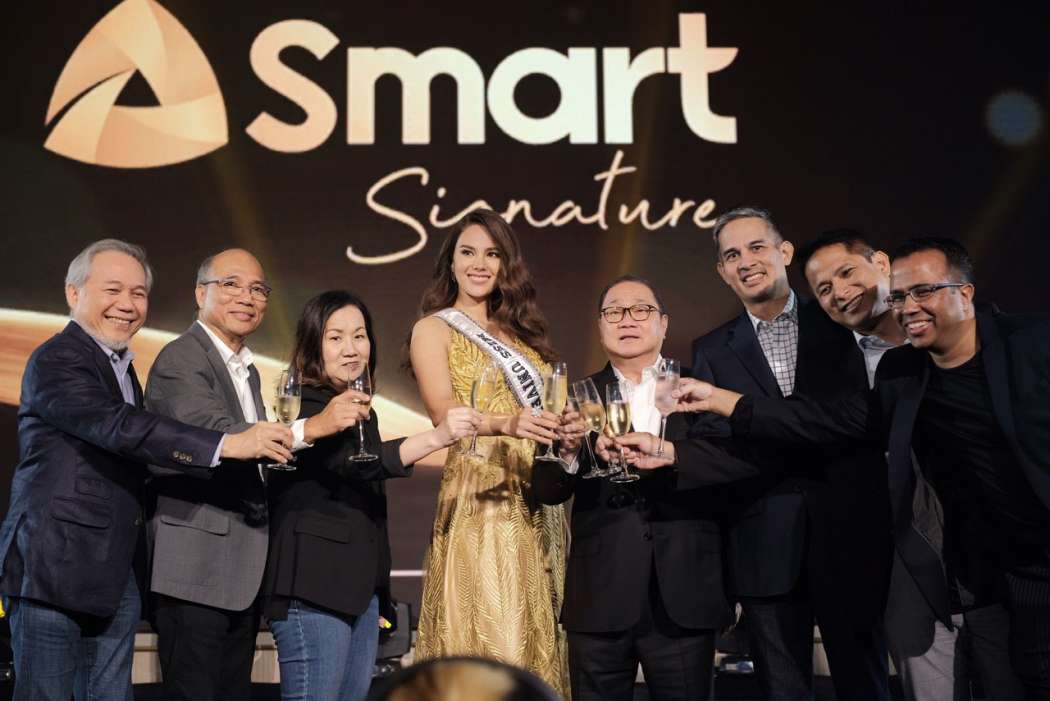 TOAST FOR A REIMAGINED POSTPAID EXPERIENCE. Miss Universe 2018 and Smart Signature endorser Catriona Gray joins PLDT Chairman and CEO Manny V. Pangilinan at the official launch of Smart Signature Plans in Makati City. Joining them are (from left) Meralco President and CEO Ray C. Espinosa; Smart Co-founder and CEO of Voyager Innovations and PayMaya Philippines Orlando B. Vea; PLDT-Smart People Group Head Gina Ordoñez; incoming PLDT-Smart Chief Revenue Officer Al S. Panlilio; PLDT-Smart SVP and Consumer Business Market Development Head Oscar A. Reyes, Jr; and PLDT-Smart Chief Product and Consumer Value Management Advisor Muhammad Ali.  Promising a reimagined postpaid experience, Smart Signature offers a prioritized, in-control, and worry-free mobile lifestyle for subscribers. Learn more about the new Smart Signature Plans at www.smart.com.ph/signature.
To better serve customers' growing appetite for mobile data, PLDT wireless subsidiary Smart Communications, Inc. (Smart) has launched its new data-packed postpaid offers under Smart Signature.
Smart Signature's main features include prioritized network experience and four plans with generous open-data allocations, unlimited calls and texts, data rollover and enhanced customer service features that make using the plan worry-free.
This latest addition in Smart's roster of digital service offers comes at the heels of record revenue growth posted by PLDT's resurgent mobile business in the first quarter of the year, which was mainly due to increased video streaming and mobile gaming among its customers.
"Our award-winning Smart LTE network puts us in the best position to offer Smart Signature, a reimagined postpaid service that meets our customers' ever-growing demand for mobile data services," said Oscar A. Reyes, PLDT-Smart Senior Vice President and Head of Consumer Business Market Development.
"With this service, we are further building on the gains of PLDT's individual wireless consumer business in the first quarter of the year," Reyes added.
SIM-only and device plans available
Smart Signature's four plans – Small (S), Medium (M), Large (L), and Extra Large (XL) – come with generous open access data allocation for data-savvy customers, and a Data Rollover feature, wherein unused data for the month is carried over to the next month.
Smart Signature's SIM-Only Plans range from Php999 to Php2,999 per month, with data allocations from 10GB to 60GB. All plans include unlimited calls to Smart, Sun and TNT customers, unlimited texts to any network, and free minutes to PLDT landline and other networks ranging from 100 minutes to 600 minutes.
Smart Signature also offers Device Plans, which includes flagship handsets like Apple's iPhone Xs Series, the Samsung Galaxy S10 Series and the Huawei Mate P30 Series – bundled with big-sized allocation for data, calls, and texts.
Smart Signature also features real-time billing and usage alerts and notifies users when they are close to reaching their monthly data and call limit. Data or Call Boosters are also available once data and call allocations for the month have been fully consumed.
Smart has also launched the myPLDT Smart App, which provides another way for users to monitor and manage their usage and monthly bill in real time, as well as purchase Data or Call Boosters as needed.
Award-winning network
PLDT and Smart have been recognized by global internet testing and analysis leader Ookla for being the country's fastest fixed and mobile networks for 2018, while Smart has also consistently topped mobile analytics company OpenSignal's Mobile Experience Awards since 2017, in terms of Video Experience, Download Speed and Upload Speed Experience, and Latency Experience.
Canada-based mobile data company Tutela, in a recent study on the State of Mobile Networks in Southeast Asia, also said that Smart users were twice as likely to experience 'excellent' data connections, which are needed for heavy data uses like video viewing, whereas Germany-based global benchmark leader P3 also cited Smart for offering the country's best download speeds.
"As our customers ramp-up their fast-paced lifestyle, we are also offering them a prioritized network experience, which makes sure that they enjoy consistent data to connect to their favorite apps, send messages in real time, and make uninterrupted calls – even during peak hours," Reyes added.
Historic investment
Underpinning these services is PLDT's extensive fiber network across the country, now at 259,000 kilometers, which also supports Smart's mobile network by providing high-capacity links to cellular base stations.
Customers interested in Smart Signature may sign up as new subscribers, or upgrade their current Smart Postpaid Plan for free at select Smart Stores nationwide. For more information, visit www.smart.com.ph/signature.
Customers can also download the myPLDT Smart App from Google Play (http://https/play.google.com/store/apps/details?id=ph.com.smart.mypldtsmart) Android devices and from The App Store (http://https/itunes.apple.com/ph/app/mypldt-smart/id1441493352) for iOS devices.