Whether it's an inspiring podcast to kickstart your week or a playlist of your favorite tracks for your run, nothing perks up anyone's mood like good audio content. Good news! PayMaya has teamed up with Spotify to offer the ability to directly purchase Premium and Premium Mini plans on the PayMaya mobile app. With Spotify's recent launch of Premium Mini in the Philippines, PayMaya users can now conveniently access their everyday e-wallet to purchase its weekly and daily subscriptions for as low as PHP7/day and PHP26/week.
And hello to listening to downloaded music while on the go! Spotify Premium Mini gives listeners a subset of their favorite Premium features, and the ability to pay for it by the day or by the week, paying for only when they need it.
Looking to upgrade your listening experience? Find out what kind of listener you are and check out the best Spotify Premium Mini plan suited for your lifestyle:
For the on-the-go listener. Your days are usually packed with a long list of tasks to tick off, and you'd like to kickstart your week with a motivational podcast from Superhuman with Wil Dasovich or an entertaining episode from Between Us Queens to get you going. You only want to enjoy ad-free listening for an entire day, Mondays specifically – to get you ready for the rest of the week. With the Spotify Premium Mini plan worth PHP7, you can do just that, available for purchase directly on the PayMaya app!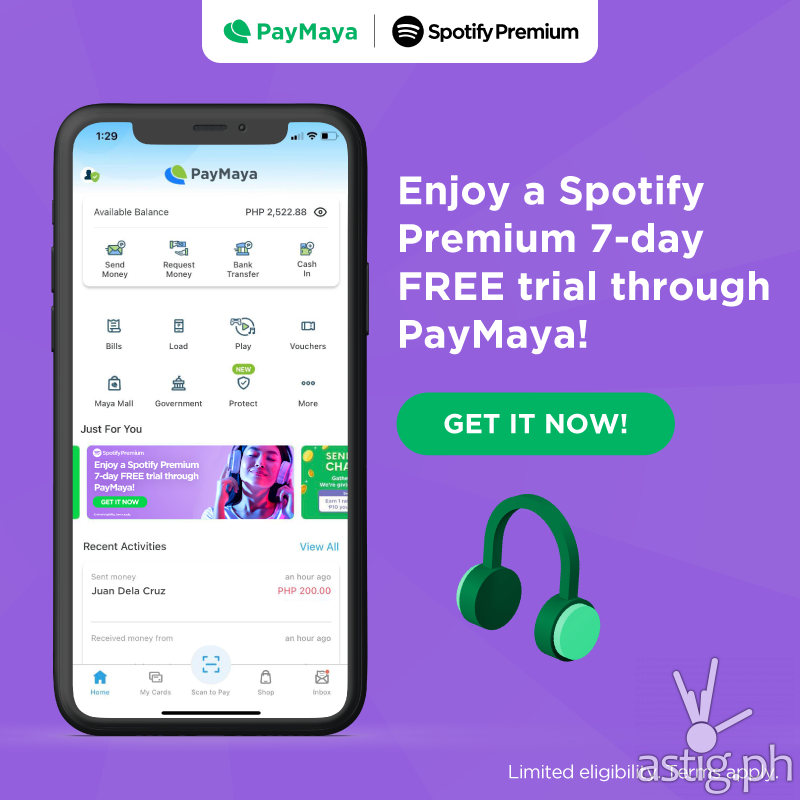 For the holidaymakers at home. Reimagine a vacation at home with a few tweaks to make your house staycation ready. You've finally decided to take that well-deserved break, so disconnect from your emails and rearrange your space, maybe pick up that book you've been meaning to read, or even try out that recipe that's burning in your mind. Spotify's weekly Premium Mini plan will be the perfect audio companion during your break, from curated playlists to podcasts to inspire you. Simply purchase via the PayMaya app for just PHP26.
For the fitness newbie. You've just started a new 30-day workout challenge, and you're determined to get fitter and stronger by the end of the month. Since gyms are not yet operational, you have to do all this while staying at home. Good thing, all you need is your yoga mat and a fun Spotify workout playlist to keep you pumped. You can conveniently purchase a Spotify Premium Plan good for 30 days for just PHP149!
As a special launch offer, PayMaya users can access a 7-day Spotify Premium free trial on the PayMaya mobile app. To subscribe to Spotify Premium on PayMaya:
Make sure that your PayMaya app is updated to the latest version, then tap the "Play" button on the PayMaya app homepage.
On the "Music" tab, choose Spotify and the desired Premium Mini Plan. Choose between the monthly, weekly or daily subscription.
Download and sign in to Spotify.
Complete the purchase using your PayMaya wallet, and you're in!