Filipinos are certified music lovers. Take a stroll through the neighborhood at night to find groups of friends hanging out, playing the guitar while chilling to bottles of beer. Go to a birthday party and there will be a videoke machine, with your tito belting out to some oldie by Tom Jones.
Perhaps you've ridden a patok jeep and arrived home with shattered eardrums thanks to the earthquake-inducing decibels of manong driver's fully setup sound system, blasting through the narrow streets while playing a remix of Gloc-9's Sirena at full volume.
Then you flip the switch of your television and tune into the latest singing competition. Are you Team Sarah or Team Lea? Who has a better rendition of "Let It Go", Charice Pempengco or Aiza Seguerra?
In a country crazy for music, it is no surprise entrepreneurs want a piece of the pie. The online music industry in the Philippines is still relatively new, after all.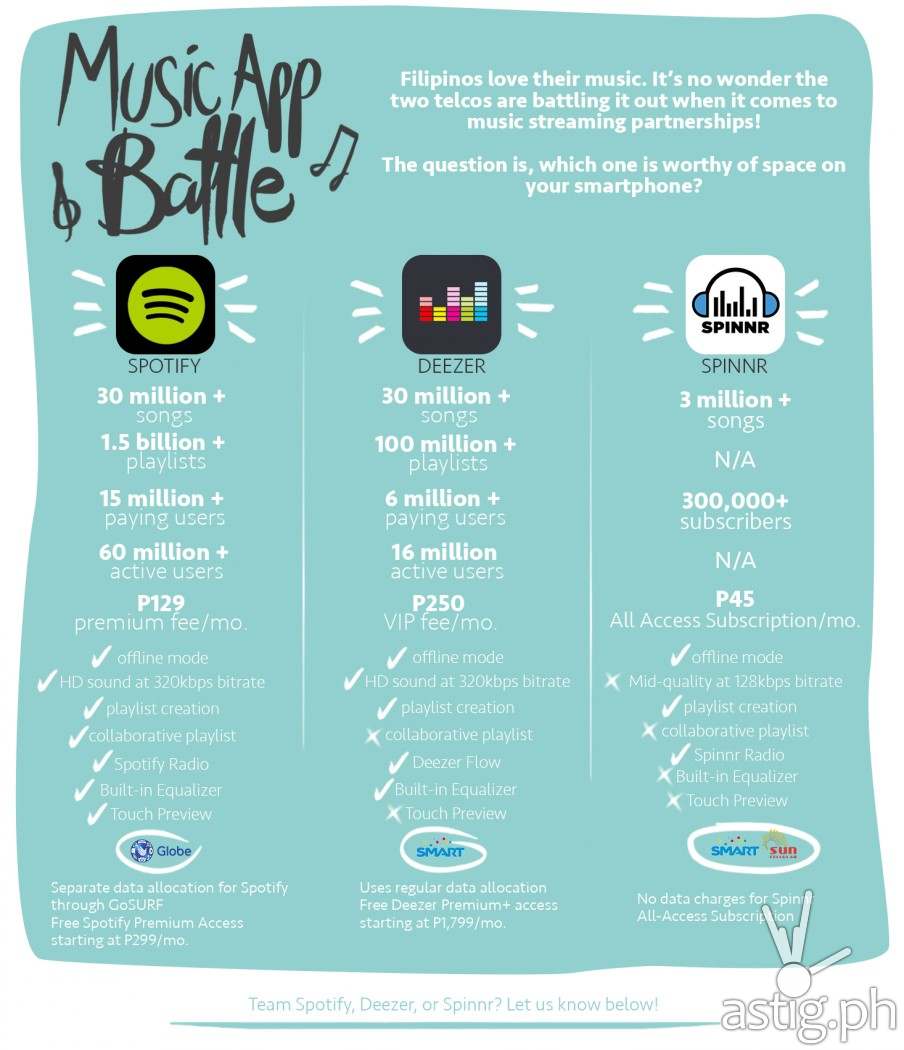 Although MyMusicStore has been around since 2011, it never really flourished, perhaps partly due to rampant piracy in the Philippines. One blogger compares paying for music to paying for porn – you don't do it out of principle.
It could also be the price. Downloading one song on MyMusicStore costs P25. By comparison, tracks on SPINNR can go for as low as P5 – but more on that later.
Spotify, Deezer, and SPINNR are 3 music streaming services backed by local carriers in the Philippines.
[poll id="2″]
What separates one service from the other? Which service has more music? Which service contains more local content? Which is cheaper? Let's take a look.
Spotify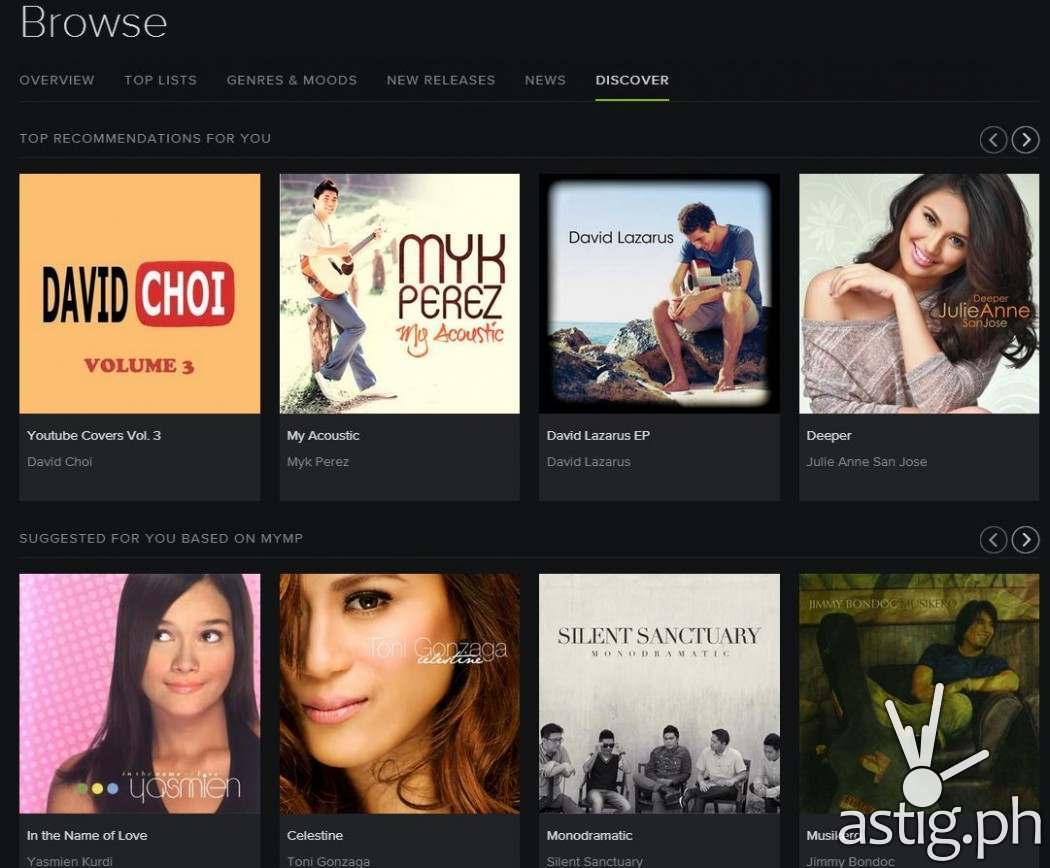 Spotify leads the pack among music streaming services. It launched in 2008 as a Swedish start-up and has since grown into becoming the biggest music streaming service in the world, available in almost every platform imaginable.
Spotify has 60 million users as of January 2015, with 15 million paying subscribers.
In the Philippines, Spotify is partnered with Globe Telecom.
Deezer
Deezer was first created in 2006 by Daniel Marhely from Paris, France. Initially called Blogmusik, a number of license and copyright issues caused its shut down. It was re-launch in August 2007 under the new name, Deezer.
It has since grown its presence, becoming available in 182 countries – more than Spotify's 50 – with over 30 million licensed songs.
In the Philippines, Deezer is partnered with Smart Communications, Talk N Text, and Sun Cellular.
SPINNR
SPINNR launched in 2013 as Smart Communications' foray into the world of music streaming. It was developed locally and claims to be the country's largest online music portal.
It recently took home the Best Mobile Music App award from the GSMA telecoms industry association, beating entries from Samsung and Universal Music.
At a glance: Spotify vs Deezer vs SPINNR
Deciding on a music streaming service can be a daunting task. We encourage you to go and try them out for yourself.
Here is a quick comparison of the features available on all three services.
| Feature | Spotify | Deezer | SPINNR |
| --- | --- | --- | --- |
| Songs | 30 million | 30 million | 3 million |
| Playlists | 1.5 billion | 100 million | n/a |
| Local content | Few | Many | Many |
| Users | 60 million | 16 million | n/a |
| Subscribers | 15 million | 6 million | 300,000 |
| HD streaming | 320 kbps | 320 kbps | 128 kbps |
| Telco partner | Globe | Smart/Sun | Smart |
| Streaming radio | Yes | Yes | Yes |
| Offline mode | Yes | Yes | Yes |
| Playlist creation | Yes | Yes | Yes |
| Collaborative playlist | Yes | No | No |
| Built-in equalizers | Yes | Yes | No |
| Touch preview | Yes | No | No |
| App ecosystem | Spotify Apps (discontinued) | Deezer Apps | No |
| Player | Browser, App Store, Google Play, Windows Phone | Browser, App Store, Google Play, Windows Phone | Browser, App Store, Google Play |
| Discovery | Automated | Live editors | Popularity-based |
User interface
All three services – Spotify, Deezer, and SPINNR – provide streaming capability through browser-based players in addition to the mobile apps.
The players for both Spotify and Deezer appear well polished and responsive, so we'll leave it to up to your individual preferences to decide which one fits your needs best.
Deezer features a "Hear This" button that lets you instantly jump into songs pre-selected by Deezer's music editors.
There are many things missing on Deezer's mobile application. For example, you cannot view artist and album comments on mobile. Also, you can only link to your Last.fm account via web. This is a minor annoyance but my issue is that this information was not readily available.
I had to do a bit of searching to figure out that I had to login through the web interface to get that done. If they had to force users to use the browser they could have linked to the page directly from within the app. Instructions would work just as well.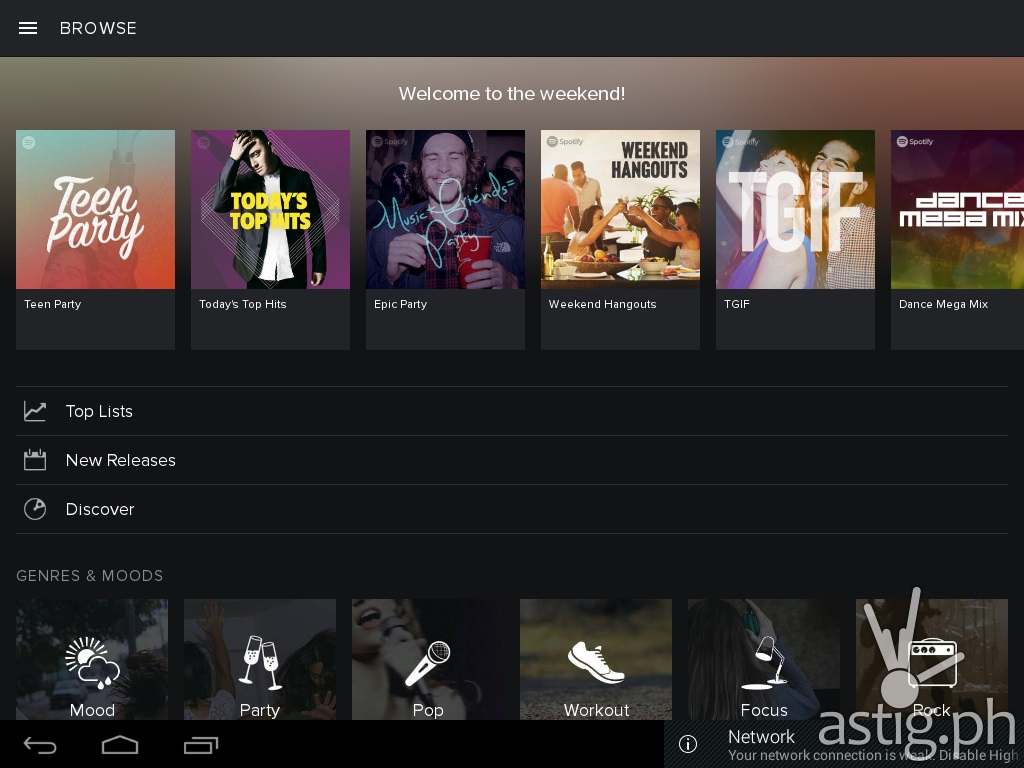 I like how Spotify automatically suggests playlists depending on what you might be doing at the time that you open the application. Open Spotify on a Friday night and you get a message that says "Welcome to the weekend!" and a playlist aptly named TGIF.
Browse Spotify on a weekday and you get a playlist named "Deep Focus". It's freaky how Spotify can appear to read your mind.
Overall I feel that Spotify is more polished and responsive on both the desktop and on mobile.
Spotify and Deezer apps are available on the App Store, Google Play, and Windows Phone, among many other platforms. SPINNR is only available on the browser, App Store, and Google Play.
SPINNR seems to be missing a lot of album art, and overall it feels sluggish compared to the other two. At times the page never finishes loading at all, leaving us fairly unimpressed.
SPINNR also has the habit of displaying a bunch of promotional notices on its Android app.
Also, I found it annoying that SPINNR treats mobile logins separately from your Facebook login. For example, I was logged into my Facebook account but I got logged out when I tried to "gift" a track, which required that I log in with my Smart number.
Unfortunately none of the music streaming services offer lyrics display out of the box, which would have been a killer feature. Deezer supposedly offers the ability to display lyrics, but we could not get it to work.
Winner: Spotify
Social media integration
All 3 services allow users to sign on using Facebook. Deezer goes a step further by allowing authentication via Google Plus and Smart. SPINNR lets users authenticate through their PLDT account.
You can share your Spotify and Deezer activity on Facebook, and Last.fm scrobbling functionality is built-in.
Deezer provides an easy way to link to your Twitter and Google Plus account out-of-the-box.
Deezer automatically connects you to your Facebook friends, so you may find yourself with a bunch of followers and following a bunch of people from Facebook.
Spotify also lets you follow your Facebook friends but it does not do this automatically. You have to manually select the people you want to follow. As a result, you may end up with a tighter social circle.
Spotify allows you to build your own playlists that others can follow. You can also create collaborative playlists that you and your friends build upon – great for you and your music friends with similar tastes.
SPINNR does not integrate with any social media network, other than using Facebook authentication to log in. You can, however, manually share songs on Facebook and Twitter.
SPINNR also gives users the ability to buy and "gift" tracks. Gifted tracks get sent to your friend's mobile number as opposed to their SPINNR account.
Winner: Spotify
Music library
Both Deezer and Spotify claim to have over 30 million songs in its library. SPINNR lags behind with only 3 million songs.
As a home grown service, however, SPINNR leads in local content – and by extension, Deezer.
A simple search for Parokya ni Edgar yields 10 albums in SPINNR, 13 albums in Deezer, and only 4 songs in Spotify.
This means that searching for your favorite song or artist can get tricky when dealing with a large database like Deezer or Spotify.
Try searching for Franco (the local band) in Deezer and Spotify and you'll see what I mean. Deezer, seems to think that Franco Reyes' band is the same as the jazz group from Africa.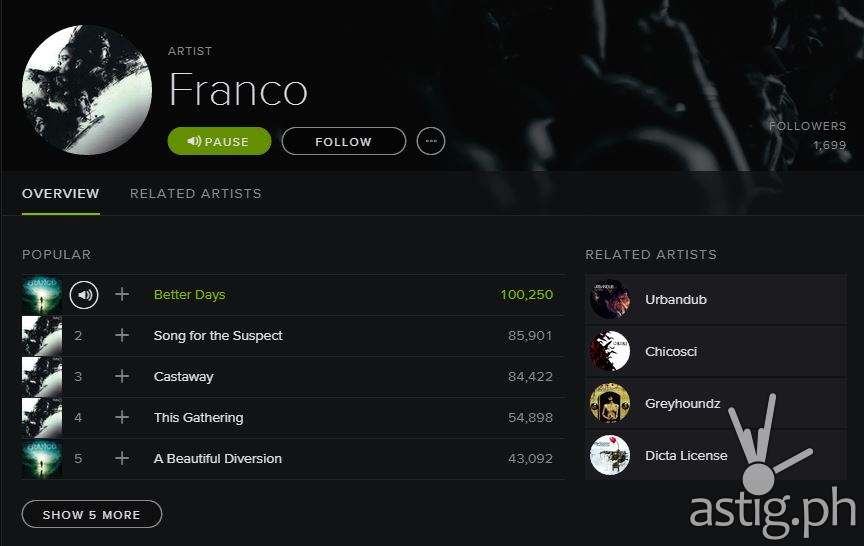 I did not encounter this issue with SPINNR. Spotify correctly groups Franco with local artists Urbandub, Chicosci, Greyhoundz, and Dicta License.
In addition to songs, SPINNR offers free videos and caller "ringtunes" to Smart, Sun, and TNT subscribers. SPINNR also co-promotes concerts and regularly runs promos such as free tickets to watch the One Direction and Arianna Grande concert.
Winner: Deezer
Discovery method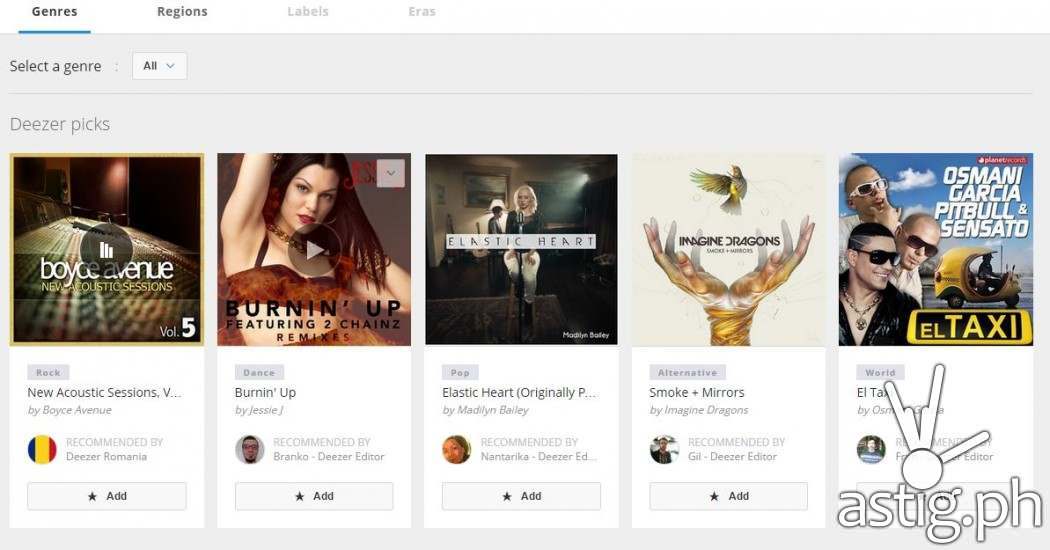 Deezer employs a team of 50 music editors from all over the world to listen to and curate its music database.
Spotify, on the other hand, uses a fully automated system to push its recommendations based on the music you listen to.
As a result, Deezer's recommendations are more dynamic, allowing you a broader range of discovery while Spotify's recommendations can be more "spot on" if you like listening to similar sounding artists.
SPINNR, on the other hand, relies on its internal rating system and download count to recommend music – it does not really track what you listen to. I got recommendations ranging from Katy Perry to Miley Cyrus' Wrecking Ball after listening to Parokya Ni Edgar and Up Dharma Down.
Deezer and SPINNR allows users to comment on the albums and artist page, with SPINNR going a step further allowing users to comment on the track itself, which can be an avenue for discovering new music.
Winner: Deezer
Third-party integration
Both Spotify and Deezer come with Last.fm integration, allowing you to scrobble your songs into the popular social networking service.
As of October 2014 the Spotify Apps service has been discontinued. Only time will tell if Spotify decides to open its system up to third party developers. In the meantime, Spotify users can enjoy the abundance third party clients and libraries available out there for free.
Despite this, Spotify apps are still available on the Internet, such as Musixmatch, which displays lyrics on Spotify for Desktop.
Deezer offers a similar alternative called the Deezer App studio, which allows developers to create HTML5-powered applets that run inside its web and mobile player.
Deezer also makes its system available to third party developers via API, and an affiliate program rewards developers for every paid referral.
There are currently 46 apps available on Deezer.
Winner: Deezer
Subscription cost
Before we begin it is interesting to note that both Spotify and Deezer provide unlimited, ad-supported music streaming on both desktop and tablet. They are, however, limited to standard sound quality and 6 skips per hour.
Globe Telecom offers a separate data bucket for Spotify. For as low as 15 pesos with GoSURF 15, users get 20MB data allocation for 2 days with 300MB data dedicated to Spotify.
Spotify Premium is available starting with GoSURF 299, which gives you 700MB data allocation for 30 days as well as 1GB Spotify allocation.
Globe offers a separate data bucket for Spotify, which means that your data allocation won't be used when you're using the Spotify app. All GoSURF plans, from 299 to 2499 come with Spotify Premium access.
You can still get Spotify Premium separately for only P129/month.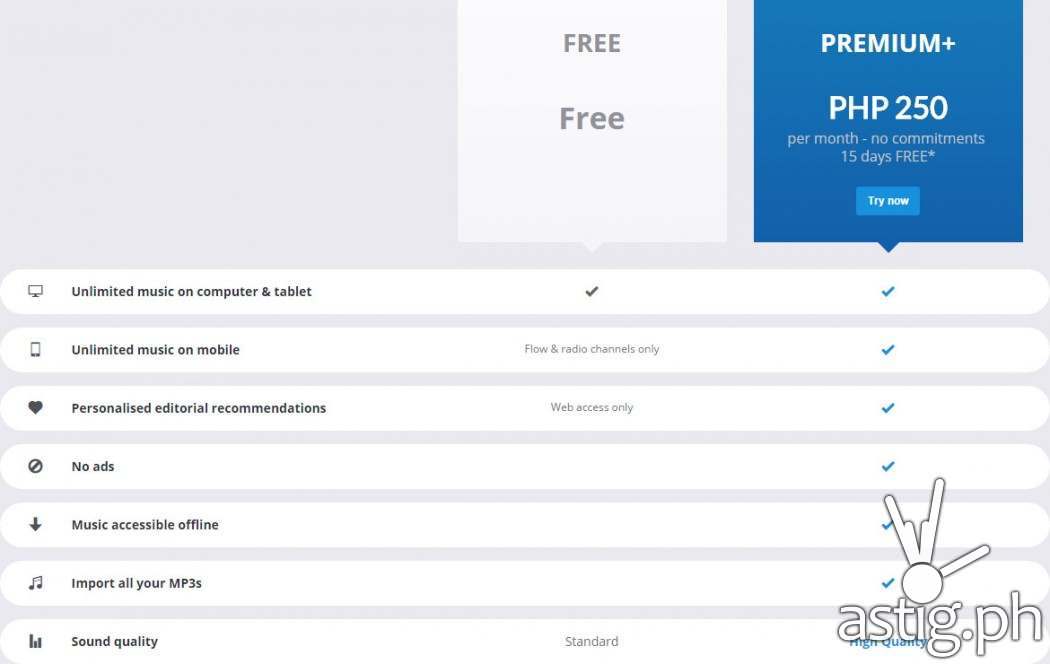 Smart Communications offers Deezer Premium+ at P25/day, P125/week, or P250/month. Smart does not offer a separate data bucket for Deezer, however, you get Deezer Premium+ free for 24 months when you subscribe to Data Plan 999.
SPINNR is the cheapest option among the three at only P2.50/day or P49/month for SPINNR Plus. You get 50% download discount with the P49/month plan.
Music tracks on SPINNR cost around P10-15, so that's around P5-7.50 per track. Do bear in mind that SPINNR only goes up to 128kbps.
If quality is not an issue, SPINNR wins the price wars hands down.
To put things in perspective, Rivermaya's Panatang Makabanda containing 12 tracks CD costs $13 (P573) on eBay. At the regular price of P10 / track the same album would cost you P120. With a SPINNR Plus discount of 50% the entire album will only cost you P60.
Overall we will have to give this category to Spotify because of Globe's separate data bucket.
Winner: SPINNR, Spotify
Parting thoughts
If cost is the only consideration, at only P49/month SPINNR is a clear winner, followed by Spotify for having a separate data bucket under Globe.
Deezer offers more local content, while Spotify wins social award thanks to collaborative playlists.
Are you on Spotify, Deezer, or SPINNR? Take the poll and share your playlist with us in the comments section!
[poll id="2″]