Do you find yourself not getting excited about dining out anymore?  Do you feel that restaurant food has become a bore for you?  If yes, then it is definitely time for you to explore the restaurant dining scene again.  To give you a head start, here's one that I have recently gone to.
Restaurante Pia Y Damaso is located on the 2nd floor of Greenbelt 5 in Makati. If the name Pia Y Damaso sounds a bit too familiar to you, it's because she is one of the characters of Jose Rizal's very thought-provoking novels Noli Me Tangere and El Filibusterismo.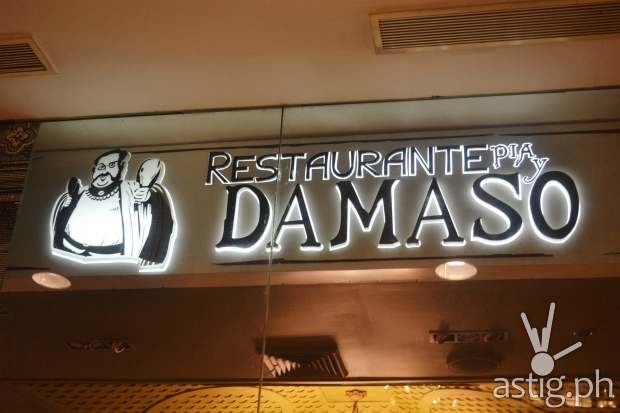 The restaurant is named as such because it features dishes from history and those touched on by Rizal in his two novels. If you found any or both of Rizal's novels intriguing, wait till you taste chef Bambi Sy Gobio, chef and owner of Restaurante Pia Y Damaso has up her sleeves.  Try to wrap your head around what they call "Subversive Cuisine". It will be a whole lot easier believe me if you get to taste these dishes.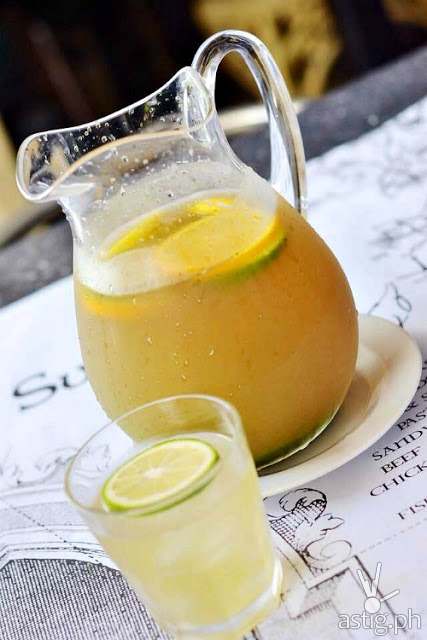 Tubig ni Maria Clara (P100 per pitcher) is a welcome breather from all the sugary drinks that we have been having.  A truly refreshing drink that is so perfect for such a hot weather like ours.  What's in it?  It's a special concoction made of cucumber juice, ginger and citrus water.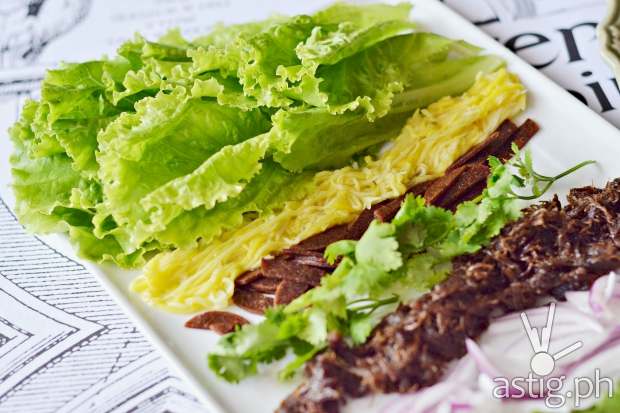 Nga Nga Beef Salad (P250) is named as such because you prepare and eat it just like our grandmothers used to do it with their Bettle Nut Chew.  The ingredients (chef Bambi's own salty and chewy beef flakes, green mango pickles, haw flakes, cilantro, arugula and lettuce) are piled up and rolled then chewed. When the salad was served, everyone was kinda at a lost as what this platter of a salad was all about.  We didn't know what to do with it until chef Bambi told us the trivia about the dish.  I never had anything like it.  The ingredients were really meant to be together because the salad tasted amazing in my mouth.  If you have the habit of skipping salads, well, this one is off the charts.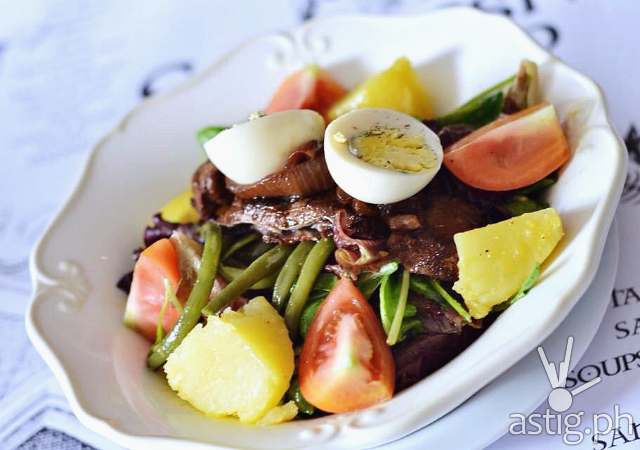 Bangus Belly Salad with Dalandan Vinaigrette (P325).  I love bangus belly in sinigang, fish stake and paksiw.  I grew up enjoying bangus belly as the star of those dishes, but in a salad?  And with potatoes?  Hmmm.  Then again it looked great and it smelled wonderful so I had to at least take a bite.  You know what?  I ended up asking for seconds because it was such a delightful salad to have.  My tastebuds where having such a grand time savoring the beautifully seared prime bangus belly steak. While the lovely mustard dalandan dressing tied it all up.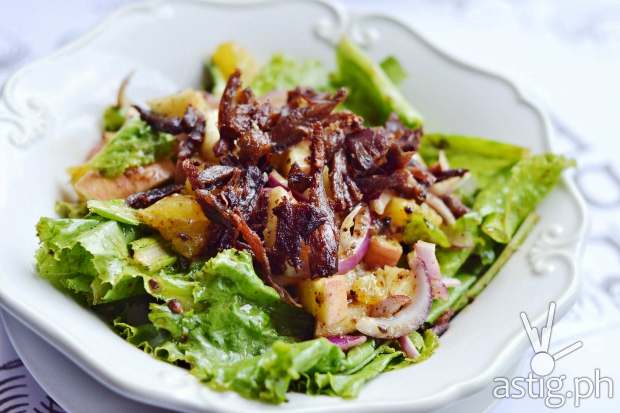 If you think the first two salads is the most adventurous it's going to get, wait till you try chef Bambi's Duck Salad with Champoy (salted plum).  The dish is just P350 per serving and it's definitely big enough for sharing.  Duck confit (känˈfē), meaning duck cooked slowly in its own fat, is joined by mix greens, champoy and finished off with a very nice Plum Vinaigrette.
Order all three and you have a salad fiesta.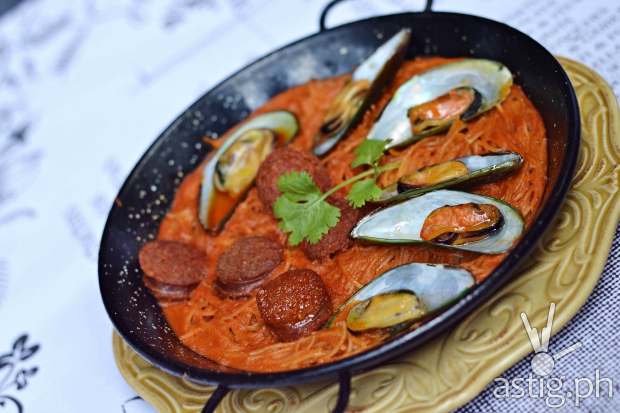 What I initially thought as Paella turned out to be what they call Fideos with Mussels and Chorizo (P360).  This is red sauce pasta at its best with just a few choice ingredients.  The mussels are fresh, juicy and plump.  The nicely sliced chorizo adds a different level of flavor and adds a bit of saltiness to the tomatoey sauce.  Best served with wine if you ask me.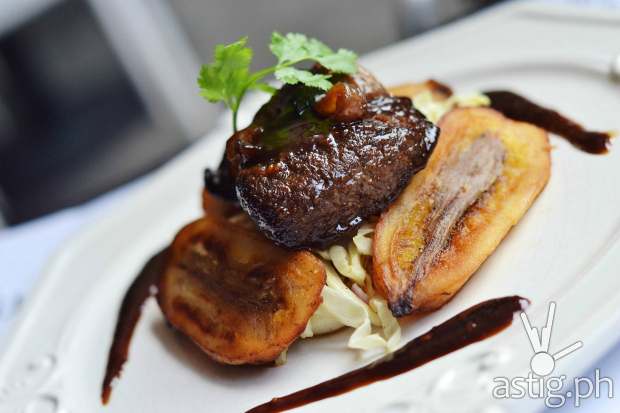 Sure I have seen foreign chefs cook Ostrich on TV but that's about it for me with regard to this huge flightless bird.  That there. That gorgeously plated dish is Pia Y Damaso's Ostrich Beef Steak with Guava Butter (P600).  Initially I was thinking that ostrich meat would be tough and that it would have that gamey taste, but I was wrong.  The meat was fork tender and juicy.  The flavor wasn't overpowering at all.  It was delicious. It was exquisite. It wasn't fatty like a cut of beef would be. Hmmm…I think I should have this again.
Guess what? They have wickedly good desserts, too.  Happy eating!