TECNO is on a roll lately, releasing phones left and right in the Philippines. Within the last month we've seen the arrival of the TECNO Spark 7 Pro, the TECNO Camon 17 Pro, and of course, the TECNO POVA 2.
It wasn't too long ago when the TECNO POVA first came out – to recap, it was a massive phablet with its 6.8-inch screen and 6,000 mAh battery. It was super affordable too, priced at only Php6,999. So what does the TECNO POVA 2 have to offer this time around?
Head over to TechKuya on YouTube for the TECNO POVA 2 hands-on video, or read on for our full review!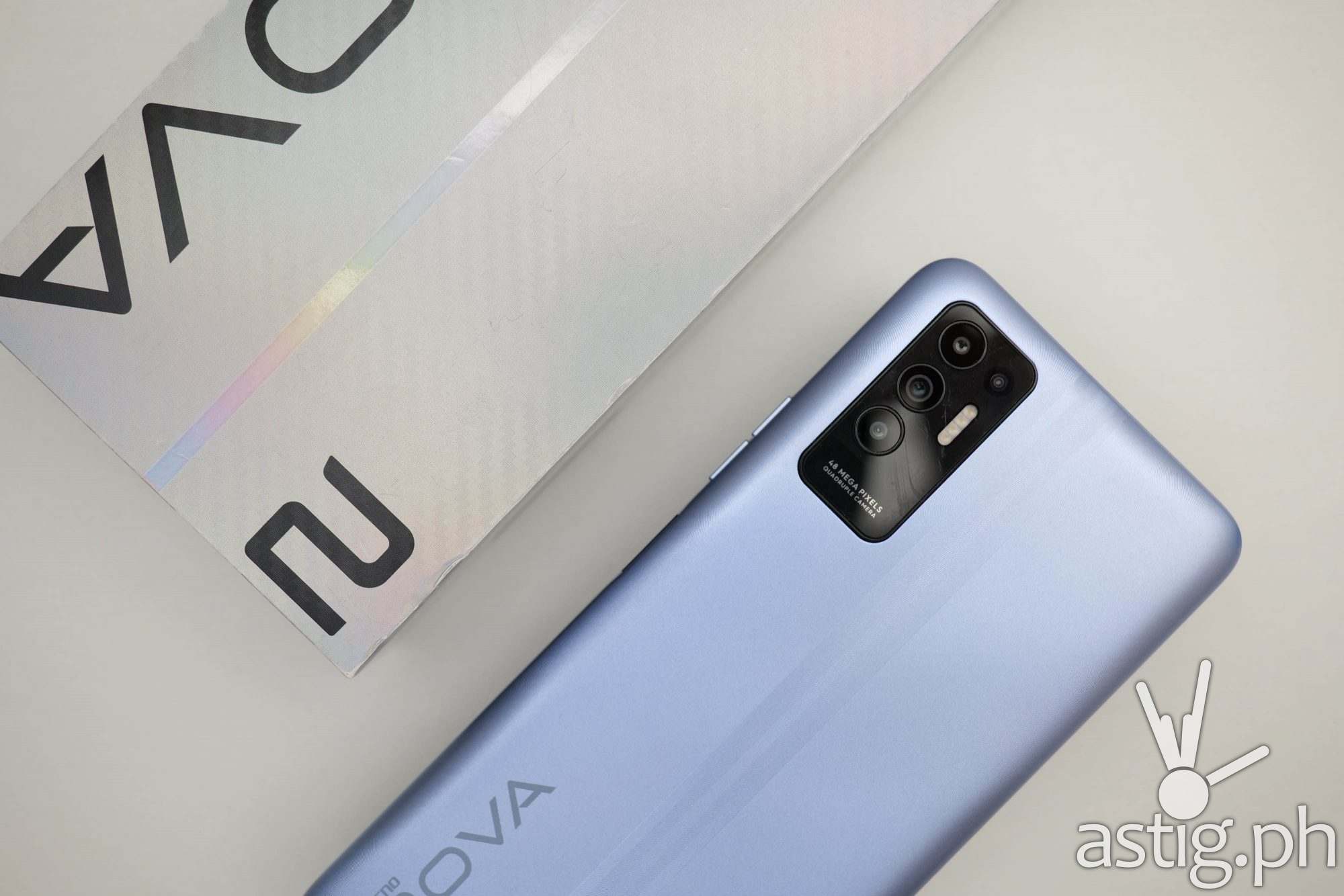 Build quality
On the outside, we immediately see a number of improvements, starting with the screen: not only is it bigger, coming in at 6.9 inches, but the resolution has been upped to full HD+, finally! That's 1080 x 2460 pixels of IPS LCD goodness.
Not only that, the notch is now centered instead of flush to one corner.
This is, however, a budget smartphone, so the quality of the display panel is not as bright or as vibrant as its competitors. Contrast levels are lacking, and viewing angles also aren't too wide, although practically speaking, the display is still very usable outdoors in broad daylight.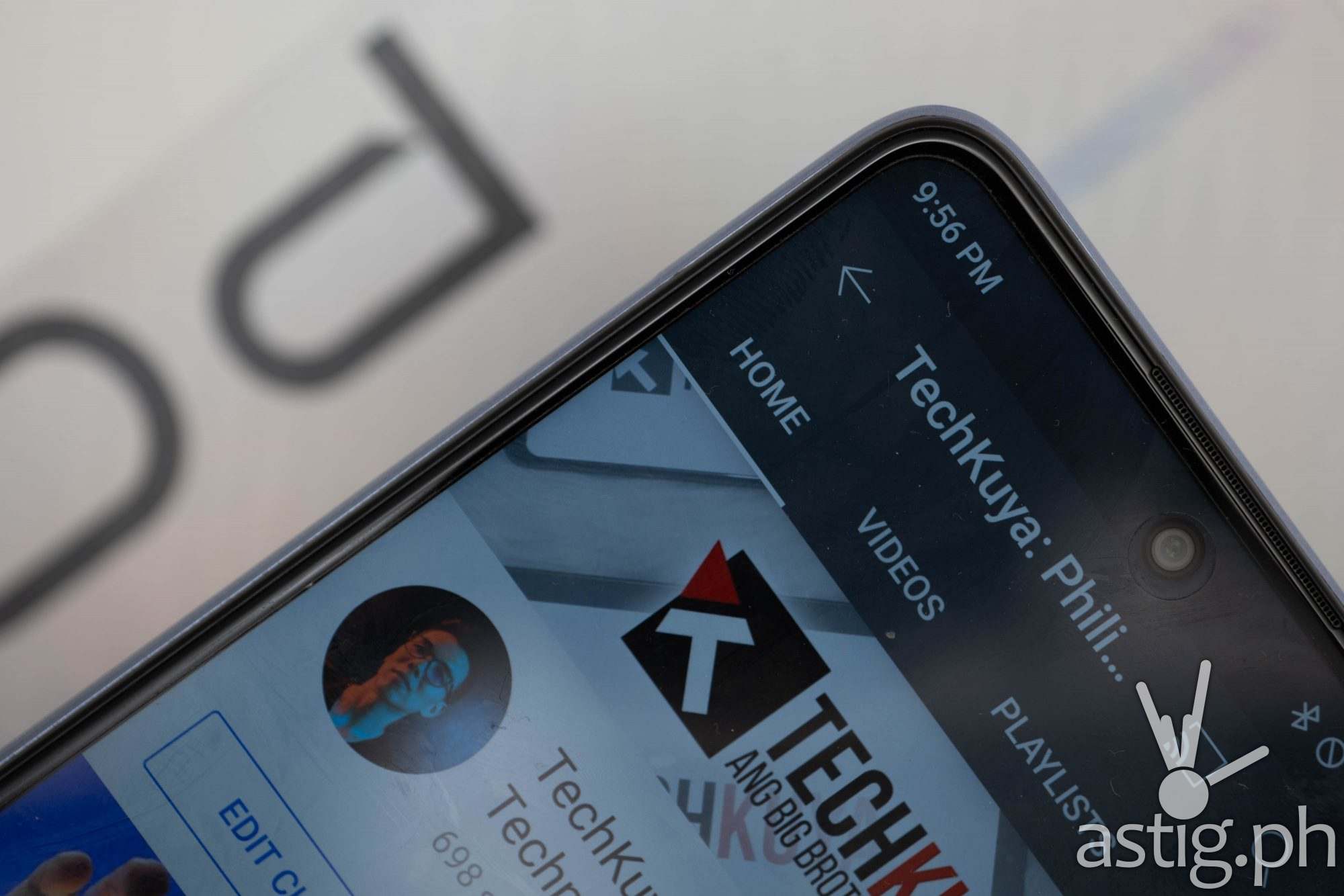 By the way, it comes with a screen protector pre-installed, which is a nice value addition.
The back of the phone is made of textured matte polycarbonate plastic. Micro engraving gives it a banded pattern, along with vertical lines engraved into the shell itself. We are quite familiar with this style of casing, but somehow it manages to look fresh to our eyes.
As you may have observed in our past reviews, we have a strong personal preference for matte backs – not only are they scratch and fingerprint-resistant, it feels good in the hands and do not easily slide off smooth surfaces. It doesn't need a jelly case, though it's cool that TECNO included one for free along with the package.
So believe us when we say that we love this back design, and we do hope to see more of it in the future.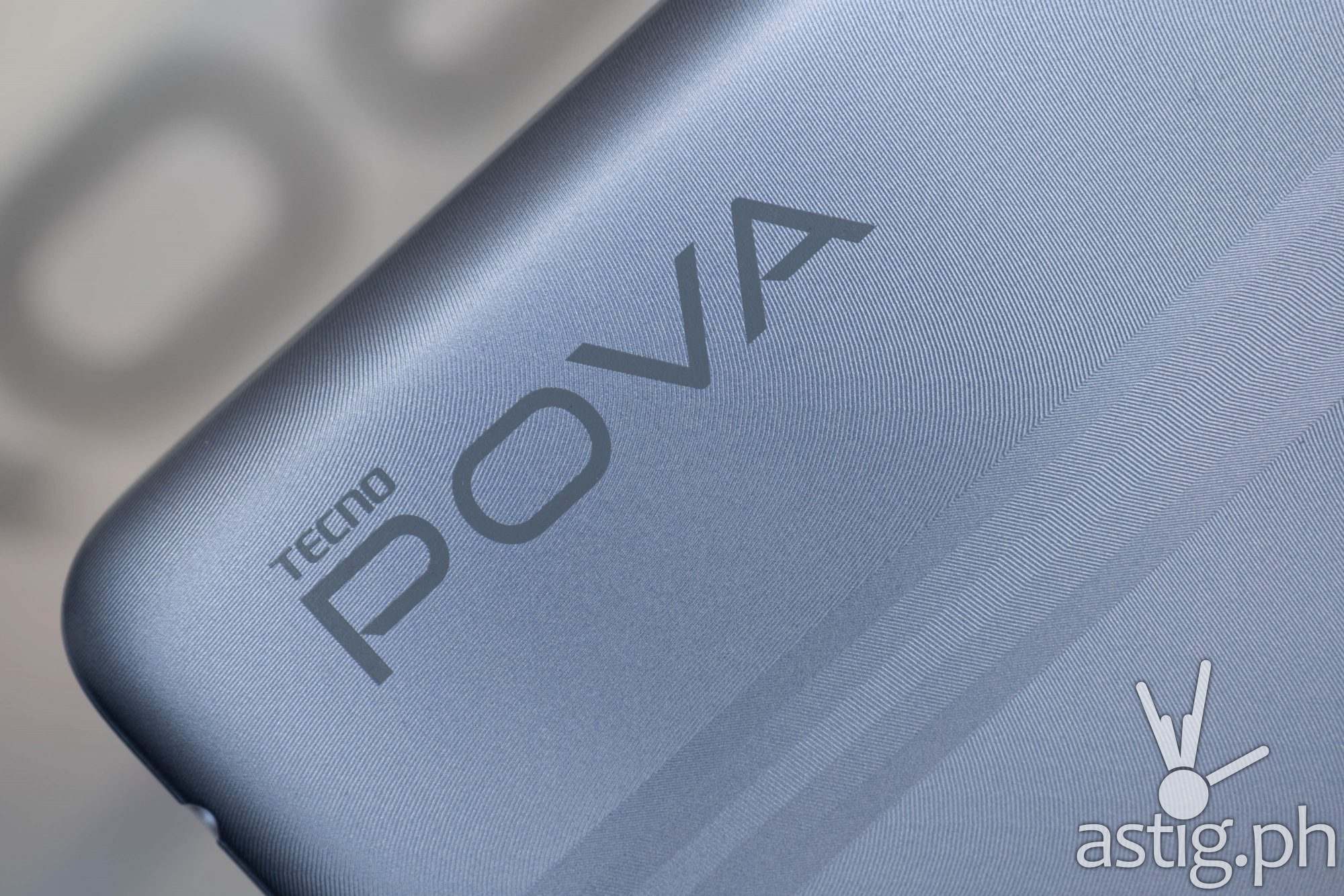 Notably absent is the rear-mounted fingerprint scanner, which has can now be found on the power button. This is another well thought-out design: since your fingers will be touching the power button to turn the phone on, it only makes sense to place it there.
Apart from the slight camera hump for the quad camera system, There's a small camera hump for the 48MP quad camera system, the entire rear looks clean and neat.
We are glad to report that the TENO POVA 2 now uses a USB Type-C port for wired data transmission and power delivery, which goes up to 18W. On either side of the port, we find the the 3.5mm audio jack and a small hole for the microphone.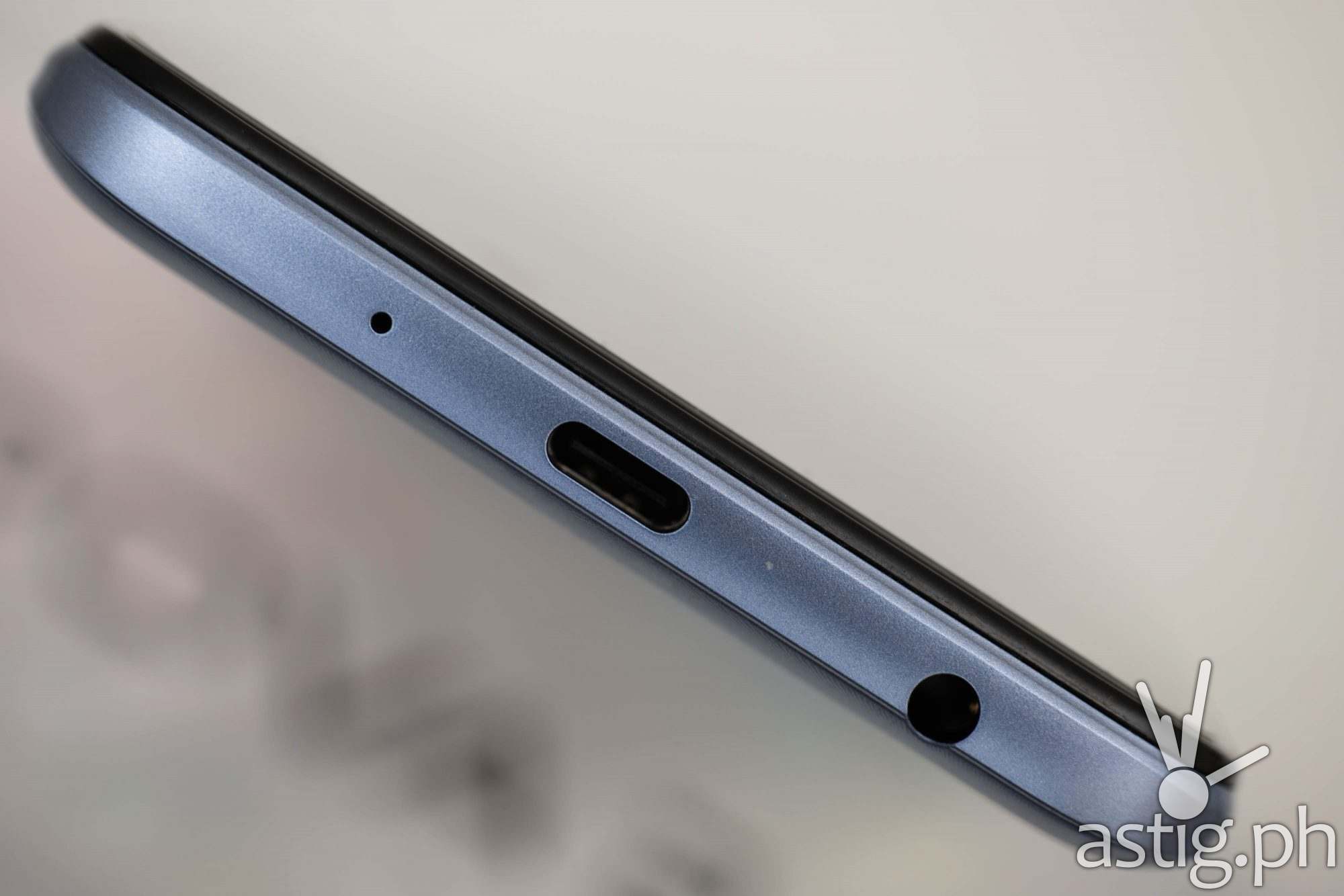 Wait, what? Where are the loudspeakers?
On most phones, you'd usually find the loud speakers right beside the USB port, but not on the POVA 2. You know how some phones have dual loud speakers, and the receiver on the top of the phone acts as the second speaker? That's what you get on the TECNO POVA 2.
There isn't much room up there, so the audio coming from the receiver / loud speaker comes out sounding thin and soft.
If we had to pick, we really would have preferred the standard bottom-firing loud speakers.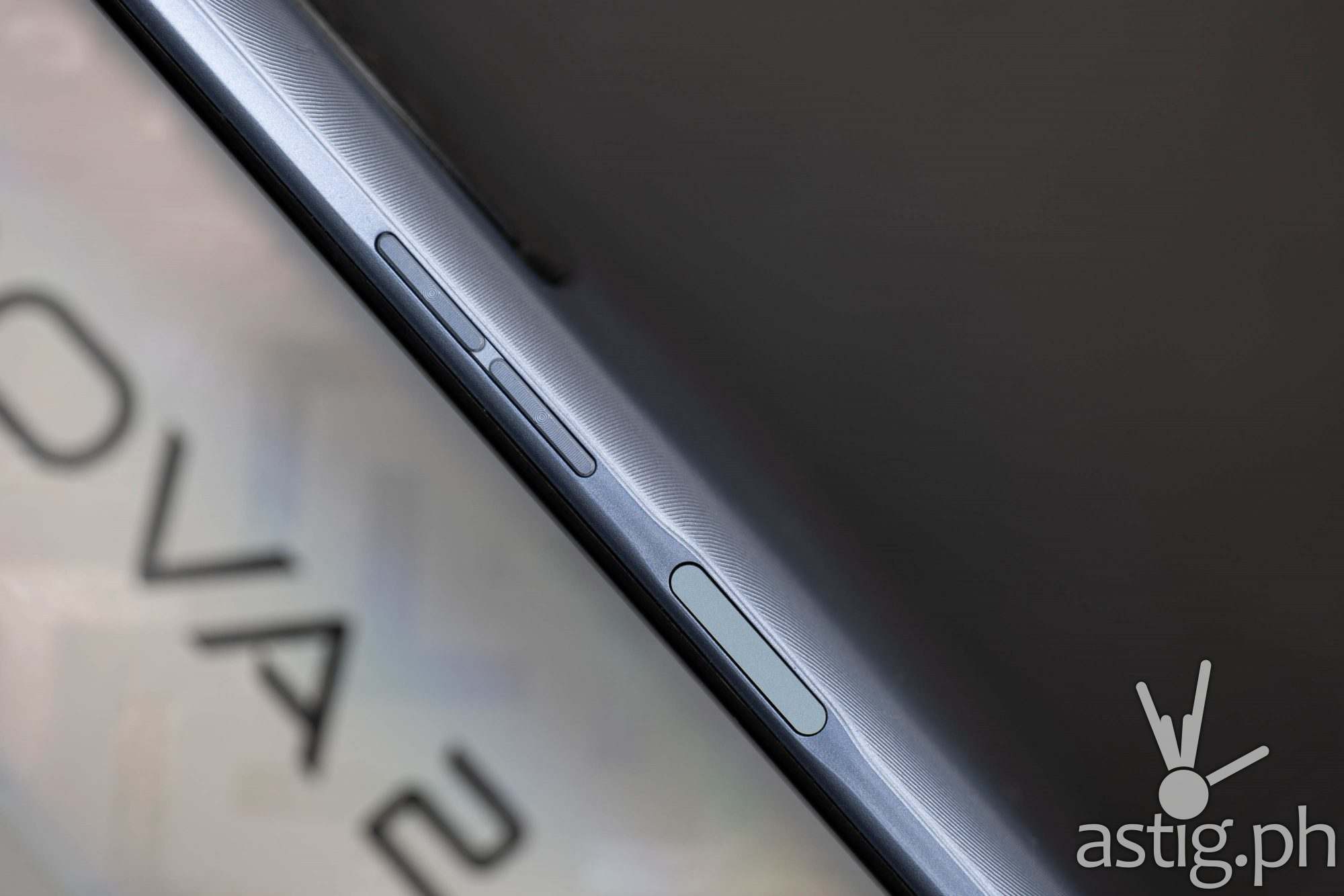 Before we forget, the SIM tray has three slots: two of it takes Nano SIM cards, while the third slot takes a microSDXC expansion card.
It's interesting to observe that flagships are taking away the 3.5mm audio jack and expansion card slot, yet budget devices can somewhat manage to keep all of it and more.
Performance
Powering the TECNO POVA 2 is the MediaTek Helio G85, which offers a small improvement over the MediaTek Helio G80 on the first TECNO POVA.
Navigation and task switching is smooth overall, and the interface is so much cleaner than before. It runs Android 11 with HiOS 7.6, so we get the stability of the latest Android operating system along with the bells and whistles that come with the HiOS experience.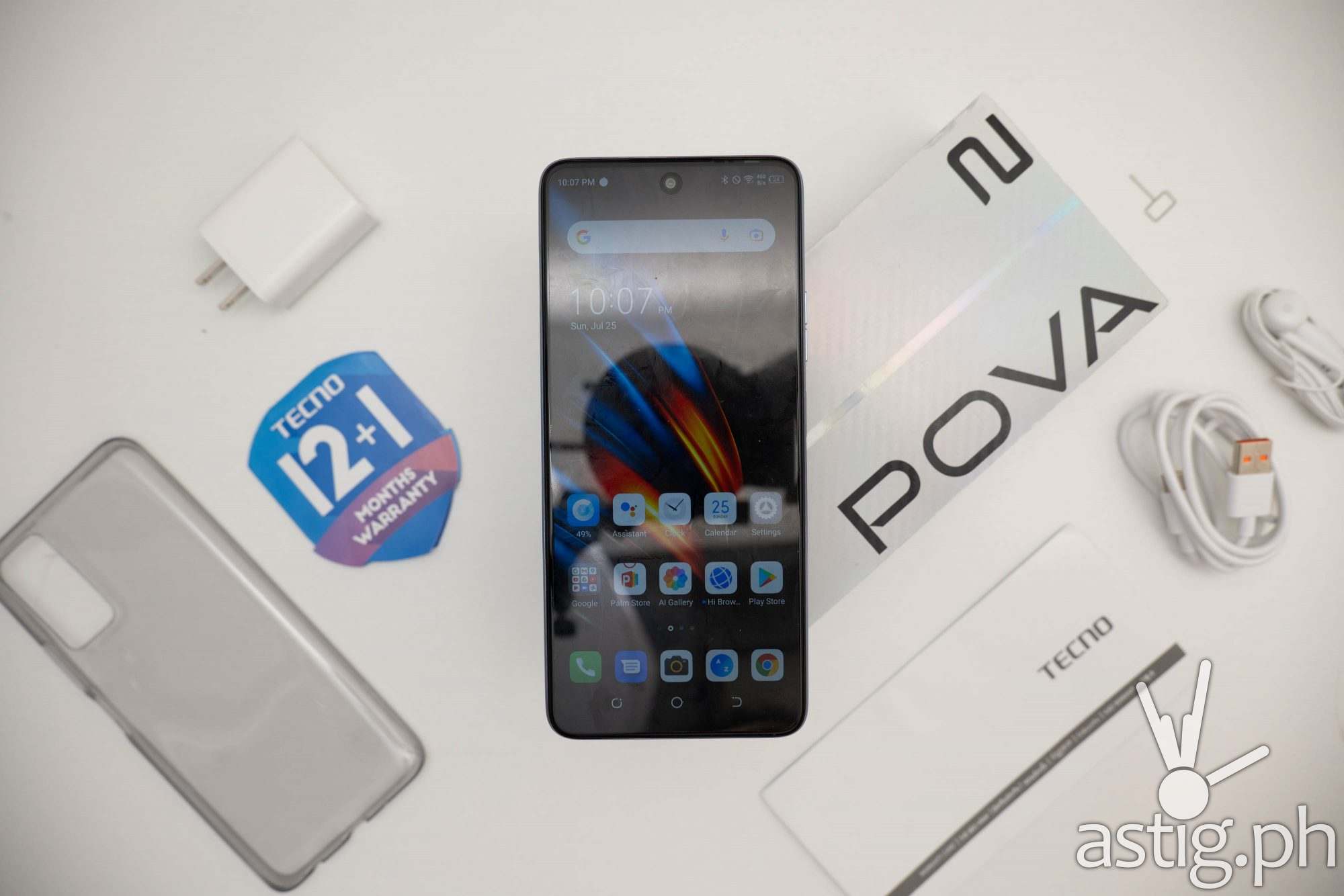 We just have to say: TECNO POVA 2 is super clean. We got so used to seeing ads everywhere on TECNO phones that it almost feels like it was made by a different manufacturer.
Ads are still there, but it's very minimal and not as obtrusive as before. Like, you'll have to dig deep to find one. Kudos to TECNO for taking a step in the right direction!
AnTuTu benchmark gave us measly benchmark score of 251242 points, defeating only 4% of all smartphone users worldwide. While that may not be super exciting, it is not unexpected for the Helio G85, which normally does around 200K.
Made with Visme
To put things into perspective, 251k places the TECNO POVA 2 well above our 2021 Budget Smartphone rankings, crossing ever to slightly into Mid-range territory.
That nice, 6.9-inch screen really helps with readability, especially for users with poor or failing eyesight such as the author. Yes, it adds to the bulk of the phone, but it's a tradeoff that we're willing to make if it means improved readability.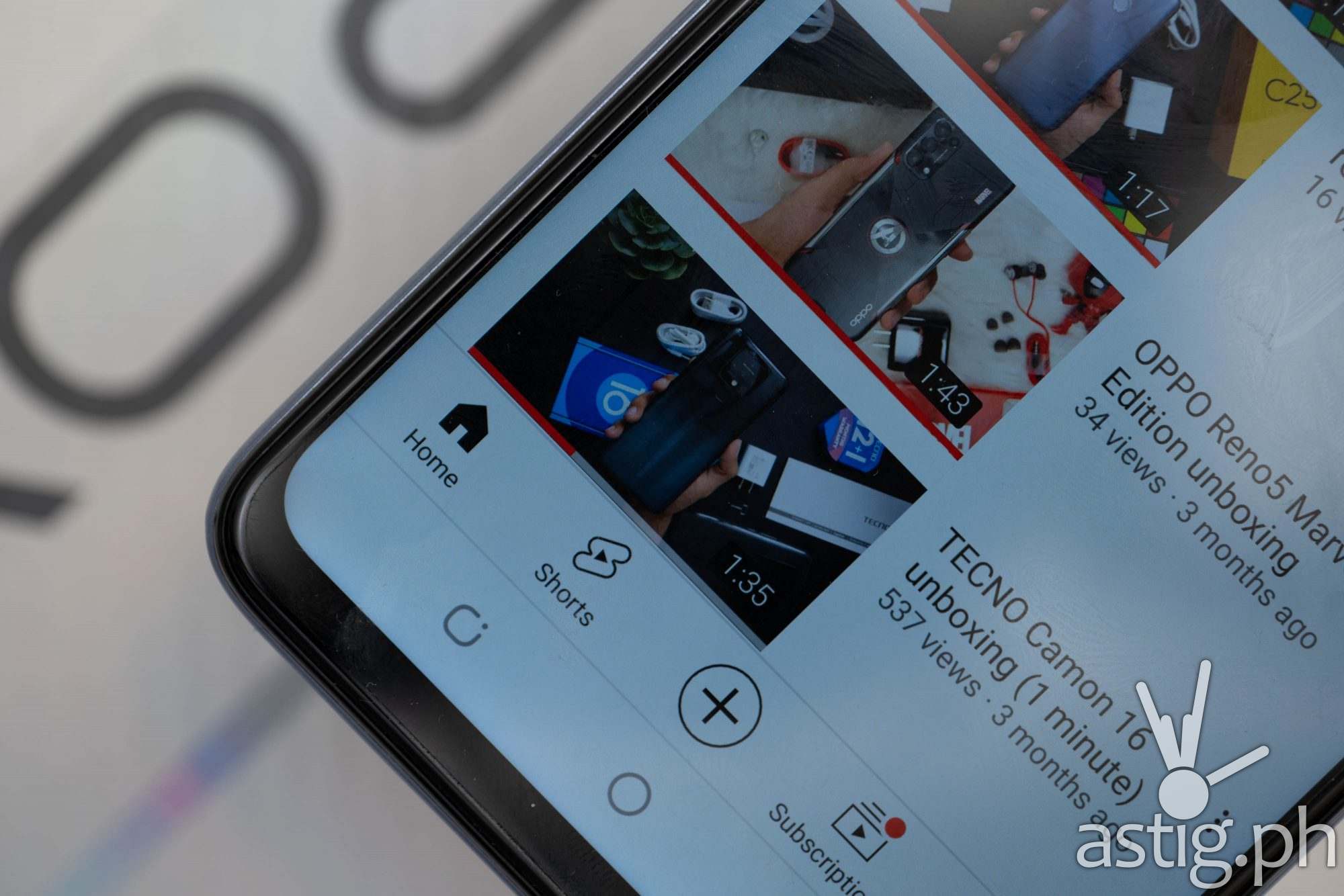 Naturally this also means that movies and shows are more enjoyable – as long as you use a headset, of course. The loud speaker is too soft for us to appreciate good sound effects and dialogue.
Gaming
Alright, so the Helio G85 is tuned for gaming, right? How well does it handle today's modern games, though?
We play-tested several popular games, such as Ragnarok X, League of Legends: Wild Rift, Genshin Impact, Marvel Revolution, Black Desert Mobile, Marvel Super War, and Mobile Legends.
After installing these games, we then played with the graphics settings to see where its limits are. Most of them games managed to do 30FPS on medium to high settings although there are noticeable frame drops here and there.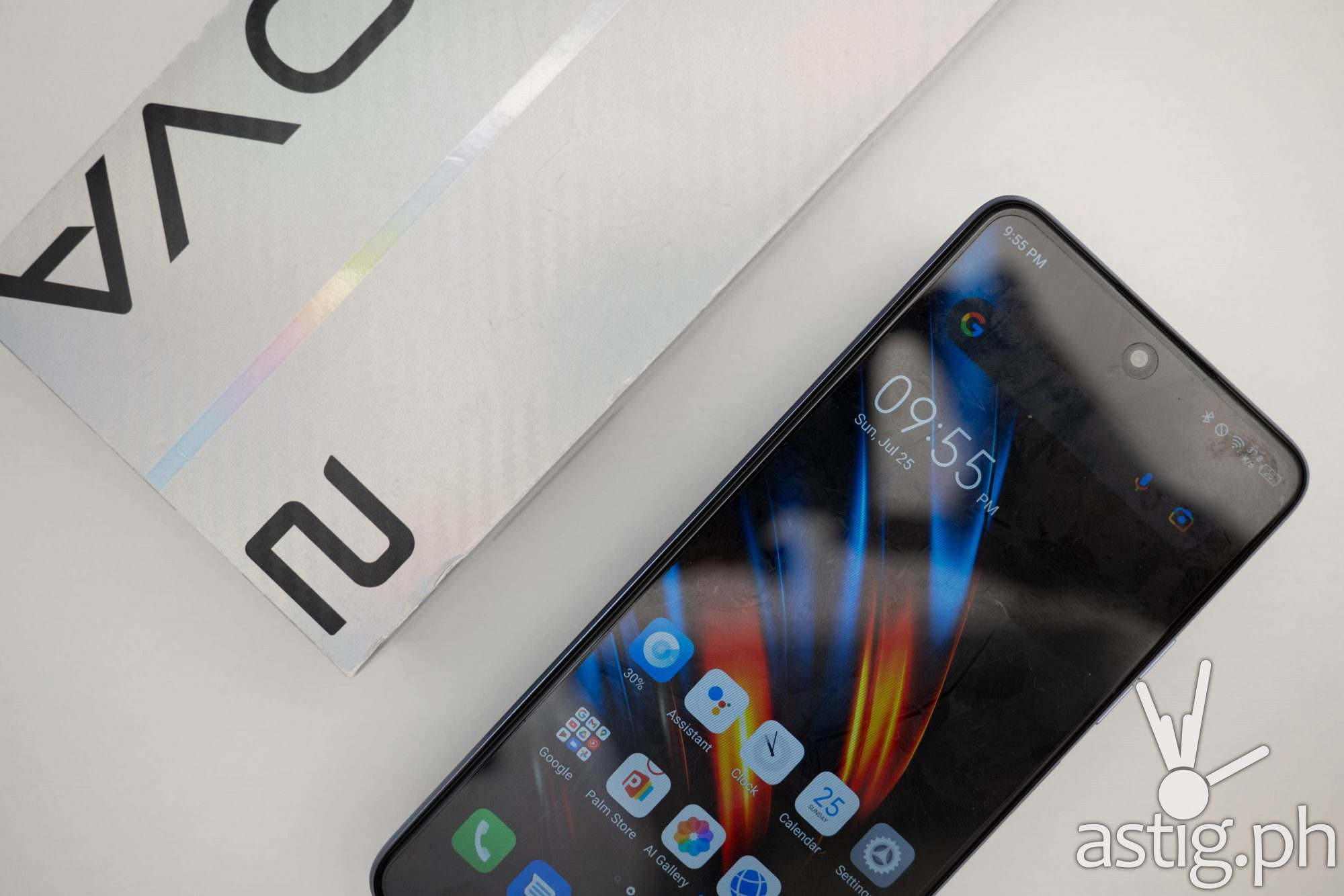 On Black Desert Mobile and Wild Rift, we received a warning message that our settings were way too high, and the game would automatically drop the quality down in order to preserve a smoother gameplay.
The games that really put the TECNO POVA 2 to its limits were Genshin Impact and Marvel Revolution. While there's nothing stopping us from maxing out the graphics, anything beyond the lowest setting results in stuttering and overall sluggishness.
As much as we really wanted to try Diablo: Immortal, alpha test unfortunately ended some time ago, so we'll have to wait and see how it goes.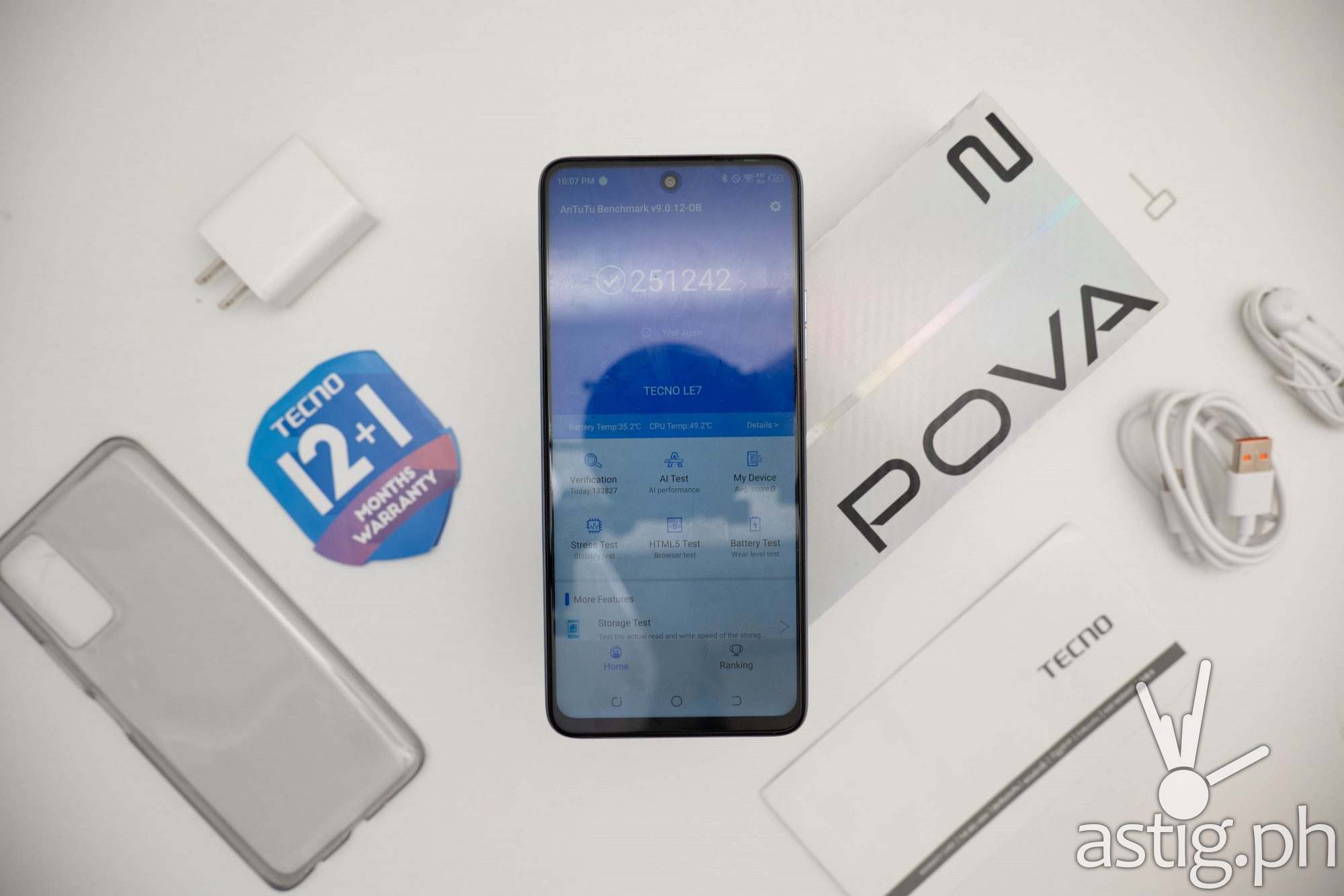 Apart from performance, we wanted to stress the importance of battery life. While you can easily extend and work around battery life limitations by carrying a power bank, it is still an additional device that you have to bring with you. This is huge especially when you're on the road a lot. Battery life takes a huge hit from gaming, especially with mobile data turned on, so that extra 1000-2000mAh means more hours of playtime before you have to take it home to recharge.
By the way, the TECNO POVA 2 comes with its own game enhancement system called "Game Space" to optimize performance, eliminate distractions from calls and notifications, track game time, and more.
The best part of Game Space is the Game Assistant Panel, which you can bring up by swiping and holding from the side while in-game. This allows you to do things without leaving the game, including floating windows for chat apps and the ability to map the volume up and down button to in-game controls.
There's also a built-in voice changer so you can sound like a man or a woman, although the results sound unnatural. So catfishes – here's your time to shine!
Photography
Moving to photography, the TECNO POVA 2 touts a quad rear camera system consisting of a 48MP main camera, a 2MP macro lens, and two depth sensors.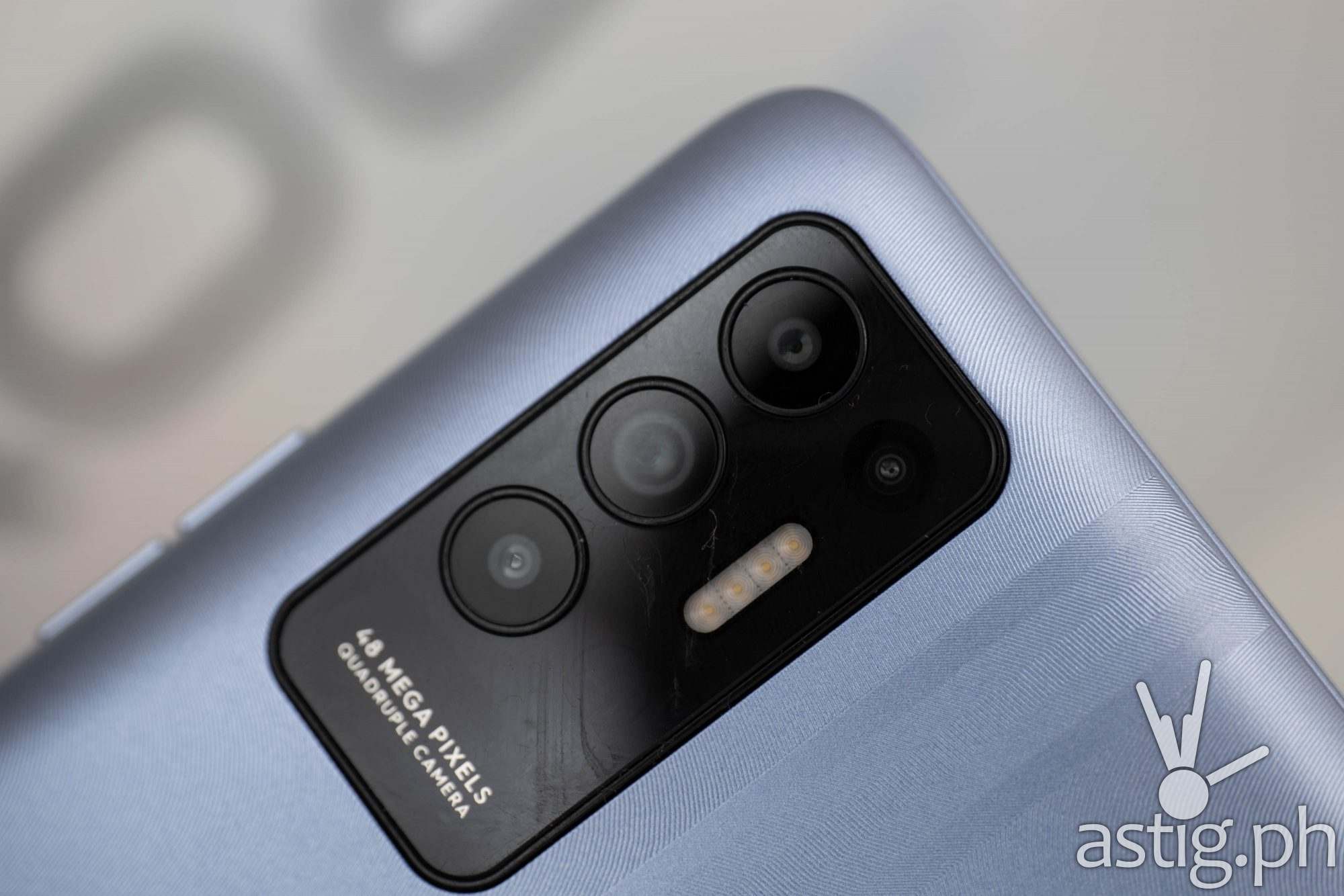 Wait what? Two depth sensors, you say?
Maybe TECNO studied user behavior and found that most of them loved taking portrait photos, but we would much rather have a wide-angle lens than a second depth sensor.
"Portait mode" shots look alright – edge detection is good, but you need a lot of light or the subject ends up with a lot of noise.
The sensor's weak dynamic range gets exposed in extreme lighting situations. Low light photos have the tendency to look soft and grainy, while photos with bright spots tend to get blown out.
Also, color science and white balance needs a bit of work – the photos tend have a tendency to look off-color regardless of the light source.
Generally speaking, photos taken with the rear camera are very usable. Image quality has improved by a mile compared to other TECNO phones with the same 48MP sensor. We attribute this to tuning and improvements that come with the Android 11 camera.
It's a step in the right direction, so we're looking forward to seeing what happens to TECNO's other releases this year.
Selfie photos weren't too bad either, but there is a noticeable loss of detail from having a smaller, 8MP sensor. Our favorite AR filters are still there, and we're glad – it's always fun to play around with it.
That said, we wouldn't recommend the TECNO POVA 2 for serious vlogging. If you look at our sample video, the highlights easily get blown out, the shadows are grainy, while the mids lack dynamic range.
At the very least, we need a camera that can keep highlights under control before we can even consider it for serious vlogging. It should be okay for video calls though.
Battery life
There aren't too many smartphones with 7,000mAh batteries around, so this is uncharted and exciting territory for us. It is clearly one of the longest-running smartphones that we've reviewed on our publication.
In the 30 days that we've had it, GSam Battery Monitor tells us that we average 69 hours per complete charge which is nice! That's almost three days of "general use" and by that we mean that we used it mostly for mobile games, social media, and watching streaming videos with WiFi turned on.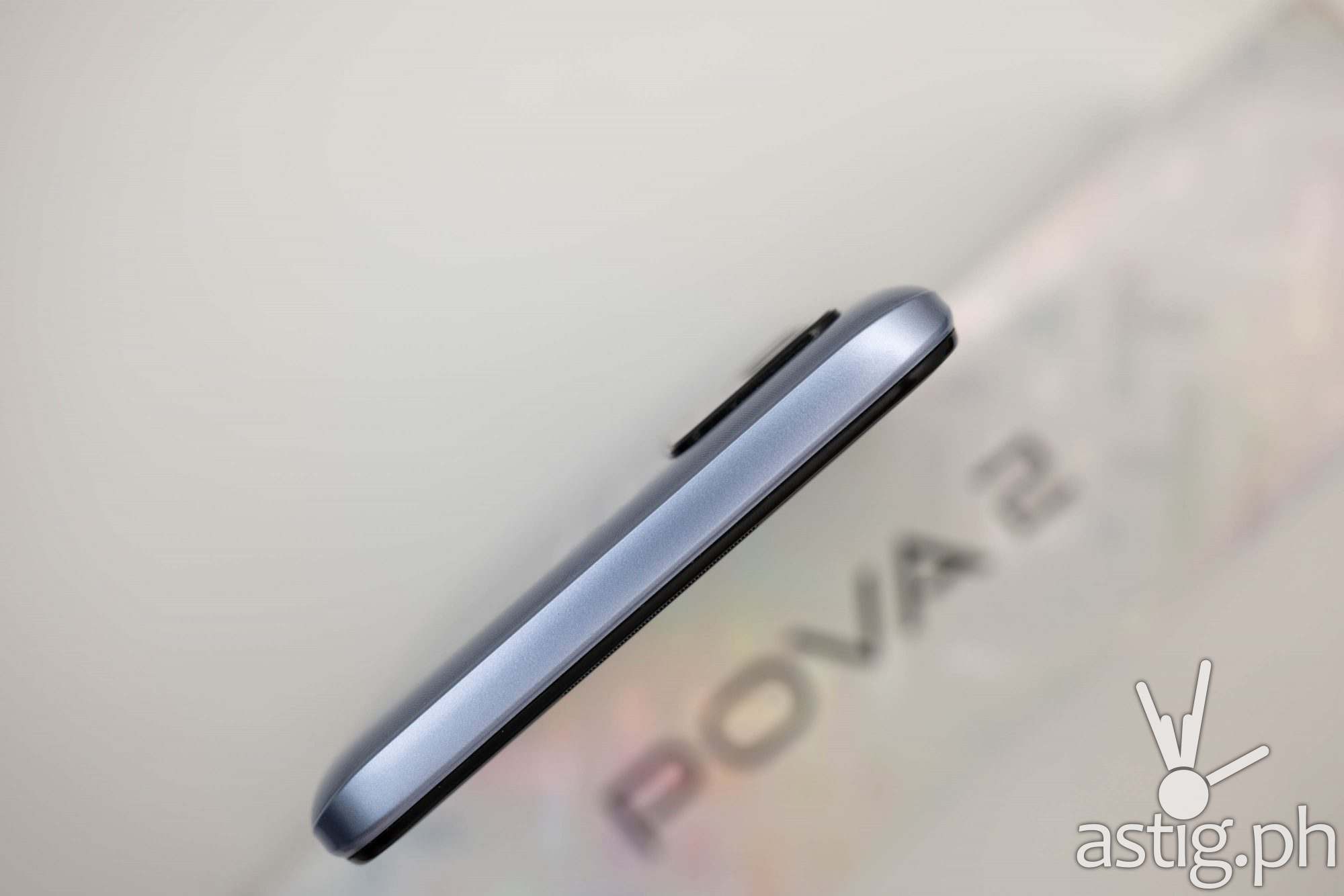 GSam also tells us that we have an average screen on time (SoT) of 9 hours and 44 minutes, or almost 10 hours on a single charge. Your mileage may vary of course – these figures may go up or down depending on your use, but to put things into perspective, the highest screen on times that we get go for about 7-8 hours. We have never seen a 9-hour SoT until today.
With this data, the TECNO POVA 2 is easily a top contender for longest battery life in 2021.
Those 7,000 mAhs do take a bit of time to recharge, however. The 18W fast charge helps, but it still takes 3.5 hours to go from zero to 100.
So there's your tradeoff: you're really going to want to charge this overnight.
Verdict
2021 is the time for TECNO to make its big push in the Philippine market, and the TECNO POVA 2 shows that they understand the budget segment really well: big screens and long battery life are the name of the game, and the POVA 2 delivers with its massive 6.9-inch display and 7,000 mAh battery.
It also delivers good value in other areas: clean aesthetics and smart design make it something we really want to use every day despite its added bulk. Performance is also above what is expected from a Helio G85 device, and we have to applaud TECNO for cleaning up and optimizing the user experience.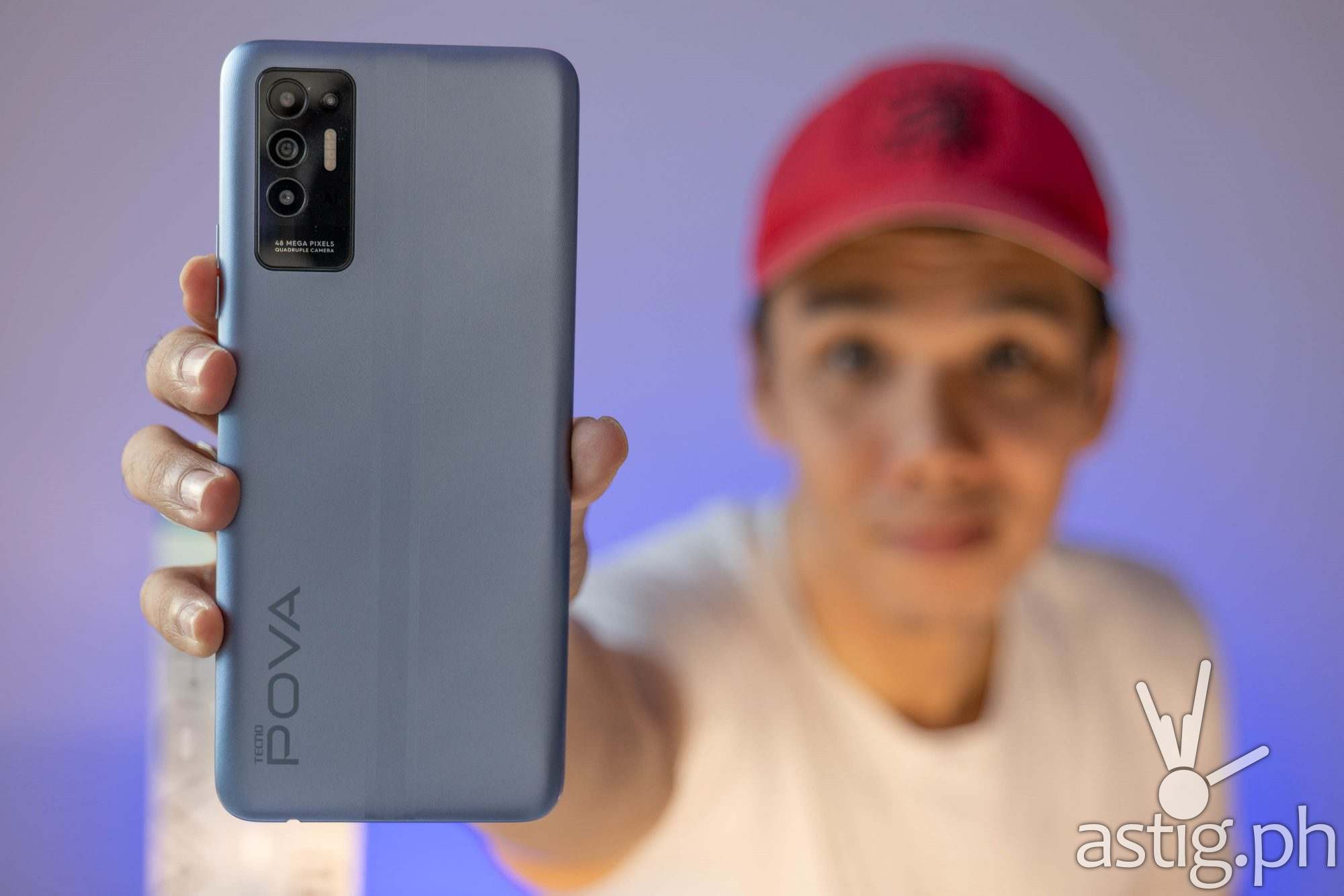 Camera performance is a little iffy, though you can get good results with a little patience and ample lighting. The extra depth sensor is also a little weird – there's a quad camera system, but you can actually only take photos with two lenses.
For the price of Php7,990 the TECNO POVA 2 is something worth considering if having a big display and long battery life are your top priorities.
The Philippine smartphone market is highly competitive, and TECNO is taking a step in the right direction by actually giving us something that we want.
While far from perfect, the TECNO POVA 2 shows what the brand is capable of, and for these reasons, it has captured our hearts making it our favorite TECNO smartphone so far.
TECNO POVA 2 technical specifications (Philippines)
Display: 6.9 inches; 1080 x 2460 pixels; IPS LCD
SIM: Dual SIM (nano-SIM, dedicated slots)
OS Android 11; HiOS 7.6
Chipset (SoC): MediaTek Helio G85 (12nm)
CPU: Octa-core (2GHz max)
GPU: Mali G-52 MC2
Memory (RAM) + storage (ROM): 6GB+128GB
Expansion: microSDXC (dedicated slot)
Main camera (rear): 48MP f/1.9 (wide) + 2MP f/2.4 (macro) + 2MP (depth) + 2MP (depth)
Selfie camera (front): 8MP f/2.0
Connectivity: 2.4/5 GHz Wi-Fi 802.11 b/g/n/ac; Bluetooth 5.0 A2DP LE
I/O: Micro USB Type-C, 3.5mm audio jack, fingerprint sensor (side-mounted)
Battery: 7,000 mAh; 18W Flash Charge
Colors: Polar Silver, Power Blue, Dazzle Black
Price (Philippines): Php7,990 (6GB + 128GB)