Aloha! When Teddy's Bigger Burgers opened their first Philippine branch in Greenbelt 3 they made a huge splash on its first day by offering free burgers to the first 100 customers. The queue was so long that from the store located on the third floor, the line crept all the way down to the second floor and out to the bridge connecting Greenbelt 3 and Landmark.
Surprised?
Come to think about it, the top food brands in the Philippines, Jollibee and McDonalds, started out with hamburgers.
As we announced earlier, the first five in line will receive 1 year supply of free burgers, the 6-10th in line will receive 6 months supply, while the 11-20th person in line will receive 3 months worth of fee hamburgers from Teddy's.
Now that's an awful lot of burgers.
From Hawaii to Japan and now, Manila
We met Teddy, or Ted Tsakiris in real life, on the store's opening week. He is a really nice guy. Like, seriously. I mean he is covered in facial hair and tattoos, but he's from Hawaii and his name is Ted.
Actually he's originally from California, but yeah he's like, surfer cool (see what we did there?).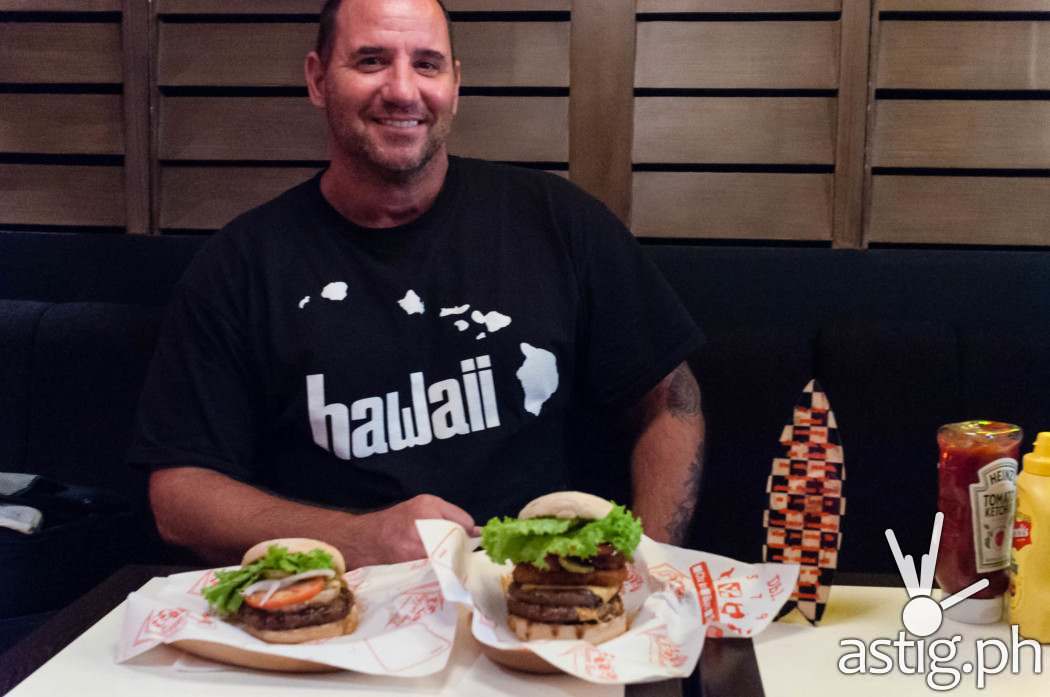 Along with his best friend Rich Stula, Teddy brought his crew of five from Hawaii to Metro Manila. He is very hands-on with the business, having spent the last years expanding and openings stores all over the galaxy, including, most recently, the planet called Japan.
Freaking Japan, man. The land of Godzilla and Hello Kitty (who, by the way, is not a cat).
In the Philippines, Teddy's Bigger Burgers is owned and operated by Marvin Agustin (yes, the actor), Ricky Laudico, and Raymund Magdaluyo.
It all started with backyard cookouts
The backstory behind the business is that Ted and Rich started by cooking their own bugers in their backyards. They were baffled to find that nobody sold burgers of similar quality. Thus, on the 15th of April 1998, Ted and Rich began their journey into burgerdom.
You can read the full history of Teddy's Bigger Burgers on their official website.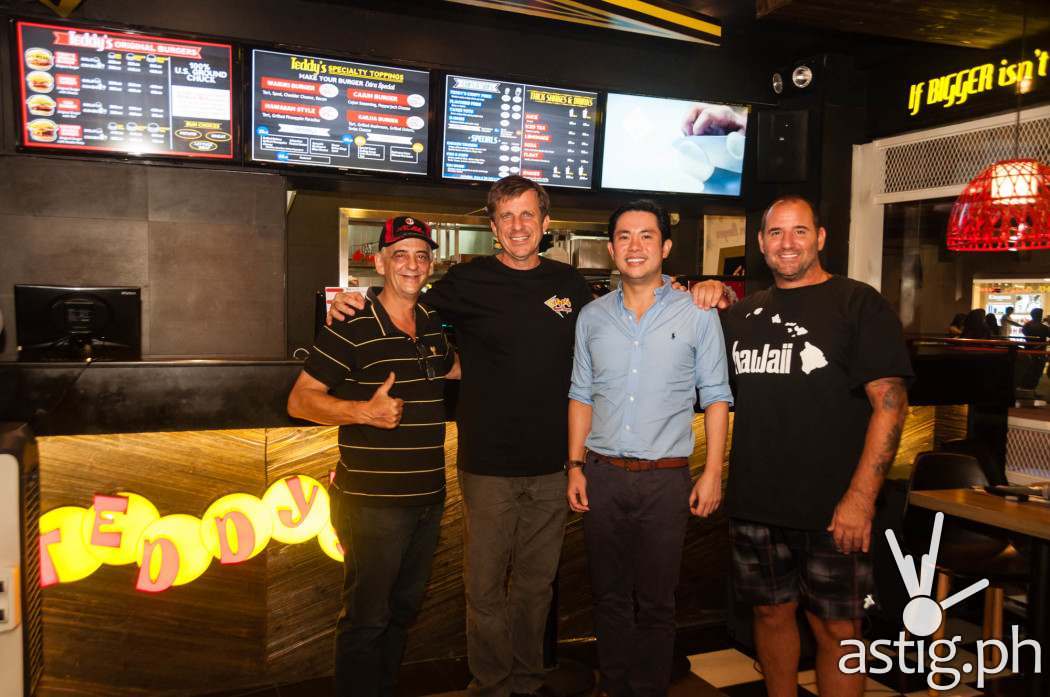 So when Marvin Agustin and his friends went to his outlet in America, it made such an impression that they approached him with the idea of bringing the brand to the Philippines.
This is how Teddy's Bigger Burgers Philippines was born.
So many choices! What to get?
We spent time familiarizing ourselves with the items on the menu. If it's your first visit you might be overwhelmed. It is actually quite simple.
First, you choose your base – there are only four: original, cheese, teri, and double.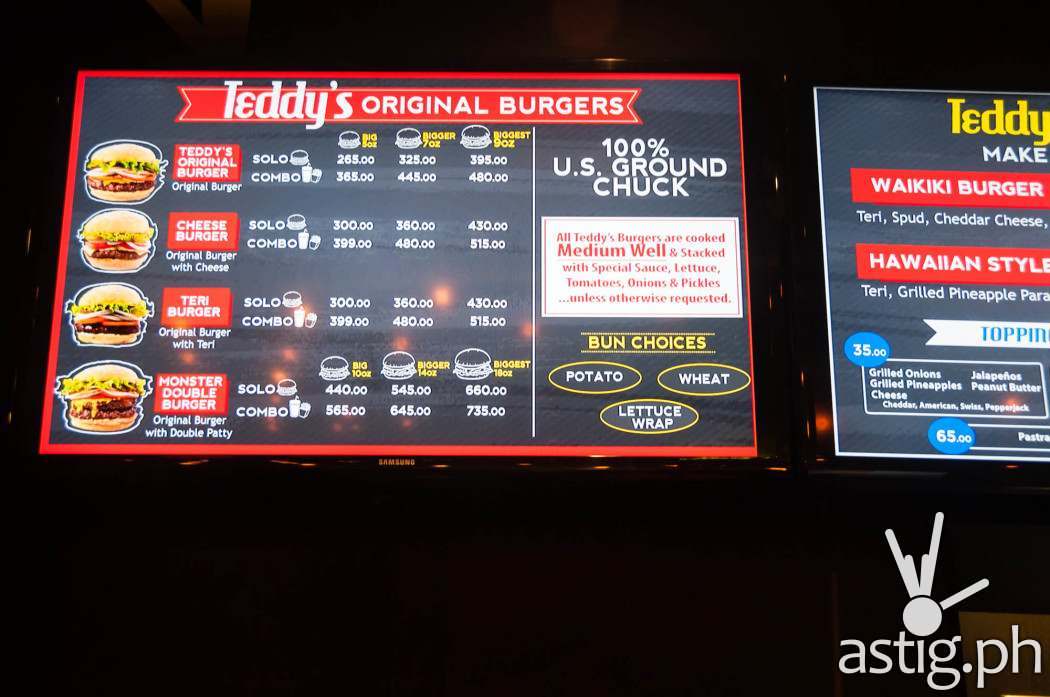 Original is your basic Teddy's burger. Cheese has … uhm, cheese on it, while the Teri burger uses Ted's signature Teriyaki sauce. The monster double burger has two patties instead of one.
Simple enough?
Now that I know what I want, what size do I get?
Then, you choose your size. For the regular burgers, this is either 5, 7, or 9 ounces. Double that for your double burger, which would give you 10, 14, and 18 ounces.
Let me warn you right now, 5 ounces might sound small, but it is actually very filling. The bigger-sized burgers give the best value for money though.
For example, a 5-ounce Teddy's Original Burger costs 265 PHP, which translates to 53 PHP per pound. The 7-ounce version costs 325 PHP or 46.5PHP per pound, while the 9-ounce version costs 395PHP or 44PHP per pound.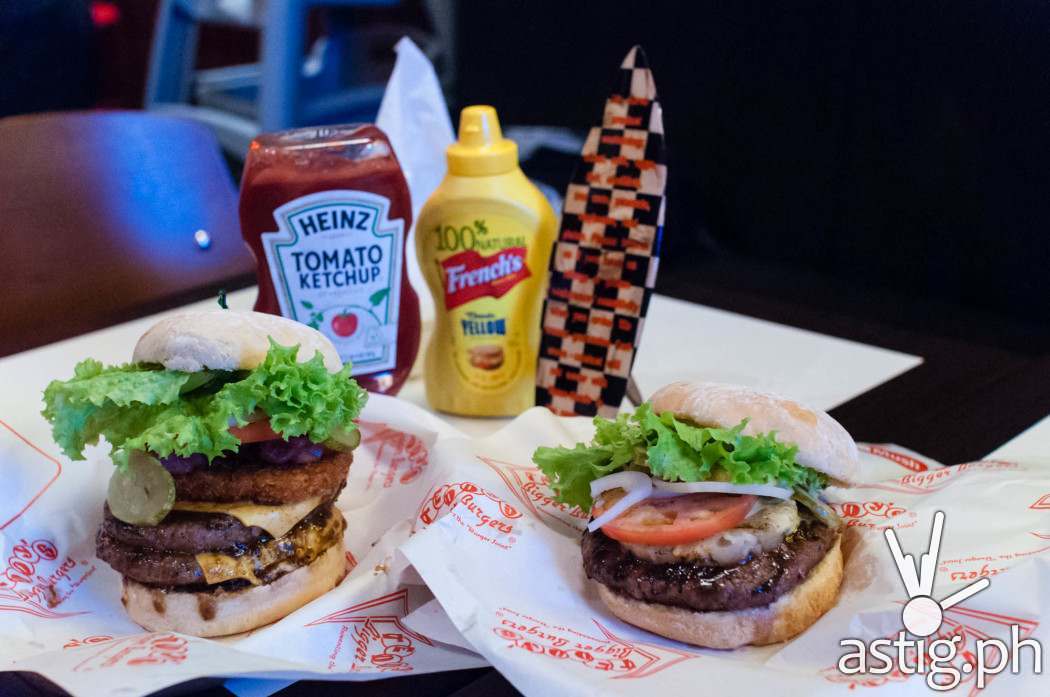 What does this mean? Perhaps it means that we're nerds, or perhaps this means that if you can afford it, go for the bigger burgers. You can always finish the rest later.
Oh and don't forget to share.
We could stop here, Maamsir, but perhaps you want to make it extra special, Maamsir?
After you have chosen your burger you can add toppings and sauces to make it extra special. The choices are as follows:
Toppings (35-65 PHP):
Grilled onions
Grilled pineapples
Cheese (Cheedar, American, Swiss, Pepperjack)
Jalapeños
Peanut Butter
Avocado
Mushroom
Bleu Cheese
Bacon
Onion Rings
Spud
Pastrami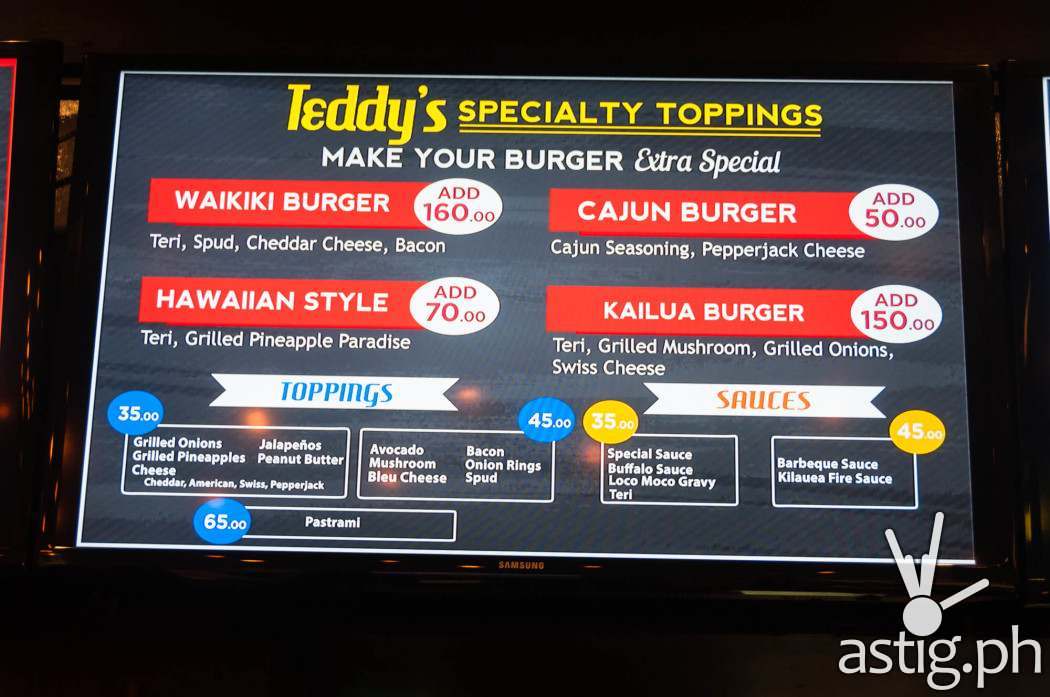 Sauces (35-45 PHP):
Special Sauce
Buffalo Sauce
Loco Moco Gravy
Teri
Barbeque Sauce
Kilauea Fire Sauce
Too many choices, I'm getting dizzy!
Alternatively, you can choose one of the pre-made topping sets. Again, there are four:
Waikiki Burger (160 PHP) – Teri, Spud, Cheddar Cheese, Bacon
Hawaiian Style (70 PHP) – Teri, Grilled Pinapple Paradise
Cajun Burger (50 PHP) – Cajun Seasoning ,Pepperjack Cheese
Kailua Burger (150 PHP) – Teri, Grilled Mushroom, Grilled Onions, Swiss Cheese
Alright let me decide for you! If you're going to Teddy's just try this …
If you still have difficulty choosing, we suggest that you go with Hawaiian.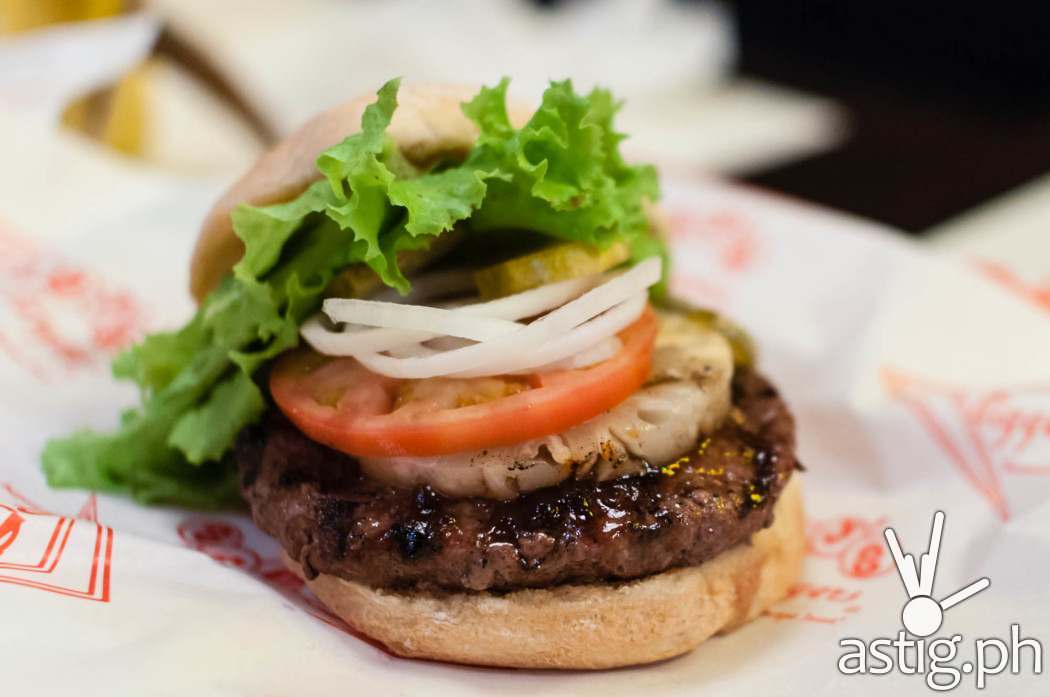 We feel that this makes the most memorable impression because of its distinct flavor. Initially we were worried that the pineapple would not go to well with the burger.
The taste, however, was pleasantly surprising.
If anything else, it's supposed Hawaiian, and it has pineapple. Not just any pineapple, they even grilled it! Teddy's Bigger Burgers are supposed to be THE hamburger from Hawaii. So just order it already.
A good second choice would be Kailua, which has Teri, Grilled Mushroom, Grilled Onions, and Swiss Cheese.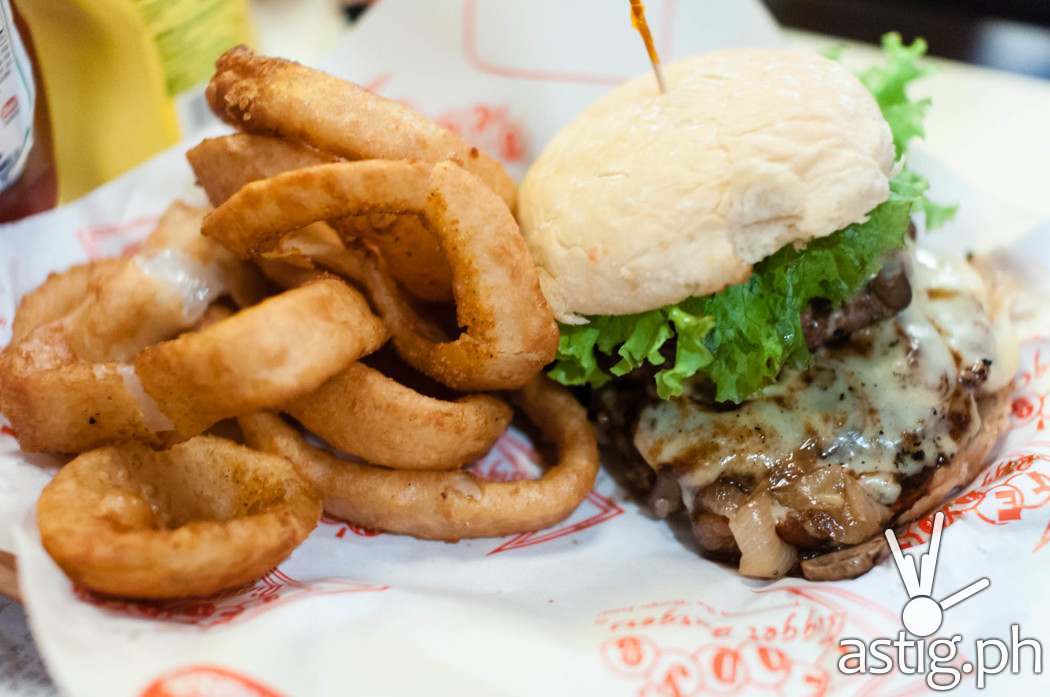 The Waikiki would have been our second choice because it has bacon, but we are not to fond of having to go through a hash brown in our hamburger.
Here's what to expect before you take that first bite
All Teddy's burgers are cooked to medium well doneness unless otherwise requested. They use 100% corn-fed ground chuck beef imported straight from their comissary in the U.S. of A. They do not use any bindersor fillers.
You can see it when you cut into the burger patty – it's pure beef inside, definitely.
Do not expect the patty itself to be very tasty or very juicy though. I have tried making my own burgers using different kinds of beef. I have even tried using U.S. certified angus beef and they are never juicy or tasty enough.
This can be appealing to some but it can also mean that Teddy's would be "meh" to others.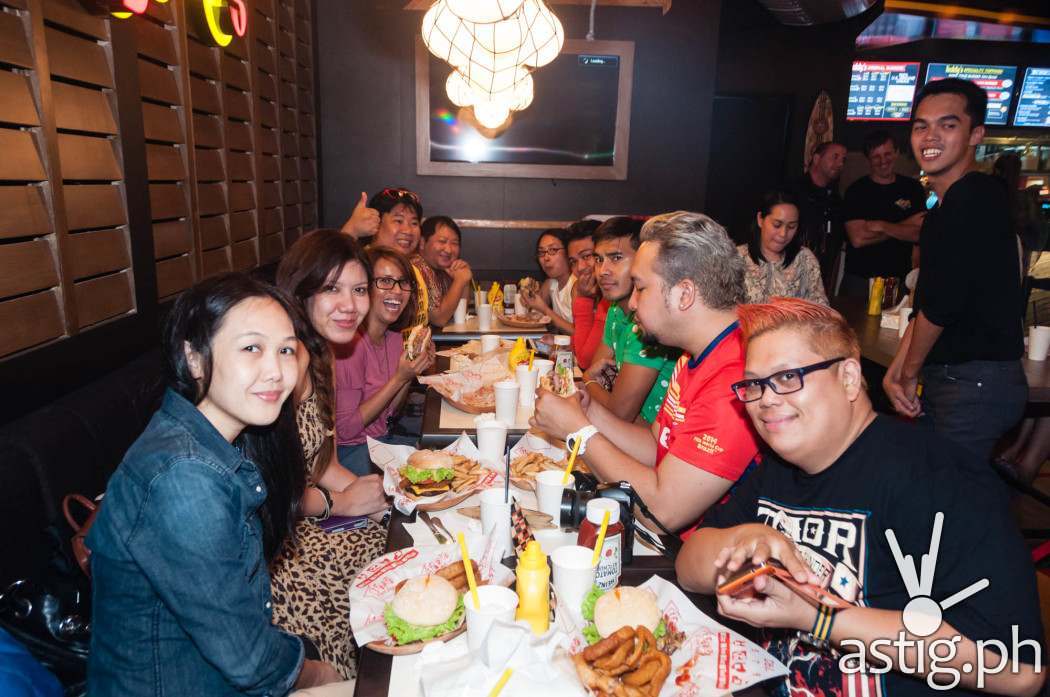 Filipinos seem to like to make their food very tasty, and this can be done through condiments – just add salt, pepper, and sauces like ketchup, mustard, or Teri.
Personally, I like tasting the beef itself and this means having as few additional condiments as possible – just raw, tasty corn-fed beef.
Quality comes at a premium
Quality meat comes at a price though, and the location itself is very prime. Located at the 3rd floor of Greenbelt 3, Teddy's Bigger Burgers occupies the spot to the right of the escalator – when you arrive at the third floor look immediately to your right, you can not miss it.
The cheapest, smallest burger costs a whopping 265 Philippine pesos. This translates to around 6 USD. By comparison, one order of McDonald's Cheeseburger costs around ~5 USD, and you can get a double for ~7 USD (305 PHP).
Before we forget …
Aside from burgers, Teddy's also serves French fries, o-rings (onion rings), and … tater tots (deep fried mashed potatoes)! In addition to this you can also order fried chicken strips, fish and chips, and tiki wings (chicken wings).
As for drinks they serve orange juice, iced tea, lemonade, floats, and milk shakes in addition to your standard soda.
The milk shakes are a bit pricey though – the smallest one is 12 ounces and costs 120 PHP, the medium one is 22 ounces and costs 199 PHP. The largest order is 32 ounces and costs 299 PHP. We were all a little surprised by the price.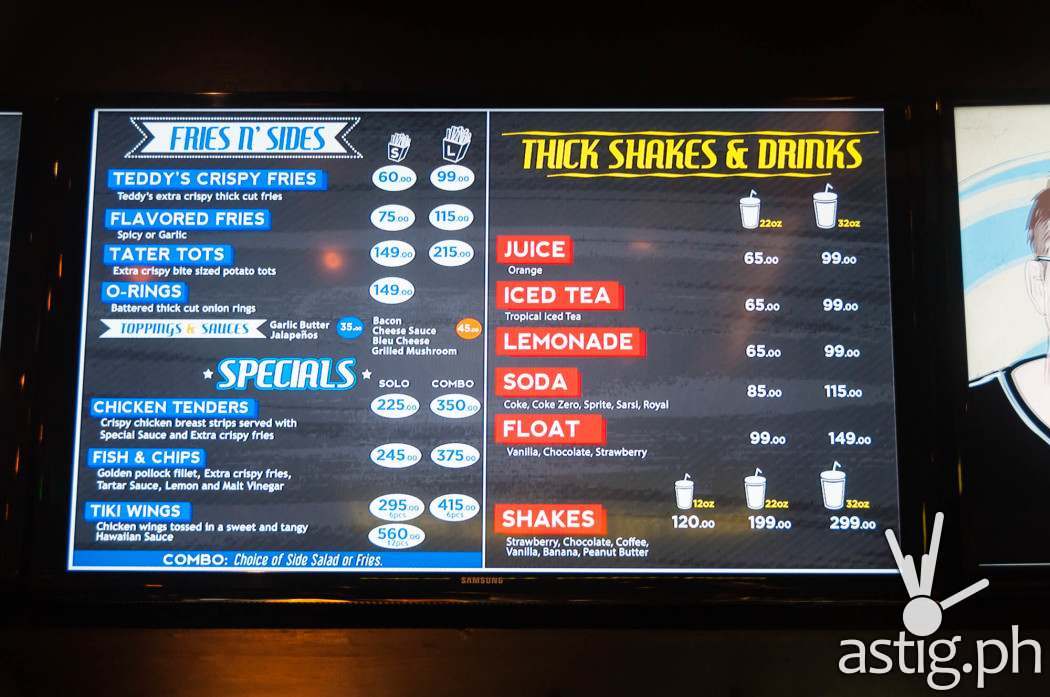 By comparison, one order of venti (591 ml or 20 ounces) frapuccino at Starbucks amounts to around 155 PHP, and the most expensive item on the menu is the venti Dark Mocha which costs 185 PHP. Starbucks is already considered expensive in the Philippines.
Even if they used premium or imported ingredients, we would have loved for the milk shake to be a little easier on the wallet.
Ted, Rich, Marvin, Ricky, and Raymund: We do hope you guys read this and consider bringing the price down so we can enjoy your quality burgers more often 🙂
Have you tried Teddy's Bigger Burgers? What did you order and did you like it? Mahalo!
Update (30-Aug-2014):
We got a response from Teddy's! Been exchanging some e-mails with Ted, here is his take on value:
Starbucks makes 300% profit on their coffee and our cost is over 50% on 5 scoop pure ice cream milk shakes with 12% butter fat which is about triple the creaminess and quality of our nearest competitor. I'm sorry I beg to differ with your conclusion on value.
They are as pure as the burgers and to be honest I think we would be better served of we airated or added ice to cheapen it up and lower the price as you indicated but that's not the way we roll, and I think there are plenty of people in this territory at least that have no problem paying for quality don't you agree?
We really appreciate the response, Ted!
So there you have it folks – from Teddy himself! As suspected, the quality of the ingredients does have a huge impact on the cost – just like the burgers, Teddy's is keen on quality.
The only thing left to do now is give it a try – if you like it, tell us why. If not, let us know – we would love to hear your story!
Teddy's Bigger Burgers Philippines photo gallery