Just when San Miguel Corporation possible deal with Australian Telco Telstra surfaced in the social media, Filipino netizens rejoiced as we finally shed a light of hope for internet connection in the Philippines.
Who exactly is Telstra?
Telstra Corp. Ltd. is the Australia's largest telecom player and known for being a reliable source of Internet connection not only in its home country but several parts of Asia Pacific region.
Filipinos have long clamored for better Internet connection, that we are willing to believe this can happen – to the point of creating fake Facebook pages and fake photos to lead others into false hope that the Telstra-San Miguel venture is a done deal.
Before we go further, let us caution you: it is not a done deal – those photos and Facebook pages are – as pointed out by tech blog Unbox – FAKE (like the one we use in this article).
These fake Facebook pages do nothing but bring false hope and scam fellow Filipinos in order to get more likes, and we suggest that you report them as such.
Photos like this: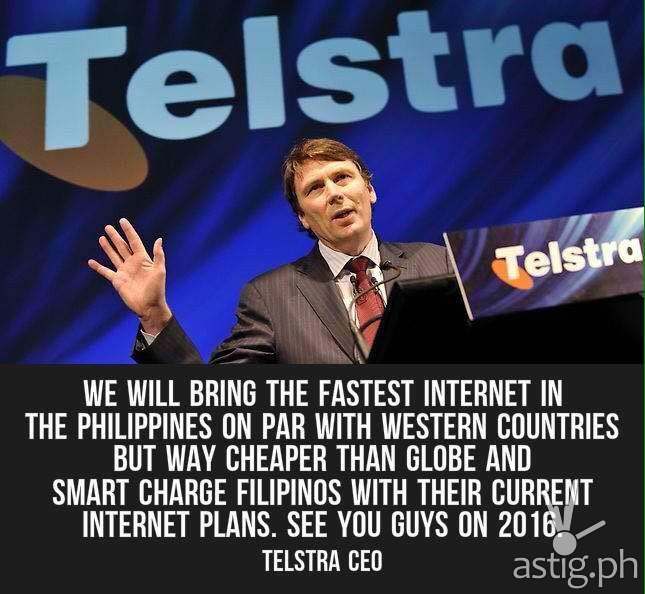 And these: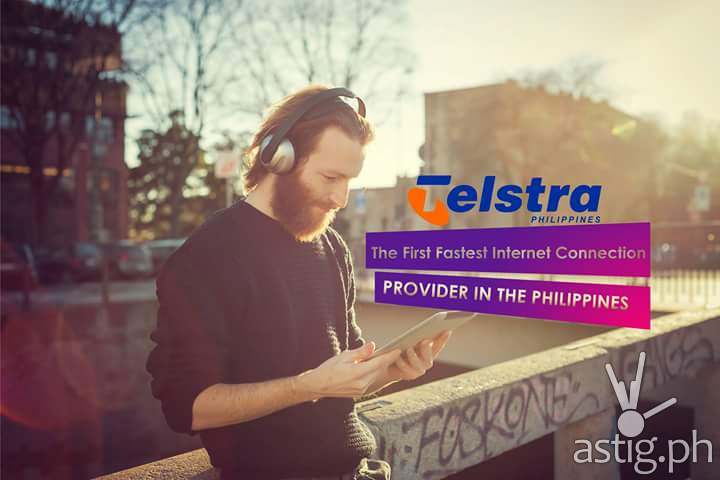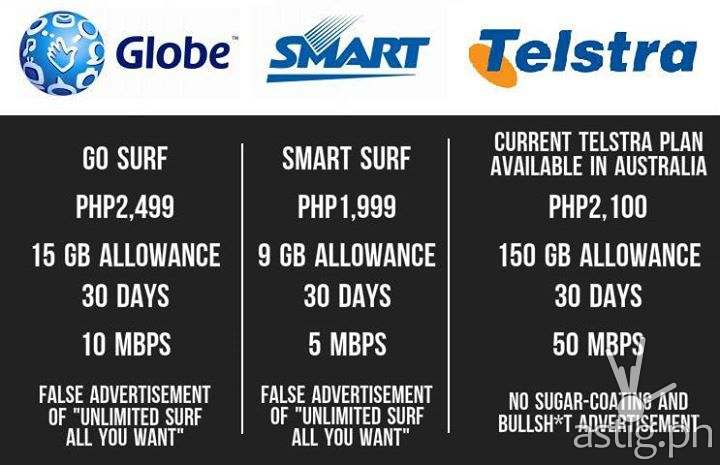 Were created by people trying to capitalize on your gullibility to get more likes. Do you like being used? We do not. Report that shit.
Regardless, the entry of another capable, legitimate competitor in the Philippine telecommunications industry can only mean good things for Filipino consumers. It does not necessarily have to be Telstra.
Here is our top 3 reasons why we think Telstra may just be the savior of Philippine Internet:
3. Open the telecommunications market to competition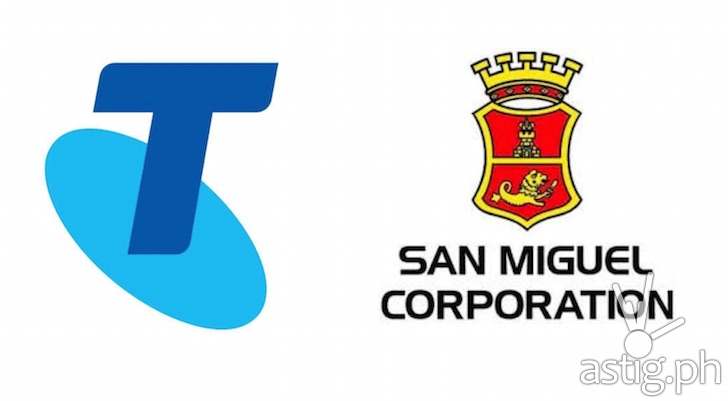 Democracy.PH Founder Pierre Tito Galla said that Telstra's entry will help develop the information communications technology (ICT) market in the Philippines.
"A new player in the ICT space will lead to more competition that we hope will result in better services, more reasonable costs and greater penetration and access," he said. "We also hope that this heralds the possibility of faster, more reliable and cheaper Internet and network services to the public."  However, this would prove to be a threat to the incumbent vendors.
"If Telstra will bring in connectivity from Australia, there will be lower traffic in our local network. This is a threat to the vendors,"International Data Corp. (IDC) Philippines analyst Alon Anthony Rejano added.
Telstra recently bought an undersea-cable company Pacnet Ltd., the operator of a 28,000-mile submarine network in the Asia-Pacific region.
"Knowing Telstra, the largest telco in Australia, and with the capabilities provided by the incumbents, the largest factor that will determine the consumer's choice is the pricing. So, aside from just providing connectivity, Telstra should also provide content. The battle cry for consumers today is entertainment and connectivity," Rejano explained.
Surely, mobile services providers in the Philippines like Smart, PLDT and Globe have to take their battle to maintain their market supremacy in the digital space in which all of them is set to enter into different partnerships with multinational companies for content like the PLDT-Smart-Fox partnership where PLDT and Smart partnered in Fox International channels and Iflix.
2. Curb out PLDT-Globe duopoly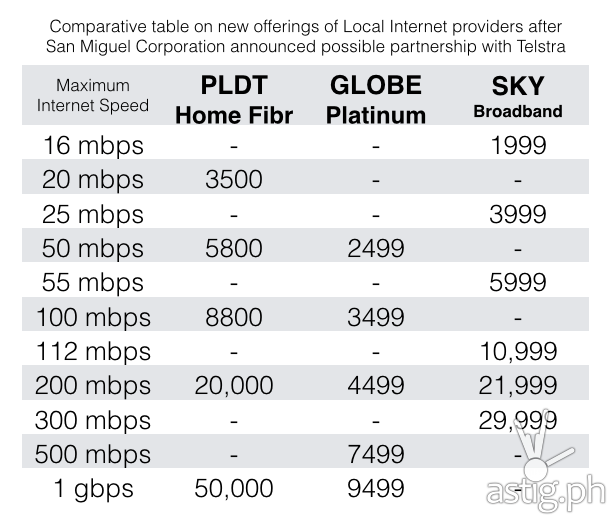 Philippine Long Distance Telephone (PLDT) Home and Globe broadband have been playing duopoly in the market, controlling the price of internet connectivity without setting the quality of service they are offering because they know that we are left no choice but to subscribe on their not so "sulit" (worthy) plans.
Thanks to the buzz of Telstra's possible presence, the two are forced to step up their game and provide better and more affordable services for their customers.
PLDT HOME Fibr recently released their new internet services that speed of up to 1Gbps, allowing high-speed browsing of multiple websites, access to over 100 Cignal Digital TV channels and the country's first symmetrical speed service. With plans starting at P1, 899, Fibr is now available in over 1,600 Fibr-powered villages nationwide including Valle Verde 1-6, Forbes Park, Dasmarinas Village and Ayala Alabang Village, among others.
Yesterday, Globe followed suit and announced its new suite of broadband plans under its Globe Platinum Broadband Plans.
These include 50 Mbps for P2,499; 100 Mbps for P3,499; 200 Mbps for P4,499; 500 Mbps for P7,499; and 1 Gbps for P9,499. Globe said all of the plans are bundled with unlimited data, with no data cap and free access to Spotify, NBA League Pass, and HOOQ.
Globe outperformed PLDT during the first half of the year, as PLDT posted a 5-percent drop in its net income, while Globe saw its bottom line surging by 27 percent on the back of record-breaking revenues from data and broadband. Maybe, because Globe offers a cheaper price of their plans compared to the overpriced plans of PLDT.
Netizens hope that the deal will be sealed so that Telstra is expected to shake up the duopoly of telcos PLDT and Globe Telecom in the archipelago
1. Faster and cheaper Internet
According to studies conducted by Ookla, an Internet metrics provider, the Philippines has the second-slowest average download speed among 22 countries in Asia.
As of May, the country's average download speed reached 3.64 Mbps, ranking 176th out of 202 nations around the world. It is eight times slower than the global average broadband download speed of 23.3 Mbps.
In a separate report, cloud services provider Akamai Technologies said that, while the Philippines might have improved its connection by a percentage point, its overall ranking in Asia still remains at number 13 out of 15, or the third-worst connection in the region.
Filipinos, according to the first-quarter report of Akamai, enjoyed an average download speed of 2.8 Mbps during the period under review. Trailing behind are India and Indonesia with 2.3 Mpbs and 2.2 Mbps average speed, respectively.
So what can Telstra offer to our dear country? Here's the plan they cater in Australia which many believe that might be similar to their offer in the Philippines.
The offer is relatively cheap if the prices in Australian dollars will be converted into Philippine peso. Some netizens just noticed that their is data capping on plans in which the offer is obviously not unlimited. Even if the maximum speed is not indicated in their plans, we can be rest assured that Telstra will give us a speedy experience compared to our local internet providers.
So netizens are you excited for Telstra invasion in the country? Well, let's just pray that their partnership with San Miguel will be pushed so that we could have a new choice to consider. Comment your thoughts.