MANILA, Philippines – When Karen Balce left her four year-old pet Shih Tzu, Tyler, to The Dog Spa & Hotel in BF Homes Parañaque, she only wanted him groomed. However, she went back to find her lying dead on a table instead.
According to Karen, they put Tyler on a leash after he was groomed and left him on a table. When he jumped (or fell) from the table, the leash caught the dog's neck here he got hanged. He eventually died from asphyxiation.
Full text of Ms. Balce's post below.
Yesterday, my mom took Tyler to the groomers for his weekly haircut and grooming in The Dog Spa & Hotel in BF Homes Paranaque, and little did we know that this would be the cause of his early death.
The groomers texted my mom that Tyler was ready for pick up, and when she got there they made her wait for a couple of minutes and then out came the groomer saying "Ma'am may nangyari po kay Tyler" my mom rushed inside to find out that Tyler on a table in a leash is already dead.
The cause was that after they groomed him, they put him on a leash (he was never ever on a leash, even in the house) and placed him on table and left him there; for some reason he fell/ jumped out of the table and so he was hung to death, they only found out when my mom got there 30 mins after they finished grooming him.
Tyler struggled to death, which is the hardest part for us. The receptionist mentioned to my mom how tyler was barking, assuming that he was lonely since he was the only dog there, we later assumed that he was barking asking for help and no one came to the rescue.
Tyler is only four years old, a healthy dog who is loved by all (even by people who aren't fond of dogs like me). I was never a fan of dogs, but Tyler is different, he has always been very harmless and acted like he was a real boy.
We treated him like he was really part of the family and cared for him like he was a real human being.
He was never allowed to play outside (just because he can't get dirty, which he hates as well), his stroller was his way out of the house, and hearing Sunday Mass was always the highlight of his week.
He celebrates his birthday yearly complete with a party, and he was spoiled by mom in the way that I can even get jealous. It crushes our heart over and over again how our baby died struggling. It pains us to know that we weren't able to help him and that his death could have been prevented.
I am sharing this with all of you so you can be extra careful with the groomers you choose for your pets, The Dog Spa (Philippines) obviously should not be your choice.
Help me share this on Facebook so other dog owners can be aware. Mind you, its a policy to place the dogs in cages after grooming and not on a leash. We are now exploring what we can do to give Tyler's death justice and give what is due to the people who did this to him.
Gone too soon, Tyler. Know that you will be forever in our hearts, and we miss you so so so much already.

According to her friend, Tyler has since been cremated.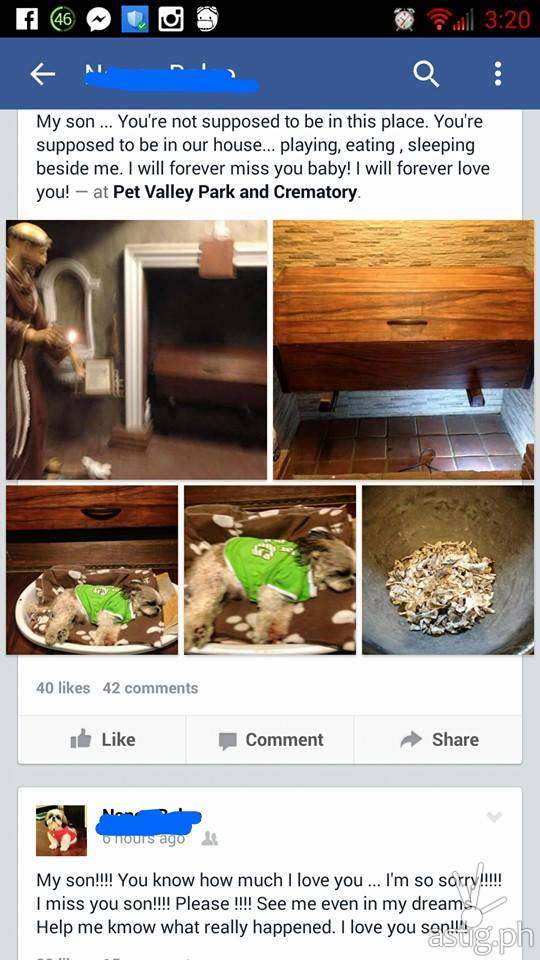 Update:
The Dog Spa & Hotel posted the following message on their official Facebook page on Tuesday, January 13:
Dear fellow Pet Parents and friends,

Together with you, we mourn the loss of our dear friend, Tyler. Tyler has been a loyal customer and friend of The Dog Spa BF Homes branch for 3 long years. This is why we don't have the words to express how heartbroken we are.

We can't even begin to imagine how it is for Tyler's family — as pet parents ourselves, we were devastated by the news of this unfortunate incident. We grieved with everyone who heard the news. We have also stayed silent as a sign of respect to our dear friend Tyler and his family. We know that no words can comfort them or make things better.

But we have nonetheless, reached out to the family of Tyler, to show our love and support, and provide comfort in their time of need. Not just as business owners, but as human beings who know what it is like to love and lose a dear furry friend.

What we can only do is to ensure that this accident never happens again. Rest assured that the groomer is no longer with us and that we will ensure that nothing like this has a chance of happening ever again.

We started The Dog Spa not as a source of income, but to share our passion for pets. We will continue to regain the trust of pet parents and their furry babies.

We thank all those who have showed concern for Tyler and his family. We also thank those who have shown support in this time of grief.