The sensational Gutierrez family is back for a brand new season of It Takes Gutz To Be A Gutierrez. Promising more fights, flirtations and family drama, the hit reality series' third season returns in July – first on E!, NBCUniversal International Networks' pop culture powerhouse.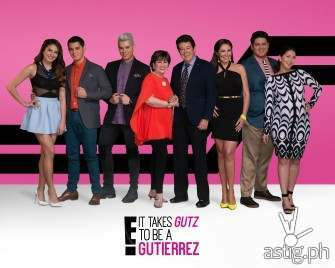 "We are excited to launch the third season of It Takes Gutz To Be A Gutierrez in July, first on E! The first two seasons were a hit among viewers in not only the Philippines, but across the region as well – gaining momentum in countries like Malaysia," said Scott Mackenzie, Vice President, Channels, Asia. "We look forward to working with the Gutierrez family on the show's third season to continue this spectacular success."
The 10-episode season three delves further into the lives of former beauty queen Ruffa; entertainment personality Raymond; heartthrob actor Richard; and their parents Eddie and Annabelle, along with their extended family – loving couple Elvis and Alexa, as well as Richard's belle and baby Sarah Lahbati and Zion Gutierrez.
Some of the exciting highlights to look forward to in this season include the family's trips to the United States and Bali, Indonesia; Ruffa launching her new line of kids' clothing; a potential new love interest for one of the Gutierrez men and a surprise marriage proposal… though not necessarily in that order!
Don't miss the all-new season of It Takes Gutz To Be A Gutierrez coming on July 27, Monday 9PM first on E!