When Ookla Net Index released the ASEAN DNA infographic early this year showing the Philippines at the bottom, it opened discussions to making slow Internet a national issue and a hot topic in social media.
We cannot blame netizens for labeling our local Internet providers as "incompetent capitalists" because based on the said report, the average speed of Internet in the Philippines is only 3.6 Mbps, very far from our neighbor Singapore, which has an average of 61.0 mbps.
In our research we got hold of a report dismissing the ASEAN DNA infographic, stating "Ookla Net Index is a commercial outfit and therefore not a credible source. The infographic was a snapshot of a measurement of broadband speed at a certain point in time and location and is therefore not a true representation of the actual state of the Internet of a particular nation."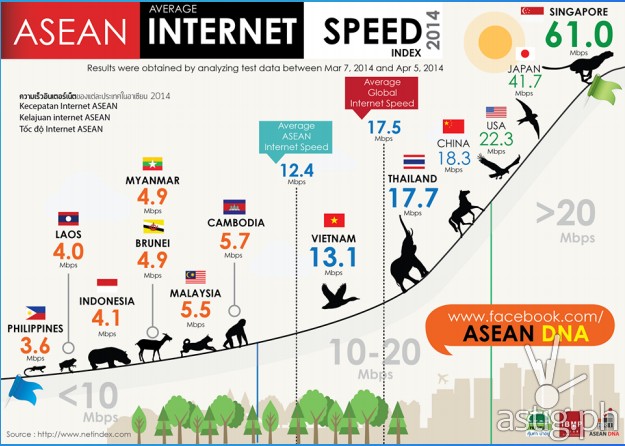 The 'Truth'
According to combined information coming from the Ericsson Mobility Report, 2015 Akamai State of the Internet Report Q2, and the 2015 OpenSignal State of LTE, the national average internet speed for broadband internet (wired) is 3.1 Mbps.
Globally that places the Philippines in 101st place out of 144 countries with speeds of up to 200 Mbps.
For mobile data (wireless), the national average Internet speed is 8 Mbps, which globally ranks 66th out of 68 countries with speeds up to 42 Mpbs on 3G and 4G LTE.
According to the report, t the trusted sources for speed data are really Akamai and Open Signal.
Akamai Technologies, Inc. is a content delivery network or CDN and cloud services provider headquartered in Cambridge, Massachusetts in the United States.
OpenSignal has a comprehensive global database of cell towers, real time signal strength readings, and Wi-Fi access points collected from Android and iPhone OpenSignal app users. OpenSignal data is used by various research and communications organizations including JP Morgan, Qualcomm and SAS Global Communications.
If the average speed of Internet speed in the country is faster than what was reported by Ookla, why do Filipino consumers get speeds lower than advertised?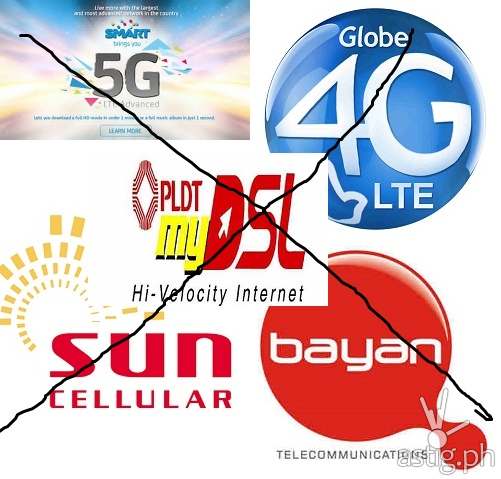 Factors that affect Internet speed
1. Geographical Factors: submarine, terrestrial, and aerial
With 7,107 islands, rolling-out new technologies nationwide requires an enormous and expensive logistical undertaking.
For instance, rolling out an underground fiber line from Vigan to Naga requires huge investment.
Add to that additional roll-out of submarine cables just to connect the numerous islands of Visayas (Negros Island, Panay Island, Cebu, Bohol, Samar and Leyte.
2. Industry Peering
The lack of IP peering among local ISPs as one of factors that contribute to slower internet speeds in the country.
Content has to go out of the country and back in order to reach a user instead of making the shortcut and travel locally.
It also reduces lag time which is essential for certain services like online gaming and VOIP.
Existing local peering groups include:
PhIX (Philippine Internet Exchange)
MIX (Manila Internet Exchange)
CORE (Common Routing Exchange)
PhOpenIX (Philippine Open Internet Exchange)
GIX (Globe Internet Exchange)
3. Government Support and Subsidy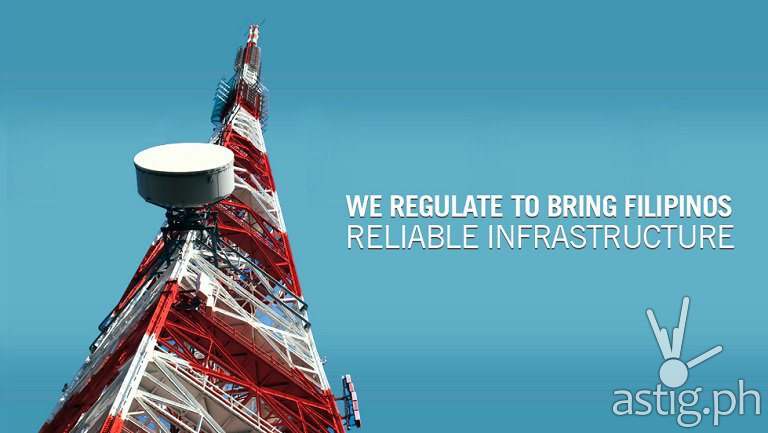 In most countries, technology roll-out, especially for telco infrastructure are shouldered and supported by the government via National Broadband Network.
In the Philippines, only private companies are funding structures for telco backbone.
4. Cost of Ownership
Other than the spectrum fee that telcos pay the government, the fees and requirements to put up cell sites different LGUs and government agencies nationwide.
You need an average of 25 permits for one cell site.
5. Health risk uproar
Homeowners falsely informed of supposed health risks of cell towers may also urge subdivisions to take down cell sites in the area, affecting the signal and quality of connectivity in the area.
Note: There are no health risks to living beside a cell tower.
6. Price Pressure
Majority of subscribers are on the lowest tier (1-3Mbps).
This determines the average speed of the whole country if based on crowd sourced data.
7. Smartphone Penetration
The type and make of the device contribute to one's connectivity experience.
Outdated/feature phones, and the like are unable to access faster connections such as 3G/4G / LTE.
8. Spectrum Distribution
The 700 MHz band impacts infrastructure roll-out costs in rural areas as it gives greater range / coverage.
The Philippines is one of the only 2 countries in the world that has not utilized the 700 MHz spectrum for mobile data.
There has been talks on social media on the alleged desperation of Globe and PLDT, the top two local Internet Services Providers (ISP), to get a share of 700 MHz spectrum of San Miguel Corporation, the top prospective venture partner of Australian telco Telstra, whose possible entry may shake up Philippine market.
What should we do?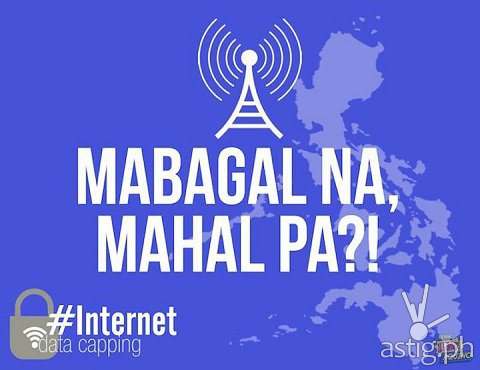 So what do stakeholders, the Philippine government, and we as consumers should do?
1. Open up peering between major telcos i.e. PLDT, Globe, etc
2. Set up a forum with government and stakeholders – Revisit the Philippine Digital Strategy (set measurements, definitions, and plans) – Conversation with the government, stakeholders look into PPP and best strategy for building in missionary sites
3. Prioritize project network infrastructure
4. Lobby for Open Access law – Standardize LGU Requirements
5. Harmonize spectrum
Above all these issues of internet speed, the best possible solution is that local providers should live up to what they market in their customers- providing fast and reliable internet connection.
Your thoughts about the issue? Comment below!