It started out as an afternoon like any other. However, it turned out to be an afternoon which would lead to sorrow and a news item subject to many a hypothesis.
Weng, the owner of Supremo, an English bulldog which turned three years old last February, was doing some preparations for his catering business last June 5. Because it was hot and he knew the threat the sun posed to dogs when it unleashes its ungodly rage, he checked on Supremo around 3 o'clock. The dog was doing fine but not wanting to take any chances, he doused the dog with some water to level his temperature. A few minutes before 5 o'clock, Karla, his girlfriend who gave him the dog, noticed that the dog was immobile. She asked Weng to check up on him. He was not breathing anymore.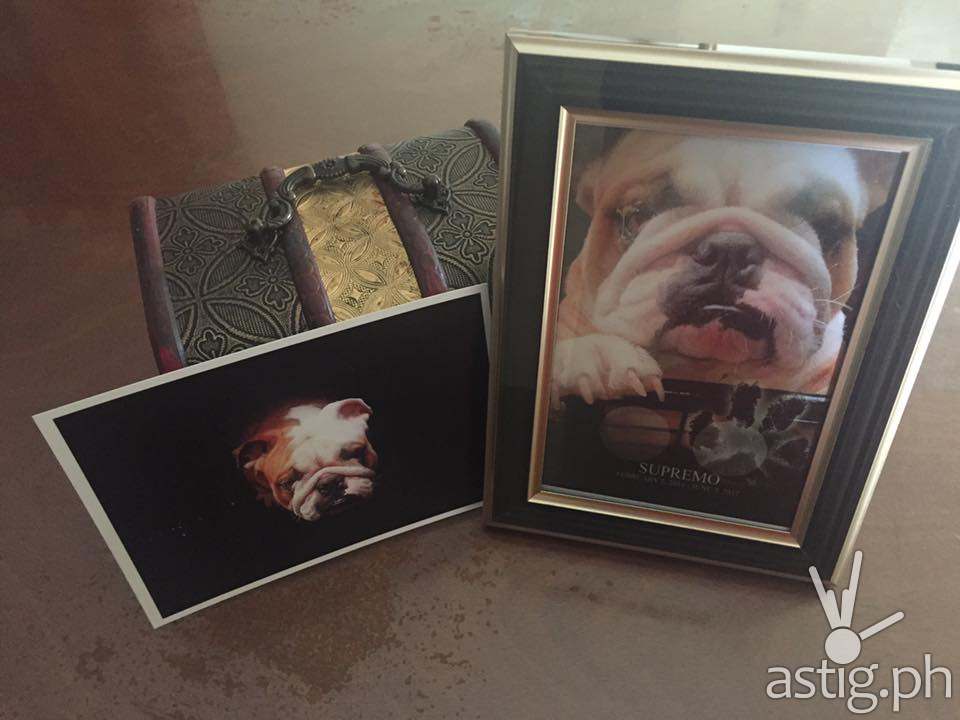 Since there's a veterinary clinic around the area, the beloved pet was promply brought there. A few minutes into 5 o'clock, after several attempts at reviving the dead dog, he remained dead. The attending veterinarian said he had succumbed to heart attack and the most probable cause was heat stroke.
"Ipagpapalit ko kahit yung tropa ko kasi yan di ako iiwan," said the 29-year old owner
"Ipagpapalit ko kahit yung tropa ko kasi yan di ako iiwan," said the 29-year old owner when I interviewed him over the phone. He doesn't care what people assume about him anymore. His dog, which became a panacea to his occasional loneliness because he has been living alone since 2005 (his parents are abroad), was something very precious to him. He just wanted the body of his dog back so he can lay him to rest in a proper manner.
Now, living in Taytay has it pros and cons. One of the cons is finding a pet cremation service so he eventually ended up in Quezon City and found one there around 9 o'clock in the evening. After turning over the box containing the dead dog's body, where declarations of adulation for his lost pet were written, he was confident that the corpse was in good hands and will be cremated. He went home, did some leftover errands, and went to sleep.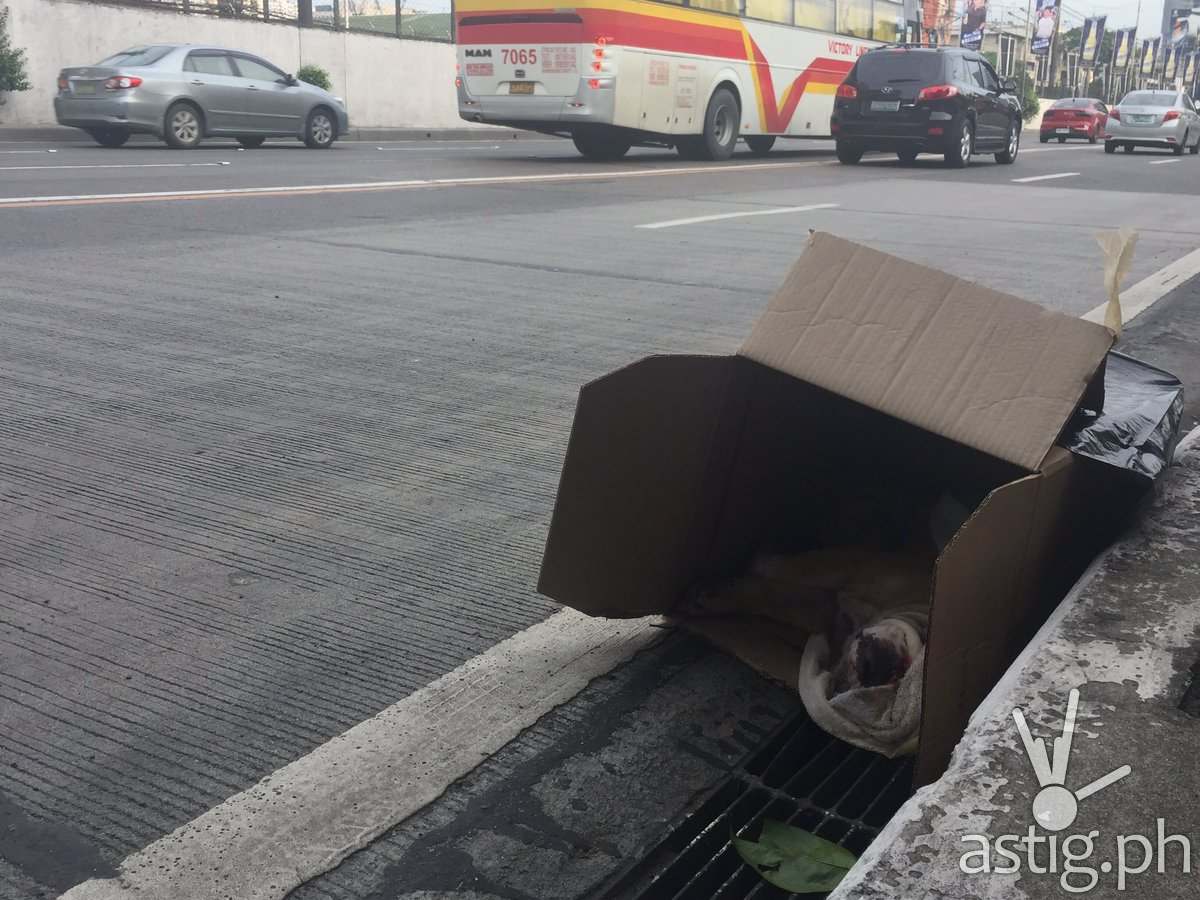 Photo by Jeffrey Hernaez of ABS-CBN News
Around 2:30 in the afternoon of June 6 which was yesterday, he received, what he was told, was Supremo's ashes. However, around 15 minutes later, he contacted the owner again because he has been receiving messages from concerned family and friends. The box containing the dog was found at EDSA-NIA by a bystander and is now featured in an article at ABS-CBN's website.
A guy, who works at the pet crematory service, is someone whom we shall refer to as N, because he's new to the job and has just been working for 7 days. That's his first job after leaving the province. Now, when N boarded hailed a cab en route to have the dog cremated at the place where the "big oven" is, he was unprepared for the cab driver's interrogation. Once he admitted that it's a dead dog he's carrying, the cab driver became antagonizing and demanded for him to alight the cab, which N did. In his panicked state, he just decided to leave the dead pet inside the box on the road. He also decided to lie.
The owner, unaware of what went down, got the ashes of another English bulldog, the ashes which were not claimed by his owner
The owner, unaware of what went down, got the ashes of another English bulldog, the ashes which were not claimed by his owner. N thought he got away scot-free. But, when the news broke out and Weng asked the owner what happened, he had no choice but to just take off. His admission of his indecision was just through text.
After that, the owner tried to trace the dog's whereabouts so that the real body can be cremated properly and the ashes brought to Weng. It first ended up at Camp Karingal because it was first thought to be a bomb. Somewhat, it ended up in Brgy. Pinyahan and it he was able to get it back. As of June 7 midnight, the body was on its way to the crematorium. 
Weng named his pet after his codename on Counterstrike. The moment he gave this piece of information was the only time he chucked during our almost 1-hour conversation. He said that Supremo is a very masculine name. That doesn't mean he's going to engage his bashers who don't even know half of the true story. He's just going to let them do their thing because as far as he knows, he's confident that he loved his pet very much and this ruckus was just due to an unfortunate accident. His pet's been cremated and once he gets the real ashes, life, though painful without his constant companion, will go on again.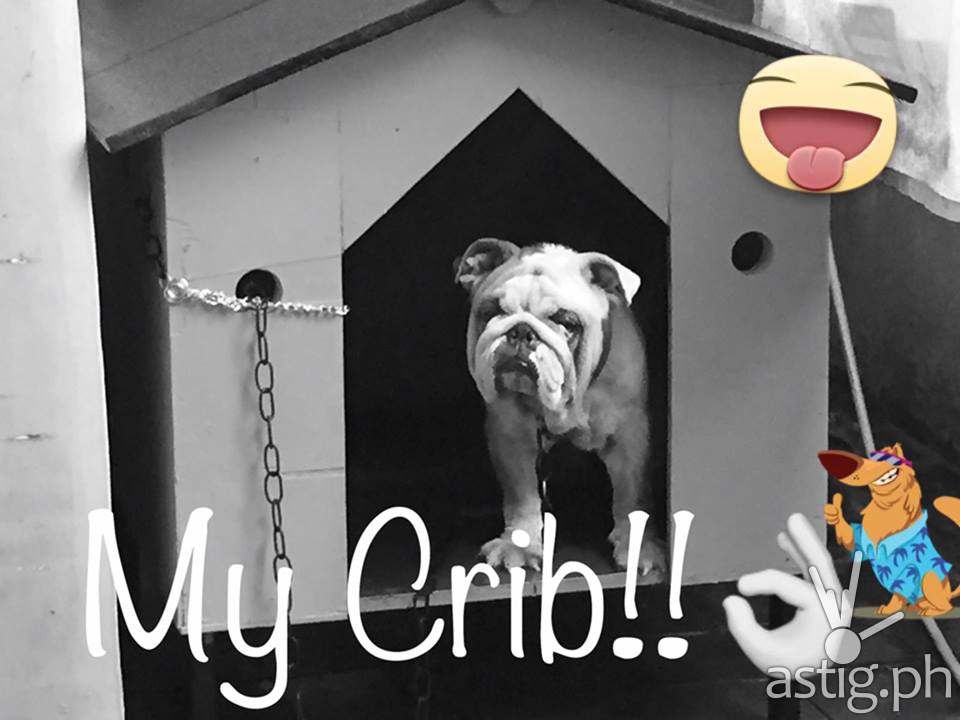 [zombify_post]