When my friend Kathy first told me about Parachute Bags I was immediately intrigued. You see, parasailing has always been one of my favourite things to do at the beach. There's just something about the feeling of weightlessness, of soaring through the skies, that makes me feel … blissful.
Or maybe it's because I have always wanted to become Superman or a pilot. I guess I will have a little fun riding the wind while waiting for a call from my folks over at planet Kypton.
That said I have always wanted to jump off a plane in a real parachute. One day I will get there – feel free to come along! When we do, we should bring along our (drumroll please) … Parachute Bags! #canyoufeelmysegway? 😉
Parachute Bags, you say?
I wish I could say that you could turn a parachute into a bag, or vice versa – in case you ever find yourself in a situation where you wanted to jump out of a plane for some random reason.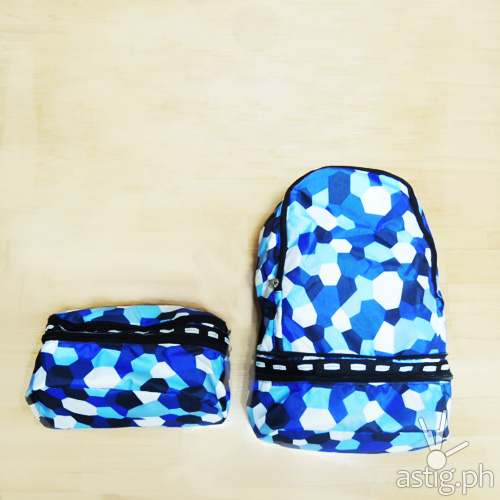 Although these bags cannot transform into a parachute, it can actually do a bit of transformation – more on that in a bit.
Back to the name. These bags are named "Parachute Bags" because they are made from the same lightweight, durable material used in parachutes.
The material is naturally water-repellent, so it can keep your goods dry to a certain extent – enough to buy you time to find a place to protect your bag!
Did I say that these bags can transform?
Well, not exactly into a parachute but something more practical. Going by the slogan "Fashion + Function", convertible Parachute Bags can transform from one mode to another with some tinkering around.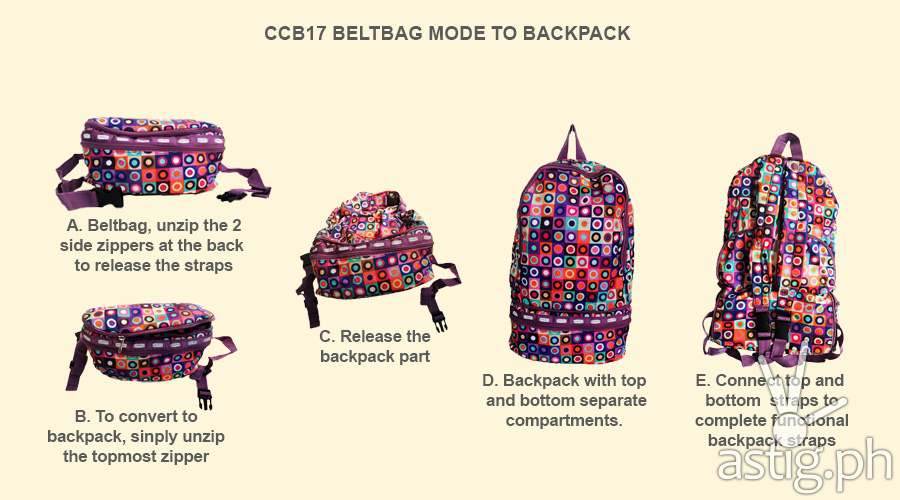 Imagine a belt bag turning into a backpack with a few tugs of the zipper. The photo above should give you a fair idea how this works. Cool huh?
Aside from the convertibles there are foldable bags which can be neatly folded into a smaller form factor for storage.
In terms of pricing, I would have wanted them to be a little cheaper. For example, the foldable hamburger backpack retails for 600PHP. You can, however, grab it for only 390PHP if you order directly from their website.
As a consumer, I feel that the product gives consumers good value at 390PHP, but it feels a little heavy at 600PHP.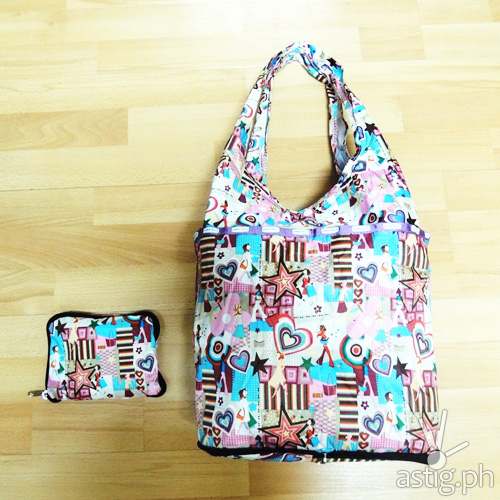 There are numerous designs to choose from, ranging from school bags to work and casual use. They even have travel/school bags with wheels, and a lunch box that can keep your food warm for up to 4 hours.
I would have wanted a laptop bag, but was told it was still in the works, so expect to see it in the near future.
What other designs would you like to see? What do you think of these new, trendy bags? Share your thoughts in the comments section below!
Parachute Bags photo gallery
[stextbox id="astig"]
Parachute Bags
Website: http://shopparachutebags.com
Instagram: @parachutebags
Twitter: @parachute_bags
Facebook: facebook.com/ParachuteBagsOfficial[/stextbox]