MANILA, Philippines – On May 9, Filipinos are set to change the chart the path of our country with the election of our country's next president. To spread awareness on how to choose the right candidates, Tisyu came up with limited edition tissue box that commemorate the historic nature of the 2016 National Elections.
The boxes come in three designs, each bearing an important reminder about the primacy of each vote in building a stronger nation. One of the boxes tout the ideals that our next president must espouse, while another reminds every Filipino that every ballot has a direct effect on the future of our families and the society. The last design proudly banners Pilipinas kong mahal, a statement that shouts to the world our love for our country as expressed by our exercise of our right to suffrage.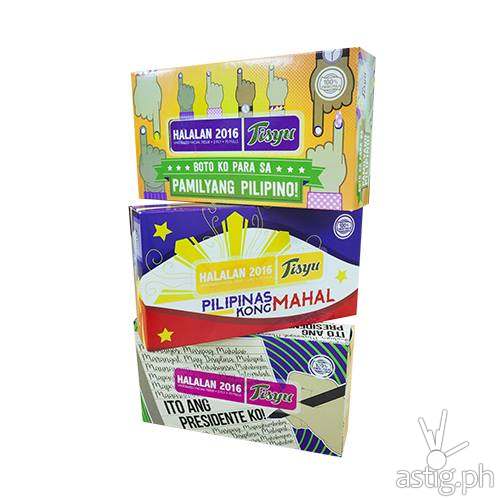 "We believe that the future rests in our hands through the votes that we'll cast come May 9. These boxes are simple reminders of what's at stake," SCPA Marketing Director Lea Pacis said.
Tisyu is a product line of Sanitary Care Products Asia (SCPA). During the 2010 elections, SCPA, via its Sanicare line, also came up with facial tissue boxes with designs showing a caricature of each of the presidential candidates to raise political awareness among Filipinos. This year, the company shares tips on Tamang Diskarte sa pagboto through their Tisyu line.