Do you enjoy doodling? If so, listen up: Titus Pens will be holding the brightest and most colorful event of the year just for you!
Entitled Titus Pens iDoodle '15, the event showcases the country's most talented doodlers and ballpen artists for one day only – December 18, 2015 at the SM Mall of Asia Music Hall.
What: Titus Pens iDoodle '15
When: December 18, 2015 10AM-5PM
Where: SM Mall of Asia Arena Music Hall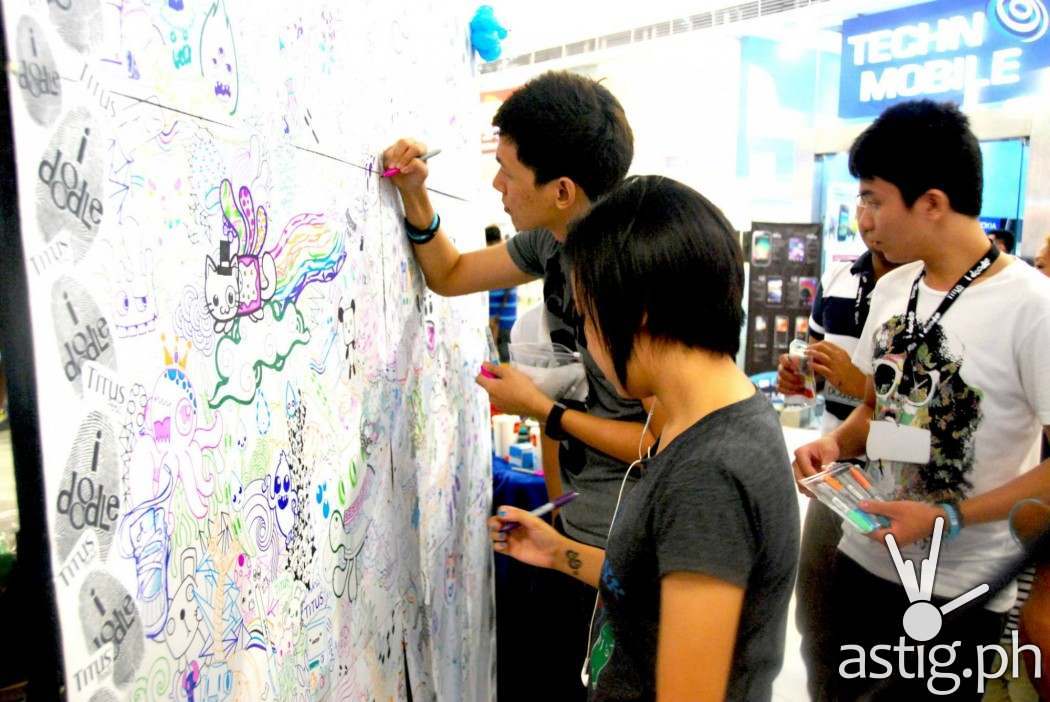 Event highlights include:
Titus Pens iDoodle '15: Battle of the Champions – nationwide doodling competition
Titus Pens iDoodle '15: Pasko sa Pilipinas – on-the-spot Ballpen Art Contest
Festivals of the Philippines – street dance performances
Doodle by the Sea with DAE – 100-meter live doodle wall
In a addition, a number of side events will be held such as:
Titus OMG: Doodle 4 Fashion – shirt printing and fashion illustration
Titus Colors: Doodle 4 Food – cupcake art and coffee paper cup doodling
Titus Markers: Doodle 4 Travel – urban sketching and custom made bag tags
Titus Gel: Doodle 4 Hobby – comic book art demos & tips from global Filipino comic book artists
Titus Pens iDoodle '15: Battle of the Champions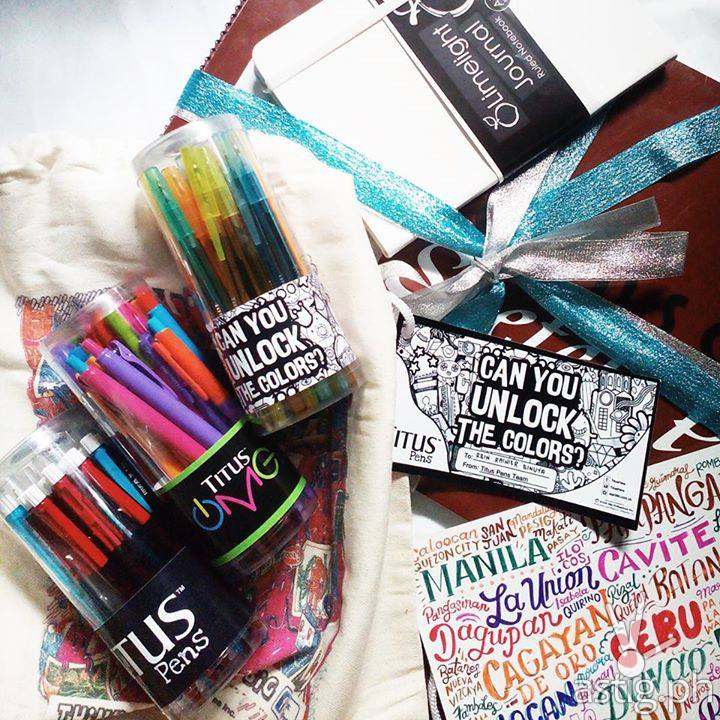 Representatives from key cities and provinces showcase their talents in the biggest on-the-spot ballpen art competition of the year.
Since February of this year, Titus Pens has been busy selecting the top five (5) from the country's fifteen (15) regions including Bacolod, Pampanga, Cebu, Manila, Dagupan, Iloilo, Davao, Bicol, Batangas, Cabayan De Oro, Bulacan, Cavite, Baguio, La Union, and Dumaguete.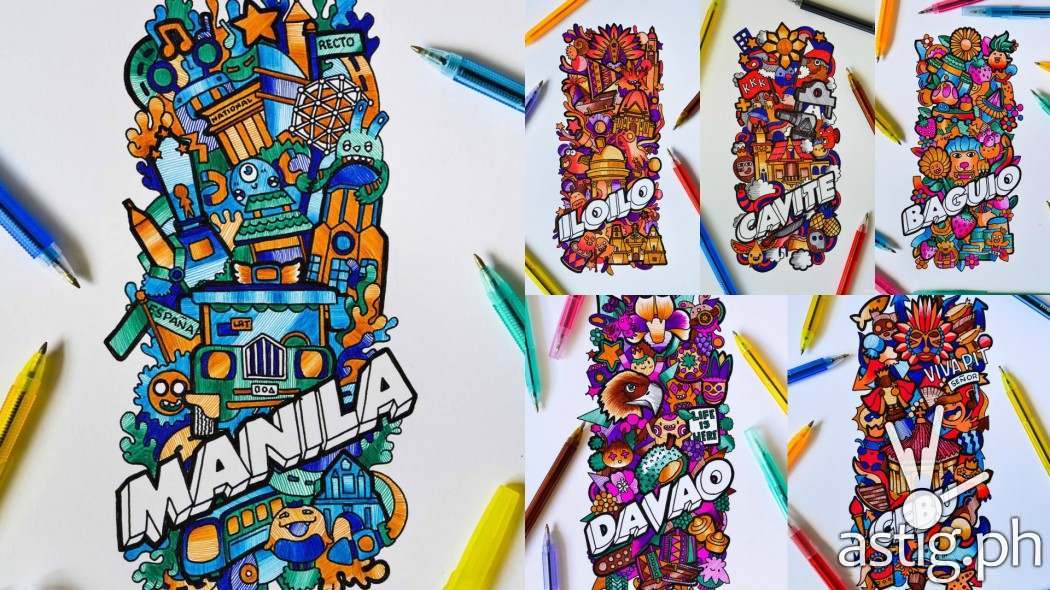 These regional victors will then compete in the championship round, Titus Pens iDoodle '15: Battle of the Champions.
Titus Pens iDoodle '15: Pasko sa Pilipinas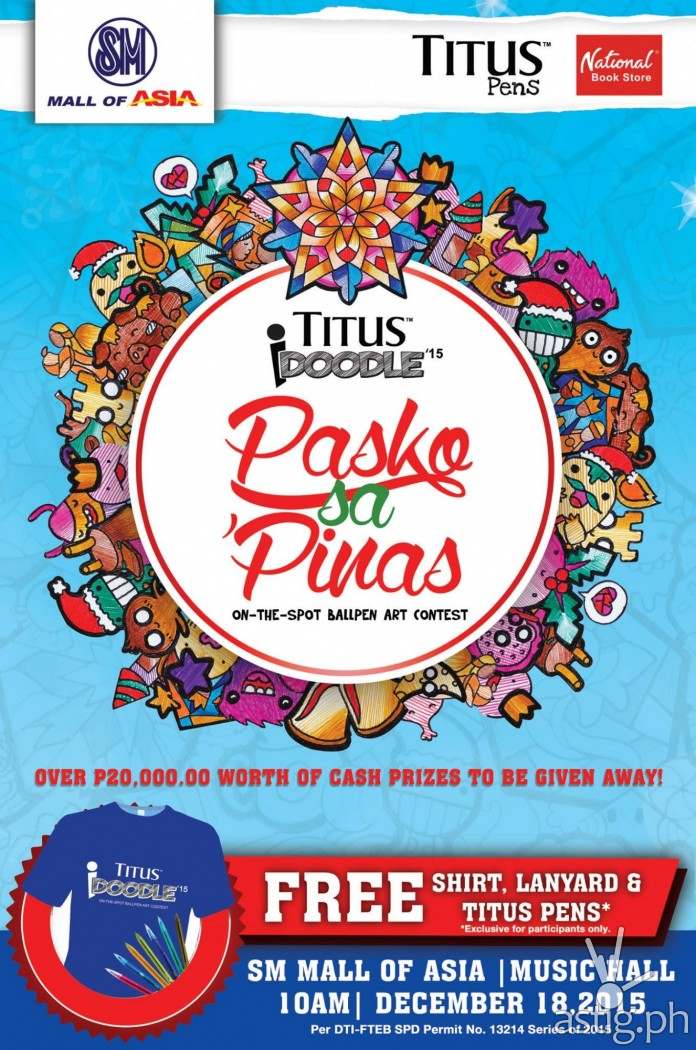 Over 500 students from different schools all over NCR will be competing in a Christmas themed on-the-spot doodling competition at Titus Pens iDoodle '15.
The competition is open to all participants aged 10-25 years old, who made a purchase of Titus Pens worth P100 at any National Bookstore branch or SM Supplies Station.
Interested doodlers can register online or in person between 10 am-12 noon during the event. Participants will get a free shirt, lanyard, and Titus Pens.
Up to 10,000 PHP worth of cash prizes will be given away so hurry, join now!
Street dance performances and live doodle wall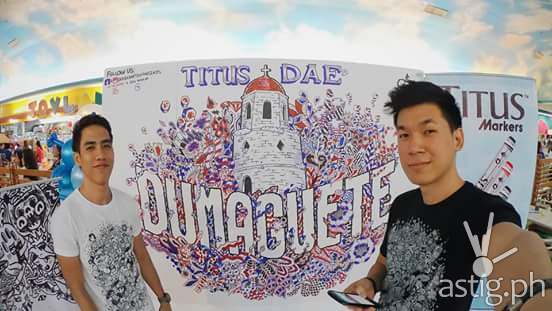 Every Filipino loves festivals. At iDoodle '15, slip that festive mood with street dance performances of Sinulog, Ati-Atihan, MassKara, Dinagyang, and more!
Take selfies with your loved ones at the 100-meter live doodle wall, an exhibit showcasing the talents of DAE (Doodle Art Enthusiasts) on-line doodling community.
Everyone is invited! See you at Titus Pens iDoodle '15 on December 18 at SM Mall of Asia!
For more information follow Titus Pens on Facebook, Instagram, and Twitter.