MANILA, Philippines – Typhoon Ruby (Hagupit) will be making landfall in Metro Manila over the next few days. Here are a few quick tips and safety reminders to help you and your family prepare for the incumbent weather.
Safety reminders
Make sure all your gadgets are fully charged. This includes power banks and laptops
Keep a physical note of family members' and emergency hotline numbers. Write down important numbers.
Stay updated. Know the important hashtags used on social media and which TV and radio stations are airing typhoon updates. Share info with everyone as well!
Saving battery life on your gadgets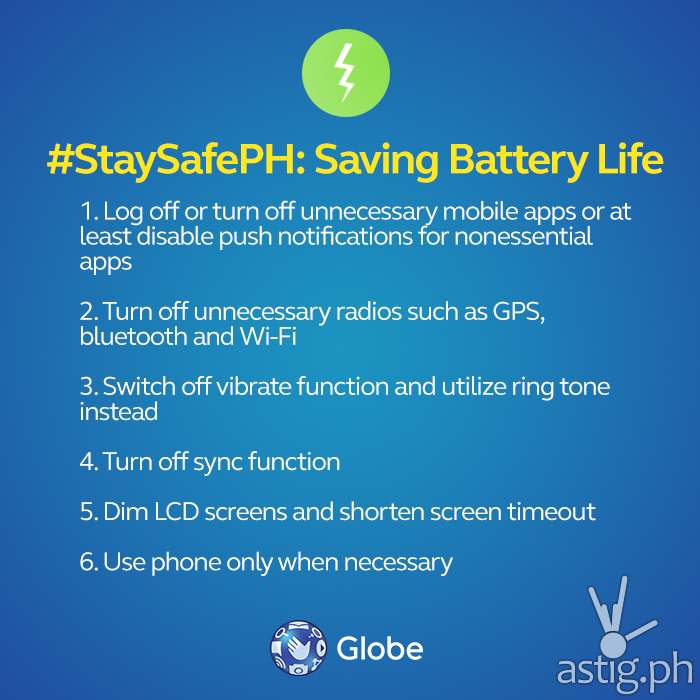 Log off or turn off unnecessary mobile apps or at least disable push notifications for nonessential apps
Turn off unnecessary radios such as GPS, Bluetooth, and Wi-Fi
Switch off vibrate function and utilize ring tone instead
Turn off sync function
Dim LCD screens and shorten timeout
Use phone only when necessary
Emergency hotlines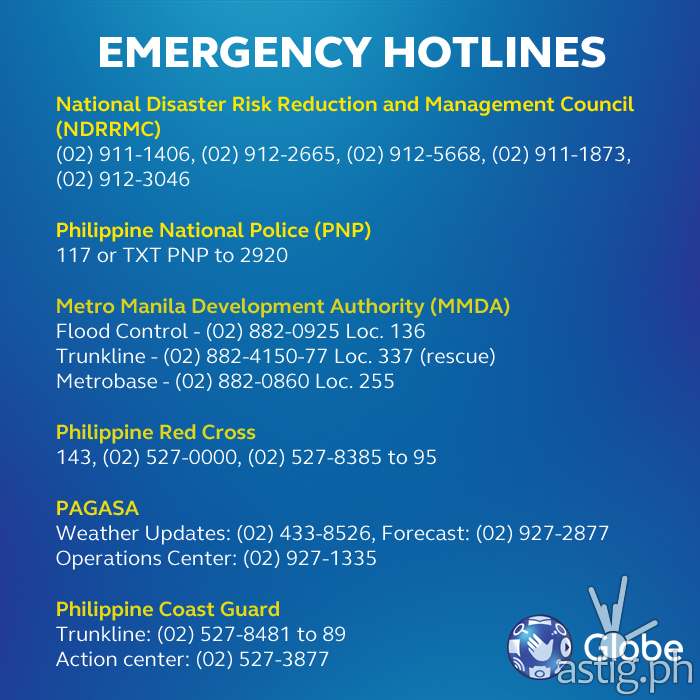 National Disaster Risk Reduction Management Council (NDRRMC)
(02) 911-1406, (02) 912-5668, (02) 911-1873, (02) 912-3046
Philippine National Police (PNP)
117 or TXT PNP to 2920
Metro Manila Development Authority (MMDA)
Flood Control – (02) 882-0925 loc 136
Trunkline – (02) 882-4150-77 loc 337 (rescue)
Metrobase – (02) 882-0860 loc 255
Philippine Red Cross
143, (02) 527-0000, (02) 527-8385 to 95
PAGASA
Weather Updates: (02) 443-8526
Forecast: (02) 927-2877
Operations Center: (02)-1335
Philippine Coast Guard
Trunkline: (02) 527-8481 to 89
Action Center: (02) 527-3877
Bangon Pinoy
Bangon Pinoy is a disaster response page, where you can find relevant Typhoon Ruby related information including Globe Network Updates, public advisories, and soon Globe Emergency Services and Globe-led relief operations:
Globe Bangon Pinoy Site: http://www.globe.com.ph/bangonpinoy
Globe Network Updates: http://www.globe.com.ph/bangonpinoy/network-updates
Restoration in Visayas
As of today, Globe has initiated its service restoration process in Visayas which mainly involves assessment of the typhoon's impact on network infrastructure. The weather remains unfavorable for field personnel to do actual field work. Still, the company's operations team in Visayas is ready to address network concerns brought by Typhoon Ruby, weather permitting.