With University Athletics Association of the Philippines (UAAP) Season 77 now underway, ABS-CBN Licensing is proud to announce that its official UAAP-themed merchandise, UAAP Watches by Swap, UAAP Bags by Hawk Bags, and Zeal's UAAP-themed scarves are now up for grabs all around the country.
Following a partnership with the University Athletic Association of the Philippines (UAAP) and ABS-CBN, SWAP by Tomato Time released the latest UAAP-themed collection of SWAP watches that highlight the league's eight universities:Adamson University, Ateneo de Manila University, De La Salle University, Far Eastern University, National University, University of the East, University of the Philippines and University of Sto. Tomas.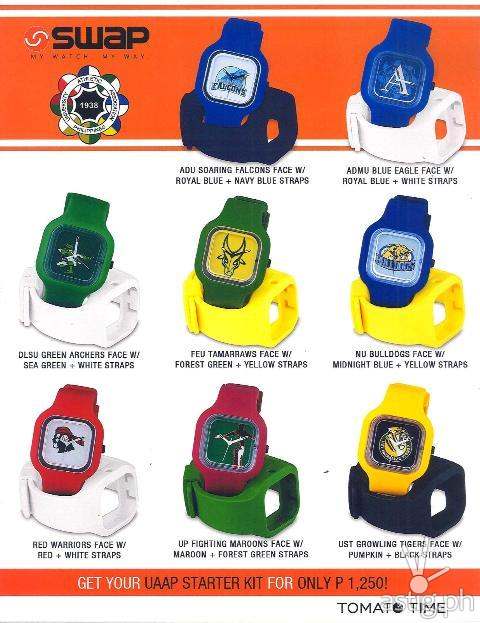 Each university is uniquely represented having trendy details such as university logos in watch faces with corresponding school colors available in interchangeable silicon straps. Each SWAP UAAP watch is waterproof and interchangeable, and allows students and fans alike to create a stylish look by swapping different silicon straps according to your fashion taste and mood.
Hawk Bags and the UAAP have also come up with a limited-edition line of UAAP-themed backpacks just in time for Season 77.
The bags are made with the finest materials and accessories available; and subject to the strictest quality control. The use of heavy duty zippers, weather-resistant fabrics, dual density foam for the straps, and lock-stitch technology ensure its users that these backpacks will last for many seasons. The backpacks' designers are constant in blending creative elements with lifestyle trends, while reflecting the style of Hawk Bags' customers with stylish and vibrant tones.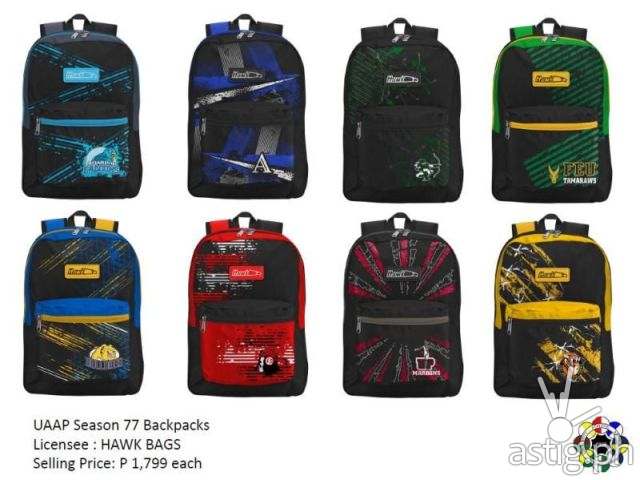 Also out in the market now are UAAP-themed scarves by Zeal. These scarves come in eight different designs, each rendered to represent each of the UAAP member schools.
[stextbox id="astig"]UAAP SWAP watches are available at selected Tomato Stores, Tomato Time kiosks, and online at www.tomato.ph. UAAP Bags by Hawk are available at The SM Store branches nationwide. For the UAAP-themed scarves by Zeal, die-hard UAAP fans can visit www.facebook.com/zealsport for more details on how to order.
These UAAP products can also be purchased at The ABS-CBN Store via www.abs-cbnstore.com. [/stextbox]