When it comes to the UFC's Fourth of July weekend fight card, MMA fans from all around the world can expect no less than one of the biggest shows of the year.
This year, Balls Channel will broadcast UFC 175 via satellite on Sunday (July 6), which marks the 20th event in UFC history where 2 championship fights will be settled. Headlining UFC 175 is the highly-anticipated bout between UFC middleweight champion Chris Weidman and top contender Lyoto "The Dragon" Machida.
Weidman, fresh off two finishes of future Hall of Famer Anderson Silva in 2013, will now battle Brazil's Machida, who has won two straight at 185 pounds over Mark Muñoz and Gegard Mousasi. Machida will attempt to strip the championship title away from Weidman. With the win, Machida would set himself up to become the third mixed artist in the history of the UFC to have won a belt in two divisions. However, with Weidman's undefeated run so far, this challenge is sure to remain a high hurdle for Machida.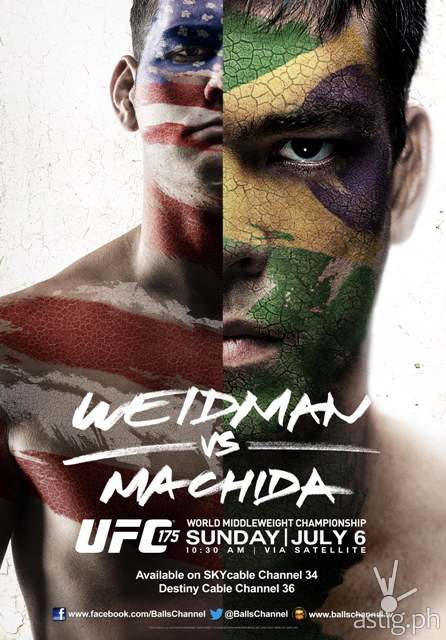 In the co-main event, UFC women's bantamweight champion Ronda Rousey, who has yet to be defeated inside the Octagon, will defend her title for the third time as she faces off against top contender Alexis Davis.
Don't miss out on UFC 175 as it airs via satellite at 10:30am this Sunday (July 6) on Balls Channel (SkyCable Channel 34 and Destiny Cable Channel 36).
[stextbox id="astig"]For updates, visit Balls Channel's official website (www.ballschannel.tv), like Balls Channel on Facebook (www.facebook.com/BallsChannel), or follow their official account on Twitter (@BallsChannel).[/stextbox]