PHILIPPINES – Dell announced the findings of the Global Women Entrepreneur Leaders Scorecard at its sixth-annual Dell Women's Entrepreneur Network Summit, revealing gender-based differences stifle the growth of women-owned businesses across all 31 countries measured. The Dell-sponsored Scorecard is the first worldwide analysis focused on the challenges and opportunities for women business-owners to launch, scale, create jobs and disrupt industries. The goal of the Scorecard is to provide a diagnostic tool that will advise leaders, policy-makers and law-makers on how to improve conditions in their countries and enable businesses founded by women to thrive. The 2015 results offer a comprehensive view on the conditions for women entrepreneurs around the world, highlight best practices, identify data gaps and provide actions countries can take to improve.
"To address the specific challenges for high-impact women entrepreneurs in different countries and regions, it takes a holistic approach," says Dr. Ruta Aidis, Project Director of the Global Women Entrepreneur Leaders Scorecard. "That's why research like the Scorecard is critical to understanding what actions are needed to drive change."
Building on the research Dell commissioned in 2013 and 2014, the 2015 Scorecard evaluates 31 countries across five key categories: relative business environments, access to resources, leadership and rights, pipeline for female entrepreneurship and potential for high-growth women-owned businesses. The new Scorecard also looks at key factors proven to unleash high-impact female entrepreneurship and estimates the number of jobs created by women-owned businesses if they reached their growth potential.
"The success of entrepreneurs and small businesses is critical for a thriving global economy, and at Dell we believe women entrepreneurs must play a much more prominent role in business and leadership in the future," said Karen Quintos, senior vice president and chief marketing officer for Dell. "Our Dell Women's Entrepreneur Network aims to ensure women entrepreneurs have access to technology, capital and networks to grow their businesses. The Scorecard provides the data-driven insights we need to move the broader conversation from awareness to action and allow female entrepreneurs around the world to reach their full potential."
More than 70 percent of the 31 countries in the study score below 50 percent demonstrating a significant growth gap between female and male-owned businesses worldwide (76 percent of global GDP is covered by the study). And while the United States is no. 1 on the Scorecard due predominantly to a favorable business environment overall and women's job mobility in the private sector, it still only scores 71 percent overall. If American women started growth-oriented businesses at the same rate as men, the nation would gain an estimated 15 million jobs in two years.
As part of Dell's initiative to support women entrepreneurs, Dell is partnering with the Cherie Blair Foundation for Women to match emerging female entrepreneurs in developing economies with mentors from the #DWEN network and Dell team members to help their businesses grow and thrive.
Scorecard Country Rankings
The Scorecard demonstrates that all countries stand to gain from improving conditions for high-impact women entrepreneurs and all face gender-based differences in entrepreneurial activity. Visit for infographics of the results globally and for China, Germany, India, Mexico and the United States as well as the Scorecard executive summary and methodology.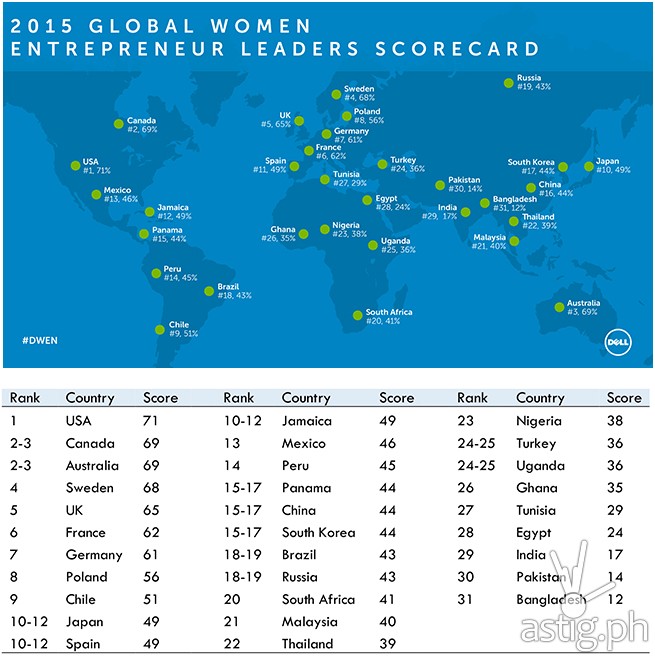 Scorecard Highlights
1. Women need equitable access to resources
There is still a wide disparity among countries when it comes to access to fundamental resources such as education, internet, bank accounts and Small and Medium Enterprise (SME) training programs. The United Kingdom provides near parity in several categories with 87 percent of women using the internet and close to 100 percent with bank accounts. By contrast, in Pakistan, the lowest-scoring country in this category, only 10 percent of women use the internet and only 3 percent access a bank account.
2. Access to growth capital and innovation ecosystems still a challenge for women even in strong business environments
In general, all of the top-ranked countries provide stable business environments with strong levels of R&D investments, innovation ecosystem and availability of capital combined with relatively low levels of business regulations, corruption and market monopolies. The top-ranking country, the United States, scored the highest in the business environment category overall, yet only 13 percent of start-ups with women on their executive team and just 3 percent of start-ups with women CEOs received venture capital funding in 2014.
3. Specific strengths and weaknesses differ from country to country
The research findings show that Nigeria has the highest percentages of women who feel they have the skills and see opportunities to start businesses. However, the weaknesses in Nigeria's business environment indicate impediments for those businesses to grow. Conversely, Japan boasts a strong and stable business environment but very few women see opportunities or feel they have the skills to start businesses. In India, few women see opportunities or have the skills and are hindered by lack of equal rights, access to education and the Internet.
4. Leadership roles remain male-dominated
Research shows that women CEOs, senior managers and board members result in higher salaries and better conditions for female employees enabling greater business development activity. Only four countries, China, Brazil, Malaysia, Nigeria, report women holding 5 percent of the CEO positions of the largest publicly-traded companies and six report women holding 0 percent of CEO positions. In just three countries, Poland, Jamaica and Russia, women make up 35 percent or more of senior management and France is the lone country with women occupying 30 percent of corporate board seats.
5. Governments play an important role
Public procurement accounts for more than 30 – 40 percent of GDP in developing countries and 10 – 15 percent GDP in developed countries. However, globally, only an estimated 1 percent of public-procurement contracts are awarded to women owned businesses. Of the 31 Scorecard countries, the US and South Africa are the only two that actively promote growth-oriented female entrepreneurs through gender public procurement policies. And gendered data collection by the government is critical to benchmark change. Four of the countries, USA, Sweden, France and Germany, perform an annual gendered business census and Mexico tracks gendered data for all government-funded entrepreneurship programs. Chile is the sole country to do both.
6. Gendered differences hold back entrepreneurs
In all 31 countries, women are significantly less likely to know an entrepreneur. This means women lack visible role models and connections to the entrepreneurial community, which impacts their tendency to start a business. In 68 percent of countries, women see significantly less opportunity to start a business than a man, but in nearly all of the countries, believe they match a man's skills to do so.
Scorecard Methodology
Countries are ranked based on composite index comprised of 21 indicators that highlight important aspects of their institutional and business environment, gendered access issues and individual-level entrepreneurial characteristics grouped into five categories. Data is sourced from existing internationally recognized datasets, including the Global Entrepreneurship Monitor (GEM), World Economic Forum (WEF), World Bank, UNESCO, ILO and others.