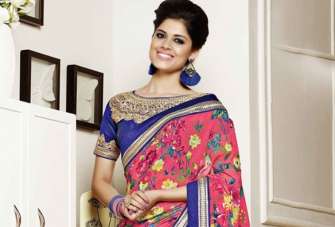 Do you admire the Indian fashion and would like to own your first saree? This outfit has been in existence for more than 5,000 years. It is an elegant piece that fits different body sizes and skin tones. Owning a saree should be part of your to-do list this year since it can transform your style.
Though a saree is easy to find, shopping for the right one can be a challenging experience. The market offers all kinds of sarees which can be confusing for a first-time purchaser. We are here to eliminate the confusion by sharing all the necessary factors that you should look in to during your shopping spree. Find out more!
Know the different types of sarees
Sarees fall into different types and understanding these categories can help you narrow your search. Some popular types include the Banarasi, Gujarat and Kanjeevaram saree. Designers make the Kanjeevaram saree out of heavy silk fabric. It comes with decorative borders, contrasting colors, and patterns which originate from Indian paintings and palaces.
A person who needs a stunning saree can choose the Banarasi type which comes from the dyed silk fabric. You can also choose cotton sarees such as Gujarat or Rajasthan. Some sarees also feature the peacock design which makes them look stunning.
Compare the price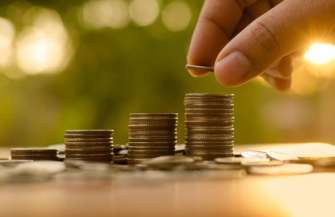 The cost of sarees differs as per the material and embroidery used in the making. If you want a good quality saree, you should be prepared to pay more for your saree. Some of the sarees in Western countries are expensive compared to a similar make in India. This means that your location may also determine how much you pay for a saree.
The main factor that affects the price is the fabric. Plain sarees are cheaper compared to those featuring woven threadwork. Sarees that also come with the zari are costlier than those without. The type of embroidery used in designing the saree also affects its price. Some designers also hand stitch some fabrics and charge extra costs for the additional efforts.
Have a budget which helps you estimate how much money you are willing to spend on purchasing a saree and try to stick to it when you go shopping.  A little bit of window shopping from different shops can also help you compare the prices. Online shops such as Stylecaret offer affordable prizes for different sarees.
Identify the purpose
When do you intend to wear your outfit? Sarees have a different purpose since some are meant for daily wear while others are meant for special occasions. If you need a saree for a party, you can get sexy designs that help you express your mood. You can also get sarees to wear in the office as part of formal wear or those meant for special occasions such as weddings. Feel free to choose a gorgeous saree for your wedding.
Be keen on the draping style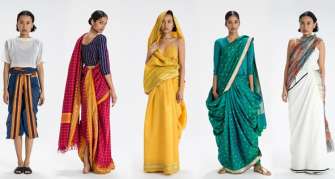 For you to get the perfect saree, you must also know some of the draping styles you can implement easily on it. Teach yourself how to drape a saree in different styles from online sources so that you learn easy steps before buying one. Most people who avoid this step end up complaining that draping sarees are complicated.
You should also be aware of your body size since it affects some draping styles. Different draping styles can affect how you look since some can make you look slimmer, taller or even shorter than your actual frame. If you wish to look slimmer, you can drape the saree using the semi navel technique so that people can focus on your curves. A lean person should wear the saree above the navel.
Choose the right fabric
The fabric you choose can also affect the way you look. You can either look shorter, wider or taller from certain fabrics. You should, therefore, select the fabric wisely paying attention to the season. If you have a toned figure, you should opt for sarees made from the cotton fabric.
The chiffon and georgette fabrics look nice on ladies with triangular body shapes. You can also choose these materials if your body is wide. Silk and crepe fabrics are universal since they blend well with any body type.
Check the prints of different sarees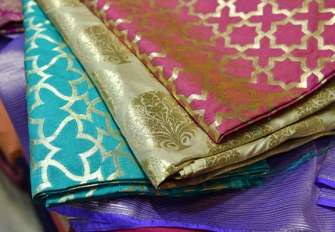 It is the prints that distinguish women outfits. The prints of your saree can describe your mindset or personality to people. They also have an impact on your appearance. Bold prints are best suited for lean bodies. If you are large, try to go for small prints that are evenly distributed across your entire outfit.
If you are confused about which prints are ideal for a saree, you can always settle for floral prints since they are not limiting. Certain prints used in traditional sarees can help you preserve culture. A lot of Indian women prefer prints such as geometric, calligraphic and neon.
Do not forget the borders
The borders may seem like minute details, but they can make a significant difference in a saree. Try to select the perfect border work so that you can portray your personality to the world. Various borders appear differently on ladies.
Petite ladies can wear broad borders since they add volume to their body frame. A broad border can also make you appear taller than your actual height.  If you are plump and tall, you can choose a medium ranged border.
Select the right color for your saree
Most people also love sarees due to the diversity of colors. For a ravishing appeal, you should choose the color according to your complexion and body type. If you have a dark complexion, you can select illuminate hues like orange, mother pearl or khadi.  Subtle colors go well with ladies with a fair complexion.
Final thoughts
Shopping for a saree can be fun if you have the above details at your fingertips. Have some basic knowledge of these necessary factors so that you can get the perfect saree.