MANILA, Philippines – Want to stay connected to the internet for work and travel, or looking for a way to share your internet connection with friends and family while travelling? D-Link, one of the world's biggest suppliers of networking solutions, now lets you do more with your mobile connection than ever before with the new DWR-710 Le Petit HSPA+ Router.
Designed with handiness in mind, the DWR-710 combines a 3G modem and a Wi-Fi router in a single USB adapter for maximum mobility whilst allowing you and your companions to enjoy 3G connectivity anytime, anywhere. All you need to do is insert the 3G SIM card into the device, plug into a USB power source like any other thumb drive and you're good to go! Once connected, you can get work done online at a coffee shop, surf the internet during a road trip, or share live updates of your wild camping escapades on Facebook and Instagram!
Serious Portability with Simple Set Up

Ever seen a colleague fiddle with complicated settings on their smartphone in an attempt to turn it into a wireless hotspot? This process also usually ends in a more irritated colleague with a drained smartphone battery. For the mobile worker, connecting your laptops to the internet for work was never meant to be a tedious affair.
The Le Petit router cuts this process down into two simple steps; plug and play, to give you hassle free connectivity. Measuring just 91.5 x 27 x11 mm, the device is small enough to fit in your pocket or handbag. Simply insert your HSPA+ SIM card into the device and plug it into any USB port such as your laptop or USB adapters. Creative uses of the petite device also include plugging it into vehicles with USB ports or portable batteries.
The device also functions like a traditional thumb drive storage with its microSD card slot, allowing users to insert a storage card of up to 32 GB. Stay connected to your work and clients on the go, effortlessly.
Around the World in HSPA+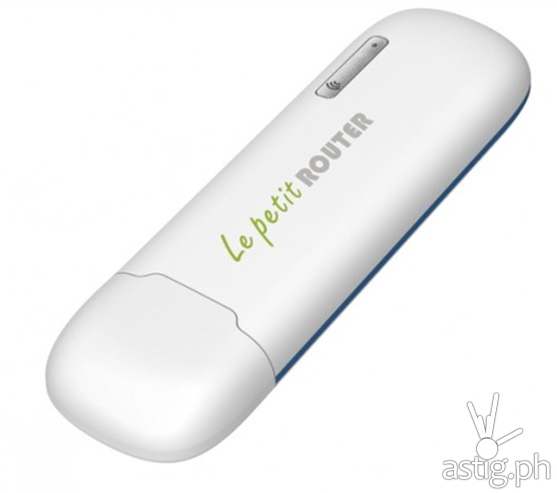 Don't let its name and looks fool you, as the Le Petit HSPA+ Router is a tough lad that packs a punch. Armed with the Evolved High Speed Uplink Packet Access (HSPA+) technology, the device features download and upload speeds of up to 21 Mbps and 11.4 Mbps respectively. For those with a strong case of wanderlust, fret not! The HSPA+ standard is also backwards compatible with HSDPA, UMTS, EDGE, and GPRS technologies, meaning whether you're road tripping in the land Down Under, or volunteering in stunning and wild Africa, the device is the perfect companion across all expanses.
Sharing is Caring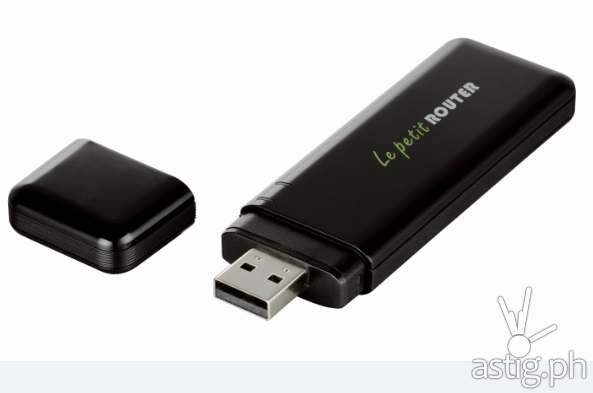 Heroes are individuals who are selfless and generous in spirit. In this case, owners of this handy device are poised to be the heroes with its Wi-Fi sharing feature, allowing them to share their 3G internet connection with up to seven other wireless devices through Wi-Fi Protected Access (WPA/WPA2). With this function enabled, travel companions with 802.11 b/g/n wireless devices such as smartphones, portable gaming devices, notebooks, and digital cameras can partake in the joy of connectivity.
While this feature is enabled by default, disabling it is a simple matter for those who want to reduce power and data consumption whilst keeping your primary device connected. Simply access the settings page through your web browser to disallow Wi-Fi sharing.
Pricing and Availability
The D-Link DWR-710 Le Petit HSPA+ Routerwill be available in June 2015 at all authorized retailers with a local SRP of Php 1,850.