MANILA, Philippines – V app, a live-streaming video application featuring the hottest K-pop stars, is now available for all iOS and Android users worldwide. Since the beta release in July 31st, V app has become the best gateway to meet the top-notch K-pop stars everywhere. With the recent official iOS and Android launch, V app provides more stabilized service for global users to enjoy fluid communication with their favorite stars. Currently, 55 lineups of K-pop celebrities are signed up on the on-air schedule, including Big Bang, SM Town, Wonder Girls, 2PM, and Kara.
Comprised of three categories – 'Special Live,' 'App Live,' and 'Spot Live' – V app offers exclusive videos of concerts and showcases, while revealing celebrities' hidden personalities and talents through self-produced contents by the stars themselves. Also equipped with a real-time chatting feature, users can have engaging communication with the stars.
With the 'Star Following' feature, users can follow the individual channels established for each celebrity group and receive alerts when their favorite stars start their live-broadcasting. Other additional features such as 'Upcoming' and 'Chemi-beat', allow users to stay updated for upcoming on-air schedules and have more interactive experiences with the stars. Total of two to six new contents are released daily. After a live-broadcast, users can watch the video again through VOD service.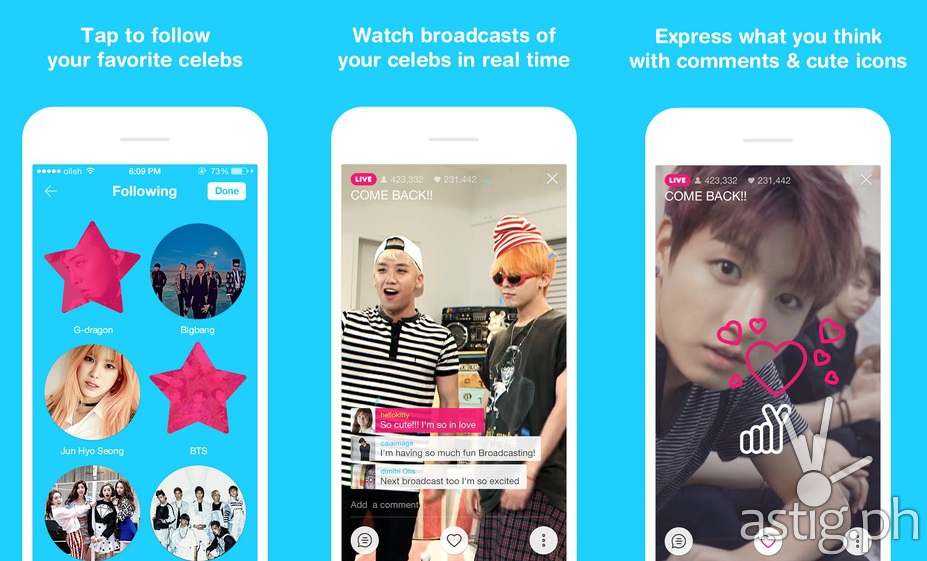 The upcoming broadcasting schedule will feature Big Bang, the most-beloved K-pop idol group, who currently are preparing for their next live-show. Since September 2nd, Big Bang V LIVE has been aired on every Wednesday at 10 PM (Manila Time), where each member meets with global fans through individual live-show. After the success of the three previous shows with G-Dragon, Taeyang and T.O.P, (which are all available to watch on V app's VOD service), over 1 million fans are following Big Bang's V app channel. Two additional shows by Seungri and Daesung are scheduled to air on September 23rd and 30th, respectively.
Proving its global popularity with a record of 610,000 downloads in 170 markets on the first day of its beta release, K-pop lovers in 210 countries are now interacting with their favorite stars through V app. App downloads in non-Korean countries account for more than 60% of the total download numbers. V app especially enjoys popularity in the Philippines and other regions including the U.S., Japan, China, Hong Kong, Taiwan, Indonesia, Thailand and Vietnam. Naver is now focusing on the provision of smoother global services, while expanding the lineup to include non-Korean celebrities in the future.
More about V App:
V app Broadcasting
Special Live – Live broadcasts of concerts, festivals and other entertainment events
App Live – Self-developed content by celebrities on a variety of topics, including beauty, cooking, education and personal counselling. Users can enjoy live chat with the stars during the show.
Spot Live – Sneak peeks into daily life of celebrities
Key Features
Star Following – Alarm service to alert users about the live-broadcasts of their favorite stars
Chemi-beat – A relationship index between a celebrity and a user as a beat count. The more often that users watch videos of their favorite celebrity broadcasts and participate in activities on V, the higher their Chemi-beat level will climb. The higher the Chemi-beat, the higher the user's chance to win the event that the celebrity is hosting
Download V App on the Apple App Store or Google Play.