A video showing a group of Colombians burning a human-sized effigy of Miss Universe 2015 Pia Alonzo Wurtzbach went viral in social media.
An identified Colombian Noider Almanza Barraza was seen leading the group who also took selfies of the effigy. His Facebook profile has been bashed by Filipinos after he uploaded the video.
The fire between Miss Philippines and Miss Colombia started when Miss Universe Colombia Ariadna Gutierrez was announced as the winner of Miss Universe 2015. Minutes after her crowning moment, host Steve Harvey shockingly went onstage to apologise for the error and announced that Miss Colombia was the 1st runner up and the crown belongs to Miss Philippines Pia Wurtzbach.
Miss Columbia held her tears when her fellow Colombian 2014 Miss Universe uncrowned her and put the crown in Pia's head. She broke out when her fellow contestants started to embrace and cheer for her.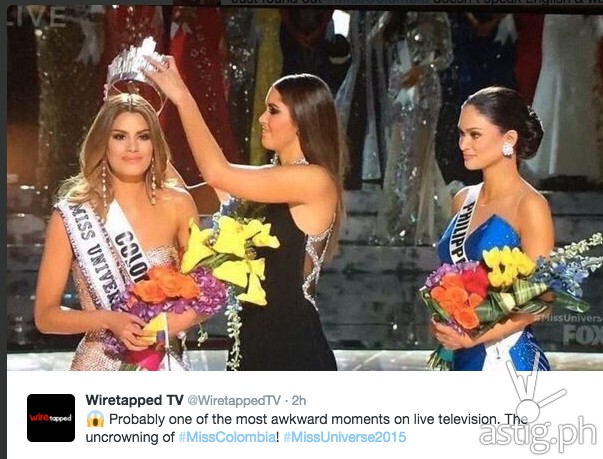 Prior to the viral video, a firecracker "Goodbye Colombia" meme was circulating the internet.
What can you say about the video? Comment your thoughts.