MANILA, Philippines – Larry Biggayan, the guard of Alabang Hills village, is currently under public scrutiny after he stopped a car on their way out and attempted to remove the sticker without communicating or providing any explanation why.
The car held the driver with initials D.F. and its passengers, which includes a pregnant mom, a 3 year-old kid, and D.F.'s aunt.
They went out of the car and physically stopped Biggayan from removing the stickers.
According to the Alabang Hills Village Association (AHVA) admins, it was a system error and they were issued a sticker meant for another vehicle.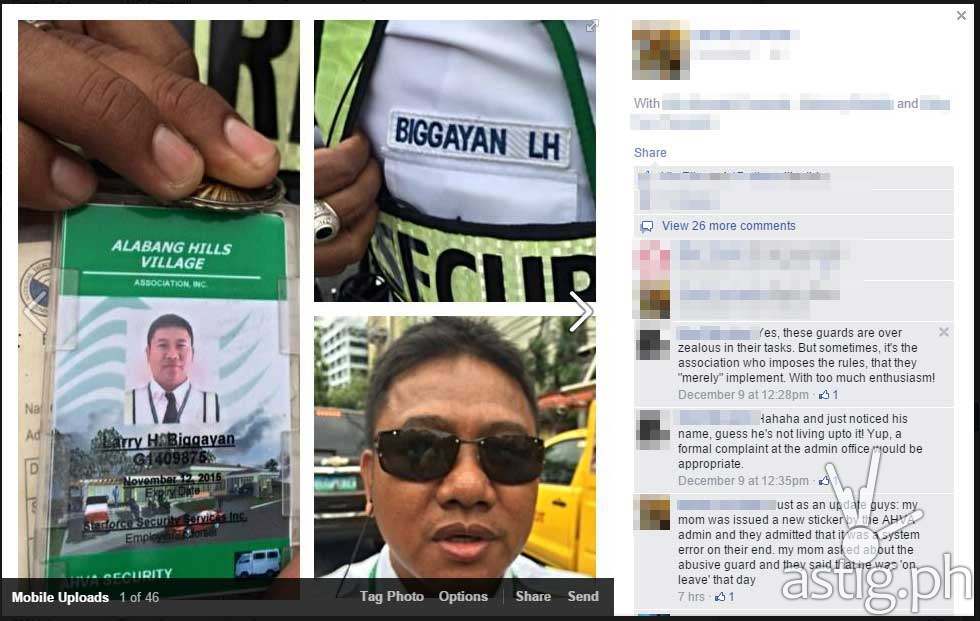 Below is the content of the Facebook post:
Damn this rude Alabang Hills guard
my 99 year old grandma lives in BF and so every so often we would go to her house from alabang. my parents go more often so they have been getting the alabang hills sticker for the past 28 years. this afternoon after having lunch at Nanay's we were stopped at the alabang hills exit by this guard in the picture. he held up his hand at a distance and said "check lang po". not knowing what was going on, i stopped the car (i was driving my mom's car) and asked her if she knew what was going on. the guy kept on mumbling on his radio and refused to talk to us, not even go to the driver's window to explain what was going on and kept on muttering on his radio. all of a sudden he starts prying out our sticker from the car! i screamed him to stop and he refused to and my mom had to get out of the car and physically stop him. my 8 month pregnant wife, my 3 year old son and my tita in the car were witness to this rude guard who treated us as criminals. i got out of the car, took these photos, and insisted that nothing happens until we go to the office. we go to the office and it seems that it was an administrative mistake that a sticker for another car was issued to us. that won't be the last time we will be passing through the village, i hope guards like these are not tolerated and dealt with accordingly
D.F. later added:
Just as an update guys: my mom was issued a new sticker by the AHVA admin and they admitted that it was a system error on their end. my mom asked about the abusive guard and they said that he was 'on leave' that day
One of the issues often raised with social media posts is that it does not tell the whole story. In the photo Biggayan appears to be cooperative, allowing the passengers to take his photo including his name and ID. We are still trying to reach AHVA for their comments as of writing.
Was Biggayan only doing his job? Did the passengers overreact? Comment and share your thoughts.