Nonito "The Filipino Flash" Donaire Jr. will showcase an improved and more focused version of himself as ABS-CBN airs the special telecast of Top Rank Promotion's "Featherweight Fury" event held in Cotai Arena at The Venetian Macao-Resort-Hotel on Sunday (June 1) at 10:15 AM.
Donaire (32-2) will challenge World Boxing Association (WBA) featherweight champion Simpiwe "V12" Vetyeka (26-2) to co-headline three featherweight title fights in the return of Top Rank to Macao.
Not only is Donaire physically ready after going back to his roots, inviting his father who introduced him to boxing as his new trainer, his loss to Guillermo Rigondeaux and close fight against Vic Darchinyan has given him renewed purpose as a boxer.
"The second fight with Darchinyan made me realize that I wanted to be here," said the 31-year-old Filipino in a recently held press conference. "With injuries in my body and injuries on my face, I still realized that I want to do this. This is what I want to do. I live for the joy of people watching me and that's why I want to be here. I want to give everything that I've got for my fans and for my country and for the people that love boxing."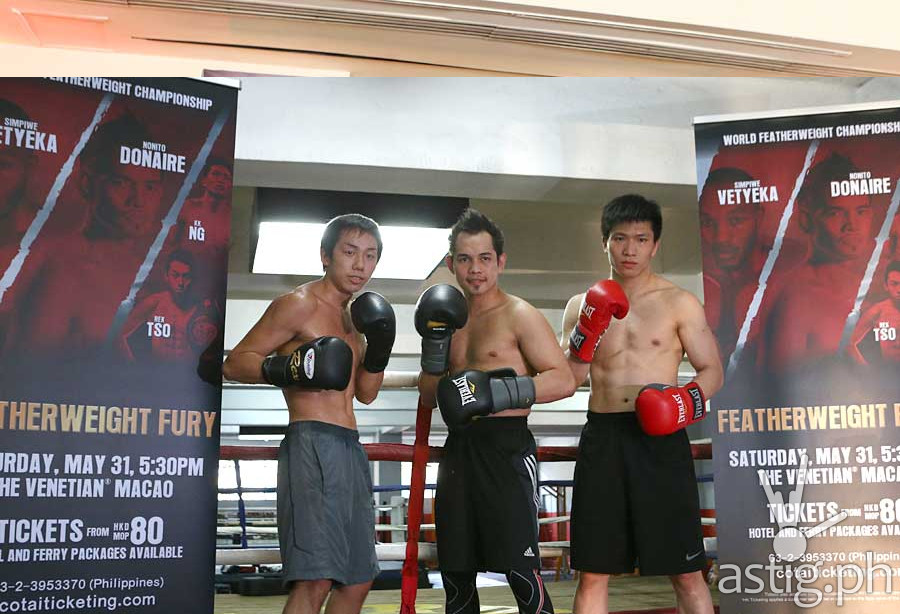 "Featherweight Fury" will also feature the battle between champion Nicholas "Axe Man" Walters and Vic "Raging Bull" Darchinyan (39-6-1) for the WBA interim featherweight and Evgeny "The Mexican Russian" Gradovich's (18-0) International Boxing Federation (IBF) featherweight title defense against Alexander Miskirtchian (24-2-1).
Catch the special telecast of "Featherweight Fury" on ABS-CBN Channel 2 in the morning of Sunday (June 1) at 10:15 AM and watch out for the same-day replay with the undercard fights on ABS-CBN Sports+Action at 7 PM. Boxing fans can also watch the entire fight live via Skycable Pay-Per-View.
(Photo: Chris Farina)