When Wham! Burgers first opened shop in Katipunan over a decade ago, all Dondi Lazaro and Tony Yap wanted was to be able to share their burger creation with the world. Gourmet burger joints were not as common back then as it is today. Your only options were fast food, restaurants, or a hotel.
The problem with restaurants and hotels is that they are usually expensive, so if you are on a budget you settle for fast food. The problem with burgers being served in fast food is that the burger patty is usually loaded with extenders to keep the cost down.
In comes WHAM! and no, I'm not talking about the famous English duo composed of George Michael and Andrew Ridgeley 🙂
Gour-what?
So what comes to mind when someone says gourmet burger (hint: it's pronounced goor-mey)?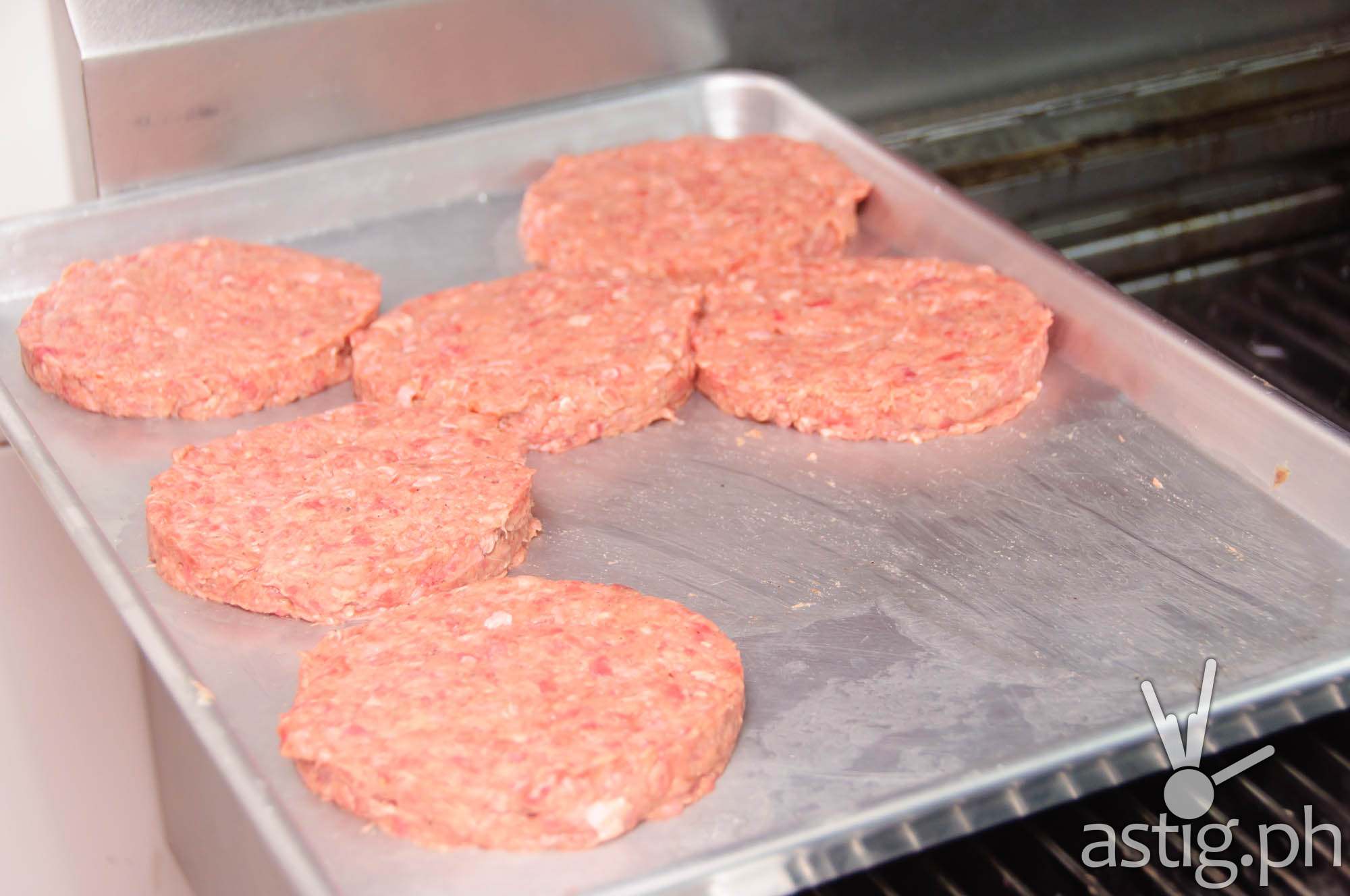 Unlike fast food joints, gourmet burgers are individually prepared upon order. Not only do gourmet burgers get that extra care, this is usually done using the finest quality ingredients. In the case of Wham! Burgers, this means pure beef patties with no extenders.
I verified this myself when I went into the kitchen of the Mall of Asia branch. The burger patties are prepared on-site. Kilos upon kilos of ground beef is delivered to the branch where it is mixed, seasoned, and cut into 1/3 pound slices.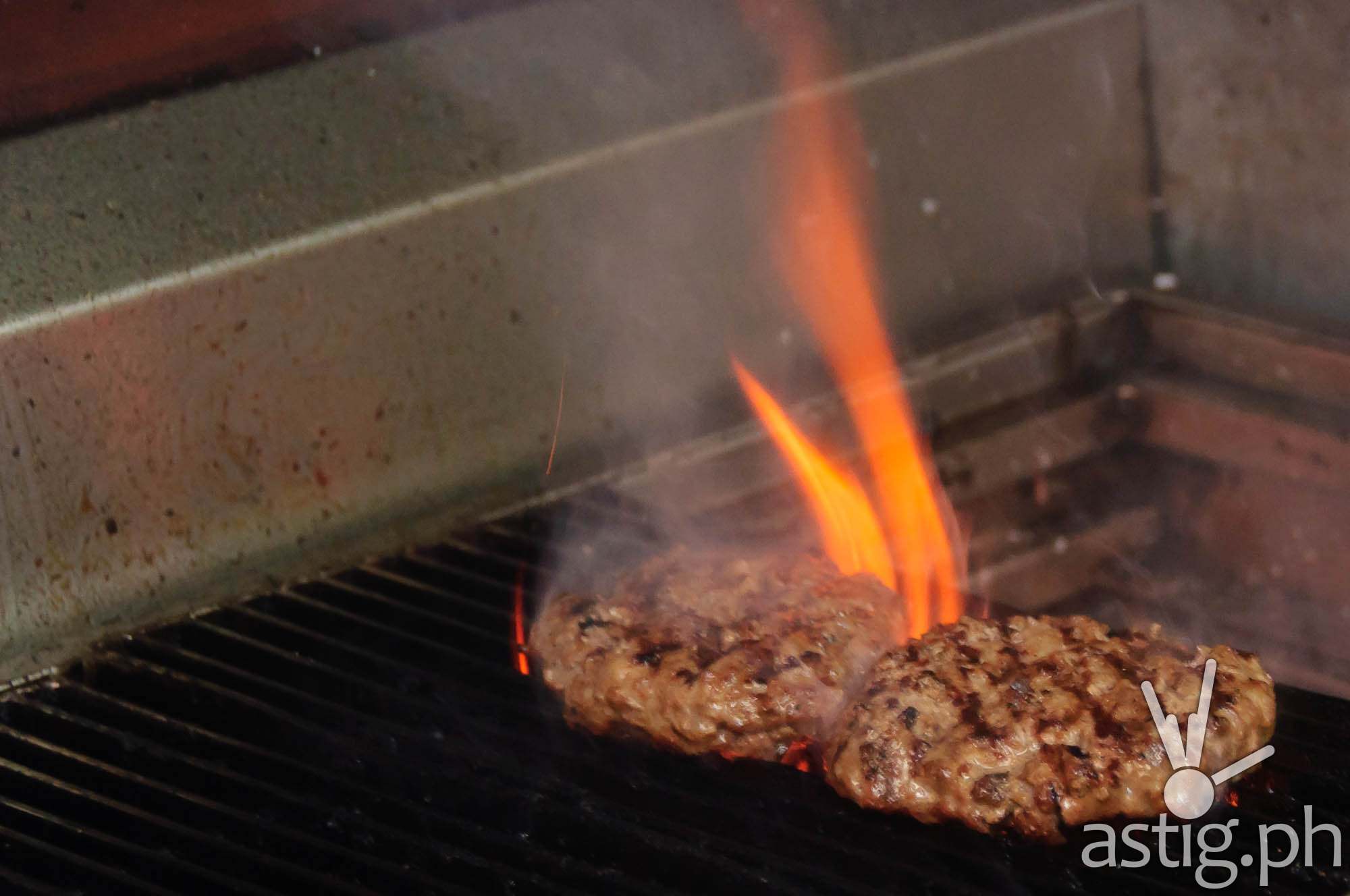 These tasty chunks of meat are then grilled using real charcoal, not using electricity or gas. The end-result is that the outside gets cooked more quickly and the juices gets sealed inside the patty. The smokey taste is all natural and not artificially flavored.
Quality food comes at a price though, and Wham! costs just a little bit more than your run-of-the-mill fast food. Considering this is "slow food" in a restaurant setting I feel it should cost a little less. Considering that the Philippines is a rice-eating country, I am not sure I agree with the price.
Wow that's great! So what should I order at Wham!?
The basic Wham! Burger costs 120 pesos and comes with a 1/3 pound beef patty topped with ketchup, mustard, lettuce, and tomato. I can name another 1/3 pounder from another brand that does not cost nearly as much, but I would gladly pay extra and wait a little longer for the gourmet experience.
Going back to the price argument, you are paying the equivalent of what your run-of-the-mill restaurant charges for 2 pieces of chicken with rice. Over the years this has evolved to two small pieces of chicken though – at least you get what you pay for with Wham.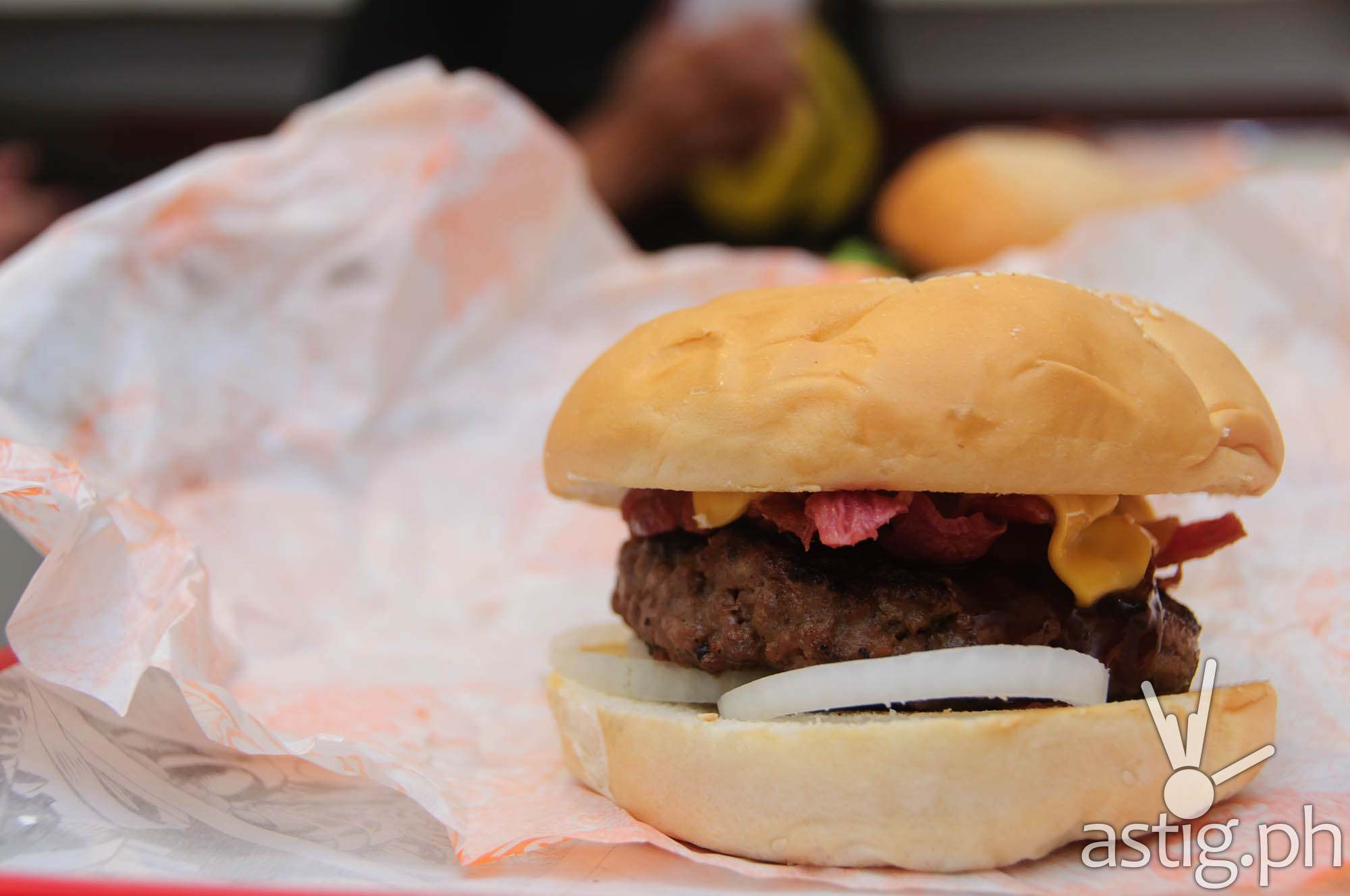 Their best seller is the Bronco (or Django), which costs 200 pesos and comes with cheese, bacon, onion slices, and smokey barbecque sauce.
I personally love sweet food but for some reason I could not get into the Bronco burger. I felt that the sauce was too overpowering and dominated the beef patty, which is what I wanted to taste. Filipinos love strong-tasting food, so perhaps this accounts for its popularity.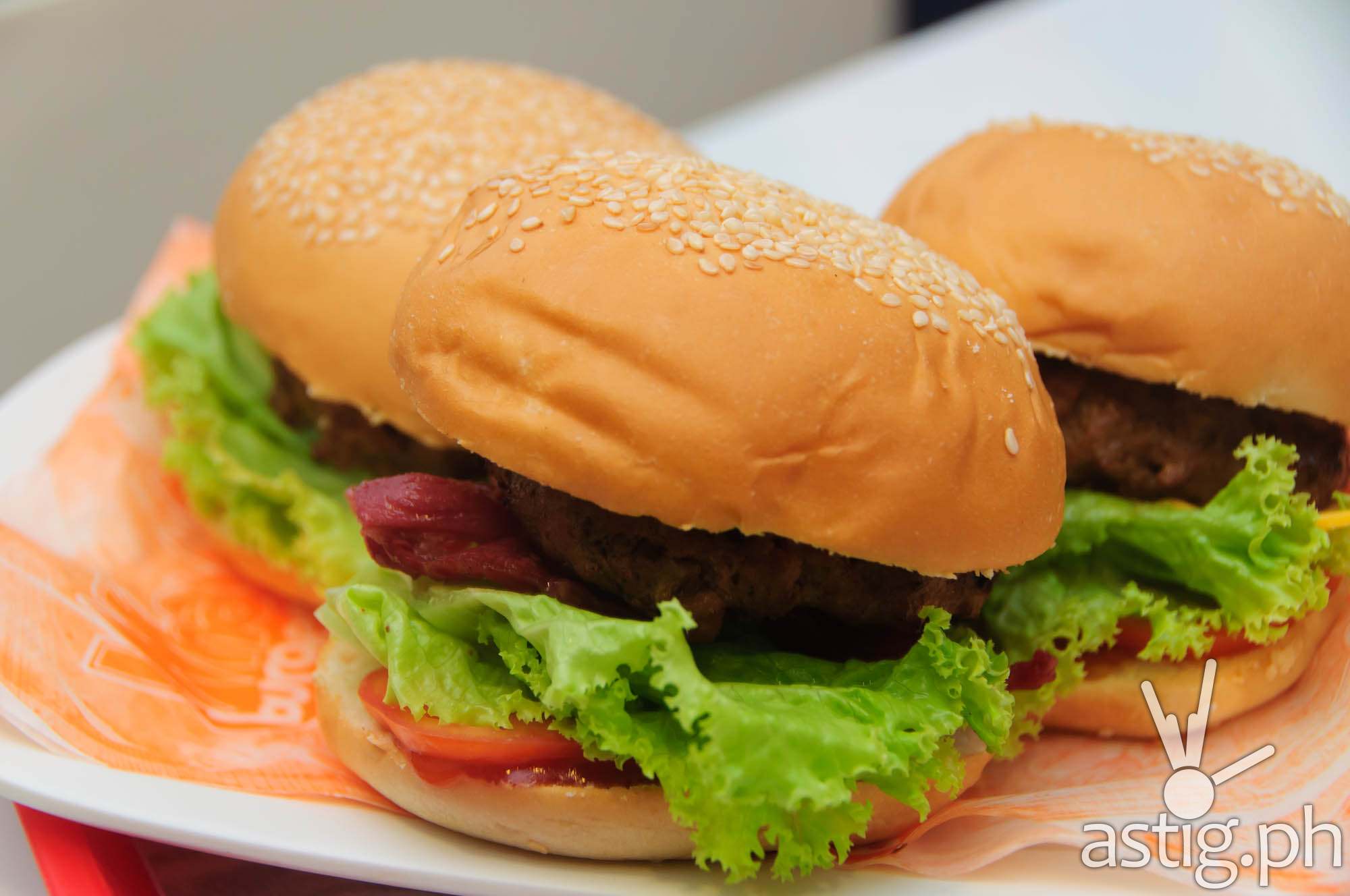 Recently they introduced two new burger variants – the Whammer and the Sliders Trio.
Have you ever had a burger with fried onion strings, onion sauce, cheese, and BLT n a brioche? That's the Whammer. It is important to enumerate all the ingredients. Because, well, of the price. Which is a whopping, whamming 230 pesos. Does that look heavy? Well, it's a heavy burger.
With the Sliders Trio you get 3 mini burgers for the price of a Double Whammy. Normally sliders are – well – smaller than what you get with the Sliders Trio, so that just makes it perfect for sharing and take-outs.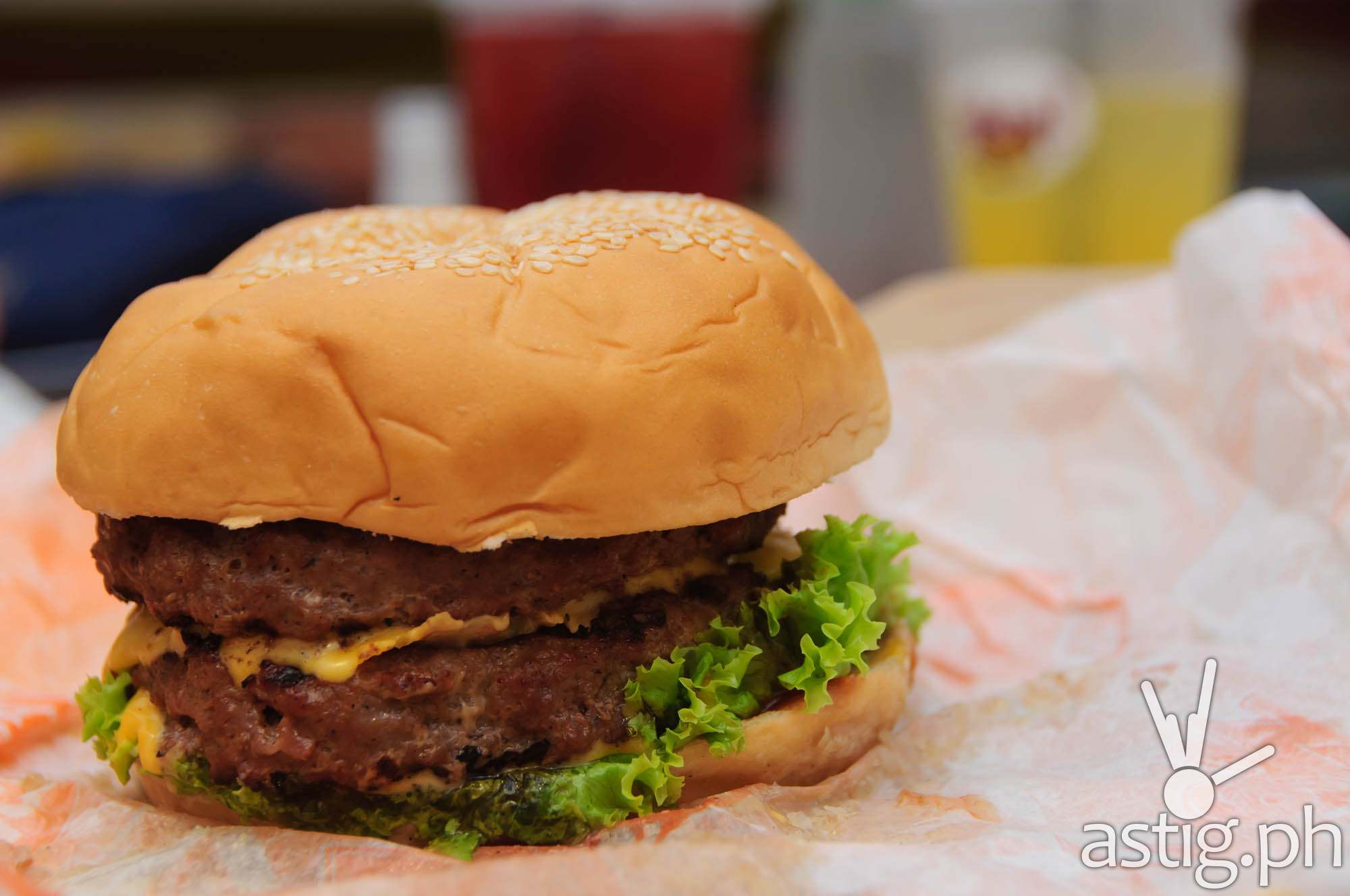 Then there's the Double Whammy, which costs 200 pesos. It's the same as the basic Wham! Burger except you get an extra patty. It's like you are paying 80 pesos for the additional patty, which confuses me because an extra 1/3 pound patty only costs 60 pesos on the menu.
I make my own burgers at home, and the one time I did spend 80 pesos for a 1/3 pound patty was when I bought premium quality, imported burger patties. I'm talking top shelf stuff.
Out of all the burgers in the menu though, I feel that you get the most value out of the Double Whammy.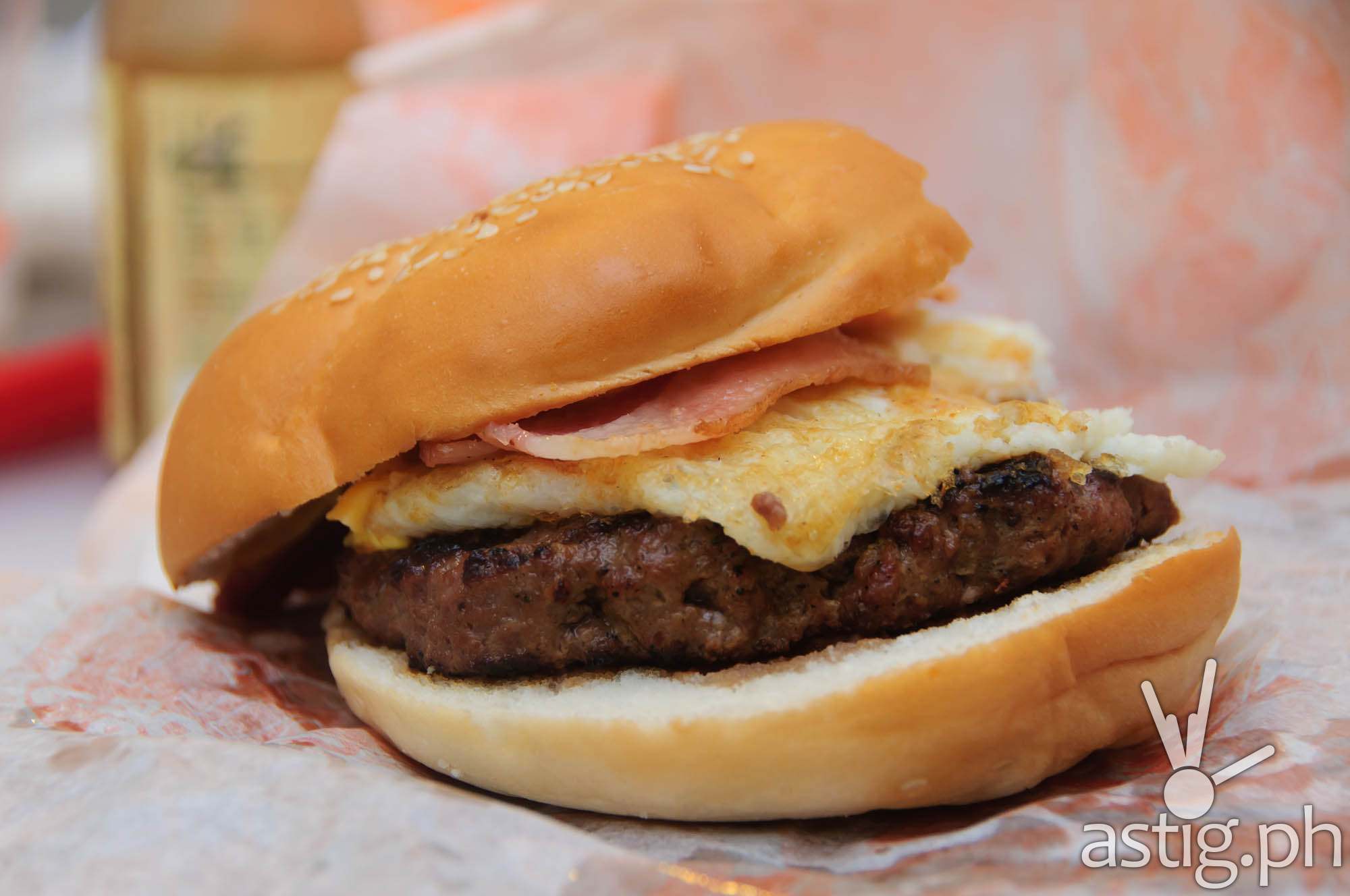 My personal favorite is the Brekkie Burger, which stands for "breakfast" burger. Take your Wham! Burger and load it with bacon strips, fried egg, and cheese.
I am not sure why I liked it. Perhaps it's the bacon. Perhaps it's the egg. Perhaps it's because I just liked the name "Brekkie Burger". One thing is for sure, the bacon strips are thick and flavorful and damn I want some of that bacon right now.
If that's not enough you can choose your own add-ons and customize your burger.
Wow that's a lot of burgers! What about sides and drinks?
Although burgers are the main staple of Wham there are other items available on the menu such as sandwiches, sausages, fries, and spaghetti. I especially enjoyed the pepper poppers and the spaghetti fries.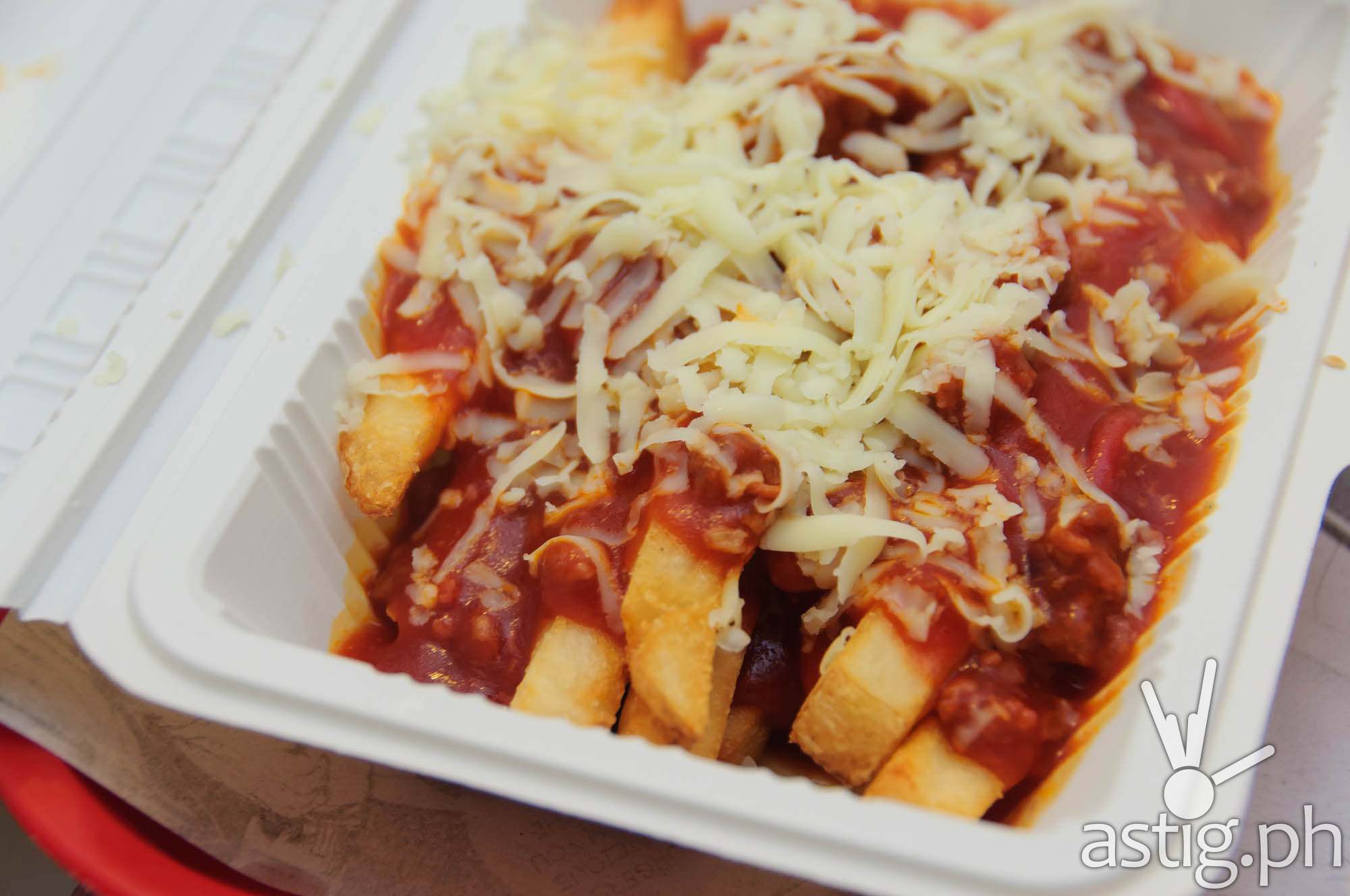 I'm sure you've had your share of experimenting dips with fries, but using spaghetti sauce is a first – and it is actually extremely tasty. Just like regular spaghetti it is topped with grated cheese which is just – mmm – heavenly.
I don't think any other restaurant serves fries with spaghetti sauce. The chef of Wham! Burger tells me that it is an original concept.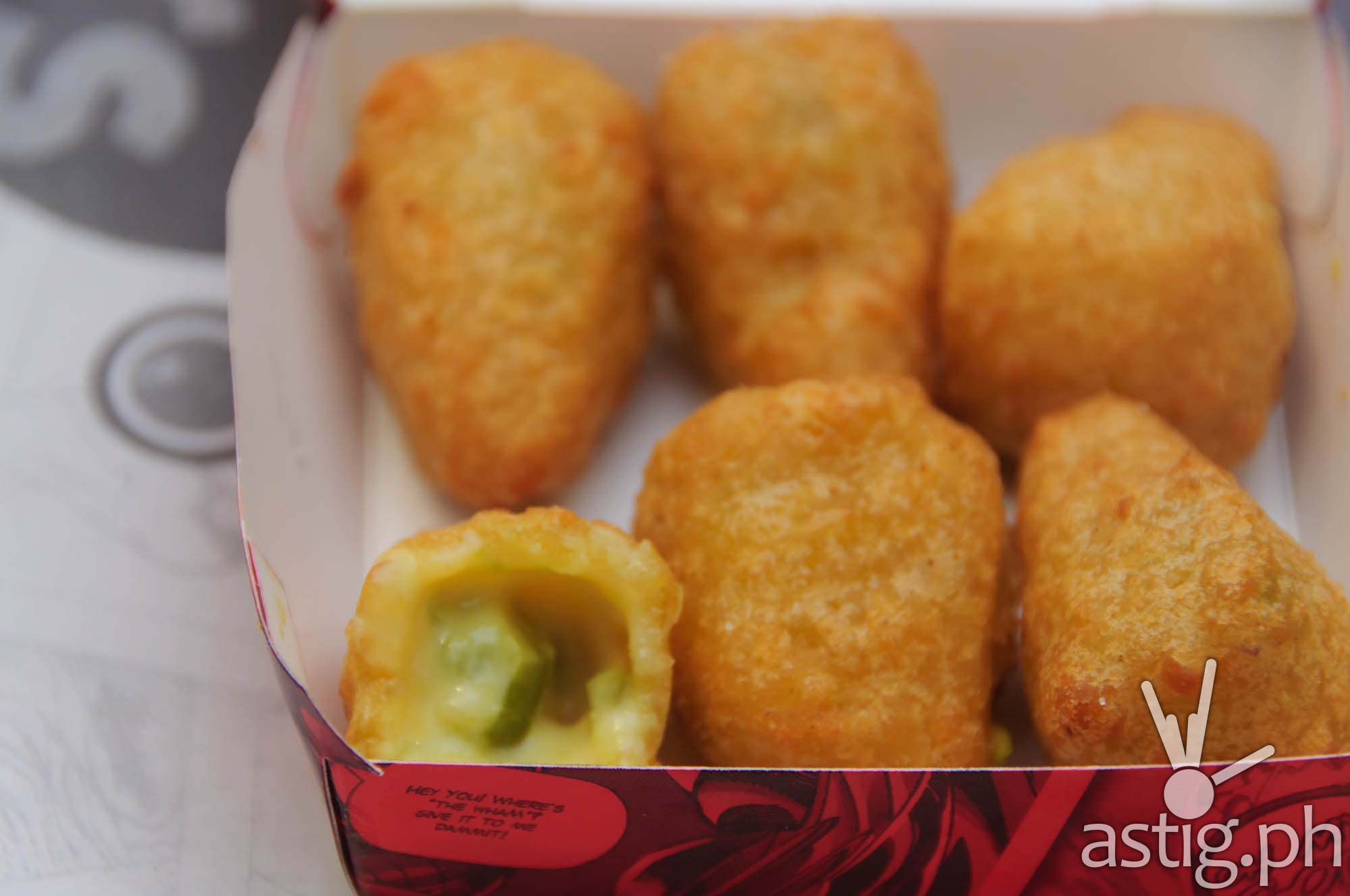 Pepper poppers, on the other hand, are long green peppers with cheese coated in a crunchy flour-based shell. It is deep fried, so every bite is oozing with melted cheese – yummy!
Let's not forget about drinks. Aside from your standard soda they also serve beer, Bavaria, and Katipunan Craft.
There are some beverages that I did not see in the menu, such as four seasons, red iced tea, and pineapple juice. I am not sure why, but the red iced tea is very good. Make sure to try it out.
… and the ambiance?
The Mall of Asia branch is clean and neat. It is, however, a little small. This may pose a problem since it takes 7-9 minutes for the patty to cook. I usually pass by Wham! Burgers in MOA during weekends and there always seems to be enough space though.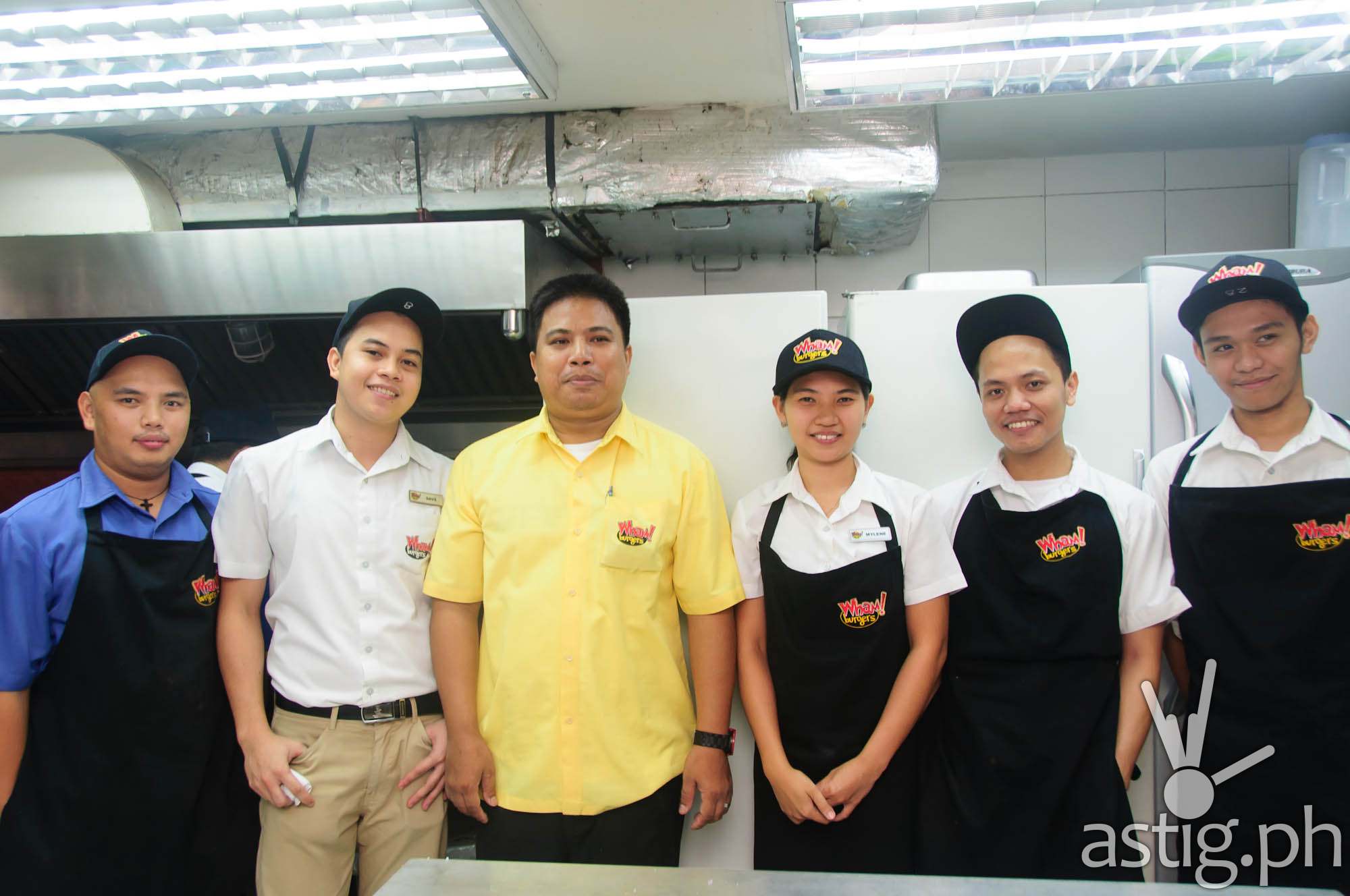 One thing absolutely adorable about Wham! Burgers is the comic book look. You know how comic books use words like BANG! BOOM! and WHAM! to illustrate sound effects in action scenes?
The place is adorned with comic book illustrations and the Western motif leads most customers into thinking that Wham! Burgers is a franchise when actually it was all created and conceived locally.
Wham! Burgers is just the perfect place to chill hang out for an afternoon snack. Maybe even lunch or dinner if you're the type that can live without rice.
So next time you think "hamburgers", add a "W" for WHAMburgers and try them out. Then come back and share your experience in the comments area below!
I leave you all with this tagline that I just came up with,
Wham! Burgers: knockout sa sarap!