Metro Society has been pushing the envelope to bring you unique features and pieces as well as the best that fashion has to offer in the first half of the year.
This month, Metro Society presents its annual Home and Design issue, which opens with the very talented architect Conrad Onglao. Onglao's portfolio is one that definitely speaks for itself. Over the years, he has developed a solid career and a steady group of clientele with his unique aesthetic that combines clean lines of modern architecture with themes of history and culture. In this month's Metro Society, he is featured alongside his new muse, the captivating Zsa Zsa Padilla.
Many were shocked to hear of this pairing earlier in the year, but theirs is truly a love story made for the silver screen—even similar to the romantic films she used to star in. In a feature on the couple, both Onglao and Padilla express how nice it is to have someone to come home to and to simply be with. Given that both are already so successful in their chosen fields and are passionate about the same things, career and family, the pairing is even more perfect.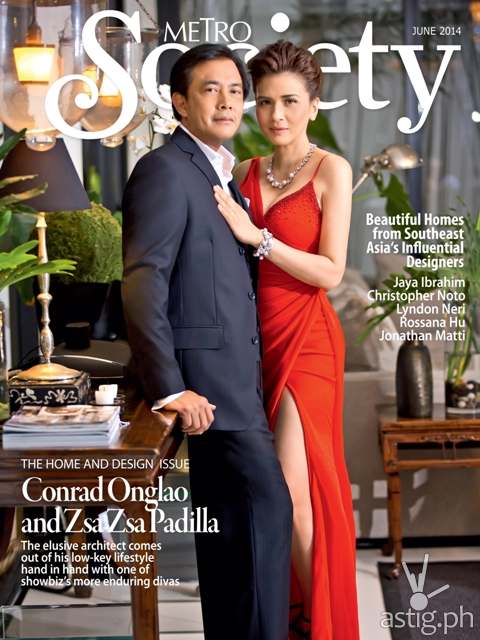 Apart from the feature on the architect and his new muse, Metro Society's Home and Design issue would not be complete without the creative minds behind the most beautiful homes and buildings—both in the Philippines and beyond local shores. This year is all about celebrating nationally acclaimed talent, such as Jaya Ibrahim, Chris Noto, Lyndon Neri, and Jonathan Matti.
All this and more can be found in Metro Society's latest issue, available at all leading bookstores and magazine stands nationwide.