As the filing of Certificate of Candidacy concluded last week, we now have the official list of Filipinos who aspire to be the next President of our country. According to COMELEC, there over 130 who filed their CoC's (kind of long list), including a number of nuisance candidates. Among all these people, to whom shall we bet our future?
As citizens and register voters, we should be educated well in whom to cast our precious votes as it will dictate the destiny of our motherland. For this reason, we compiled the four biggest names in the presidentiable roster.
Read on to find out the top three reasons why you should vote them to be the captain of our gradually sinking boat.
1. Former DILG Secretary Mar Roxas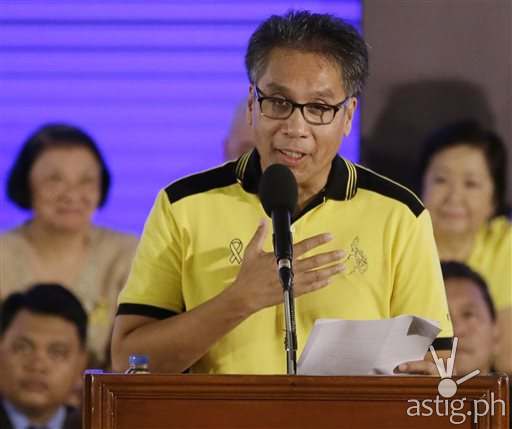 Running mate: Leni Robredo
Political Party: Liberal Party
1. Came from a political family Araneta-Roxas who has a good reputation in handling public offices and businesses. He is a grandson of Former President Manuel Roxas.
2. Dubbed as "Mr. Palengke", Roxas is a veteran leader and public official who has a wide experience in handling various positions in legislative and executive branches of the government including being the number 1 senator in 2004 National elections and serving as secretary of Department of Transportation and Communications and Department of Interior and Local Government.
3. He will continue the current government's advocacy "Tuwid na daan encompassing the entire government insofar as it has affected education, health, and anti-corruption programs.
Awards/Recognitions
In 1996, Roxas was recognized by the World Economic Forum as "one of the Global Leaders of Tomorrow who are expected to shape the future."

In 1999, Roxas was named by the Asiaweek Magazine as "Political Leader of the New Millennium."

The Singapore Government has awarded him as the 16th Lee Kuan Yew Fellow.

On February 16, 2007, the E-Services Philippines awarded Roxas with the E-Champion Award recognizing his pioneering efforts and leadership in making the Philippines a popular outsourcing destination of choice.

On September 18, 2007, Roxas was conferred with the Palanca Awards Gawad Dangal ng Lahi by CP Group Chairman Carlos Palanca III, Palanca Foundation Director General Sylvia Palanca-Quirino and Deputy Director General Christine Quirino-Pacheco for serving as an exemplary leader and role model to the Filipino.
To see his detailed platforms, visit Mar Roxas website.
2. Senator Grace Poe-Llamansares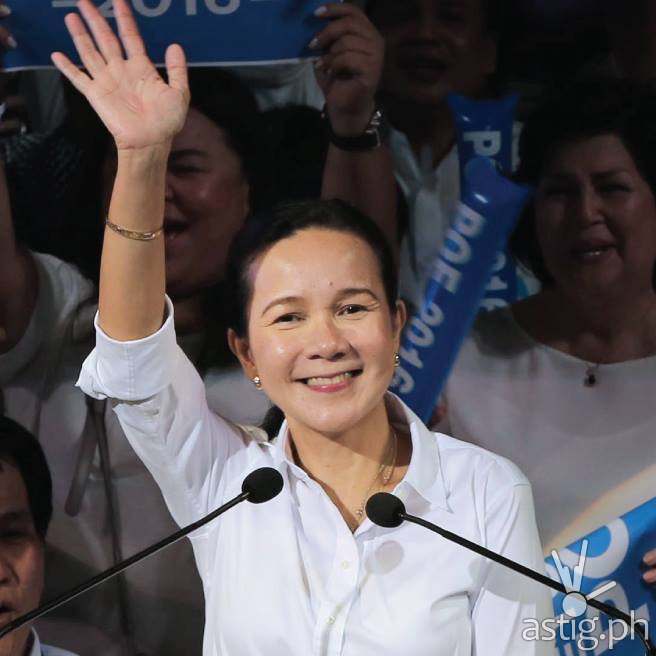 Running mate: Francis "Chiz" Escudero
Political Party: Independent but supported by a Coalition composed of Nationalist People's Coalition (NPC), Nacionalista Party (NP), National Unity Party (NUP) and the Makabayan bloc
1. The daughter of King of Philippine Movies Fernando Poe Jr who is known in serving the masses.
2. She had surprised us when she landed on the top spot during the 2013 senatorial elections. She also served as chairwoman of Movies and Television Review Classification Board (MTRCB).
3.  Her advocacy is to sustain the reforms made by the Aquino government including the passage of Freedom of Information Bill, broaden the conditional cash transfer program among others.
20 point agenda:
Inclusive growth, global competitiveness and open government
Education
Improving agriculture, including land reform, irrigation and mechanization
Improved infrastructure, including the Internet
Government-supported industrialization to induce manufacturing and create more jobs
Improved transparency with the enactment of the Freedom of Information Law
Reduced taxes and improved wages and benefits
Lower power rates while boosting power generation with more attention on renewable energy
Increased legal support to distressed overseas Filipino workers and reduced fees and red tape for those applying for work abroad
Intensified campaign against crime and drugs
Peace talks with various groups fighting the government
Respect for human rights and the needs of vulnerable sectors, including persons with disabilities, indigenous people, the urban poor, women, children, foundings, the LGBT sector and senior citizens
Health, including adequately staffed and equipped hospitals in every city, and strengthening the Philhealth program
More roads and trains not only in Metro Manila but in major centers around the country and increasing infrastructure spending to seven percent of GDP
More support for arts, culture and sports
The establishment of an Emergency Management Department to address climate change and disaster preparedness
Strengthened tourism programs
A broadened conditional cash transfer program and improved nutrition for the young
3. Senator Miriam Defensor-Santiago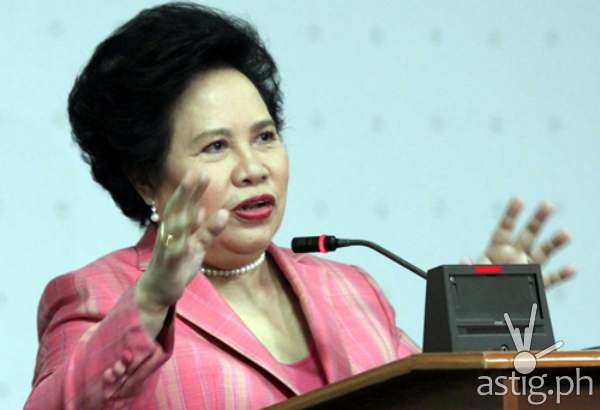 Running mate: Bongbong Marcos
Political Party: Independent
1. Coined as the "Iron lady of Asia." Known for her monumental educational background having studied numerous law courses in prestigious universities abroad such as Harvard and Yale Universities. She has amazing list of accomplishments including several law books, experienced judge in the regional trial court, U.N. legal counsel and even got invited to International Criminal Court as judge. Here are some of her accomplishments.
Magsaysay Award for Government Service, 1988, Asian equivalent of the Nobel Prize, Magsaysay Awards Foundation
TOYM Award for Law, 1985 (The Outstanding Young Men) Opened to Women 1984, Philippine Jaycees
TOWNS Award for Law, 1986 (The Outstanding Women in the Nation's Service), Philippine Lions
Most Outstanding Alumna in Law, University of the Philippines, 1988
Gold Vision Triangle Award for government service, 1988, YMCA Philippines
Republic Anniversary Award for law enforcement, 1988, Civic Assembly of Women of the Philippines
Golden Jubilee Achievement Award for public service, 1990, Girl Scouts of the Philippines
Hall of fame, 2015, Philippine Judges
2. The most accomplished senator to date who had the most number of bills made and passed in the congress.
3. She will impose on Philippine politics what she thinks we need so badly: internal discipline, a defined vision and policy agenda.
To see her detailed platforms, visit Miriam Defensor-Santiago website.
4. Vice President Jejomar Binay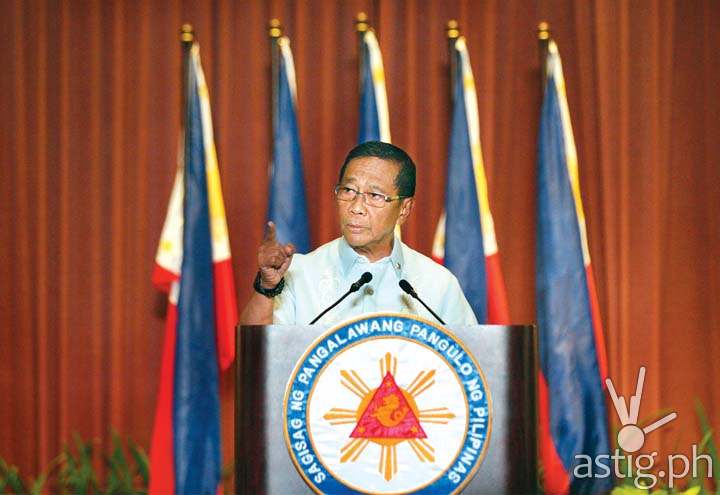 Running mate: Gringo Honasan
Political Party: United Nationalist Alliance
1. The current vice-president of the Philippines who has a great reputation in making Makati a first class city and central business district.
2. He was one of many anti-Marcos activists whom then President Corazon C. Aquino appointed to the local governments.
3. His agenda includes inclusive economic growth, progressive tax collection and elimination of graft and corruption. He aims to improve the situation in the state colleges and universities, public health hospitals and clinics, police stations, and mass housing. An increase in both salaries and benefits of public school teachers and health workers, members of the police force, and other public servants was also promised. In his plans include a redesigning and re-engineering of the transportation system of the country, as well as prioritizing the building of more infrastructures and the creation of more jobs. He proposes to change the constitution to boost the economy, and speed up the country's development.
Awards/Recognitions:
2003, Most Outstanding City Mayor of Makati and Consumers Advocate Award

2006 World Mayor Award granted by London-based City Mayors

Outstanding Chairman, Metro Manila Development Authority (MMDA)

Award on the Luzon Campaign Medal

Centennial Medal of Honor

Outstanding Public Official and Great Achiever
After knowing more of them, who will you vote so far? Comment your thoughts.