Filipino food has caught worldwide attention for its tastefulness and diverse flavor profile.
In the Philippines, finding a good restaurant can be challenging since there are so many places to choose from.
We recently had dinner at Mangan Restaurant in Glorietta Makati. We think this is one of those Filipino places to be if want to impress a visitor from another country.
1. The ambiance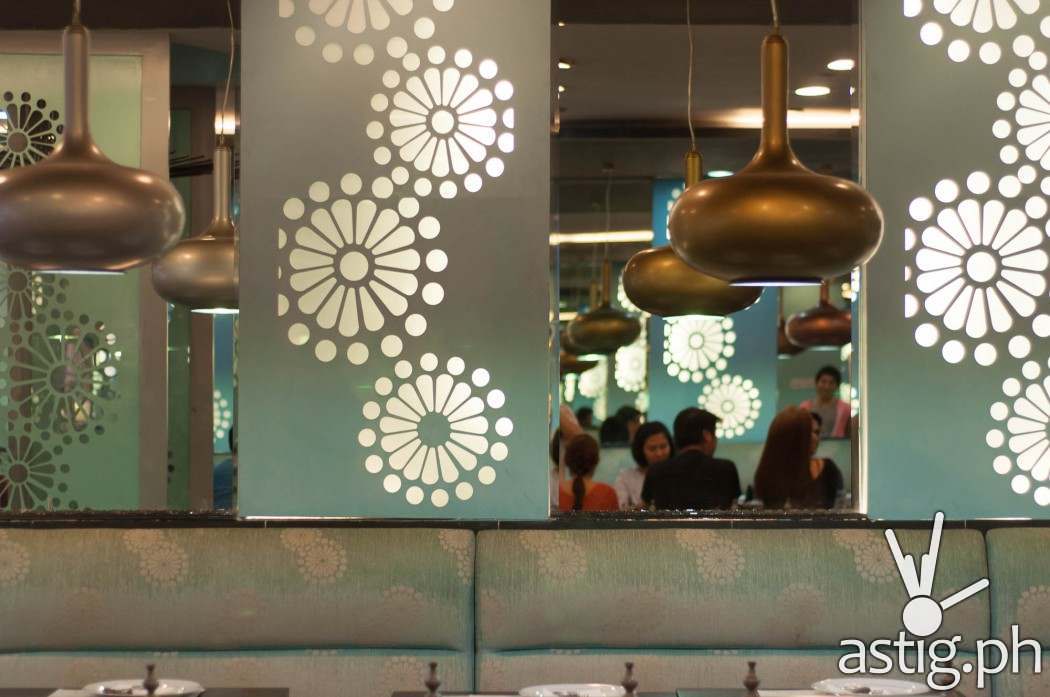 I mean, just look at the interiors – it's simple yet classy.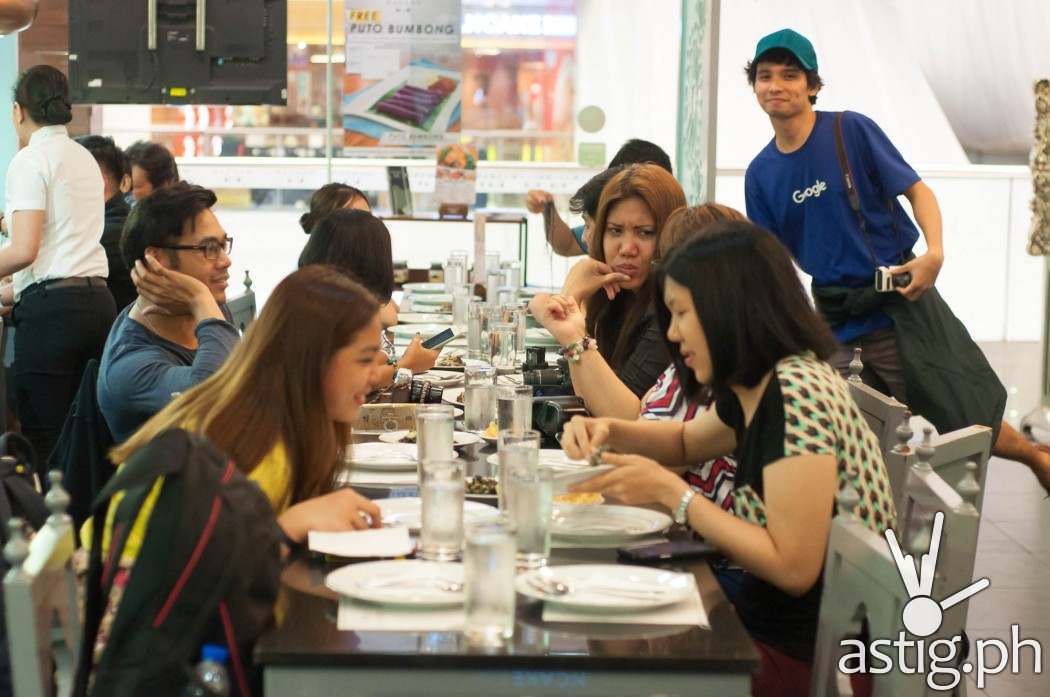 The people here are super classy too – especially our blogger friends! That's Duane Bacon of duanebacon.com in the blue Google shirt. Hi, Duane!
"Mangan" is a Kapampangan word that translates to "let's eat" – nothing like a little bit of trivia to get your visitor in the mood for some tasty, tasty Filipino dishes!
2. Really good Kare-Kare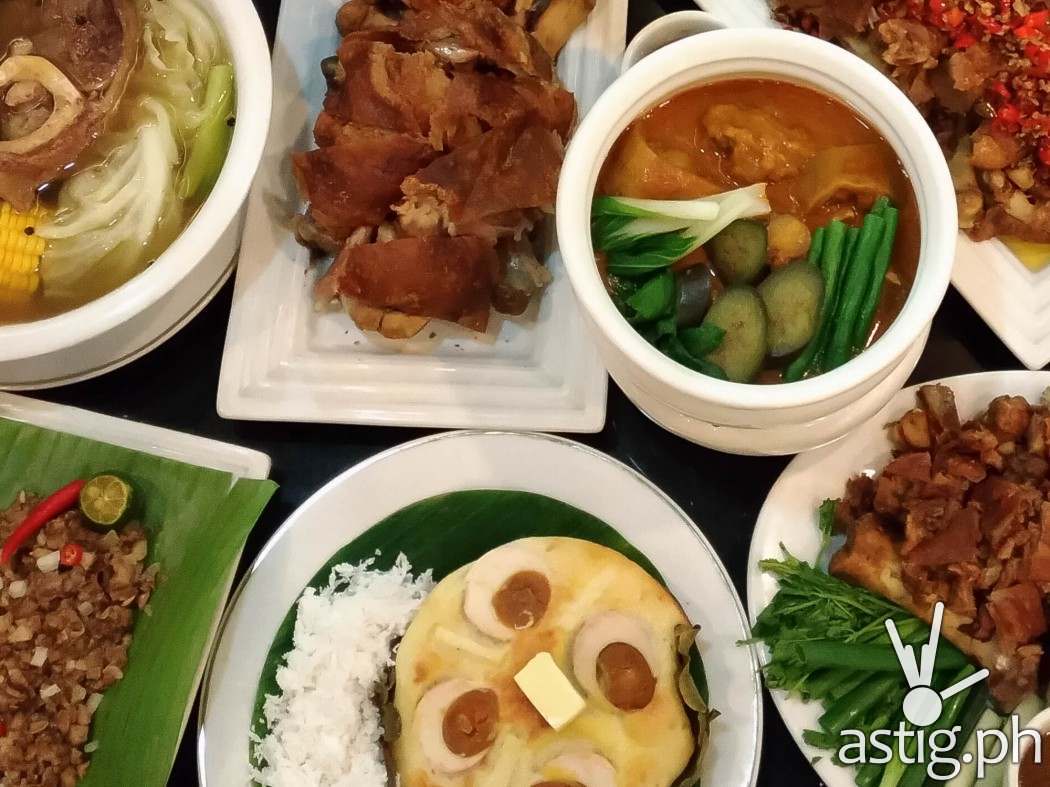 Filipinos are not big on appetizers – go straight for the big guns and unleash the Kraken!!! By Kraken, we meant Kare-Kare.
Just the smell of the peanut sauce made our mouth water. The beef is quite tender. To this dish, you must surrender. Even if it's not December. What month is it, don't you remember?
3. Crispy Pata to die for
Ask if your guest is up for the famous Filipino "putok-batok" treats, then proceed to order some Crispy Pata even if they say no. Make sure you have an ambulance ready.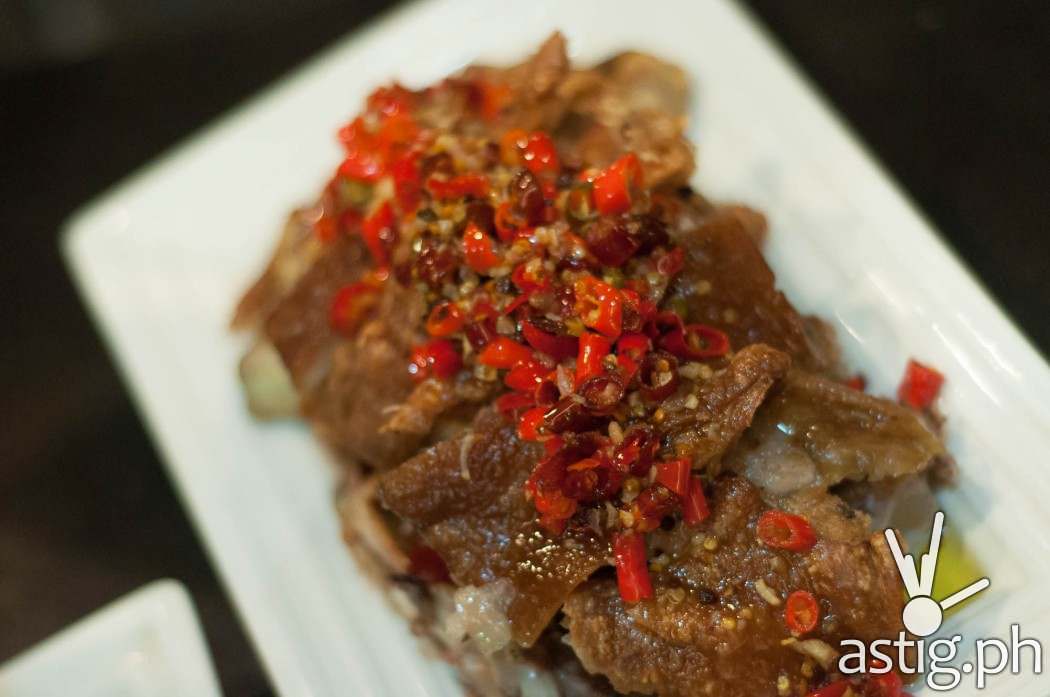 If you are really angry, order the not-so-spicy version aptly named Patang Demonyo. It's not really that spicy. Nope, not even a little.
4. Pancit Pusit: Welcome to the dark side
What's a celebration without noodles? After all, your foreigner friend just arrived in the most amazing country in the entire universe!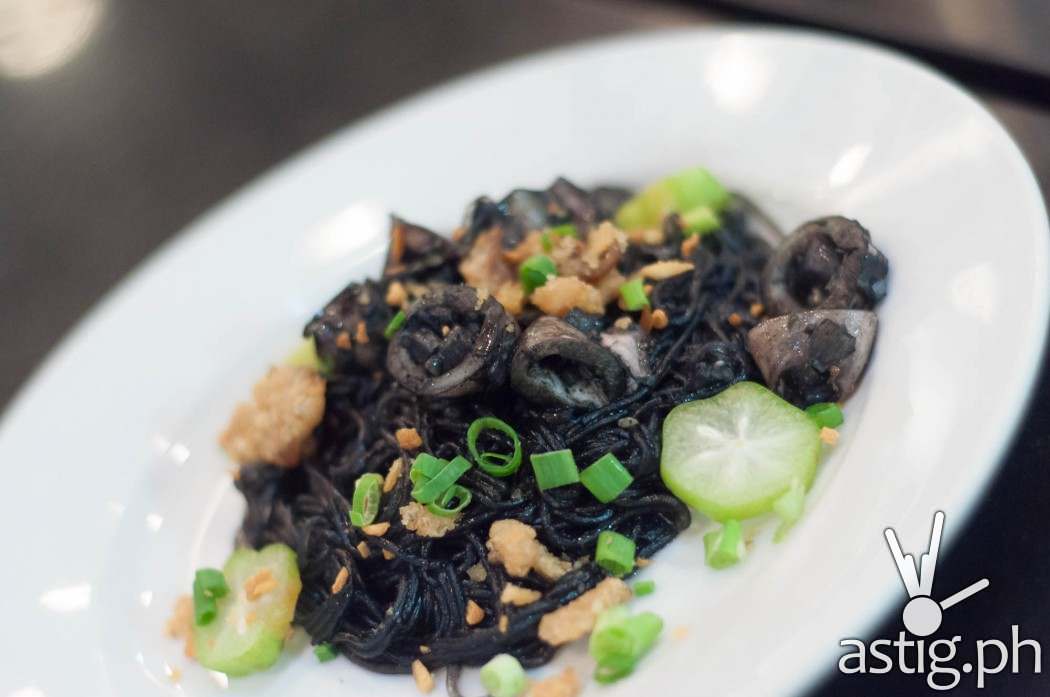 So, take one last look at your wallet and order the Pancit Pusit. Even if you have never had pancit pusit before, pretend you are an expert and tell your guest that you will not find black noodles anywhere else in the world.
Take one bite of this tasty, tasty, black dish and realize that you will never have pancit any other way, ever.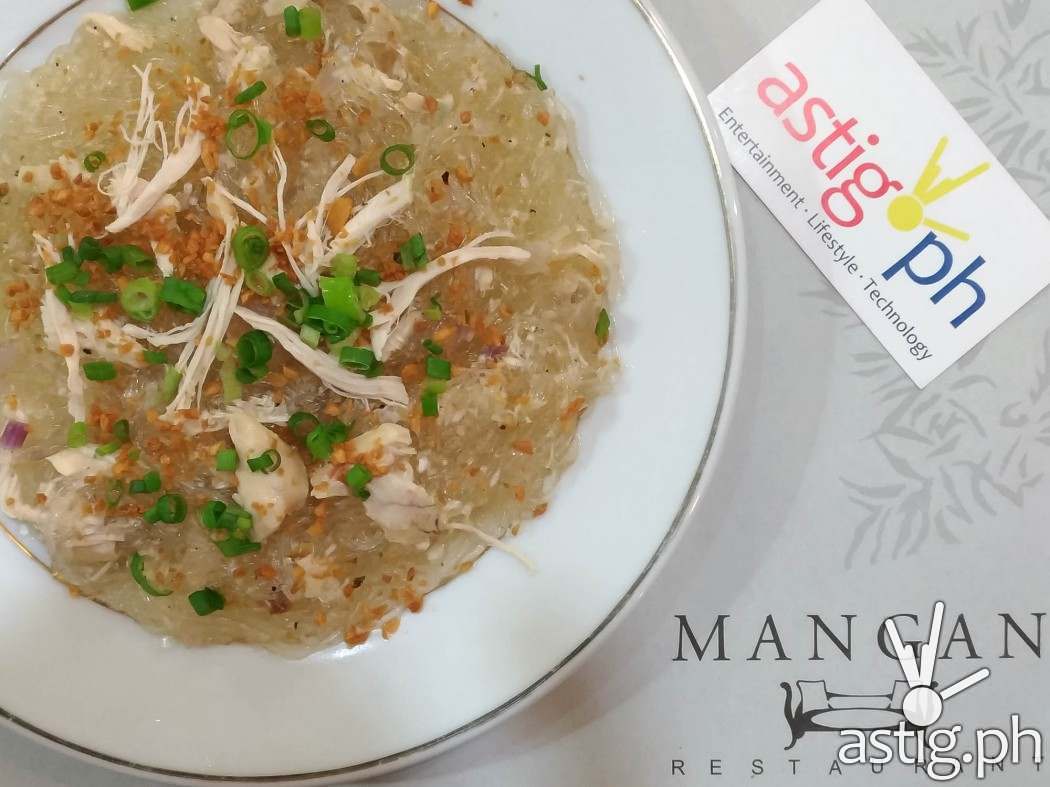 Then, proceed to order Pancit Puti because you're the host and Filipinos are known for their hospitality. Also because you want your guest to try the other side of the fence.
If you've never had Pancit Puti before, beware: this is a deceptively tasty dish.
We suggest you tell your server to ease up on the salt, though. Ours was a little on the salty side, and just like the force, you would want this dish to be well-balanced – unlike your wallet which by now should be on the empty side.
5. Sweet, sweet desserts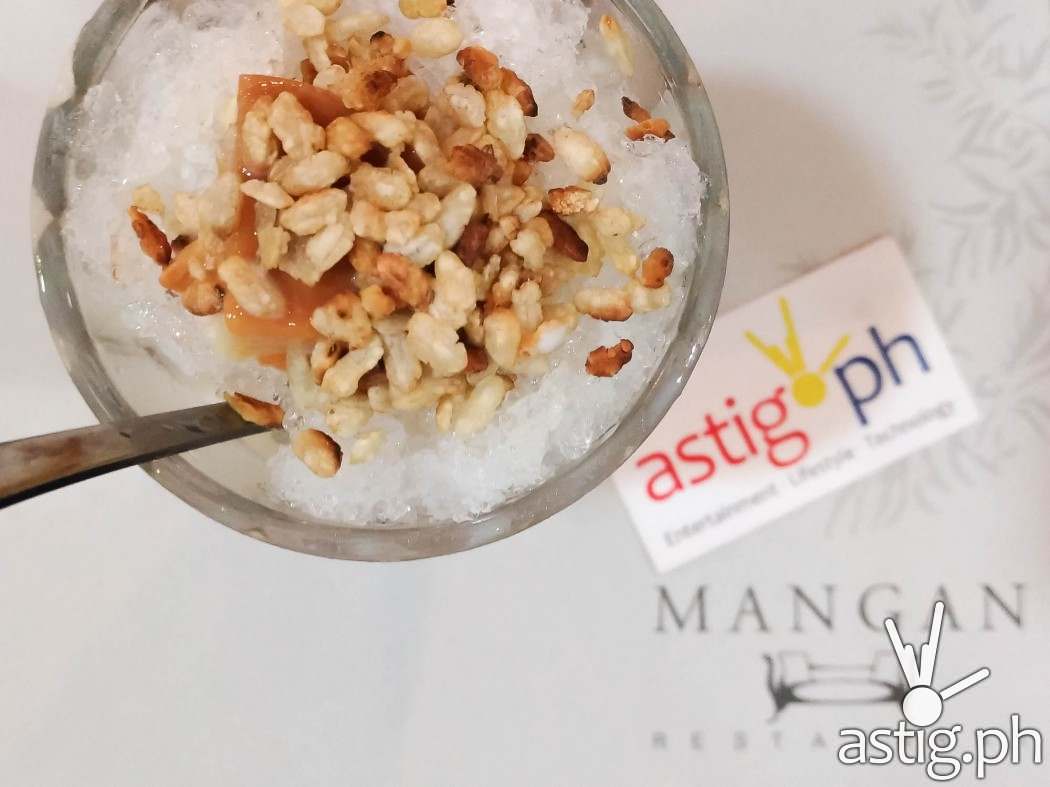 Finish things off with some sweet, sweet desserts that you can neither spell nor pronounce properly – like the Tibok-Tibok with Latik.
It's a custard-ish dessert made with carabao milk. Like we say in Tagalog, "galing sa doo-doo ng cow".
Another sweet yet hard to pronounce dessert is the Lelut Balatong, or "ginataang monggo", a combination of toasted mung beans, sticky rice, and coconut milk.
What makes Mangan's version heavenly is that you can really taste the coconut oil, and that makes the difference.
Like, you know, it's so sarap, dudepare.
(Christmas) BONUS: Puto Bumbong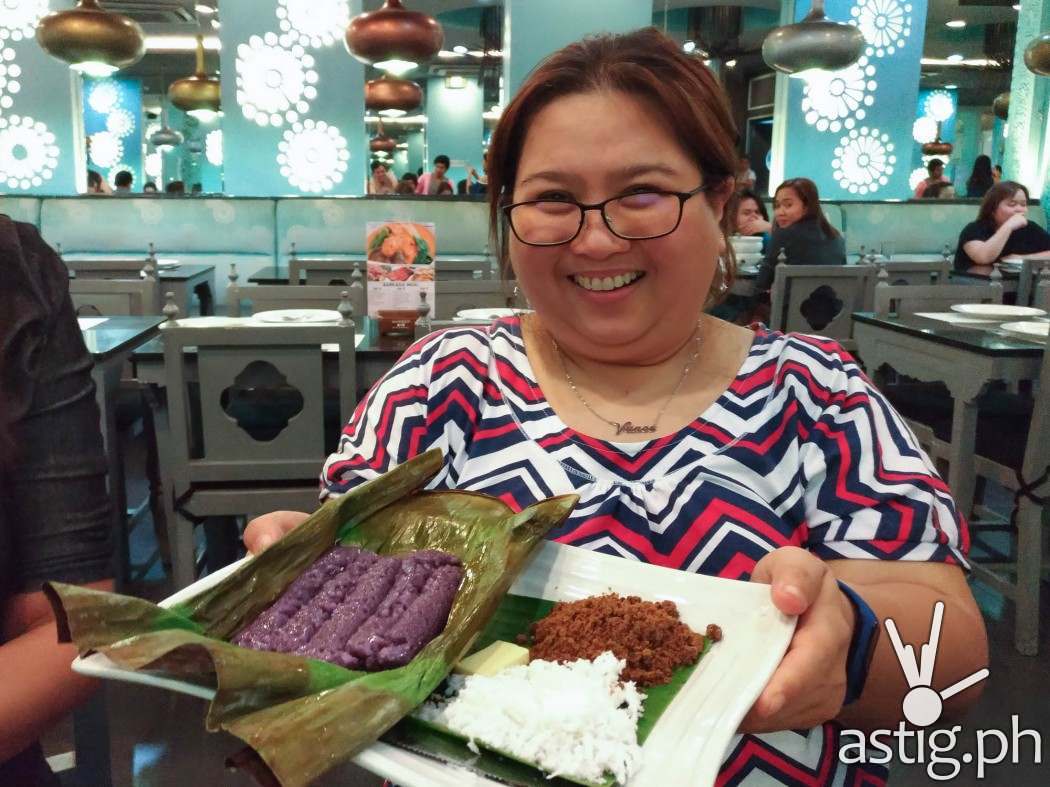 If you want to be extra cruel to your guest, order a batch of Puto Bumbong.
Then, explain how this is usually a Christmas delicacy, and that it brings back memories of your home, friends, and family. Proceed to cry tears of joy with your guest. After all, it's time to settle the bill, and you're paying.
Welcome to the Philippines. Mangan ta!
Mangan Restaurant
Facebook: https://www.facebook.com/manganrestaurant
Mangan Restaurant branches:
Mall of Asia: 556.2783
The Annex, SM City North EDSA: 332.2320
Robinsons Place Manila: 256.9510
Robinsons Galleria: 470.6353
Glorietta 2, Ayala Center: 776.8475
Mangan Restaurant photos