Award-winning actress Angeli Bayani and actor-singer Mikoy Morales announced the nominees for the 66th FAMAS AWARDS during a press conference held at Victorino's Restaurant in Quezon City on May 3, 2018. Winners will be announced during the 66TH GABI NG PARANGAL on Sunday, June 10, 2018, at The Theatre at Solaire.
Winners in 2017 film festivals received multiple nominations, with Cinemalaya winner RESPETO leading all films with 15 nominations, followed by QCinema Best Film BALANGIGA: HOWLING WILDERNESS with 11 and Metro Manila Film Festival Best Picture ANG LARAWAN with 6, the same with the Philippine entry to the Oscars BIRDSHOT and the documentary YIELD. With 5 nominations are LOVE YOU TO THE STARS AND BACK, CHANGING PARTNERS, NERVOUS TRANSLATION and HISTORIOGRAPHIKA ERRATA.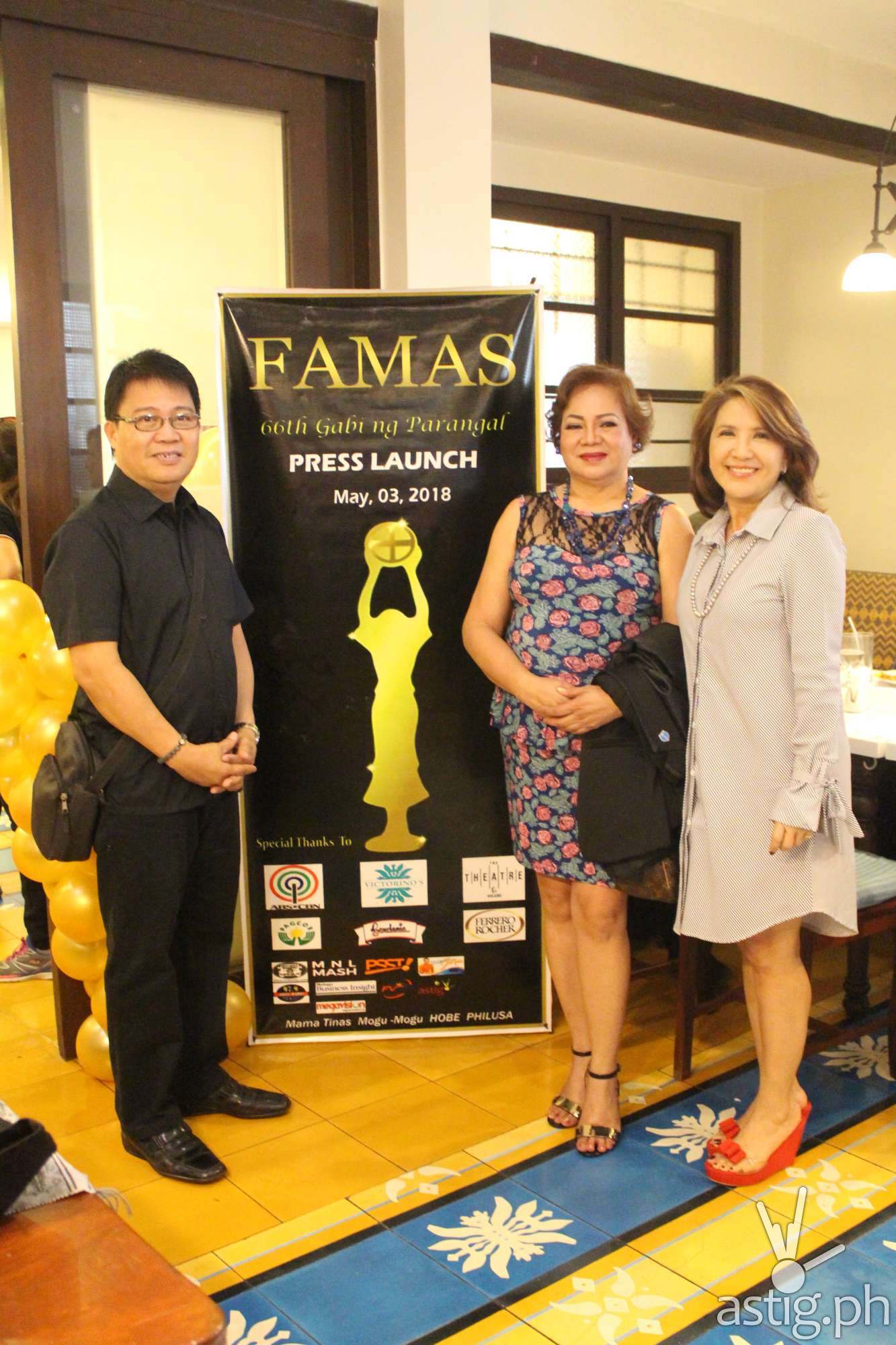 In the acting categories, DINGDONG DANTES (Seven Sundays) faces competition from award-winning actors BEMBOL ROCO (What Home Feels Like), NONIE BUENCAMINO (Smaller and Smaller Circles), ALLEN DIZON (Bomba), JOJIT LORENZO (Changing Partners) and NOEL COMIA JR. (Kiko Boksingero). Also receiving BEST ACTOR nominations are JOSHUA GARCIA ( Love You to the Stars and Back), JUSTINE SAMSON (Balangiga: Howling Wilderness), TIMOTHY CASTILLO (Neomanila) and ABRA (Respeto).
The BEST ACTRESS nominees include MAJA SALVADOR (I'm Drunk, I Love You) and JULIA BARRETO (Love You to the Stars and Back), along with IZA CALZADO (Bliss), ANGELI BAYANI (Bagahe), GLORIA DIAZ (Si Apple at si Chedeng), DEXTER DORIA (Paki), AGOT ISIDRO (Changing Partners), NATHALIE HART (Historiographika Errata), JOANNA AMPIL (Ang Larawan) and MAX EIGENMANN (Kulay Lila ang Gabi na Binudburan ng mga Bituin).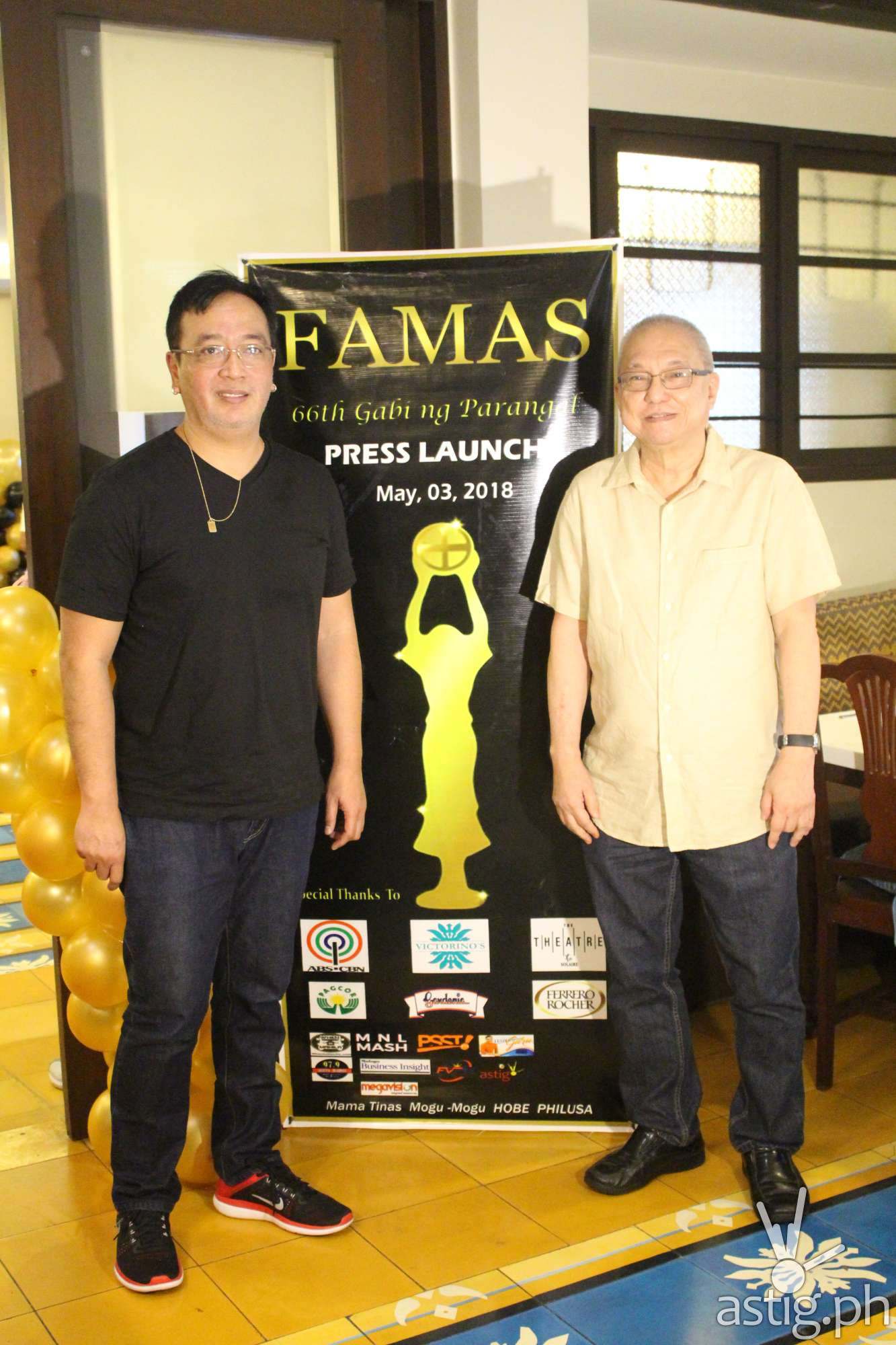 AGA MUHLACH (SEVEN SUNDAYS) leads the nominees in the Best Supporting Actor category, which include DIDO DE LA PAZ (Respeto), EDGAR ALLAN GUZMAN (Deadma Walking), JESS MENDOZA (Sa Gabing Nanahimik ang mga Kuliglig), JOHN ARCILLA (Birdshot), LOONIE (Respeto), MON CONFIADO (Long-Haired Nights), RICKY DAVAO (Paki), and ROBERT AREVALO (Ang Larawan).
For BEST SUPPORTING ACTRESS, the nominees are ADRIENNE VERGARA (Bliss), ANGELIE SANOY (Bomba), CHAI FONACIER (Respeto), CRISTINE REYES (Seven Sundays), IRMA ADLAWAN (What Home Feels Like), ODETTE KHAN (Barboys), and THEA YRASTORZA (Respeto).
For this year, there will also be awards in the DOCUMENTARY and SHORT FILM categories.
All of the nominees will be feted and receive their nomination certificates during the Nominees' Night to be scheduled before the awards ceremonies.
66th FAMAS Awards 2018 full list of nominees
BEST PICTURE
ANG LARAWAN
BALANGIGA: HOWLING WILDERNESS
BIRDSHOT
LOVE YOU TO THE STARS AND BACK
NERVOUS TRANSLATION
PAKI
RESPETO
THE CHANTERS
TU PUG IMATUY (THE RIGHT TO KILL)
YIELD
BEST DIRECTOR NOMINEES
KHAVN DELA CRUZ – BALANGIGA: HOWLING WILDERNESS
MIKHAIL RED – BIRDSHOT
THOP NAZARENO – KIKO BOKSINGERO
ANTOINETTE JADAONE – LOVE YOU TO THE STARS AND BACK
SHIREEN SENO – NERVOUS TRANSLATION
TREB MONTERAS II – RESPETO
ARNEL BARBARONA – TU PUG IMATUY (THE RIGHT TO KILL)
VICTOR DELOTAVO TAGARO / TOSHIHIKO URIU – YIELD
BEST ACTOR NOMINEES
JUSTINE SAMSON – BALANGIGA: HOWLING WILDERNESS
ALLEN DIZON – BOMBA
JOJIT LORENZO – CHANGING PARTNERS
NOEL COMIA Jr. – KIKO BOKSINGERO
JOSHUA GARCIA – LOVE YOU TO THE STARS AND BACK
TIMOTHY CASTILLO – NEOMANILA
ABRA – RESPETO
DINGDONG DANTES – SEVEN SUNDAYS
NONIE BUENCAMINO – SMALLER AND SMALLER CIRCLES
BEMBOL ROCO – WHAT HOME FEELS LIKE
BEST ACTRESS NOMINEES
JOANNA AMPIL – ANG LARAWAN
ANGELI BAYANI – BAGAHE
IZA CALZADO – BLISS
AGOT ISIDRO – CHANGING PARTNERS
NATHALIE HART – HISTORIOGRAPHIKA ERRATA
MAJA SALVADOR – I'M DRUNK, I LOVE YOU
MAX EIGENMANN – KULAY LILA ANG GABI NA BINUDBURAN PA NG MGA BITUIN
JULIA BARRETTO – LOVE YOU TO THE STARS AND BACK
DEXTER DORIA – PAKI
GLORIA DIAZ – SI APPLE AT SI CHEDENG
BEST SUPPORTING ACTOR NOMINEES
ROBERT AREVALO – ANG LARAWAN
JOHN ARCILLA – BIRDSHOT
EDGAR ALLAN GUZMAN – DEADMA WALKING
MON CONFIADO – MGA GABING KASINGHABA NG HAIR KO
RICKY DAVAO – PAKI
DIDO DE LA PAZ – RESPETO
LOONIE – RESPETO
JESS MENDOZA – SA GABING NANAHIMIK ANG MGA KULIGLIG
AGA MUHLACH – SEVEN SUNDAYS
BEST SUPPORTING ACTRESS NOMINEES
ODETTE KHAN – BARBOYS
ADRIENNE VERGARA – BLISS
ANGELI SANOY – BOMBA
CHAI FONACIER – RESPETO
YAYO AGUILA – KIKO BOKSINGERO
THEA YRASTORZA – RESPETO
CRISTINE REYES – SEVEN SUNDAYS
IRMA ADLAWAN – WHAT HOME FEELS LIKE
BEST ORIGINAL SCREENPLAY NOMINEES
KHAVN DELA CRUZ, ACHINETTE VILLAMOR, JERRY GRACIO – BALANGIGA: HOWLING WILDERNESS
JASON PAUL LAXAMANA – INSTALADO
ANTOINETTE JADAONE – LOVE YOU TO THE STARS AND BACK
GIANCARLO ABRAHAN – PAKI
TREB MONTERAS II, NJEL DE MESA – RESPETO
FATRICK TABADA – SI CHEDENG AT SI APPLE
ANDRIAN LEGASPI, JOHN BEDIA – THE CHANTERS
BEST ADAPTED SCREENPLAY NOMINEES
ANG LARAWAN
From the musical of the same title with libretto by Rolando Tinio.
Adapted screenplay by Waya Gallardo with contributions from Celeste Gallardo,Loy Arcenas, Alemberg Ang, Dennis Marasigan, Girlie Rodis and Ryan Cayabyab
CHANGING PARTNERS
Based on the musical of the same title by Vincent de Jesus
Adapted screenplay by Vincent de Jesus and Lilit Veejay De Los Reyes
SMALLER AND SMALLER CIRCLES
Based on the novel of the same title by F.H. Batacan
Adapted screenplay by Ria Limjap ang Moira Lang
BEST CINEMATOGRAPHY NOMINEES
T.M. MALONES- BACONAUA
ALBERT BANZON – BALANGIGA: HOWLING WILDERNESS
MYCKO DAVID – BIRDSHOT
ALEX ESPARTERO – HISTORIOGRAPHIKA ERRATA
BOY YÑIGUEZ – LAST NIGHT
IKE AVELLANA – RESPETO
VICTOR DELOTAVO TAGARO – YIELD
BEST PRODUCTION DESIGN NOMINEES
IAN MADRIGAL, KRISTINE KINTANA, & KHAVN – ALIPATO
GINO GONZALES – ANG LARAWAN
MARIJA VICENTE, TIMMY HARN AND ZEUS BASCON – BALANGIGA: HOWLING WILDERNESS
MICHAEL N. ESPANOL – BIRDSHOT
DONALD CAMON / JULIUS ERVING SOMES – HISTORIOGRAPHIKA ERRATA
LEEROY NEW – NERVOUS TRANSLATION
POPO DIAZ – RESPETO
BEST EDITING NOMINEES
CARLO FRANCISCO MANATAD – BALANGIGA: HOWLING WILDERNESS
LAWRENCE ANG – RESPETO
JERROLD TAROG – BLISS
MARYA IGNACIO – CHANGING PARTNERS
JOHN TORRES, SHIREEN SENO – NERVOUS TRANSLATION
VICTOR DELOTAVO TAGARO – YIELD
BEST SOUND NOMINEES
MIKKO QUIZON, STEPHEN LOPEZ, KATHRINE ARIANE – BALANGIGA: HOWLING WILDERNESS
AIAN CARO – BIRDSHOT
MIKKO QUIZON – BLISS
DEMPSTER SAMARISTA / KRYSVER GOMEZ – BUNDOK BANAHAW, SACRED AND PROFANE
MIKKO QUIZON, JASON CONANAN, KATHRINE SALINAS, JOHN PEREZ – NERVOUS TRANSLATION
CORRINE DE SAN JOSE – RESPETO
VICTOR DELOTAVO TAGARO – YIELD
BEST MUSICAL SCORE NOMINEES
RYAN CAYABYAB – ANG LARAWAN
KHAVN DELA CRUZ – BALANGIGA: HOWLING WILDERNESS
FRANCIS DE VEYRA – HISTORIOGRAPHIKA ERRATA
JOEE MEJIAS – MEDUSAE
JAY OLIVER DURIAS – RESPETO
ALYANA CABRAL – THE DEBUTANTES
ARNEL BARBARON – TU PUG IMATUY (THE RIGHT TO KILL)
BEST VISUAL EFFECTS NOMINEES
IAR ARONDAING – INSTALADO
MOTHERSHIP – THE GHOST BRIDE
IMAGINARY FRIENDS STUDIOS -PWERA USOG
BEST ORIGINAL SONG NOMINEES
TWELVE – 12
ANG PANDAY – ANG PANDAY
GITIK –GITIK – BALANGIGA: HOWLING WILDERNESS
KATUROG NA – BALANGIGA: HOWLING WILDERNESS
YUNG PAKIRAMDAM – CHANGING PARTNERS
ALAALARAWAN – KIKO BOKSINGER
PARA SA RESPETO – RESPETO
KABUWISIT BA – RESPETO
ALIPATO: THE VERY BRIEF LIFE OF AN EMBER – ALIPATO
TRADE MARK – HISTORIOGRAPHICA ERRATA
BEST SHORT FILM NOMINEES
DORY – BEVERLY ANNE G. RAMOS
GIKAN SA NGITNIT NGA KINAILADMAN – KIRI DALENA
HILOM – P.R PATINDOL
ALIENS ATA – KARL GLENN L. BARIT
SI ASTRI MAKA SI TAMBULAH – XEPH SUAREZ
LINK – MIKE ESTEVES
ENGKWENTO – RYAN MACHADO
BABYLON – KEITH DELIGERO
SORRY FOR THE INCONVENIENCE – CARL ADRIAN CHAVEZ
SUERTE – CARLO RHENZ C. FAJARDA
BEST DOCUMENTARY FILM NOMINEES
YIELD BY – VICTOR DELOTAVO TAGARO / TOSHIHIKO URIU
GOD BLISS OUR HOME BY – NAWRUS PAGUIDOPON
SA PALAD NG DANTAONG KULANG BY – JEWEL MARANAN