Until now, we are still hearing issues related to "tanim-bala" (planting a bullet scheme) or laglag-bala" victimizing foreign tourists, balikbayans and even our very own OFW's in Ninoy Aquino International Airport (NAIA).
And it seems like the whole world is already watching us since the news already appeared in international media like Fox News and BBC, the modus has also been parodized in a Japanese show and an Android smartphone game called Tanim Bala (Bullet Planter).
Here are some relevant information and the recent developments about tanim-bala modus . Read and be informed!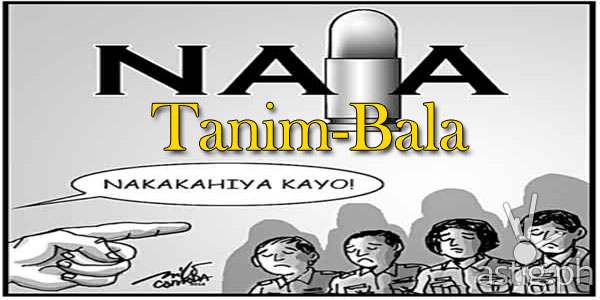 1. Who does it?
According to reports of Abs-cbnnews.com, The modus is an alleged effort between airport personnel, particularly X-ray scanners, and "spotters." Spotters are in charge of profiling domestic and international passengers at the departure and arrival area, and usually prey on passengers who have connecting flights. They then mix with the crowd, distract the victim and plant the bullets in the pocket of or inside the bags in seconds flat. Once the bag goes through the X-ray machine and walk-thru detectors, the bullets get discovered.
2. Are airport personnel involved or is there a syndicate behind it?
The recent media repots said that there is a syndicate behind the modus. According to Davao Mayor Rodrigo Duterte "There is a syndicate, and they are operating inside and outside."
"Ipatulon gyud nako nang bala sa inyo. Mamatay man [I will let you swallow the bullets. Even if you die]," he added.
3. Why they are doing it?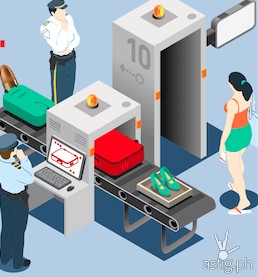 An airport personnel earns an average of 13,000 per month basic salary. A scheme such as this would mean extra income outside their monthly paycheck, allegedly equivalent to hundreds of thousands in total earnings everyday. For every successful operation, airport security screeners allegedly get 60% of the bribe, while 40% goes to spotters.
4. What options do scammers give the victims?
Passengers are given a choice to pay up minimum of 500 pesos or get charged with illegal possession of ammunition and experience the hassles of missing their flight. The penalty for such offense is prison mayor in its minimum period or six years and one day in jail.
5. Why plant bullets instead of drugs or explosive devices?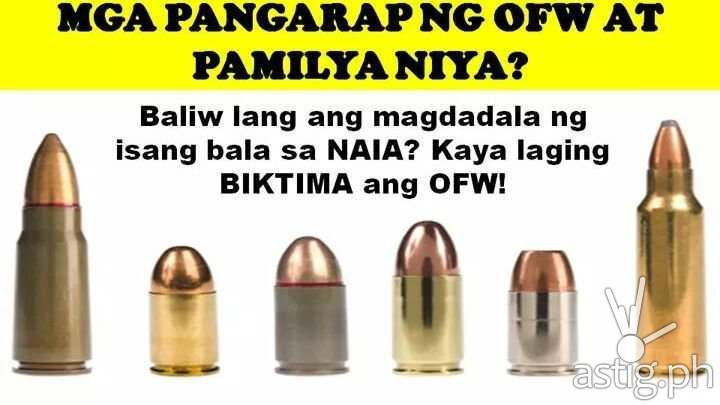 The scammers operate on speed. Bullets are relatively tiny and lightweight, and it could be hidden in one's hands and snuck easily in a passenger's baggage. A .9mm bullet, for instance weights less than 10 grams, just as heavy as 10 peso coin.
6. What harm can one bullet do anyway?
None. Bayan Muna Rep. Neri Colmenares told the Inquirer that the scam necessitated a legislative investigation points: "First, if whether we need to review the law that criminalizes mere possession of one or two bullets, and second, if we need to draft a law that will simply confiscate one to two bullets but will not criminalize it." "We need to consult on this possible review because this has been going on for sometime and it is possible that many of the commanding officers knew about the scam but tolerated it, or are part of the scam", he added.
7. This scam is all over the news and social media. Why do the supposed perpetrators seem unfazed?
Reliable sources said tanim-bala modus has actually been going on for the past 20 years. It's only now that chosen to come out and speak up about their experiences because there is a social media where they have the chance to reveal the underground operations.
8. As passengers what can we to to avoid being prey of this scheme?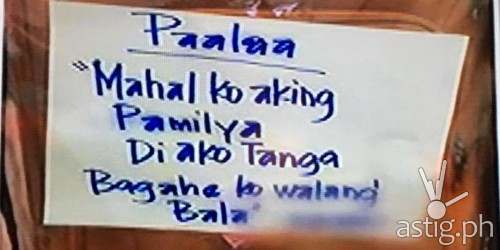 We've seen photos of passengers wrapping around plastics in their bags. We've heard stories of people using multiple padlocks on their luggage to shun prying individuals. But make sure to pick the heave ones as facebook user Mary Ebron said that unscrupulous individuals replaced the padlocks of their luggage at the airport that she had to destroy them. This is how desperate the perpetrators have become. For full list of safety measures, you might find it here.
9. When will the tanim-bala modus stop?
OFW Representative Roy Señeres told the Inquirer that the only solution to this is a revamp in the agencies involved. "A full-blown reorganization is needed if indeed President Aquino is serious in his declaration that he would put a stop to this tanim-bala practice at NAIA," he said. Rep. Colmenares meanwhile stated that "a study of the records and/or the videos may show that many are accosted for this offense but only few are charged. But this irregularity failed to trigger suspicion by the higher-ups at the Office of Transportation Security."
At least 40 Office of Transportation Security (OTS) personnel are being investigated for various issues, Manila International Airport Authority (MIAA).  New Justice Secretary Alfredo Benjamin Caguioa on Wednesday directed the National Bureau of Investigation (NBI) to form special task force to investigate the alleged bullet-planting or "laglag-bala" incidents at airports.
Through Order 887, Caguioa ordered the NBI to assemble a seven-man team tasked to review evidence, which includes video and audio recordings, in connection with the scam.
The Justice chief gave the NBI's anti-TALABA or "tanim, laglag bala" scam team only 15 days starting Wednesday to conclude its investigation.
Source: eCompareMo.com inforgraphic