If it's anything that 9 Works Theatrical, one of Manila's most exciting theater companies, has proven over the last five years, it's that time surely flies when you're having fun.
It seemed just like yesterday when 9 Works Theatrical's Artistic Director, Robbie Guevara, approached his friend, Managing Director Santi Santamaria with the idea of staging one of his favorite musicals of all time, The Wedding Singer (based on the popular film that starred Adam Sandler and Drew Barrymore).
"We had initially approached Repertory Philippines to do it but it wasn't in line with their artistic vision then," recounts Robbie, hot on the heels of directing the 2013 Philstage Gawad Buhay award-winning musical staging of 9 Works Theatrical's Grease. "So Santi and I thought, why don't we just put it up ourselves?"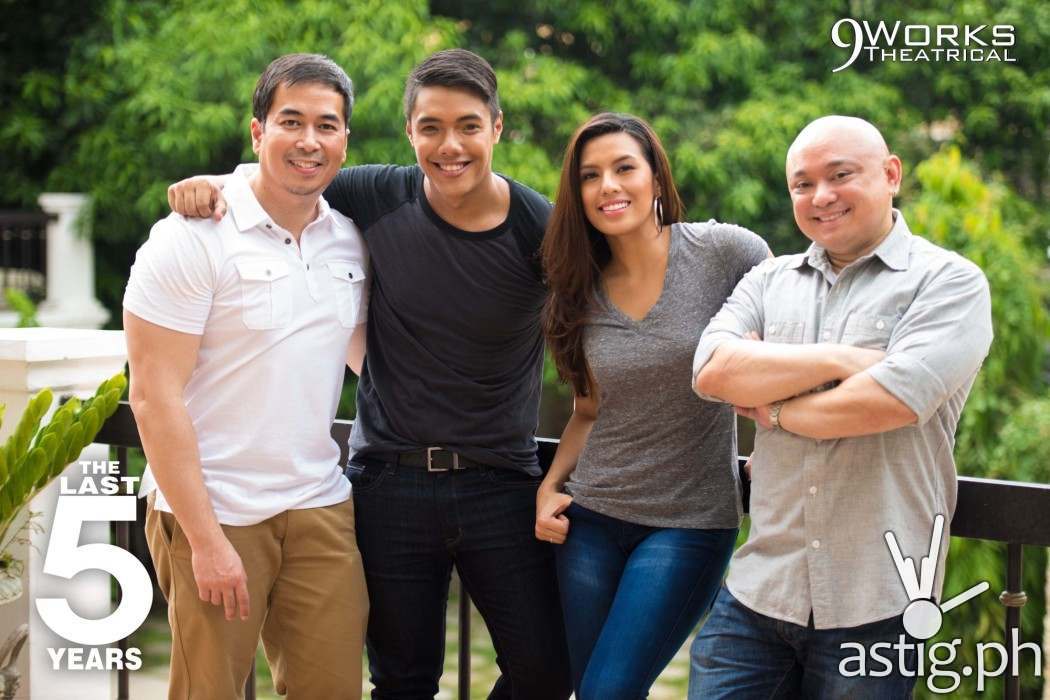 As with any startup business however, cost was something the two, along with their partners Mio Infante, Anna Santamaria, Toff de Venecia, Jonjon Martin, and Carlos Canlas, had to take into consideration. "It was a cast of more than 20 actors," recalls Santi, "not to mention the need for lavish sets, costumes (hello, wedding gowns), and a venue that would accommodate the needs of the production and do it justice."
A dream on hold (decisions, decisions)
It was a dream of Robbie's that had to be put on hold – at least until after the newly formed theater group 9 Works Theatrical, committed to bringing the best of Broadway, Off-Broadway, and The West End to its local audiences, had segued into doing two other musicals that would leave an indelible mark on their audiences for the years to come.
The first: Jason Robert Brown's Songs For a New World, a show that sat on the boundary of a musical and a song cycle. It starred Carla Guevara-Laforteza, Anna Santamaria, Caisa Borromeo, Harold Cruz, Felix Rivera, and Pinky Marquez. "Songs was an abstract musical with a plethora of tunes that were connected by a certain theme: the moment of decision." Robbie adds, "For a modest five shows at the RCBC Theater, it was one of those leap-of-faith moments that solidified Team 9 Works Theatrical on the path we've been treading for the last five years. Challenging, yes. Blood, sweat, and many, many tears. But it was a decision nonetheless, and one of the best we've made in our entire lives."
From Songs For a New World, the group then ventured to familiar yet pressure-cooker territory with Larson's RENT after more than 10 years since it was last staged in Manila. Santi recalls, "There was an entirely different audience that had been aching to see its return to our local shores. It put us out of comfort zones but it was decision that cemented our mark in the theater scene." From launching or re-launching the careers of theater favorites Gian Magdangal, Fredison Lo, and OJ Mariano to seeing the likes of General Luna's Nicole Asensio, Ciara Sotto, and VIVA Hot Babe Sheree try their hand at theater, it also gave the fledgling theater group its mobility to be able to realize its dream of putting up The Wedding Singer – in a prestigious venue such as Meralco Theater, no less.
How soon is now?
After three runs of RENT and The Wedding Singer, the group would go on to produce the critically acclaimed Bob Fosse dance musical Sweet Charity – a bubbly, frothy, frolicking milestone musical that earned Robbie, Santi and 9 Works Theatrical a slew of nods for its world-class musical staging, impeccable dancing, and musical direction.
The show also gave rise to a beautiful and lasting partnership between the group and Joseph Tolentino who would go on to be the musical director and conductor of 9 Works Theatrical's very own orchestra 9PO (9 Works Philharmonic • Pit • Pop Orchestra), The Company's Sweet Plantado-Tiongson, and singer-actress Nikki Gil who, admittedly had big shoes to fill seeing as that the likes of Gwen Verdon and Christina Applegate played her role on Broadway.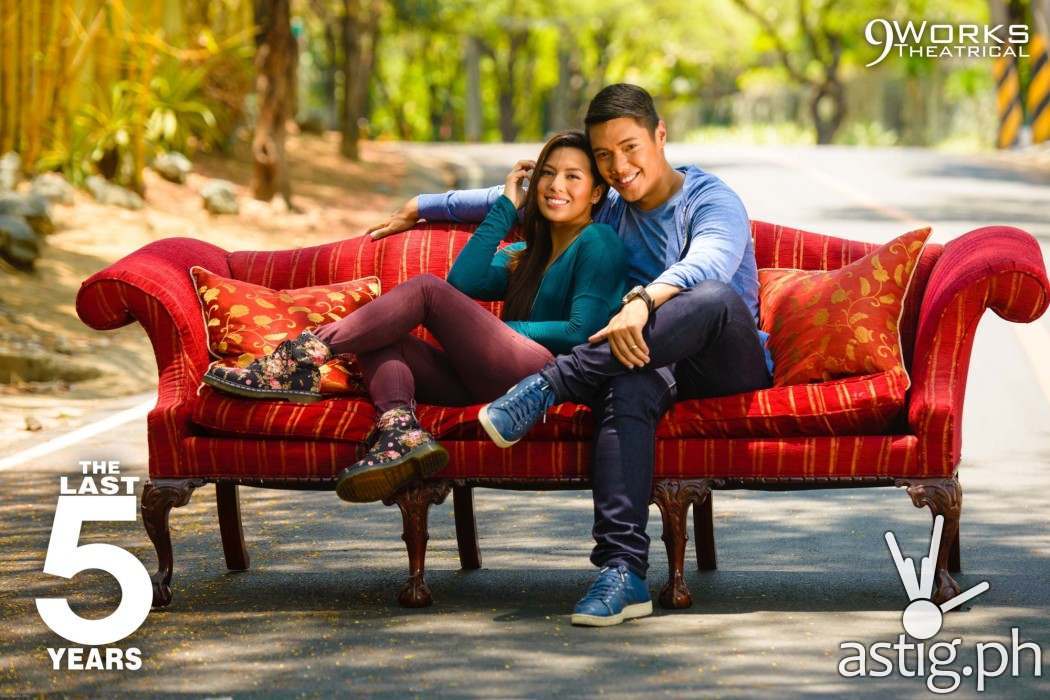 "I was so pressured coming into Sweet Charity because it was a dance musical," shares Nikki, PMPC Star Awards for TV winner for Best Single Performance by an Actress and 2013 Philstage Gawad Buhay nominee for her role in 9 Works Theatrical's They're Playing Our Song. "But with the guidance of Robbie Guevara and the entire 9 Works Team, the reception of the show was astounding. Playing the role of Charity Hope Valentine and joining the 9 Works family was one of the best decisions of my life."
From then on, 9 Works Theatrical would produce the critically-acclaimed musical, You're a Good Man, Charlie Brown which saw artistic director Robbie Guevara in the title role, Marvin Hamlisch's They're Playing Our Song which reunited Nikki Gil with theater veteran Lorenz Martinez, and most recently Grease which would launch the TV and film career of actor Rafa Siguion-Reyna and feature the likes of Michael de Mesa, Franco Laurel, Tim Yap, Audie Gemora, and Tom Rodriguez as guest performers in the featured role of Teen Angel.
Full circle
"Five years later, we find ourselves going full circle and returning to our humble roots," shares Robbie. "Nothing flashy or extravagant, just two brilliantly talented actors in Nikki Gil and Joaquin Valdes – telling a story and singing the songs that will make you fall in love and break your heart at the same time."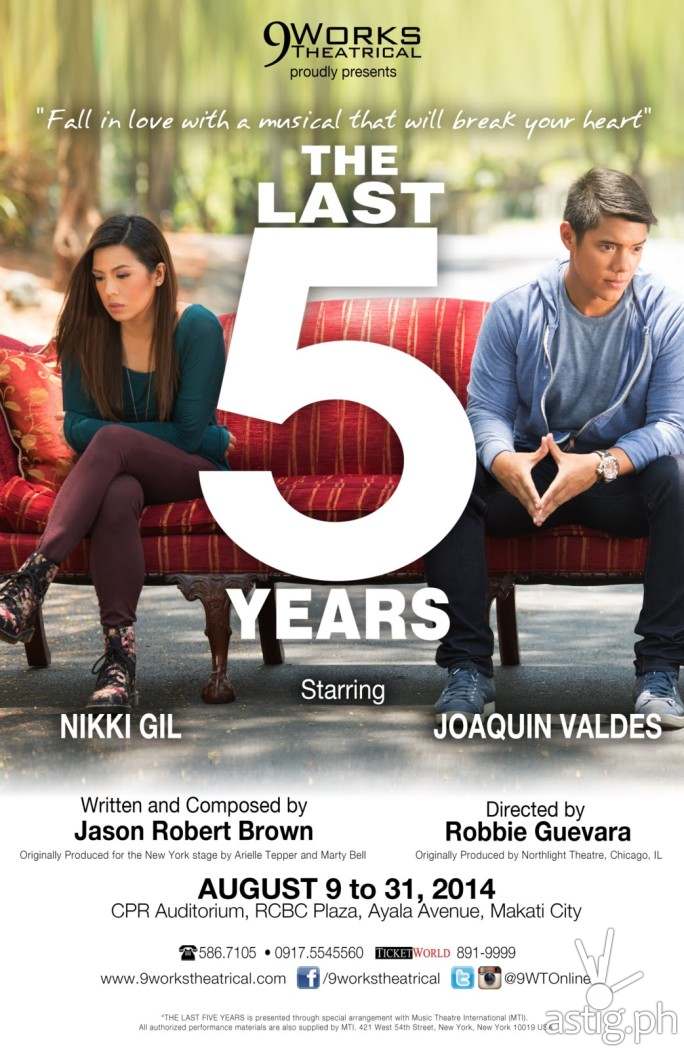 Santi adds, "We launched 9 Works Theatrical five years ago with Jason Robert Brown's Songs For A New World. Now, we're doing one of his most beloved musicals of all time – The Last Five Years. It's a nice way of giving back to our audiences who have been so loyal and supportive of us over the years. It's also a way of looking back and moving forward with 9 Works Theatrical's next five years."
The artistic team of "The Last Five Years" is headed by Robbie Guevara as director, together with Joseph Tolentino as musical director for instrumentation, Lionel Guico as musical director for vocals, Mio Infante as scenographer, GA Fallarme as video & projection designer, Martin Esteva as lighting designer, Chuck Ledesma as sound designer, Gerhard Daco as technical director, Leo Castillo as photographer, Wobbletop Productions as video producer for marketing, Tin Samson as programme editor, and Larry Palma as graphic artist.
Heading the production team is executive producer Santi Santamaria, with Anna Santamaria as company manager, Toff de Venecia as PR director, GM Hernandez as marketing manager, Jonjon Martin and Issa Tuason as PR manager, Sunshine Domine as production manager, and Aries Alcayaga as production stage manager.
[stextbox id="astig"]"The Last Five Years" will melt your hearts at the CPR Auditorium, RCBC Plaza in Makati, all weekends from August 9 to 31, 2014, Friday and Saturday galas at 8pm, Saturday matinees at 3:30pm and Sunday matinees at 4pm.
For tickets and other inquiries, please call 586.7105 or 0917.554.5560 or email info at 9workstheatrical dot com.
Facebook: 9workstheatrical
Twitter: @9WTonline
Instagram: @9WTonline[/stextbox]