With the rise of AlDub the network wars between ABS-CBN and GMA has intensified. Although ABS-CBN's It's Showtime enjoyed a significant increase in viewership to 18.2% it was unable to match the ratings of Eat Bulaga! at 22%.
The network war has escalated online, culminating in last Saturday's battle of the hashtags between #ShowtimeKapamilyaDay and #ALDubEBforLOVE.
So who won the network wars? Here are the numbers coming from Kantar media.
September 23-27, 2015 TV ratings highlights
Total Philippines (Urban + Rural)
Source: Kantar Media / TNS
"Nathaniel" ended on a high note, hitting its all-time high national TV rating of 42% versus "Marimar" with only 17.4%
"MMK" topped Saturday programming and was the most watched program in the country with a national TV rating of 31.9%, beating its rival
"Magpakailanman" (24.3%) and other programs from rival network that day.
"It's Showtime" significantly increased its viewership with its 'ANIMversary' kick-off held last Saturday (Sep 26) at the Araneta Colisuem and scored a national TV rating of 22.5%, up from its average 18% weekday rating.
"Celebrity Playtime" debuted strongly with a national TV rating of 28.7% versus "24 Oras Weekend" with only 19.9%.
23 September 2015 Comparative Total Philippines (Urban+ Rural)
Ratings Data: ABS-CBN vs. GMA7 and TV5
Source: Kantar Media / TNS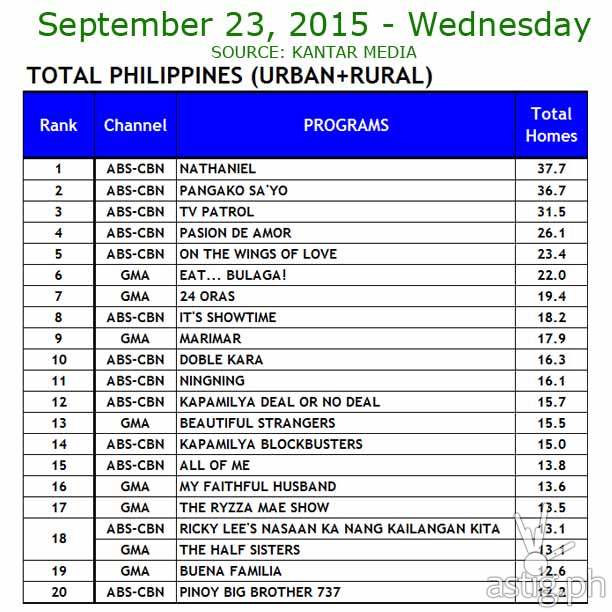 O Shopping (0.6%) vs. Tunay Na Buhay (Replay) (0.9%)
Umagang Kay Ganda (5.2%) vs. Unang Hirit (3.7%)
Kris Tv (5.2%) vs. Hunter X Hunter (6.7%) / Toriko (8.2%) / Dragon Ball Z (9.4%) / Fairytail (9.0%)
Power Rangers Super Megaforce (6.2%) / Knock Out (8.2%)
Kapamilya Blockbusters 'Universal Soldier' (15.0%) vs. The Master's Sun (6.6%) / Two Mothers (7.3%) / The King's Doctor (9.0%)
Ningning (16.1%) vs. The Ryzza Mae Show (13.5%)
It's Showtime (18.2%) vs. Eat… Bulaga! (22.0%)
Doble Kara (16.3%) vs. The Half Sisters (13.1%)
All of Me (13.8%) / Ricky Lee's Nasaan Ka Nang Kailangan Kita (13.1%) vs. Buena Familia (12.6%)
Red Alert (10.6%) vs. Destiny Rose (9.9%)
Kapamilya Deal Or No Deal (15.7%) vs. Powerhouse (9.0%)
Pasion De Amor (26.1%) vs. Starstruck (10.7%)
TV Patrol (31.5%) vs. 24 Oras (19.4%) vs. Aksyon (3.0%)
Nathaniel (37.7%) vs. Marimar (17.9%) vs. 2015 Fiba Asia Championship Changsha-Hunan (Replay) (3.2%)
Pangako Sa'yo (36.7%) vs. Beautiful Strangers (15.5%) vs. Wattpad Presents (1.4%)
On The Wings of Love (23.4%) vs. My Faithful Husband (13.6%) vs. My Fair Lady (1.4%)
Pinoy Big Brother 737 (12.2%) vs. Legendary Women (7.3%) vs. Teen Wolf (2.0%)
Aquino & Abunda Tonight (5.7%) / Bandila (2.8%) vs. Saksi Liga Ng Katotohanan (4.3%) vs. Aksyon Tonite (0.8%) / Reaksyon (0.3%) / The Medyo
Latenight Show With Jojo A. (0.2%)
Banana Nite (1.4%) vs. Planet Earth (2.8%) vs. Shop Japan (0.1%)
O Shopping (0.4%) vs. Tim Yap Show (1.2%)
24 September 2015 Comparative Total Philippines (Urban+ Rural)
Ratings Data: ABS-CBN vs. GMA7 and TV5
Source: Kantar Media / TNS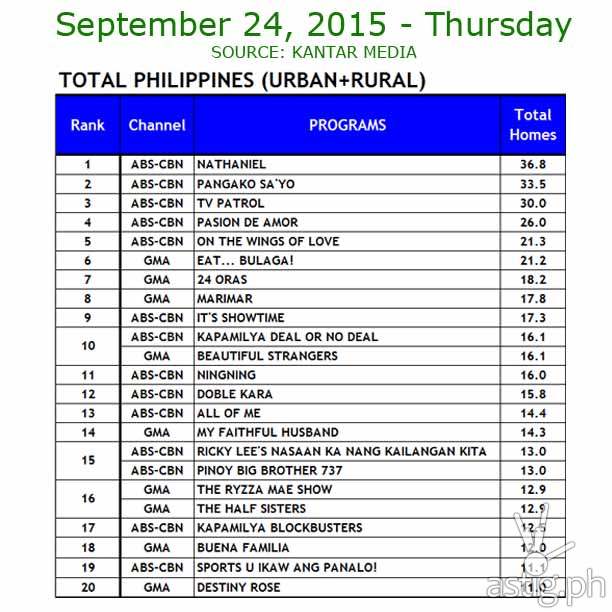 O Shopping (0.4%) vs. Born To Be Wild (Replay) (0.7%)
Umagang Kay Ganda (4.1%) vs. Unang Hirit (3.8%)
Kris Tv (5.6%) vs. Hunter X Hunter (7.2%) / Toriko (7.5%) / Dragon Ball Z (8.6%)
Power Rangers Super Megaforce (7.4%) vs. Fairytail (7.6%)
Kapamilya Blockbusters (12.5%) vs. Knock Out (7.5%) / The Master's Sun (5.6%) / Two Mothers (7.8%) / The King's Doctor (9.4%)
Ningning (16.0%) vs. The Ryzza Mae Show (12.9%)
It's Showtime (17.3%) vs. Eat… Bulaga! (21.2%)
Doble Kara (15.8%) vs. The Half Sisters (12.9%)
All of Me (14.4%) / Ricky Lee's Nasaan Ka Nang Kailangan Kita (13.0%) vs. Buena Familia (12.0%)
Sports U Ikaw Ang Panalo! (11.1%) vs. Destiny Rose (11.0%)
Kapamilya Deal Or No Deal (16.1%) vs. Reporter's Notebook (8.8%)
Pasion De Amor (26.0%) vs. Starstruck (10.0%) vs. Aksyon (3.2%)
TV Patrol (30.0%) vs. 24 Oras (18.2%) vs. 2015 Fiba Asia Championship Changsha-Hunan (Replay) (3.9%)
Nathaniel (36.8%) vs. Marimar (17.8%)
Pangako Sa'yo (33.5%) vs. Beautiful Strangers (16.1%) vs. Wattpad Presents (1.2%)
On The Wings of Love (21.3%) vs. My Faithful Husband (14.3%) vs. My Fair Lady (0.9%)
Pinoy Big Brother 737 (13.0%) vs. Legendary Women (7.6%) vs. Teen Wolf (1.3%) vs. Aksyon Tonite (0.5%)
Aquino & Abunda Tonight (6.0%) vs. Saksi Liga Ng Katotohanan (4.4%) vs. Reaksyon (0.1%) / The Medyo Latenight Show With Jojo A. (0.1%)
Bandila (3.1%) vs. Planet Earth (2.4%) vs. Shop Japan (0.1%)
Banana Nite (2.0%) / O Shopping (0.8%) vs. Tim Yap Show (0.9%)
25 September 2015 Comparative Total Philippines (Urban+ Rural)
Ratings Data: ABS-CBN vs. GMA7 and TV5
Source: Kantar Media / TNS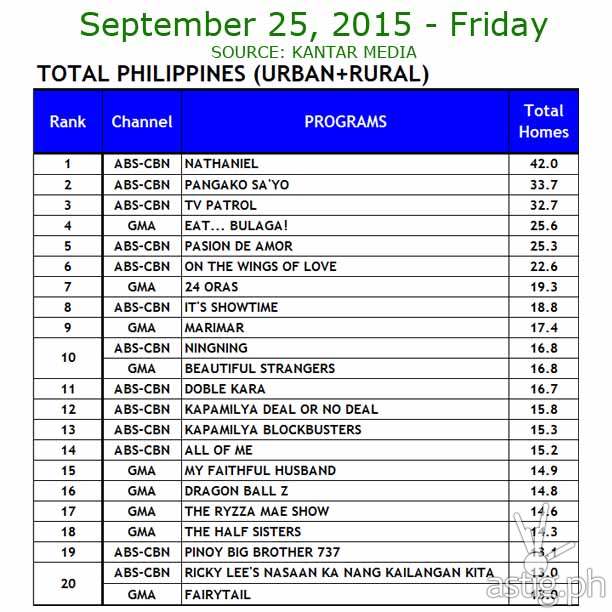 O Shopping (0.3%) vs. Alisto! (Replay) (0.5%)
Umagang Kay Ganda (3.2%) vs. Unang Hirit (3.7%)
Kris Tv (4.8%) vs. Hunter X Hunter (9.7%) / Toriko (12.7%) / Dragon Ball Z (14.8%) / Fairytail (13.0%)
Power Rangers Super Megaforce (6.5%) vs. Knock Out (11.4%)
Kapamilya Blockbusters (15.3%) vs. The Master's Sun (7.8%) / Two Mothers (8.8%) / The King's Doctor (9.9%)
Ningning (16.8%) vs. The Ryzza Mae Show (14.6%)
It's Showtime (18.8%) vs. Eat… Bulaga! (25.6%)
Doble Kara (16.7%) vs. The Half Sisters (14.3%)
All of Me (15.2%) / Ricky Lee's Nasaan Ka Nang Kailangan Kita (13.0%) vs. Buena Familia (12.4%)
TNT Tapatan Ni Tunying (11.2%) vs. Destiny Rose (10.6%)
Kapamilya Deal Or No Deal (15.8%) vs. Love Hotline (9.4%)
Pasion De Amor (25.3%) vs. Starstruck (10.4%)
TV Patrol (32.7%) vs. 24 Oras (19.3%) vs. Aksyon (3.5%)
Nathaniel (42.0%) vs. Marimar (17.4%) vs. 2015 Fiba Asia Championship Changsha-Hunan (Replay) (2.8%)
Pangako Sa'yo (33.7%) vs. Beautiful Strangers (16.8%)
On The Wings of Love (22.6%) vs. My Faithful Husband (14.9%) vs. Wattpad Presents (1.9%)
Pinoy Big Brother 737 (13.1%) / Aquino & Abunda Tonight (5.3%) vs. Bubble Gang (8.9%) vs. My Fair Lady (1.3%) / Teen Wolf (1.4%)
Bandila (2.3%) vs. Saksi Liga Ng Katotohanan (4.4%) vs. Aksyon Tonite (0.7%) / Reaksyon (0.4%)
Banana Nite (1.2%) / O Shopping (0.6%) vs. Tim Yap Show (1.7%) vs. The Medyo Latenight Show With Jojo A. (0.2%) / Shop Japan (0.0%)
26 September 2015 Comparative Total Philippines (Urban+ Rural)
Ratings Data: ABS-CBN vs. GMA7 and TV5
Source: Kantar Media / TNS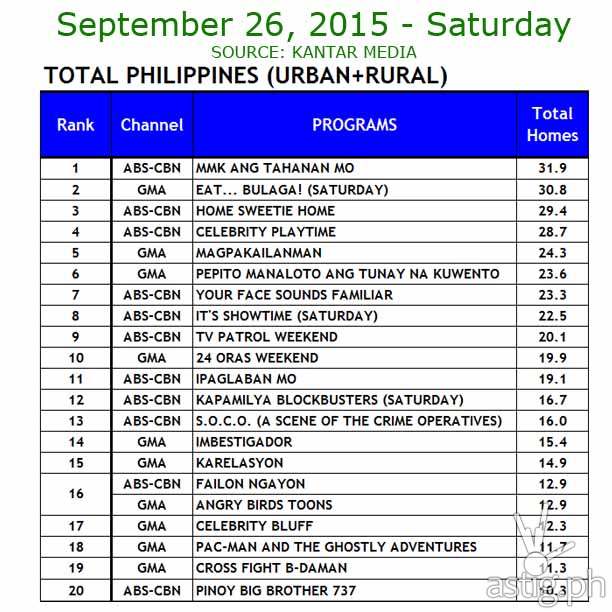 O Shopping (0.6%) vs. Philippine Jesus Movement Forum (0.4%) / Adyenda With Joel Villanueva (0.8%)
Sa Kabukiran (1.5%) vs. Kapwa Ko, Mahal Ko (1.1%)
Salamat Dok (2.7%) vs. Pinoy Md Mga Doktor Ng Bayan (3.7%)
Swak Na Swak (3.5%) vs. The Smurfs (8.4%)
Angel Wings (2.4%) vs. Kamen Rider Ooo (10.1%)
Why Not? (2.8%) vs. Pac-Man And The Ghostly Adventures (11.7%)
Kung Fu Panda Legends of Awesomeness (3.9%) vs. Angry Birds Toons (12.9%)
Spongebob Squarepants (6.5%) vs. Cross Fight B-Daman (11.3%)
The Flying House (7.6%) vs. Detective Conan The Fourteenth Target (10.1%)
Kapamilya Blockbusters (Saturday) (16.7%) vs. Maynila (Larawan Ng Bansa) (8.9%) / Sarap Diva (9.6%)
It's Showtime (Saturday) (22.5%) vs. Eat… Bulaga! (Saturday) (30.8%) / Karelasyon (14.9%)
Ipaglaban Mo (19.1%) vs. Wish Ko Lang! (8.5%)
Failon Ngayon (12.9%) vs. Celebritv (8.7%)
S.O.C.O. (A Scene Of The Crime Operatives) (16.0%) / TV Patrol Weekend (20.1%) vs. Imbestigador (15.4%) vs. Movie Max 5 (2.3%)
Celebrity Playtime (28.7%) vs. 24 Oras Weekend (19.9%)
Home Sweetie Home (29.4%) vs. Pepito Manaloto Ang Tunay Na Kuwento (23.6%) vs. Lola Basyang.Com (5.3%)
MMK Ang Tahanan Mo (31.9%) vs. Magpakailanman (24.3%) vs. Parangnormal Activity (4.1%)
Your Face Sounds Familiar (23.3%) vs. Celebrity Bluff (12.3%) vs. Kano Luvs Pinay (1.4%) / History With Lourd Tsismis Noon Kasaysayan Ngayon (0.8%)
Pinoy Big Brother 737 (10.3%) vs. I-Witness The Gma Documentaries (5.9%) vs. Kaya. (0.7%)
Banana Split Extra Scoop (4.1%) vs. To The Top (2.9%) vs. Demolition Job (0.2%)
The Bottom Line With Boy Abunda (1.3%) / O Shopping (0.5%) vs. Walang Tulugan With Master Showman (1.4%) vs. Shop Japan (0.0%)
27 September 2015 Comparative Total Philippines (Urban+ Rural)
Ratings Data: ABS-CBN vs. GMA7 and TV5
Source: Kantar Media / TNS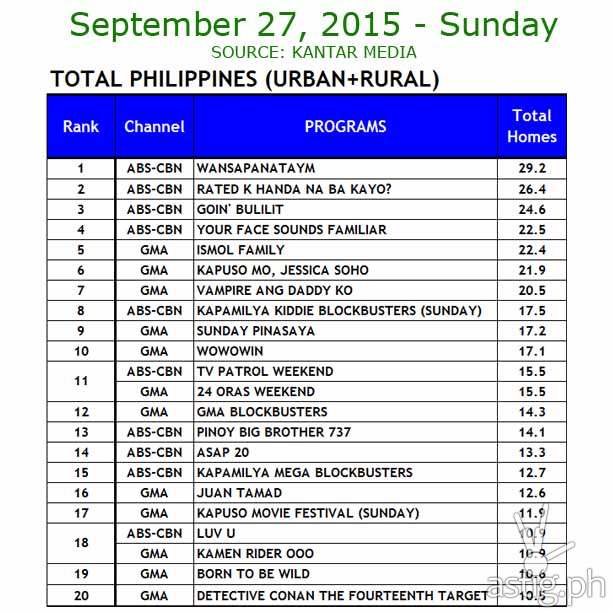 O Shopping (1.2%) vs. Jesus The Healer (1.0%)
The Healing Eucharist (6.0%) vs. Kapuso Sine Klasika (5.1%) / Grimm's Fairy Tales (9.7%)
Swak Na Swak (3.7%) vs. Kamen Rider Ooo (10.9%)
Salamat Dok (4.2%) vs. Detective Conan The Fourteenth Target (10.5%)
Kuroko's Basketball (5.9%) vs. Aha (9.1%)
Haikyu!! (6.0%) vs. Born To Be Wild (10.6%)
Superbook (Reimagined) (8.8%) vs. I Bilib Featuring: Discover Science (9.0%)
Matanglawin (10.0%) / Kapamilya Kiddie Blockbusters (Sunday) (17.5%) vs. Kapuso Movie Festival (Sunday) (11.9%)
ASAP 20 (13.3%) vs. Sunday Pinasaya (17.2%) / Wowowin (17.1%)
Kapamilya Mega Blockbusters (12.7%) vs. Gma Blockbusters (14.3%)
Luv U (10.9%) vs. Juan Tamad (12.6%) vs. 2015 Fiba Asia Championship Changsha-Hunan (Live) (6.9%)
TV Patrol Weekend (15.5%) vs. 24 Oras Weekend (15.5%)
Goin' Bulilit (24.6%) vs. Vampire Ang Daddy Ko (20.5%) vs. Kuwentong Gilas A Sports 5 Documentary (2.9%)
Wansapanataym (29.2%) vs. Ismol Family (22.4%) vs. Who Wants To Be A Millionaire (3.4%)
Rated K Handa Na Ba Kayo? (26.4%) / Your Face Sounds Familiar (22.5%) vs. Kapuso Mo, Jessica Soho (21.9%) vs. No Harm No Foul (1.3%) / Digital 5 Originals (0.7%) / Digital 5 Originals (0.6%)
Pinoy Big Brother 737 (14.1%) / Gandang Gabi Vice (9.7%) vs. To The Top (6.7%) vs. 2015 Fiba Asia Championship Changsha-Hunan (Replay) (0.8%)
Sunday's Best (2.2%) vs. Sunday Night Box Office (2.9%)
O Shopping (0.6%) vs. Diyos At Bayan (0.8%) vs. Shop Japan (0.0%)