Aster DM Healthcare formally launched their new branch here in the Philippines. The event was held at the Oakwood and was witness by media and guest including their doctors and staff.
Aster DM Healthcare is one of the fastest growing private sector healthcare providers in the Middle East and India. Founded in 1987, the Dubai-headquartered healthcare conglomerate now operates a network of more than 290 establishments covering an array of healthcare verticals – from hospitals, medical centers, pharmacies, diagnostics and specialty centers, healthcare consultancy service, academics & research to a medical college and an advanced medical city.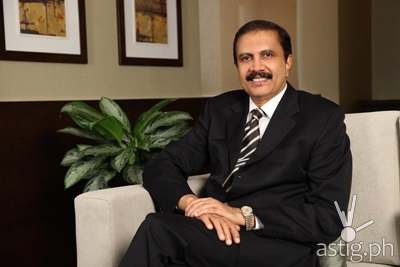 Looking at the success of the company will lead you to think that this health care business is managed just like any other organization, with profit and returns in mind. Unknown to many, Aster DM Healthcare was actually built because of one man's desire to help.
What started as a medical mission turned out to be a life-long mission for Dr. Azad Moopen, one of the leading business icons in Dubai, UAE, and a healthcare trailblazer in the Middle East and India. He is the chairman and managing director of Aster DM Healthcare, which now has its footprints across boundaries, having operations in the UAE, Saudi Arabia, Oman, Qatar, Bahrain, Jordan, and several locations across India.
Business and compassion are often seen at two opposite worlds. But the doctor-turned-entrepreneur has dared to combine business and compassion to create a better world for the afflicted in the Middle East, India, and Southeast Asia. An entrepreneurial philanthropist, Dr. Moopen's drive to help more people leads to the continued expansion of his health care network.
During his medical mission in Dubai, he saw the need for better qualified doctors and better healthcare structure. In an interview, he recalled that "people had to wait for long hours to see a doctor and the situation was even more pathetic for those in the lower socio-economic group." Providing his services for free, Dr. Azad will treat as many patients as he can in one day. Seeing how the people flocked to get treatment, he realized he could not do it alone. He then set-up a medical clinic and brought his doctor friends from India. He saw that the numbers of patients grew steadily that's why he continued to expand so he can carry on helping more people.
In five years, there were six doctors assisting him in looking after the patients, and added five more clinics in 1997 this time with adjoining pharmacies. In his aim to provide proper healthcare to more people, especially to the needy, the number of clinics grew progressively until it reached its phenomenal growth that we see today.
His business and Foundation clearly shows that everything that Dr. Moopen touches is built around one sole purpose: The welfare of the people. This is the heart of everything that Dr. Moopen's Foundation and Aster DM Healthcare do. It exists to treat people well whoever and wherever they may be.
Dr. Moopen is a living example that wealth and care do work together.  He is able to find that balance between his profession and commitment on giving back to the society. His deep concern with humanitarian causes paved the way for him to actively invest in causes that have gone a long way in touching the lives of people.
Dr. Moopen's entrepreneurial achievements have served as a catalyst to his philanthropic ventures. He has introduced social and philanthropic initiatives that are able to cross boundaries. His Foundation engages in  charitable and humanitarian activities that include establishing community dialysis centers, cancer radiation centers, early cancer detection centers, free pediatric and adult cardiac surgeries, and establishing special needs schools for the physically and mentally challenged. Through these programs, Dr. Moopen is able to reach those in need, whether they are in Dubai and other Middle East countries, India, and parts of Africa and Asia, including the Philippines.
One can say that Dr. Moopen is saving lives one nation at a time. Through his Foundation's 'Healing Touch' umbrella, Dr. Moopen goes out of Dubai and extends its reach as part of its promise to deliver 'Care beyond Boundaries.' The organization launched its program called 'Save the Little Hearts,' in African countries, Oman, India, and the Philippines. Through the 'Save the Little Hearts' program, Dr. Moopen is able to provide free medical assistance to children with Congenital Heart Disease (CHD).
The Foundation's Country Representative, Joyce Alumno, shared that, to-date, the Foundation breathed new life to 23 Filipino children with Congenital Heart Disease by providing free surgeries to these children.
"Dr. Moopen has recognized the plight of CHD kids in the Philippines. Unfortunately, many families with CHD children either have no financial means to get surgery or have no access to hospitals capable of treating CHD," Alumno explained.
"These children, they could have a bright future ahead of them. They could be good members of the society, if only they are able to get life-saving heart surgeries. And the Foundation – Dr. Moopen – would want to make that happen," she said.
And because charity begins at home. Dr. Moopen extended support to his employees who were affected by the recent earthquake in Nepal. Dr. Moopen, his Foundation, and the Aster DM Healthcare medical centers, provided assistance to those who were affected.  Lakpa Tamang, one of the many individuals and families helped, thanked the team for the assistance provided. Tamang shared that they were able to rebuild their homes and through Dr. Moopen's team's help, all those who needed medical assistance were cared for one by one.
"I am thankful for the team and Dr. Moopen. They were very generous in helping us deal with the challenges during this time. Dr. Moopen's employees donated their one day's salary to help us," Tamang said.
"As a healthcare provider, our business is to save lives. However, we also believe that in the process, we must go beyond and also try to touch their lives. Having our operations in several locations in different countries, we have realized how important it is to reach out to people across geographies and provide our services to those who really need it," Dr. Moopen said.
'Save The Little Hearts' program is a small step to begin the activities they planned towards enhancing the health and wellbeing of the community at large, according to Dr. Moopen. His foundation aims to extend their not-for-profit activities here with a large gamut of services aiming to promote overall wellness in the Philippines.
For more information about Aster DM Healthcare and DM Foundation, visit www.asterdmhealthcare.com and www.drmoopensfoundation.org, respectively.