Back in June we went to Taipei, Taiwan to join team ASUS as they revealed the highly anticipated ZenFone 3 to the world for the first time at the company's annual Zenvolution event.
READ: ZenFone 3 (ZE552KL) review: first impressions, benchmarks, 3D gaming, camera
After the event, we managed to get access to an engineering unit and gave you a preview of what's in store for the ZenFone 3 – the upper mid-range model in the series.
We now have a production unit, the final product that will be hitting the stores this month.
What has changed since then? Let's find out.
Key specs
Glass-covered unibody with no visible antenna
Full HD (1920 x 1080) Super IPS+ display with Gorilla Glass 4
Dual SIM support (2nd slot shared with MicroSD)
Android 6.0.1 (Marshmallow) with ZenUI 3.0
Qualcomm Snapdragon 625 octa-core processor
3/4 GB RAM, 32/64 GB ROM
16MP rear camera (Sony IMX230) with tritech AF, OIS, 4K video recording
3000 mAh non-removable battery
Features Fingerprint sensor, Quick Charge 3.0 via USB type-C
A premium unboxing experience
At Zenvolution, ASUS promised us a premium unboxing experience with the ZenFone 3. The first thing we noticed is the upgraded packaging material.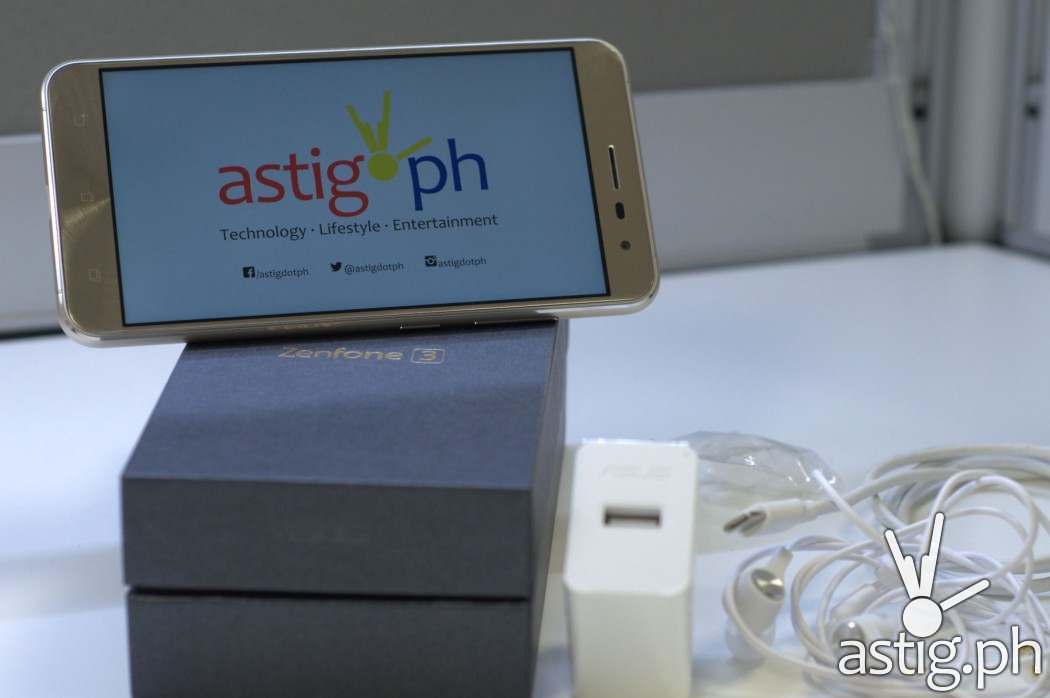 READ: ASUS ZenFone 3 review: unboxing + hands-on first impressions (video)
ZenFone 1 and ZenFone 2 both came in a simple, white box. With the ZenFone 3 we get a sturdier, textured black box. A logo of the ZenFone 3 is imprinted in front of the box with a metallic ink, giving a very sophisticated feel.
ZenFone 3 5.5 inch gold: engineered beauty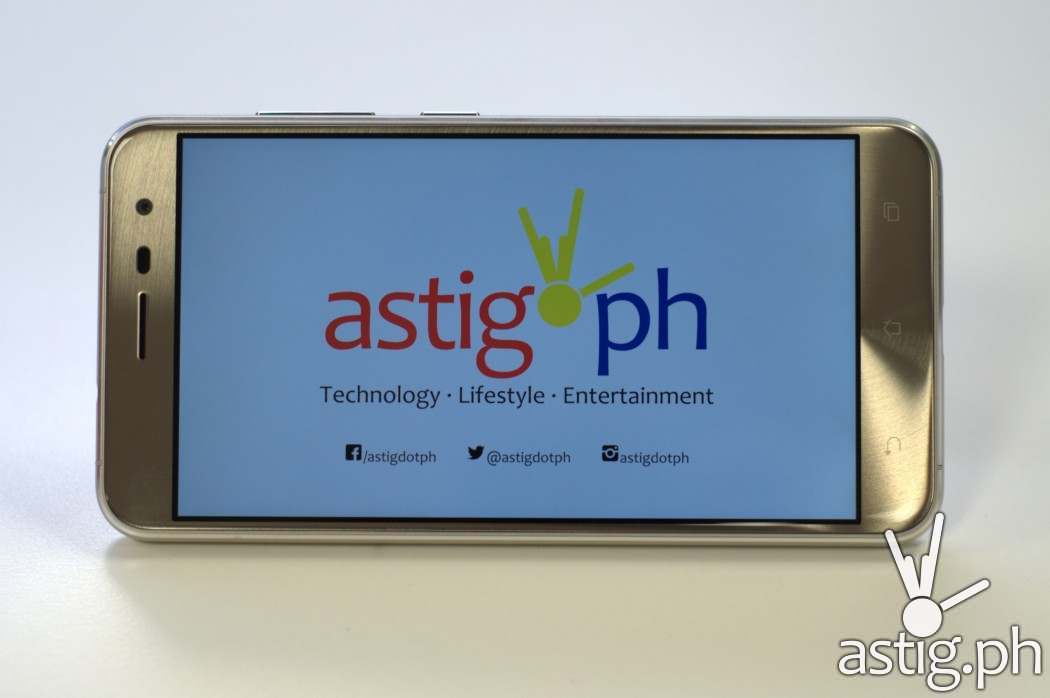 We have the 5.5-inch variant which comes with a 4GB RAM, 3000 mAh non-removable battery. A smaller variant comes with a 5.2 inch screen, 3GB RAM, and a 2650 mAh nonremovable battery.
There are four color options available – gold, black, and white. I personally think the gold ZenFone 3 is one of the most visually striking phones we've seen.
The final production unit looks and feels so much more polished than the engineering units we had access to in June. We already liked what we saw, and the final product is even more impressive.
The textured circles in the gold chassis will reflect light and will grab anyone's attention, and there are times when I get a little worried that it might attract the wrong kind of attention.
In fact, the week I got the unit, I proceeded to post a few photos of myself that subtly showed the ZenFone 3 and immediately received comments praising the phone.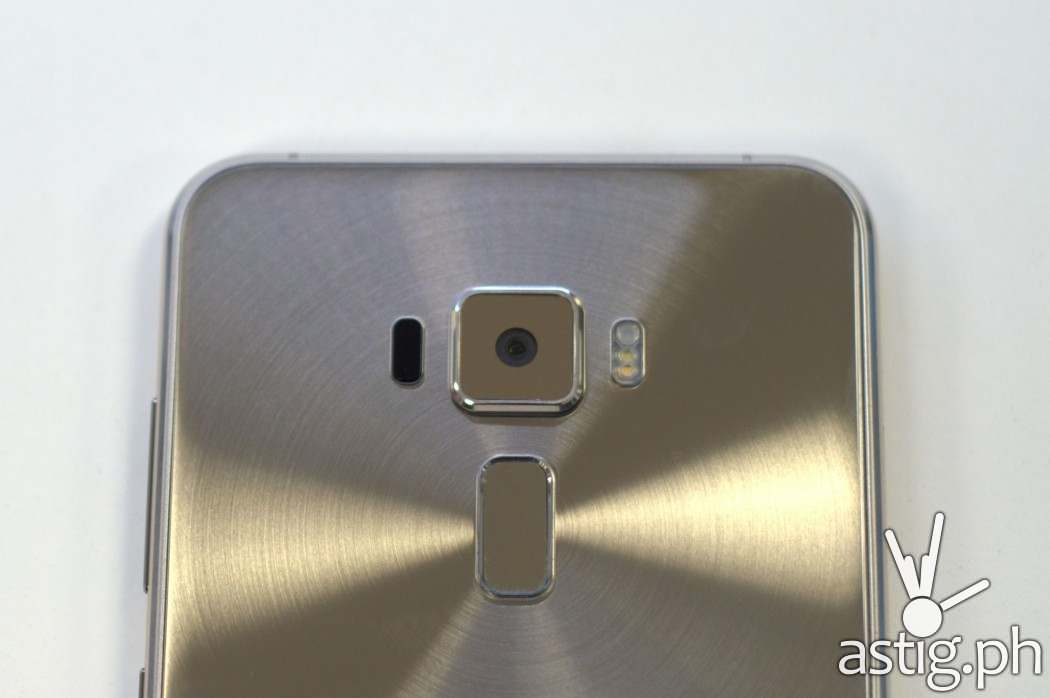 We always wondered why ASUS decided to go with 2.5D Gorilla Glass, and after regular use, we began to understand why. It seriously changes the entire experience of holding the phone.
Previous generation ZenFones would cut through your palm because of the sharp edges coming from its metal and plastic chassis, and that has always bothered us.
The ZenFone 3 feels so natural and comfortable to use, though the glass back leaves us worried that it might slip from our hands.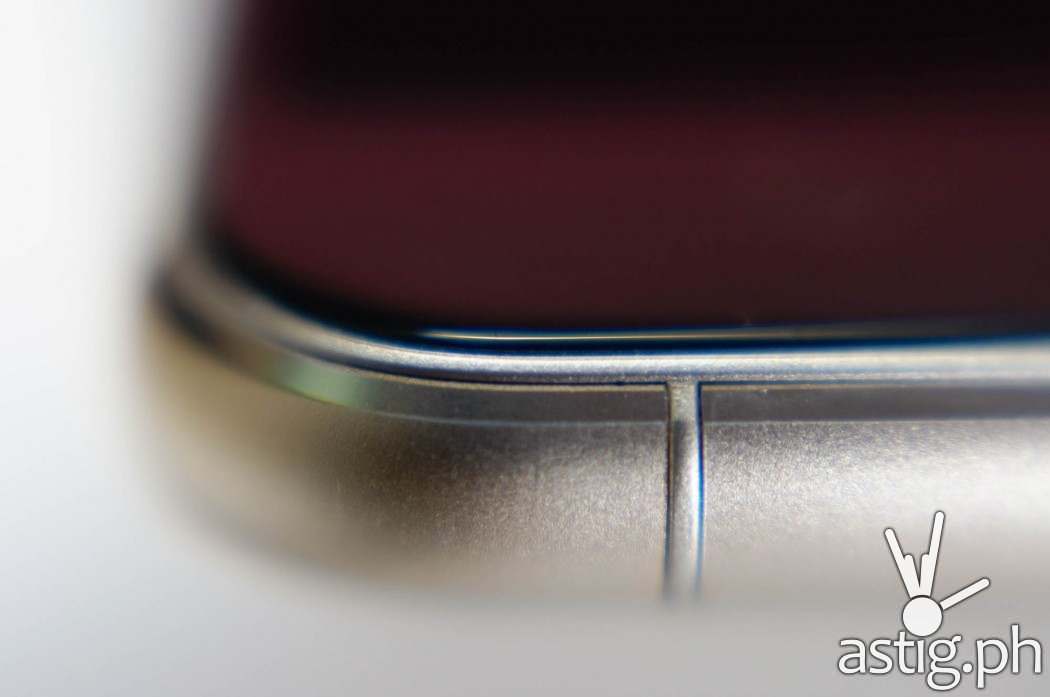 So to prevent that from happening we considered installing a silicone case – but then that would cover up our oh-so-beautiful phone. Do you see the dilemma?
Smartphones with glass backs are nothing new, but until recently this kind of premium, refined engineering was only ever accomplished by Samsung Galaxy S6 and S7.
This kind of game-changing chassis engineering is a huge step up and we have to give mad props to ASUS' engineering team for such a well-polished end product.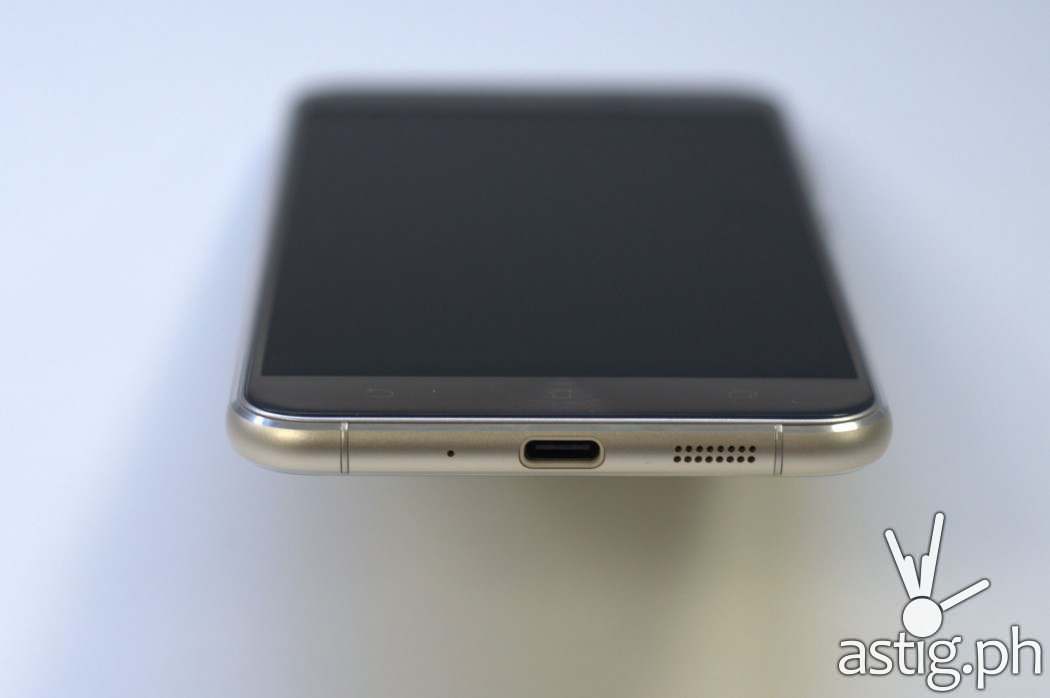 A 3.5 mm audio port is accessible from the top, while a single loud speaker grille and the USB Type-C port can be found at the bottom.
Unlike its predecessors, the back area is now occupied by a fingerprint sensor. The volume rocker has been moved to the side, above the power button.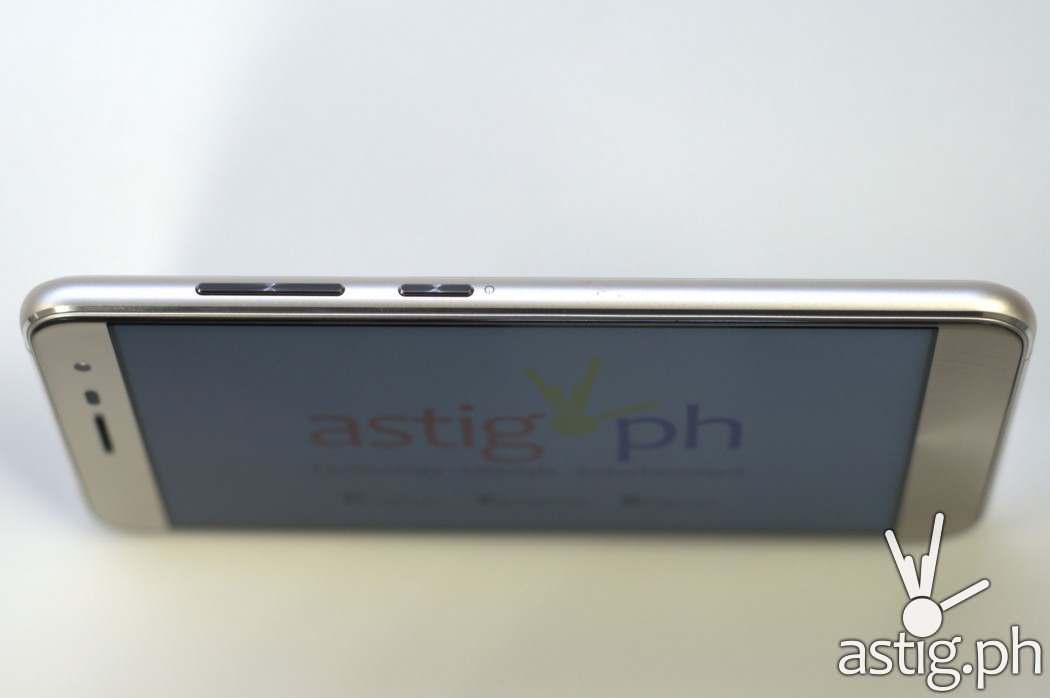 Speaking of which, the fingerprint sensor is very snappy. It activates the phone at almost the same instant our finger touches it.
Dual SIM capability and a shared expansion slot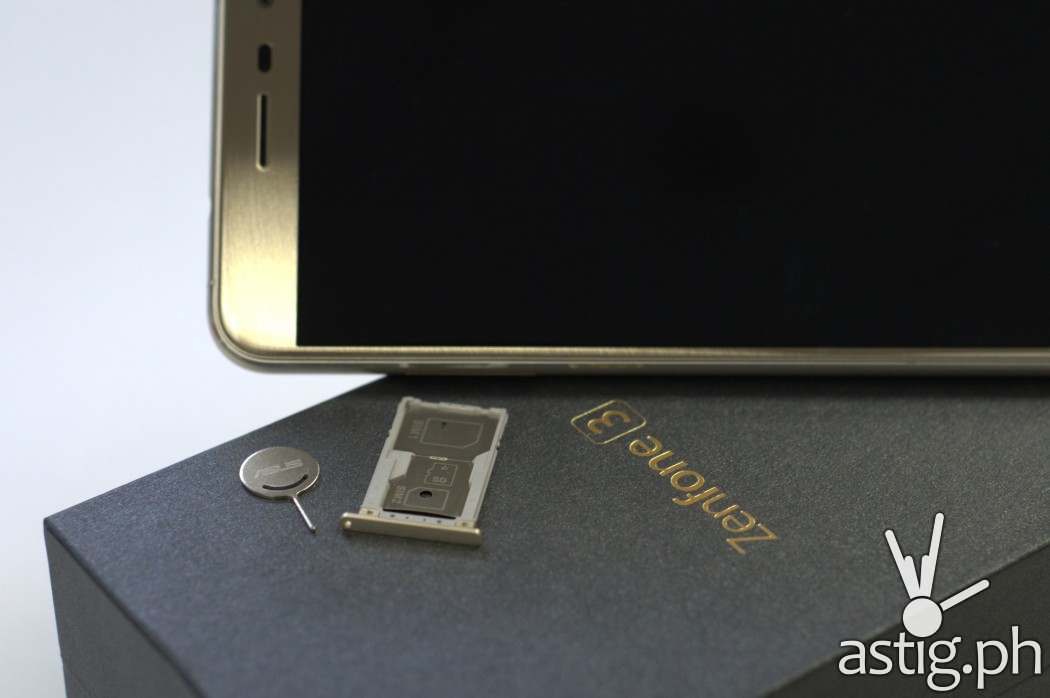 The ZenFone 3 is the first unibody ZenFone from ASUS. Unlike previous generations that came with a removable back cover, the SIM tray is the only removable part in the ZenFone 3.
An ejector tool quickly reveals the tray.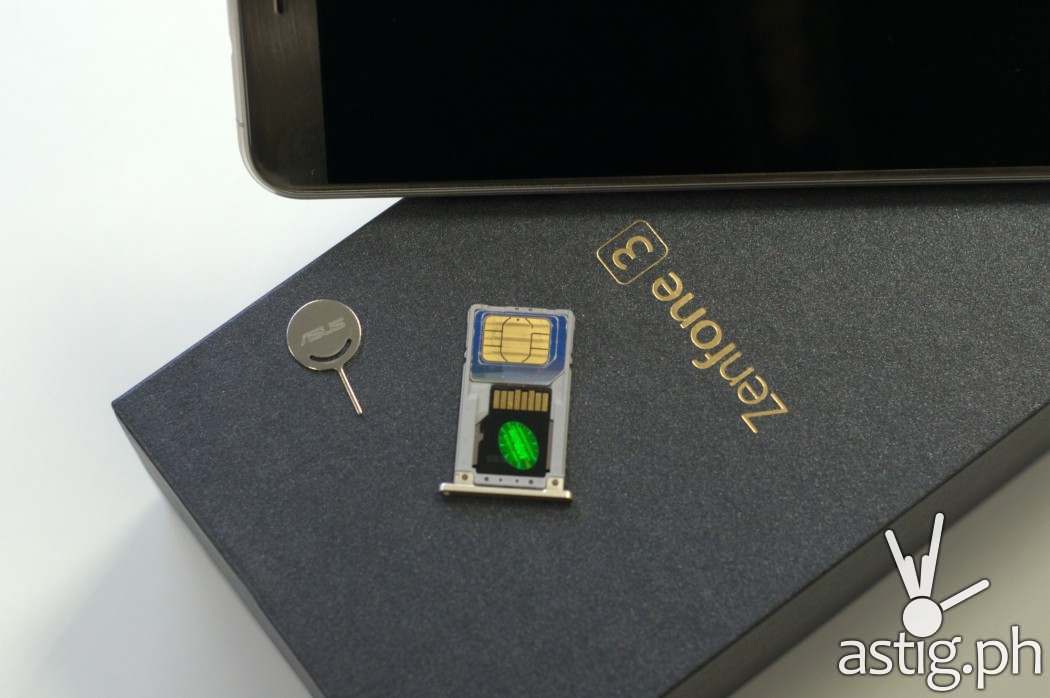 The first slot takes micro-sized SIM card, while the second slot can take either a nano SIM card or a microSD card.
Headset: Looks good, sounds amazing
Our unit comes with a white headset that looks just like the one from the ZenFone Zoom. If that's the case then it is definitely one of the better sounding headsets to come bundled with a smartphone that we have had a chance to audition.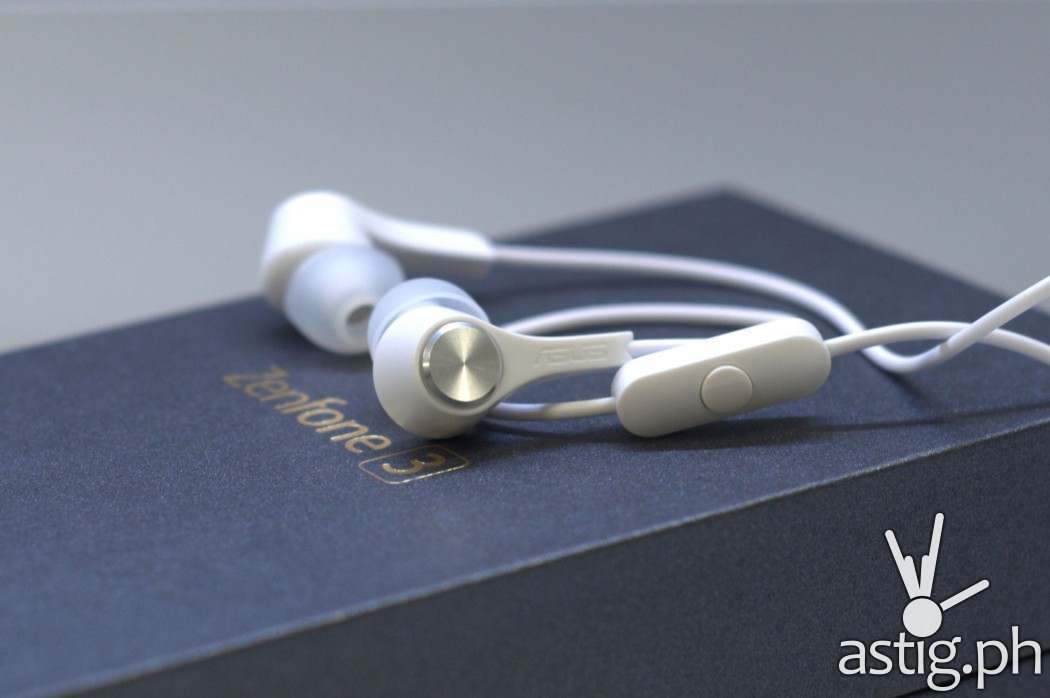 The headset is made of plastic, has a built-in mic, and the cable looks strong enough to last a few months of daily use.
It also comes with two extra earbuds, which you can switch if the default ones are too big or too small for your ears.
USB Type-C port and a 3000 mAh battery with Qualcomm Quick Charge 3.0 support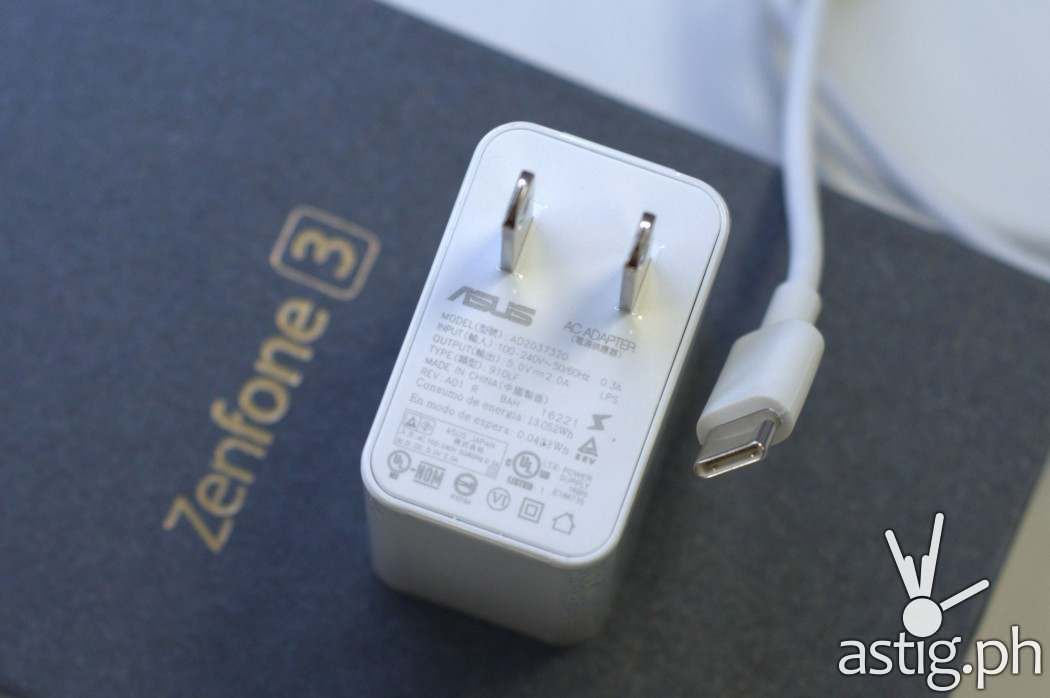 The cable has a male USB Type-C on one end and a male  USB Type-A on the other end. We love USB Type-C not just because of its technological improvements, but because it also happens to be reversible.
It is good to see ASUS adopting new standards by ditching Micro USB and going with USB Type-C.
The plug outputs 5 volts at 2 amperes for a total of 10 watts of power, which is maximized by the phone thanks to Qualcomm Quick Charge 3.0.
We think Quick Charge is a must nowadays, at least until smartphone batteries last longer. The official product page claims that a five-minute top up will add as much as two hours of talk time.
Speaking of which, the unit packs a 3000 mAh non-removable battery, and we were excited to see how long it would last given the improved power management features in Android Marshmallow and the reduced power draw in Qualcomm Snapdragon 625.
GSam Battery monitor reports an average of 11 hours of use with close to 6 hours of screen time. Our regular use includes WiFi, calls, GPS, and gaming – and yes, this includes Pokemon Go, but more on that later.
The battery remained cool and chugged along like a champ, never going beyond 40 degrees Celsuius
Super IPS+ display: Bright, vivid, and beautiful
The display panel on the ZenFone 3 is called Super IPS+, a step up from a regular IPS panel by using additional LED backlights to improve outdoor readability.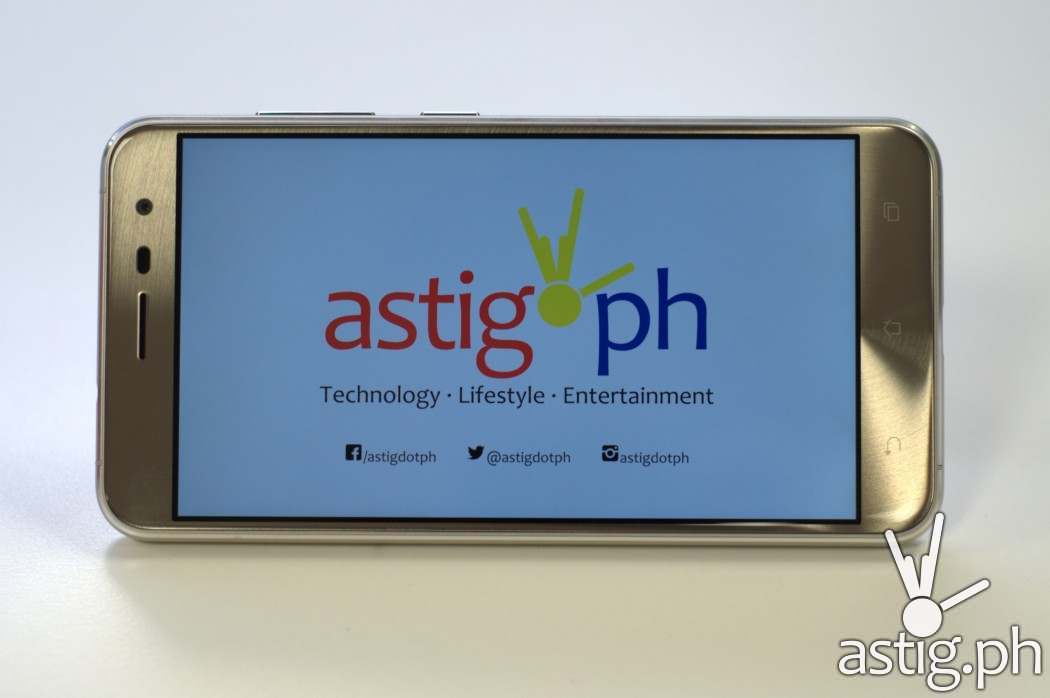 Out in the sun, the 1920 x 1080 pixel full HD Super IPS+ display really shows its advantage over other display panels. It is noticeably brighter and it the screen is readable even when used under direct sunlight.
OS & Software: ZenUI and a bit of bloat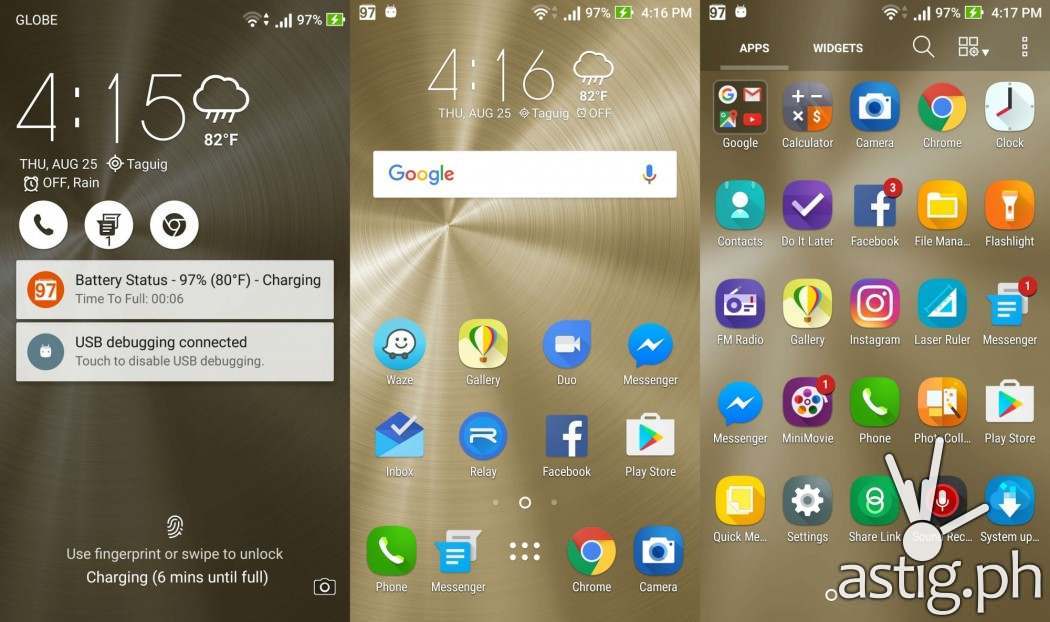 If you're coming from another ZenFone then things should feel very familiar once you power up the system thanks to ZenUI.
As far as experience goes, ZenUI offers a lot more than stock Android – and since the stock look is plain as an empty room, not too many people associate it with a "premium experience".
ZenFone 3 runs Marshmallow (Android 6.0) out of the box, which is great. Android 7.0 (Nougat) was just released this month. In our experience, ASUS is quick to pick release updates, so hopefully we will see a Nougat update for the ZenFone 3 real soon.
Not only is the user experience heavily customized thanks to ZenUI, the phone is loaded with a ton of pre-installed software, to the point that it can feel bloated out of the box. This has been a concern among Android purists in the previous ZenFones.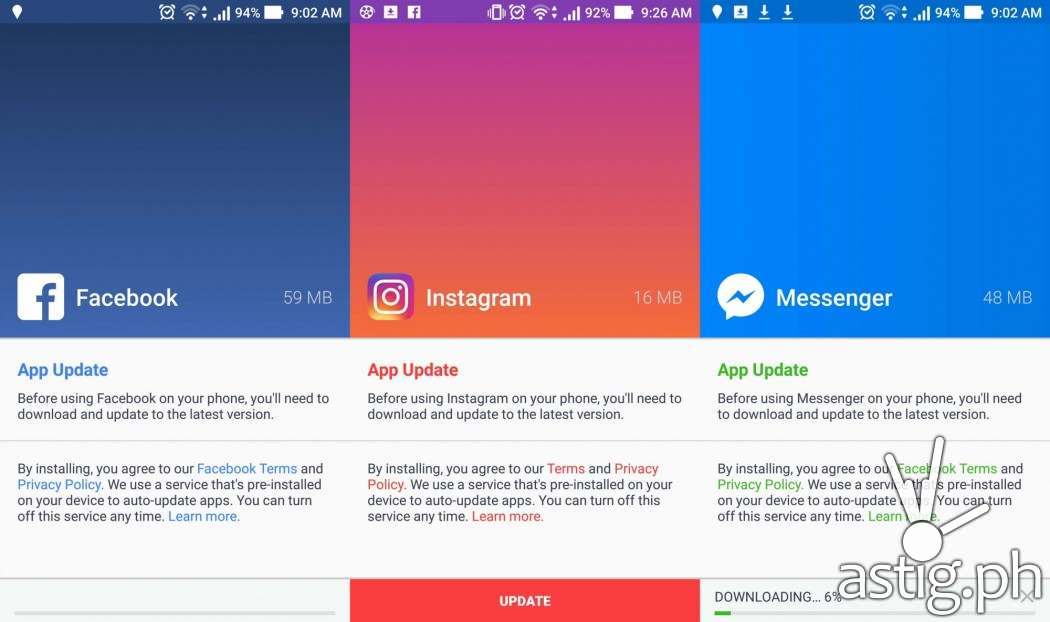 In the ZenFone 3, we see even more apps, including shortcuts to install Facebook, Messenger, and Instagram.
If ASUS wanted to stick to the "zen" mantra, we should try sticking to the essentials and let the user decide what they want to install.
4 GB memory, 64 GB storage
Our 5.5-inch unit comes with 4 GB of RAM, 1 GB more than while the 5.2-inch variant which comes with 3 GB of RAM.
Our freshly booted system has about 3.6 GB of available RAM and around 52.66 GB of usable storage.
Solid entertainment and application performance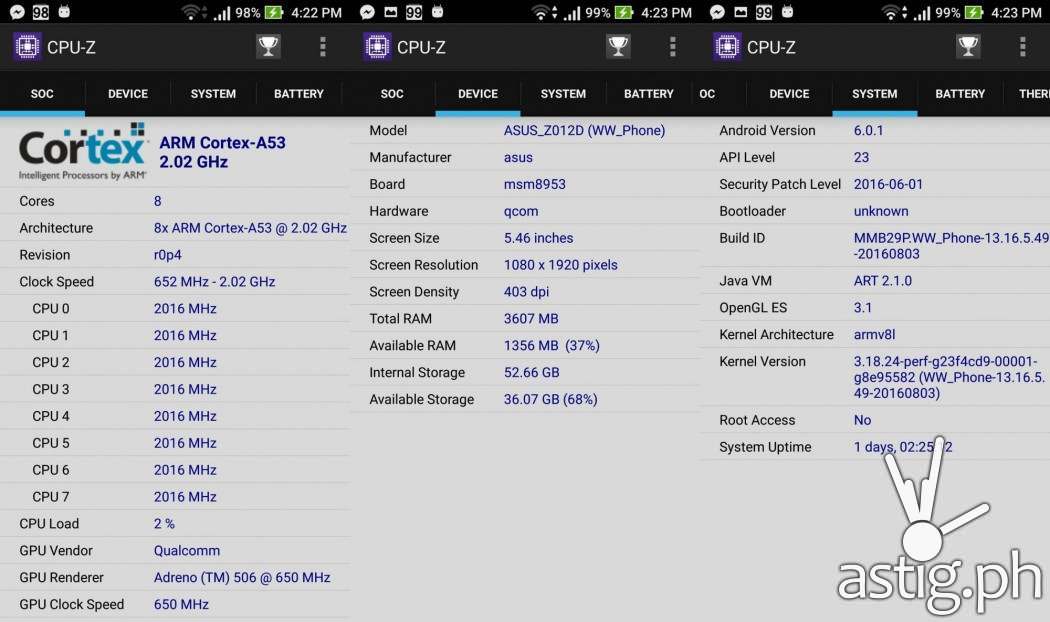 Qualcomm's Snapdragon 625 is a solid choice for upper-mid range devices. It uses the 14nm process and Qualcomm's proprietary Quick Charge 3.0.
It also supports 4K video capture and playback which means very smooth playback when watching movies and shows on the ZenFone 3's gorgeous full HD display.
There are eight ARM Cortex-A53 CPU cores running a maximum of 2.02 GHz and an Adreno 506 GPU running at 650 MHz.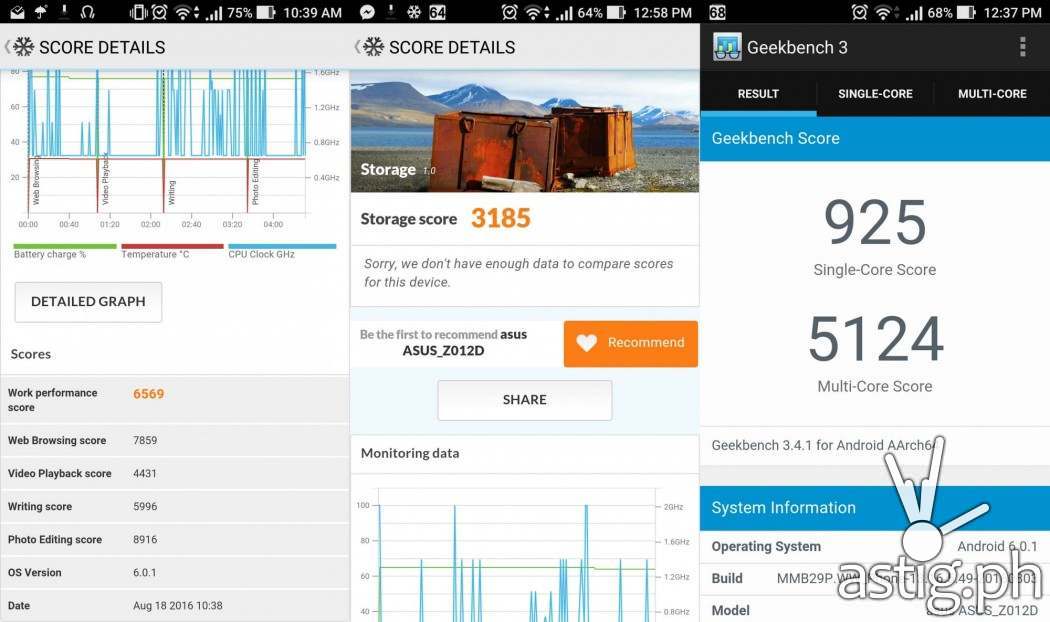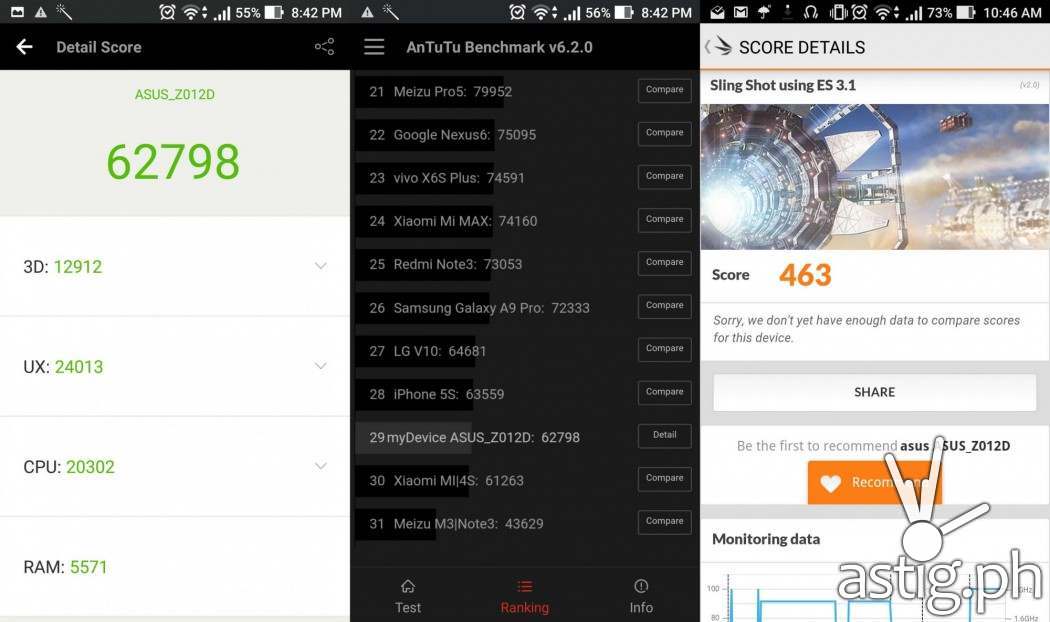 We managed to consistently score well over 60,000 points in Antutu, which is solid ground for latest upper mid-tier devices available today.
Above average 3D gaming experience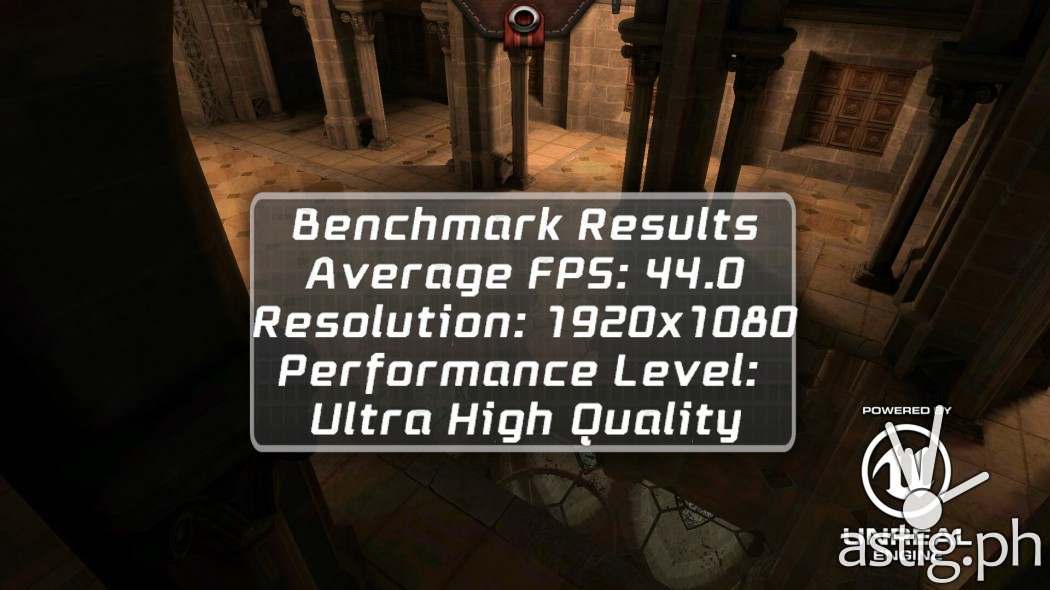 The ZenFone 3 was able to handle any game we threw at it. Our Epic Citadel run generated a result of 44 FPS at 1920 x 1080 pixels, which means most 3D games should run smoothly.
It does noticeably struggle with Unkilled at the highest detail settings, although it is still relatively smooth and very playable.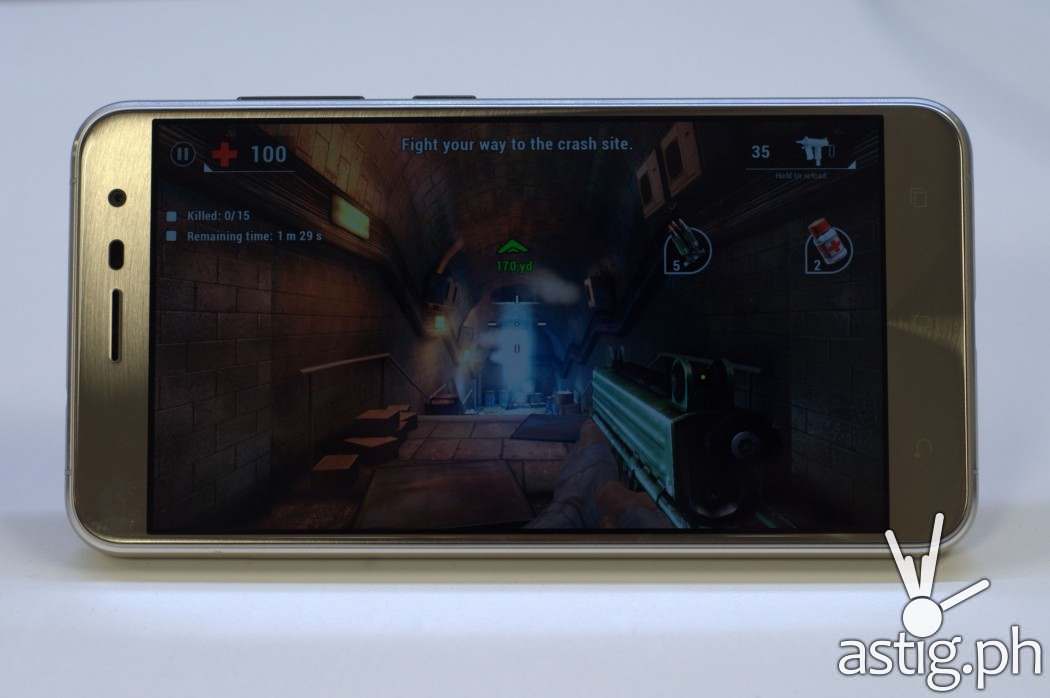 The graphically-demanding NBA 2K16 was also fairly smooth, though there is a noticeable amount of micro-stuttering when playing full court because of the insane amount of textures and models being rendered on-screen at the same time.
Sample unedited gameplay video of NBA 2K16 on the ASUS ZenFone 3, taken with ASUS Game Genie:
VR gamers should be more than happy with the frame rate and visual quality, though pixels are visible due to the distance of the eyes to the screen. Although the 1080p full HD display looks amazing from a distance, it is not enough to hide pixels from up close.
Interestingly enough a lower resolution display translates to longer battery life due to the lower power requirement.
We were seriously amazed by how cool the device remained while playing 3D games. Perhaps it's the reduced power draw of the entire system or improvements made to Snapdragon 625 such as the introduction of the 14nm FinFET technology, but the phone stayed cool even while playing games that maximize GPU, CPU, and GPS – which brings us to the next topic:
Pokemon GO and Waze: GPS, gyroscope, and heating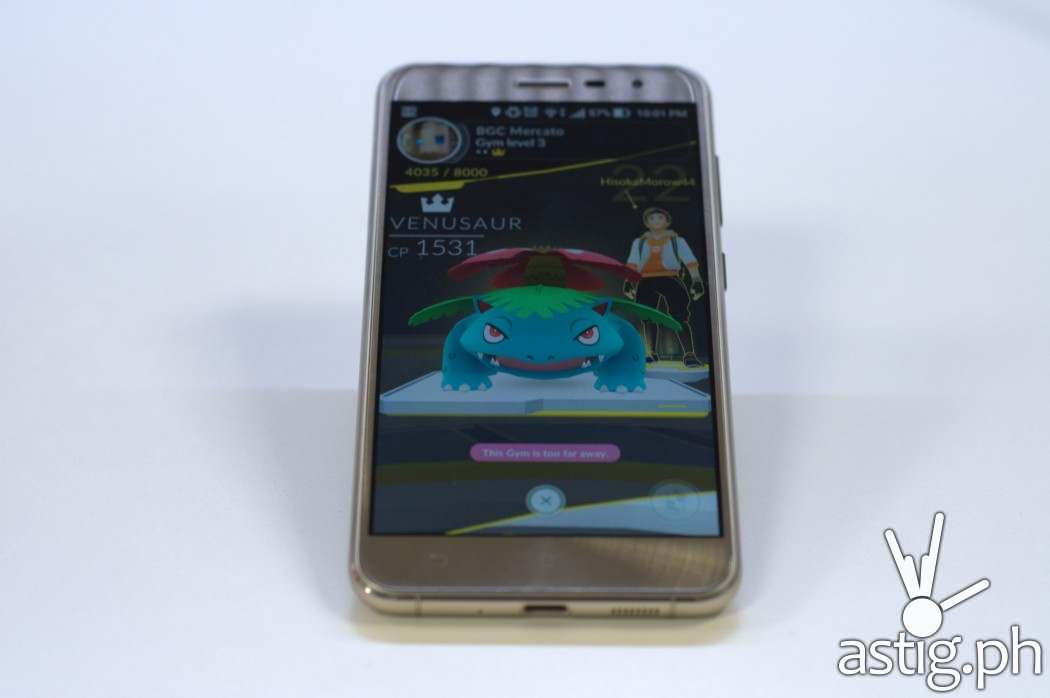 Of course, we also tested Pokemon GO and it performed extremely well for a game that consumes so much resources – screen, CPU, GPU, GPS, gyroscope, and camera – all at the same time.
The best way to appreciate the ZenFone 3 is to try playing Pokemon GO while on the road or indoors where GPS and network data can become unreliable.
We were able to maintain a more steady GPS and mobile data signal, which allowed us to spin more poke stops and catch more Pokemon more consistently compared to other phones.
Expectedly the phone does get a little warm when playing Pokemon GO for an extended period of time, but that's because the game really puts a lot of strain on the GPS and CPU because of all the complex computational requirements needed to by the location service.
We also managed to consistently get a GPS lock, making it very good not just for Pokemon GO, but also for Waze and for Google Maps.
Exciting camera: OIS, laser AF, real-time HDR, and 4K video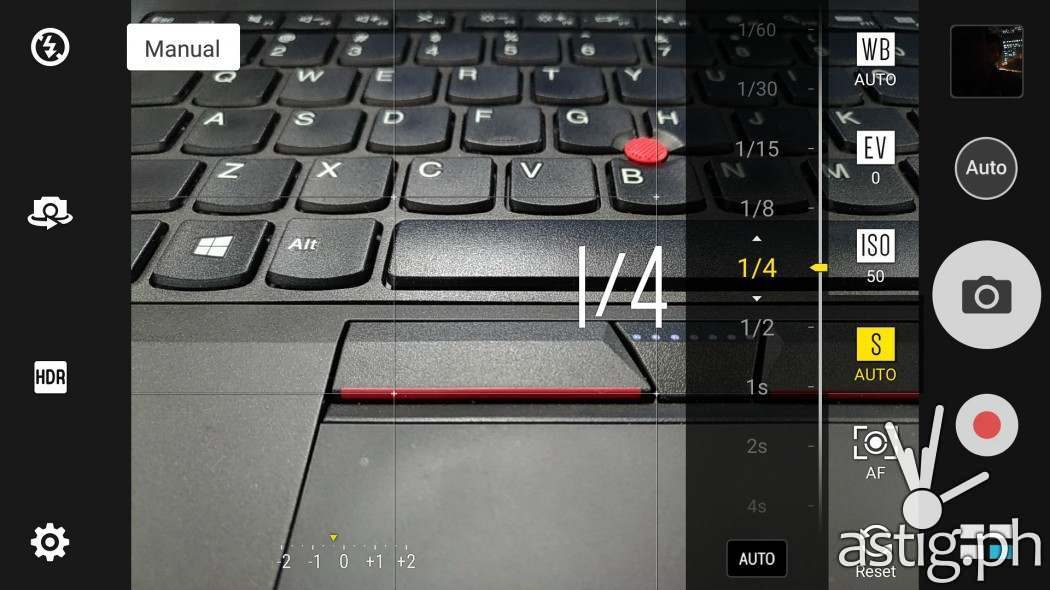 We think that photo enthusiasts will find optical image stabilization (OIS), real-time HDR, and laser autofocus to be among the most exciting features of the ZenFone 3 camera.
The engineering units at Zenvolution had some issues with real-time HDR, but this seems have been addressed.
You can actually take HDR selfies and videos thanks to built-in hardware support from the Sony IMX298 camera module, though the effect is not as dramatic as software generated HDR. Details become more visible in dark and light areas, and is a noticeable reduction in contrast.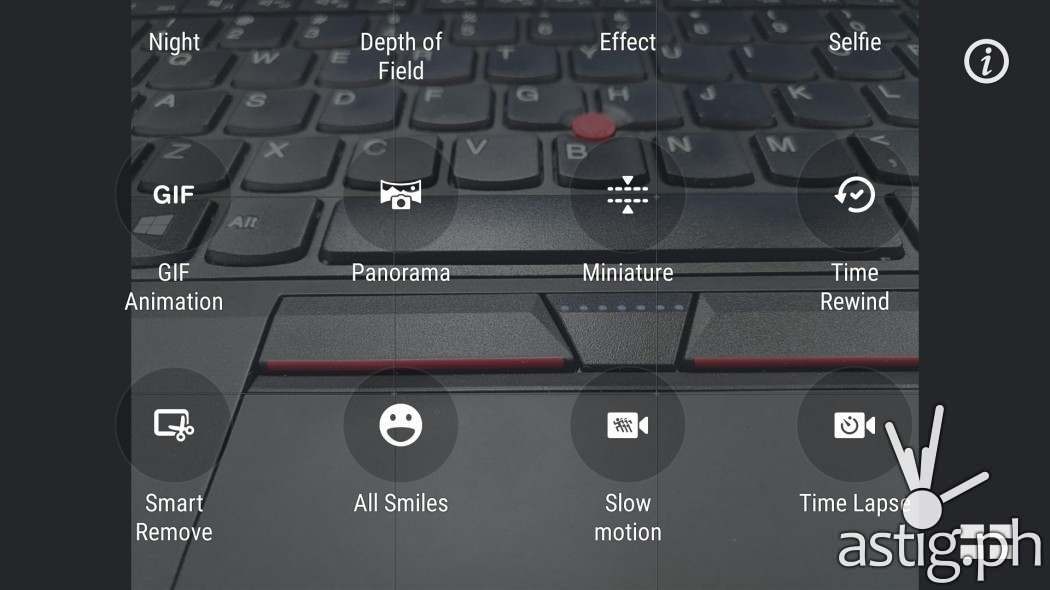 Both front and rear cameras took photos almost instantly thanks to lightning-fast autofocus. OIS hardware allowed us to take sharp photos in low light settings and stable videos.
Sony IMX298 camera key features
Diagonal 6.521mm (Type 1/2.8) 16 Mega-pixel CMOS active pixel type stacked image sensor
Phase Detection Auto Focus (PDAF)
Single Frame High Dynamic Range (HDR) with equivalent full pixels
Full resolution @30 frames/s (Normal / HDR). 4K2K @30 frame/s (Normal / HDR) 1080p @60 frame/s (Normal / HDR)
Output video format of RAW 10/8, COMP8
ASUS ZenFone 3 sample photos
These are unedited photos taken straight from the ASUS ZenFone (resized and compressed for the web).
ASUS ZenFone 3 sample video
Here is an unedited 4K HDR video that was taken with the ASUS ZenFone 3:
Price and verdict
In conclusion, the ASUS ZenFone 3 does so many things right. For an upper mid-range device it looks and feels like a flagship.
Beyond its outer beauty, other features make it stand out: an amazingly vivid screen, dual-SIM support, a shared expansion slot, a powerful chipset, very good GPS, generous memory and storage space, and an amazing camera.
The only question left is the price.
ZenFone 3 5.5 inch model is being offered at 18,995 Php, while the 5.2-inch variant will retail for 16,995 Php. When we were in Taiwan back in June, ASUS CEO announced that the 5.2-inch model will retail for $249, so we were a little surprised.
Then again, we always wondered how ASUS would be able to pull off such competitive pricing after two ZenFone series, given the cost of doing business in the Philippines.
ASUS put a lot of effort in engineering the ZenFone 3, and this is something that you have to experience for yourself so go out there and pick up a demo unit and tell us what you think about it.
ASUS ZenFone 3 photo gallery
ASUS ZenFone 3 price (Philippines)
ASUS ZenFone 3 5.5 (ZE552KL): Php 18,995
ASUS ZenFone 3 5.2 (ZE520KL): Php 16,995
ASUS ZenFone 3 5.5″ (ZE552KL) specs
Display: 5.5″ Super IPS+ @ 1920×1080 + Gorilla Glass
SoC: Qualcomm Snapdragon 625
GPU: Adreno 506
Memory: Up to 4GB RAM
Storage: Up to 64GB ROM (expandable)
Card Slot: MicroSD, up to 128GB (uses SIM slot 2)
Camera (front): 8MP f/2.0
Camera (rear): 16MP Sony IMX298 + color correction sensor, dual LED flash, OIS, Triple-AF (laser, PDAF, continuous), real-time HDR
SIM: dual 3G/4G (micro-SIM, nano-SIM/microSD)
GPS: GPS, AGPS, GLONESS, BEIDUO
OS: Android 6 (Marshmallow) + ZenUI 3
Battery: 3000mAh (Quick Charge 3.0)
Features: Type-C USB, fingerprint sensor
Colors: Shimmer Gold, Aqua Blue, Sapphire Black, Moonlight White
ZenFone 3 5.2″ (ZE520KL) specs
Display: 5.2″ Super IPS+ @ 1920×1080 + Gorilla Glass
SoC: Qualcomm Snapdragon 625
GPU: Adreno 506
Memory: Up to 3GB RAM
Storage: Up to 64GB ROM (expandable)
Card Slot: MicroSD, up to 128GB (uses SIM slot 2)
Camera (front): 8MP f/2.0
Camera (rear): 16MP Sony IMX298 + color correction sensor, dual LED flash, OIS, Triple-AF (laser, PDAF, continuous), real-time HDR
SIM: dual 3G/4G (micro-SIM, nano-SIM/microSD)
GPS: GPS, AGPS, GLONESS, BEIDUO
OS: Android 6 (Marshmallow) + ZenUI 3
Battery: 2650mAh (Quick Charge 3.0)
Features: Type-C USB, fingerprint sensor
Colors: Shimmer Gold, Aqua Blue, Sapphire Black, Moonlight White