Earlier this year, ASUS promised a premium unboxing experience for the ZenFone 3, and that surely seems to be the case with the metallic logo printed on the textured black box.
The ZenFone 3 base model comes in two variants – one with a 5.2-inch screen, identified by the model number ZE520KL, and a 5.5-inch version, identified by the model number ZE552KL.
READ: ASUS ZenFone 3 review: the most beautifully crafted upper mid-range device you can buy today
ASUS ZenFone 3 specs
Glass-covered unibody with no visible antenna
Full HD (1920 x 1080) Super IPS+ display with Gorilla Glass 4
Dual SIM support (2nd slot shared with MicroSD)
Android 6.0.1 (Marshmallow) with ZenUI 3.0
Qualcomm Snapdragon 625 octa-core processor
3/4 GB RAM, 32/64 GB ROM
16MP rear camera (Sony IMX230) with Tritech AF, OIS, 4K video recording
3000 mAh non-removable battery
Features Fingerprint sensor, Quick Charge 3.0 via USB type-C
The packaging: a premium unboxing experience
The back of the box lists a number of key technical information.
From here we can glean that we have the 5.5-inch variant with 4GB of RAM, 64GB of storage, an 8MP front camera, and a 16MP rear camera. It has two IMEI numbers for dual SIM support. It supports LTE and has a processor that operates up to 2.0Ghz.
The back panel also shows that we have the gold unit and that it runs Android Marshmallow and comes with a headset.
Oh, it is also made in China.
The unit: beautifully crafted symphony of metal and glass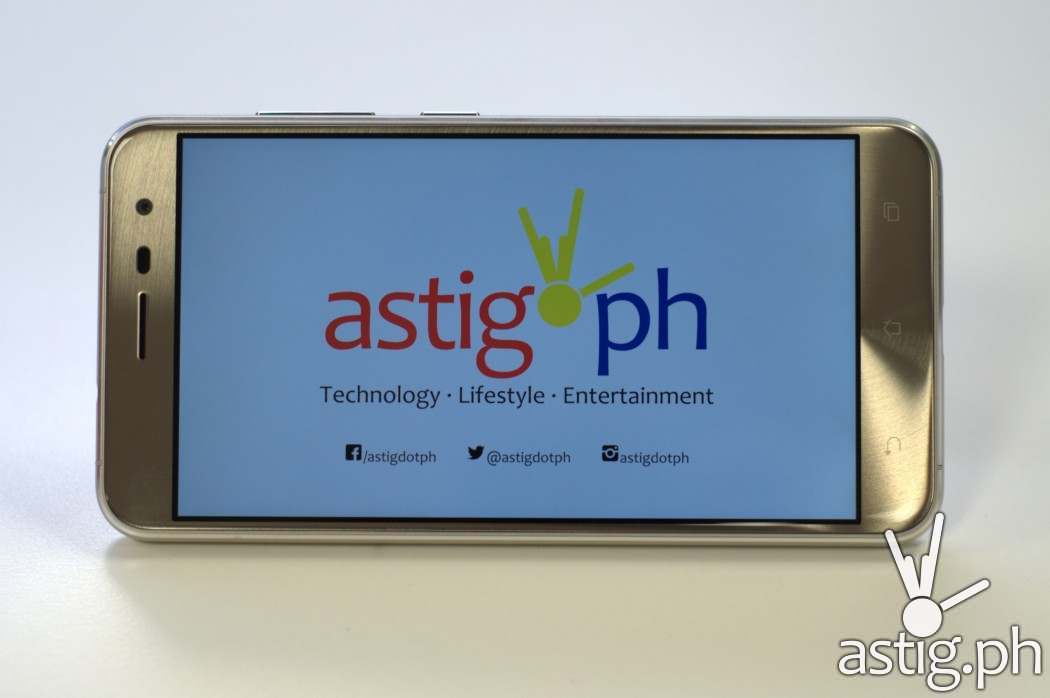 Upon opening the box we are presented with our gorgeous, fingerprint-free and scratch-free gold unit with 5.5-inch full HD screen protected by a layer of 2.5D contoured Gorilla Glass.
Three capacitive buttons line up the lower front portion of the phone, while the earpiece and 8MP front-facing camera with LED flash fills the top area.
Flipping the ZenFone 3, we see the beautiful, solid all-metal back with concentric circles, also protected by a layer of 2.5D contoured Gorilla Glass.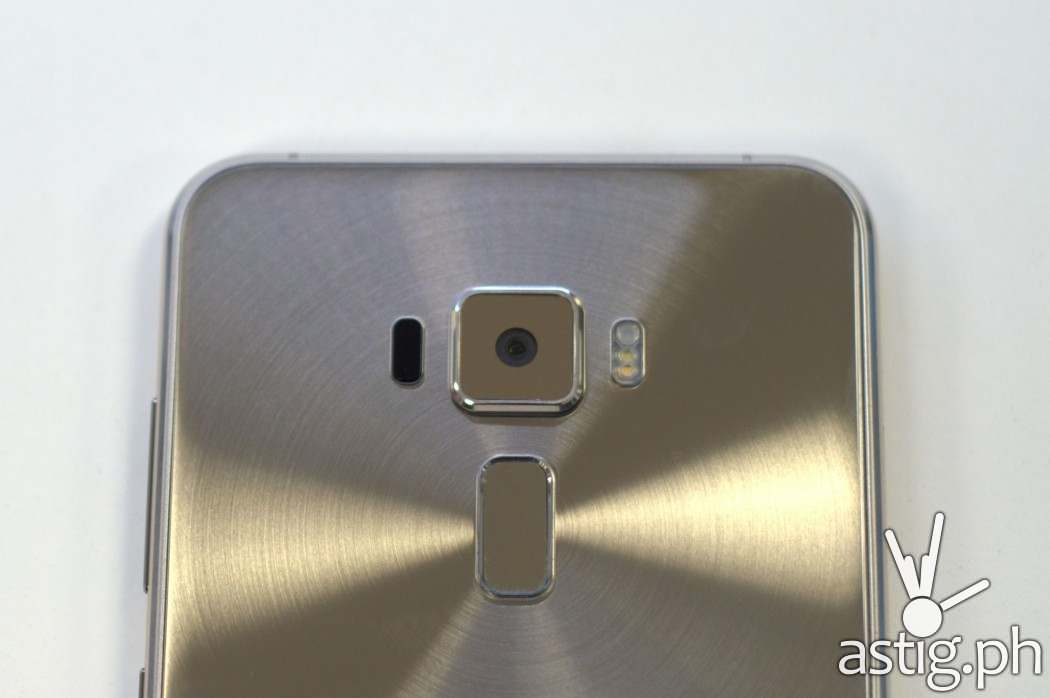 Unlike its predecessors, the area where the volume rocker used to be is now taken up by a fingerprint sensor, right below the 16MP rear camera flanked by the laser autofocus module and dual LED flash.
There is a slight camera hump about a millimetre thick. Quite noticeable though it looks good on the gold unit thanks to the same shiny metallic finish.
Moving on.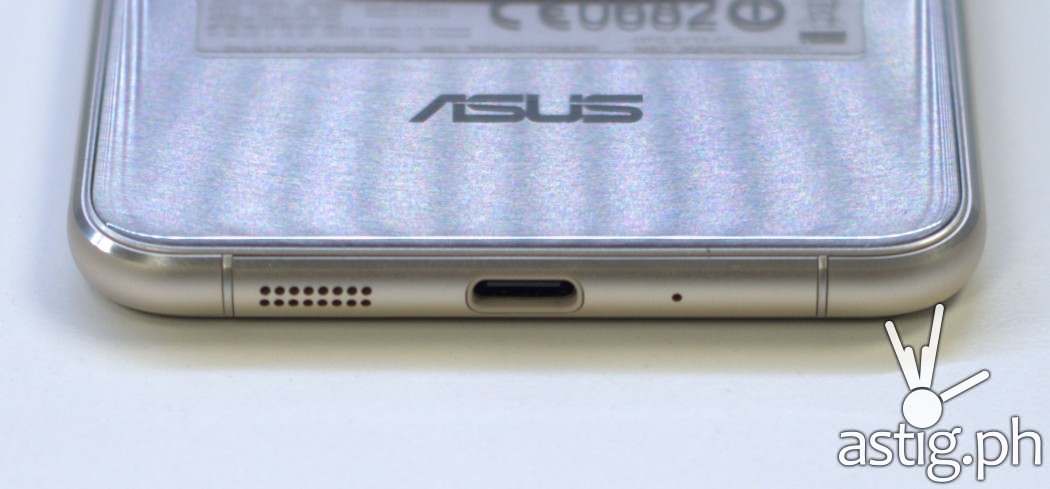 The lower back part still shows the ASUS logo, though the speaker grill is noticeably missing. It has been moved to the bottom of the unit, right beside the microphone and USB Type-C port.
We think this is very good hardware design on the part of ASUS.
In the older ZenFones, the speakers were located at the back, resulting in muffled sounds whenever the phone is lying on its back – which happens most of the time.
Putting the speakers at the bottom of the phone means the speakers are free from obstruction, resulting in clearer and louder sound.
Like the ZenFone Zoom, the volume rocker and the power button can now be found on the right side of the phone, while the 3.5mm headset port stays at the top of the device.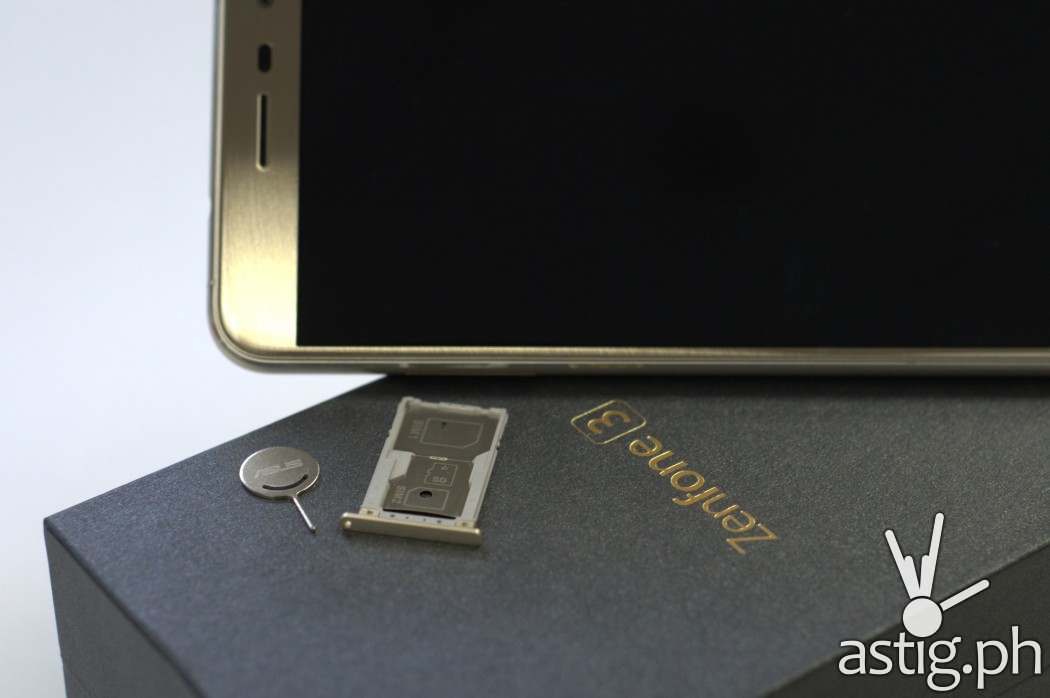 Because the ZenFone 3 does not have a removable back cover, we need to use a PIN to access the SIM tray, located on the right.
The minimalist look coupled with the hidden antenna design and glass-on-metal design gives the ZenFone 3 a distinctive, premium feel that showcases the attention that ASUS placed in the phone's engineering.
Accessories: headset, USB Type-C cord, high powered wall charger
So what else is in the box?
Aside from the user guide, our gold unit comes with white accessories.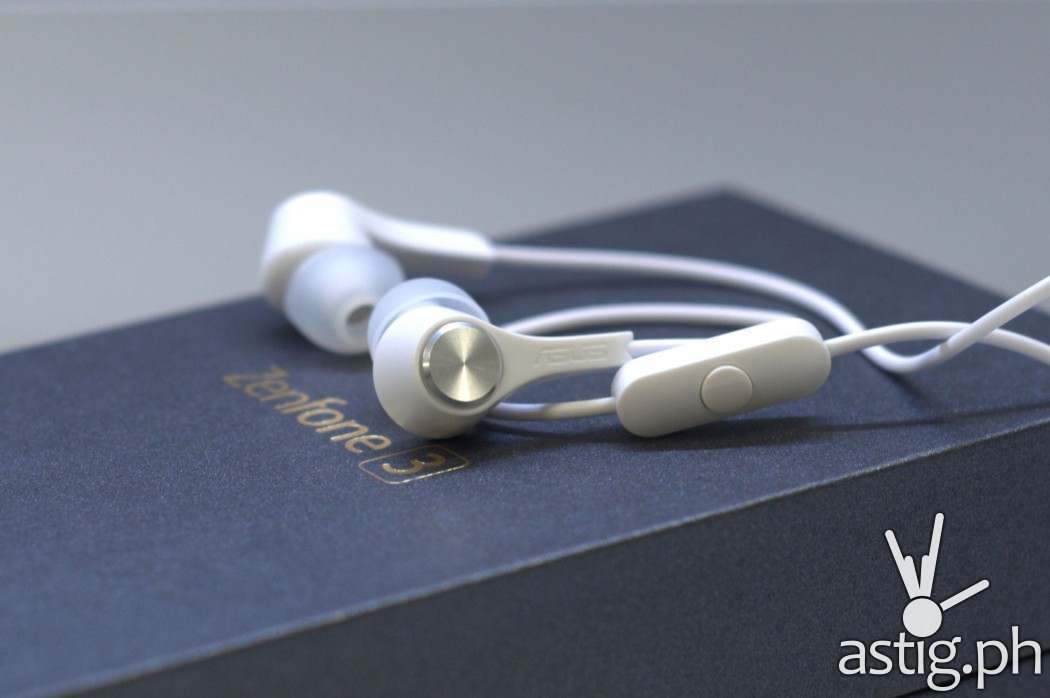 First, we have the headset which comes with two additional sets of replacement ear buds.
The headset looks just like the ones found in the ZenFone Zoom which, in our experience, is one of the best sounding headsets to come bundled with a phone.
Next, have a thick USB Type-C cord. Aside from speed and power improvements, what's really neat about USB Type-C is that it will go in any way you plug it, unlike Micro USB which only goes in facing one direction.
The matching wall adapter delivers up to 5 volts and 2 amps for a total of 10 watts of power.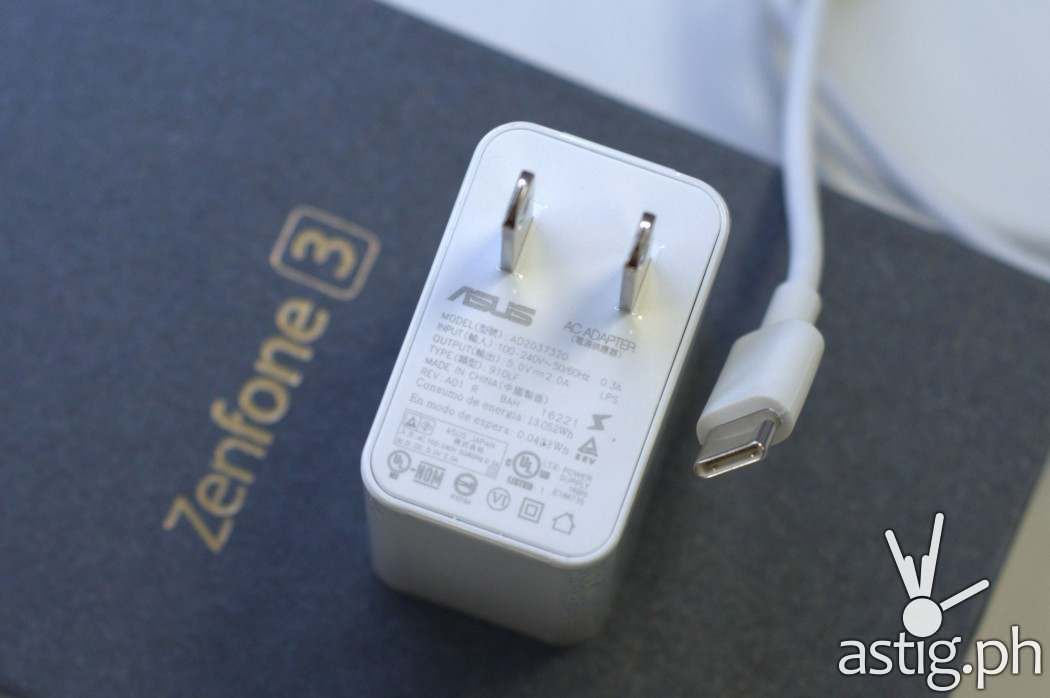 Snapdragon 625 chipset in the ZenFone 3 provides support for Qualcomm Quick Charge 3.0. If you are coming from a phone without fast charging, prepare to be amazed.
By the way, the 5.5-inch model comes with a 3000 mAh battery while the 5.2-inch model comes with 2650 mAh of battery life.
Software: The latest and greatest bundled with a bunch of in-house and third-party apps
Back to the phone.
ZenFone 3 runs Android 6.0.1 Marshmallow out of the box. Though we physically have 4GB of RAM, the system only lists a total of 3.5GB with 2.5GB free.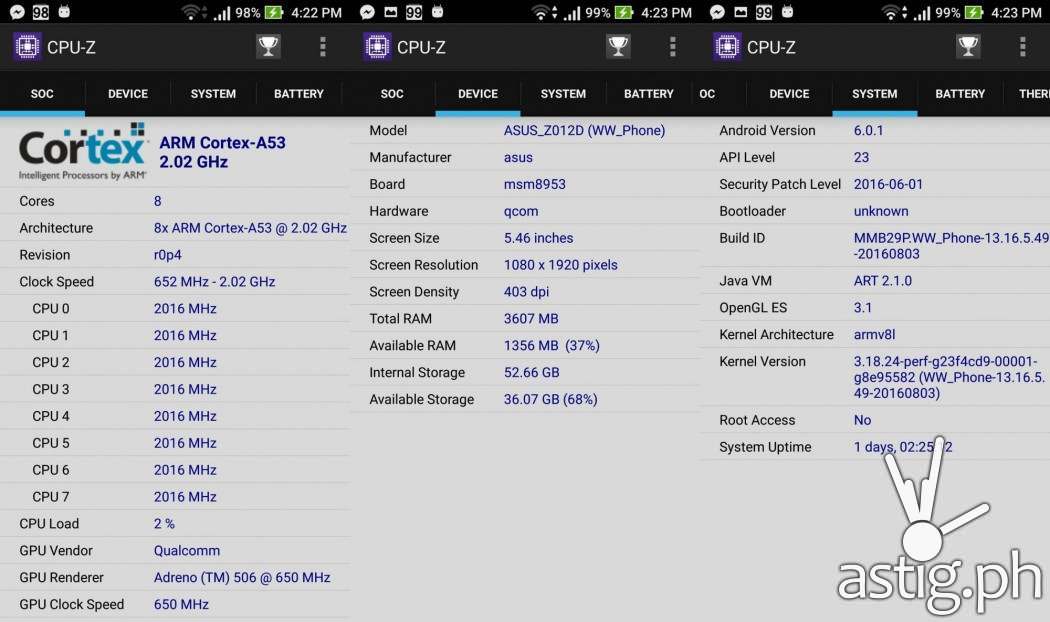 Storage-wise, the system consumes close to 12GB of space out of 64GB out of the box, leaving us with only 52GB available for our uhm, *torrent* stuff.
Speaking of which, ZenUI 3.0 is gorgeous, but at the same time, ASUS is known for loading a sizeable amount of "bloatware" with their devices, and the ZenFone 3 is no exception.
We find the usual company of in-house, custom software from ASUS as well as a number of third-party ones.
For example, ASUS very own advanced Power Saver allows you to manage power consumption more efficiently.
We also get two new pieces of software in the ZenFone 3: first, we get the ASUS Mobile Manager which appears to be Taiwanese company's take at the popular resource-boosting software Clean Master.
Second we have the new ASUS Game Genie, which allows gamers to boost performance or broadcast their games live, just like YouTube Gaming.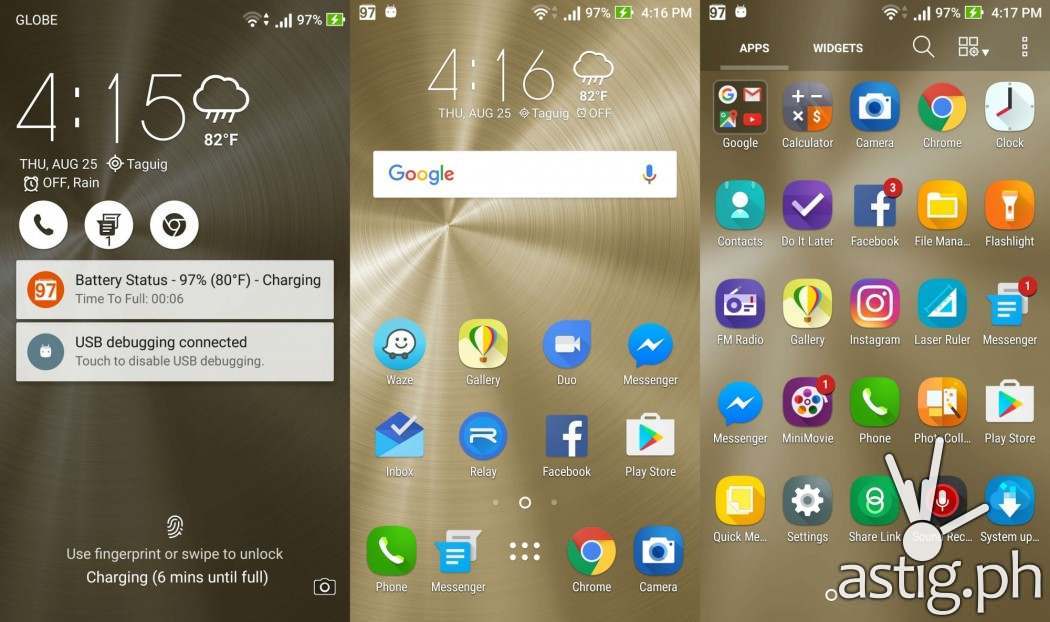 Other ASUS in-house software includes MyASUS, ZenFone Care, ZenTalk, Photo Collage, MiniMovie, and ZenCircle.
Of course, being an Android device, the ZenFone 3 comes with the usual Google application suite such as YouTube, Gmail, Google Photos, and so on.
Finally, the ZenFone 3 also comes bundled with third-party applications such as Facebook, Instagram, Puffin Browser and Amazon Kindle.
Can you recall how much storage the system consumes out of the box?
Answer: 11 Gigs.
Performance: solid upper-mid range application and gaming experience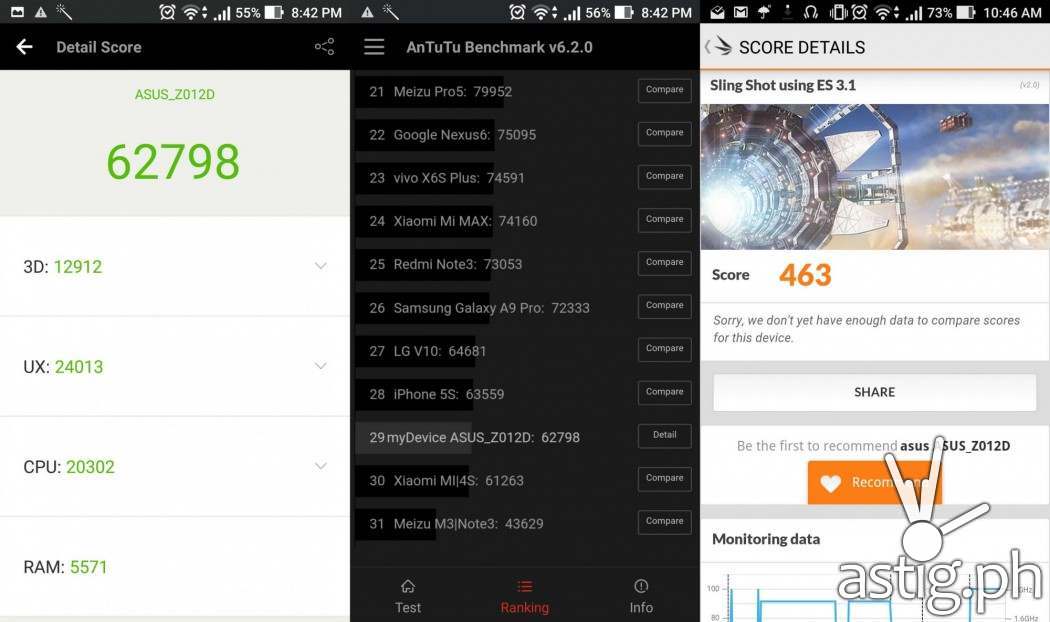 Performance wise we hit an Antutu score of 62798 on our first try, exceeding our former score of 59724 with the engineering unit.
Looking deeper, we see that the octa-core Cortex-A53 CPU can go as high as 2.02 GHz and as low as 652 MHz though the lack of clustering means all eight cores will be active all the time, albeit running at a lower clock rate.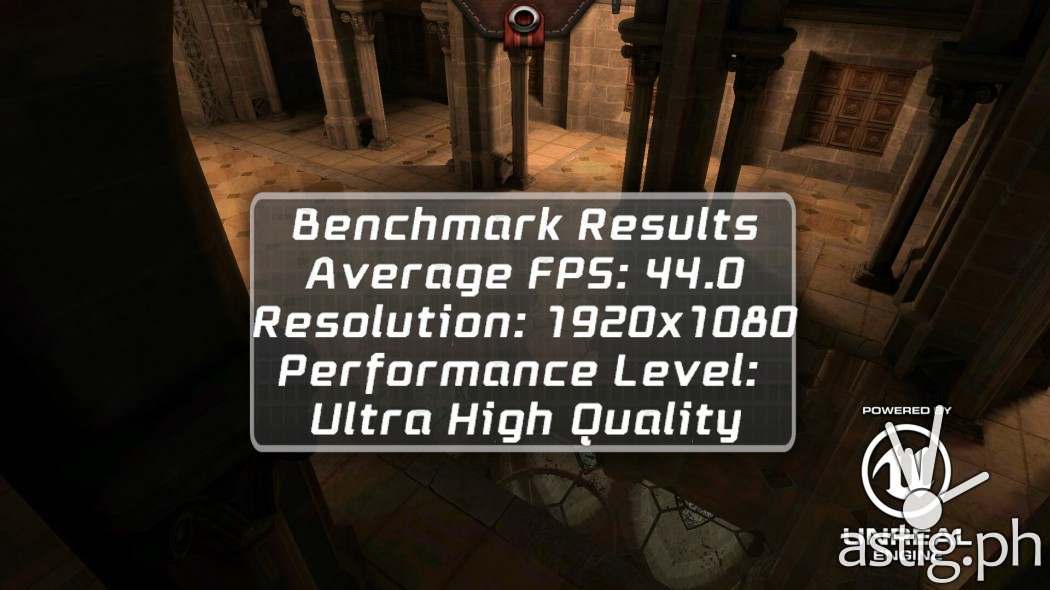 The GPU renderer is an Adreno 506 running at 650 MHz, which delivered a solid 44 FPS with Epic Citadel running ultra high-quality mode at 1920×1080 pixels. This is close to our previous score of 43.4 FPS.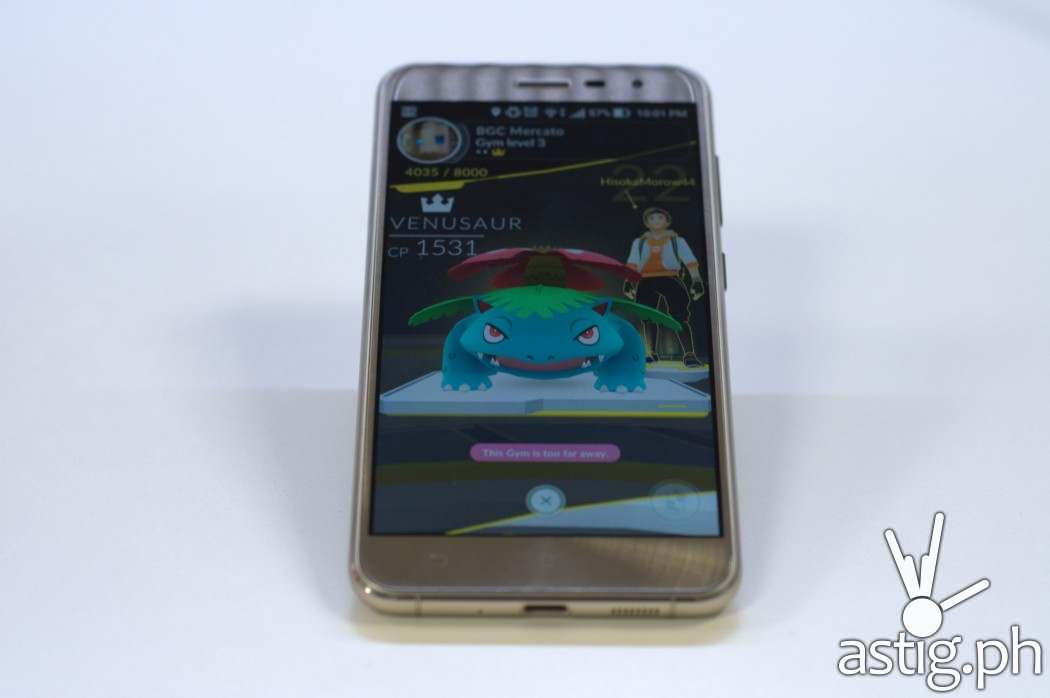 3D gaming experience on the ZenFone 3 is glorious. The phone absolutely killed any game we threw at it, including NBA 2K16, Unkilled, Asphalt 8, and of course, Pokemon GO.
Sample unedited gameplay video of NBA 2K16 on the ASUS ZenFone 3, taken with ASUS Game Genie:
Camera: exciting with live HDR, OIS, and 4K video but still no RAW support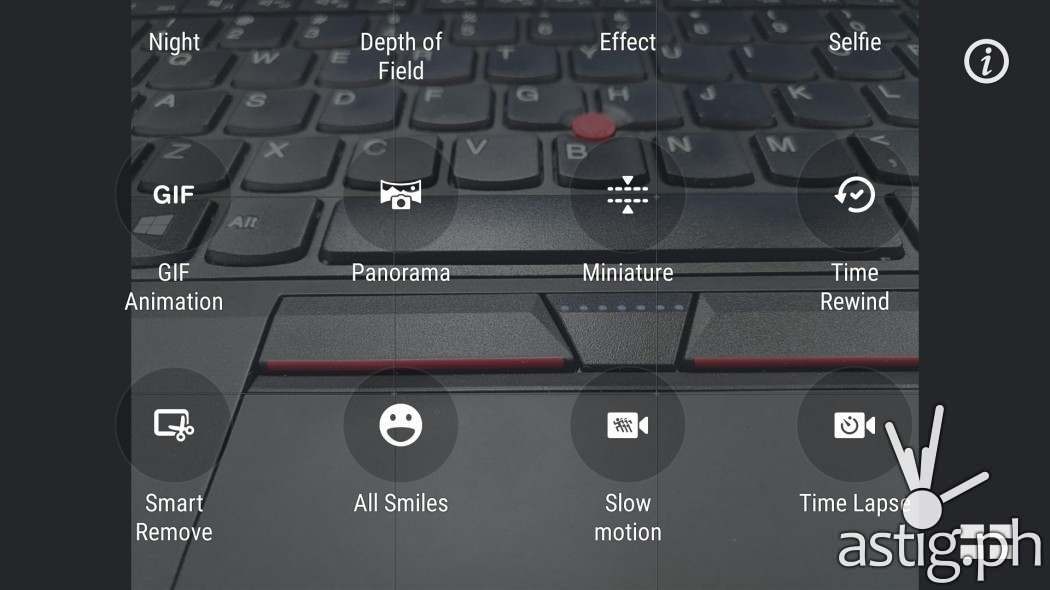 Photos look good straight off the phone using automatic settings. The camera takes shots almost instantly thanks to laser autofocus.
We were kind of hoping to see RAW (DNG) image file support on the ZenFone 3. This is something that has been in existence since Google rolled out the Camera2 API in Android 5.0 (Lollipop). ASUS chose to stick with JPEG with this release, as with many other smartphone manufacturers.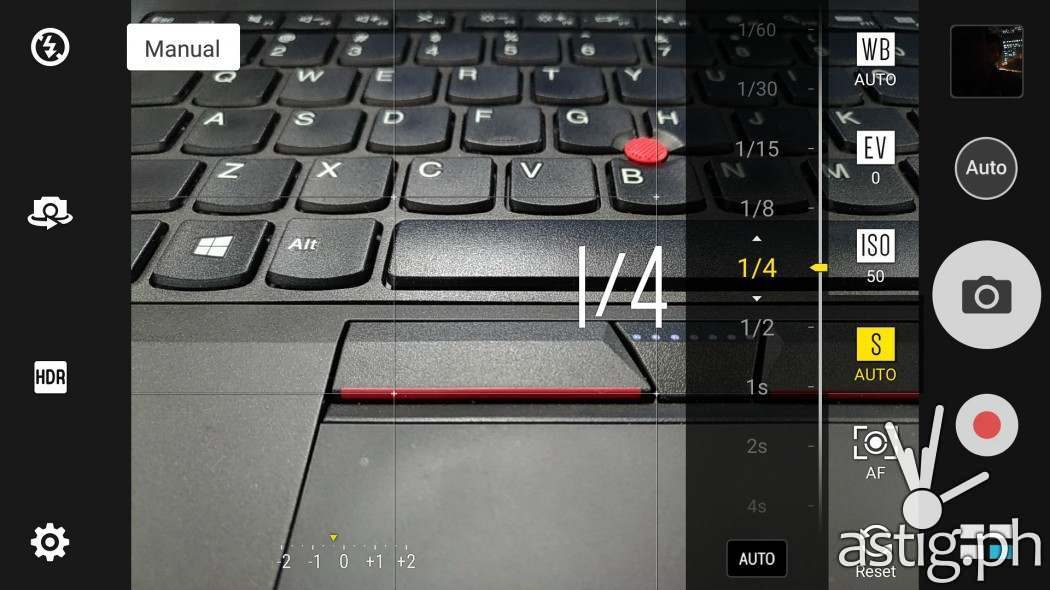 We think live HDR mode that comes with the new Sony IMX298 sensor is cool since it lets you preview the actual shot on your screen, though the results are not as dramatic as software-rendered HDR.
Did we mention that you could actually shoot HDR videos?
Speaking of videos, we can finally shoot 4K videos with the ZenFone 3, although the frame rate is limited to only 30 FPS.
The verdict: a solid upper mid-range device that looks better than anything in its tier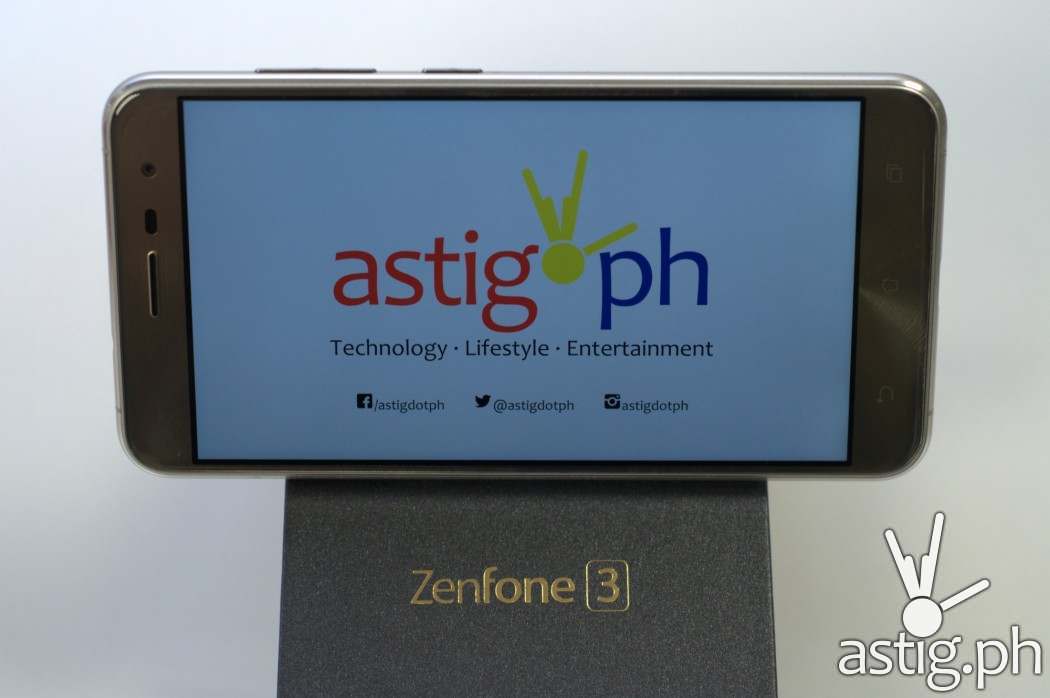 Overall the ZenFone 3 is a solid upper mid-range device that performs as expected. Like its predecessors, it is a well-designed phone, but it also looks better than anything in the same category.
ASUS put extra effort in aesthetics, resulting in a very beautiful device. Unfortunately, this comes at a much higher premium which puts the brand on equal footing with established names such as Apple and Samsung.
This is a huge leap from its predecessors, which were priced at less than half the competition's flagship.
Is the ZenFone 3 worth its premium price tag? Now that is the 17,000-peso question.
ASUS ZenFone 3 price (Philippines)
ASUS ZenFone 3 5.5 (ZE552KL): Php 18,995
ASUS ZenFone 3 5.2 (ZE520KL): Php 16,995
ASUS ZenFone 3 5.5″ (ZE552KL) specs
Display: 5.5″ Super IPS+ @ 1920×1080 + Gorilla Glass
SoC: Qualcomm Snapdragon 625
GPU: Adreno 506
Memory: Up to 4GB RAM
Storage: Up to 64GB ROM (expandable)
Card Slot: MicroSD, up to 128GB (uses SIM slot 2)
Camera (front): 8MP f/2.0
Camera (rear): 16MP Sony IMX298 + color correction sensor, dual LED flash, OIS, Triple-AF (laser, PDAF, continuous), real-time HDR
SIM: dual 3G/4G (micro-SIM, nano-SIM/microSD)
GPS: GPS, AGPS, GLONESS, BEIDUO
OS: Android 6 (Marshmallow) + ZenUI 3
Battery: 3000mAh (Quick Charge 3.0)
Features: Type-C USB, fingerprint sensor
Colors: Shimmer Gold, Aqua Blue, Sapphire Black, Moonlight White
ZenFone 3 5.2″ (ZE520KL) specs
Display: 5.2″ Super IPS+ @ 1920×1080 + Gorilla Glass
SoC: Qualcomm Snapdragon 625
GPU: Adreno 506
Memory: Up to 3GB RAM
Storage: Up to 64GB ROM (expandable)
Card Slot: MicroSD, up to 128GB (uses SIM slot 2)
Camera (front): 8MP f/2.0
Camera (rear): 16MP Sony IMX298 + color correction sensor, dual LED flash, OIS, Triple-AF (laser, PDAF, continuous), real-time HDR
SIM: dual 3G/4G (micro-SIM, nano-SIM/microSD)
GPS: GPS, AGPS, GLONESS, BEIDUO
OS: Android 6 (Marshmallow) + ZenUI 3
Battery: 2650mAh (Quick Charge 3.0)
Features: Type-C USB, fingerprint sensor
Colors: Shimmer Gold, Aqua Blue, Sapphire Black, Moonlight White