MANILA, Philippines – AXN, Asia's powerhouse of thrilling entertainment, is set to bring back its annual varsity challenge event for a third edition.
Themed AXN University Challenge: Amplified, the series of events grows from three participating colleges last year to four this year. They include: San Beda College, University of the Philippines – Diliman, De La Salle University, and Far Eastern University.
The physical and intellectual challenges that participants are expected to overcome will be tougher than last year, but with better rewards! A total of PhP65,000 in cash and prizes from event sponsors will be up for grabs in each leg.
AXN University Challenge: Amplified event details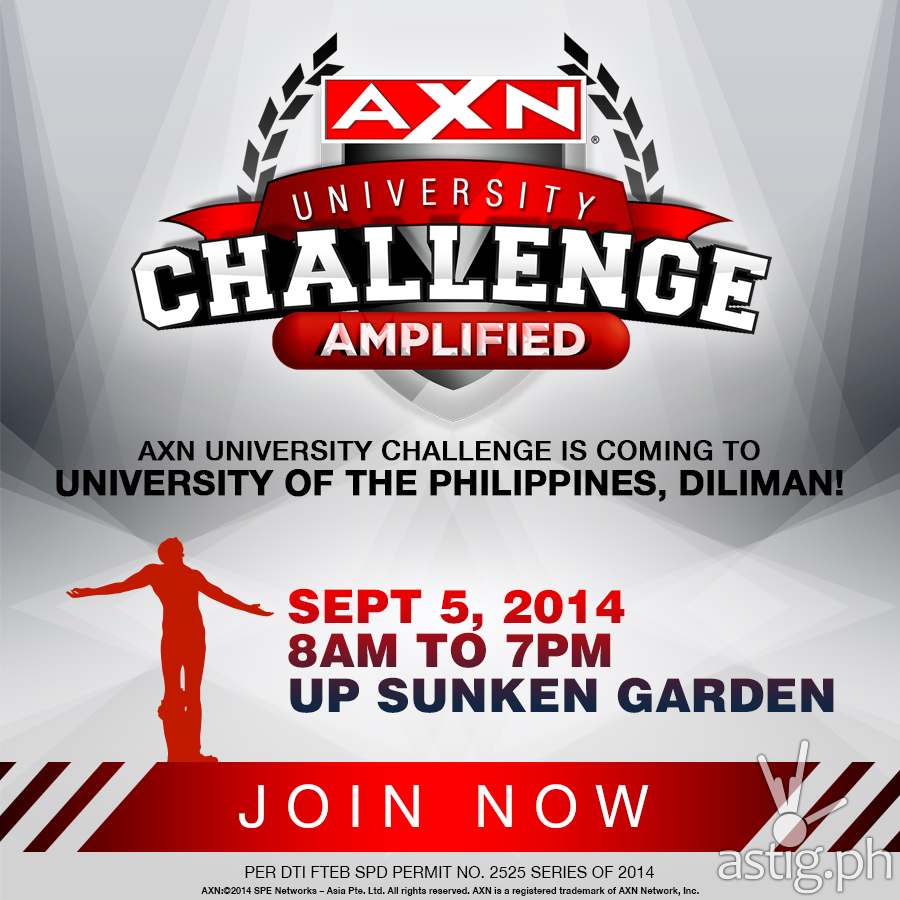 AXN University Challenge: Amplified will be held on September 5, Friday at the UP Sunken Garden from 8am – 6pm.
The full day event will welcome 60 teams of five members each. The first phase Battle Obstacle will see teams overcome six physical challenges like jumping across gaps, collecting tokens while being rolled like a hamster in a wheel and unlocking locks picking from a bunch of keys. With the goal of clocking the shortest possible time, the top 10 team will get through to the final phase, Campus Rush.
Each of the 10 team selects two members for Campus Rush, which will involve tasks to be completed in various parts of the UP campus. Tasks will include moving tokens using only a stick in the mouth, solving mathematical and jigsaw puzzles, eating pastries, as well as learning and performing a cheer-dance routine.
Based on the results of both phases, the fastest team wins PhP20,000, runners-up takes home PhP15,000, and second runners-up receives PhP10,000, with the school organization of the winning team also bagging PhP20,000.
Registration
To register for AXN University Challenge: Amplified, UP students can form a team of five and proceed to the registration booth at the 3rd Floor of the College of Business Administration from September 1 to 4 from 10am – 4pm. Every member must fill out a registration form each with the required details, and must present their school IDs and copies of their enrollment card or the equivalent. The registration form can also be downloaded from the AXN Asia website.
Students who are not participating in the games can sign up for their event passport to visit the different activation booths and receive freebies from AXN and event sponsors. Fun stage games and raffle draws will be taking place throughout the day to thrill UP students.