MANILA, Philippines – Parents and teachers who grew up with Batibot can now let their children and students enjoy the popular children's educational TV show through a mobile phone application. The Batibot Android application, which was recently launched by mobile leader Smart Communications, was designed specifically for kids in kindergarten up to Grade 3.
Through fun-filled games on the app, children in their formative years can develop essential thinking skills. They can learn basic concepts like matching, sorting, and grouping. They are shown how to identify shapes, colors, numbers, the alphabet, and letter sounds. The children can also practice tracing letters with the proper strokes.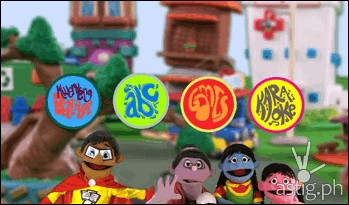 The Batibot app, which can be downloaded for free, also supports early literacy by nurturing children's love for storytelling.
Developed in collaboration with the Community of Learners Foundation (COLF) and startup partner OrangeFix, the Batibot app is the first learning app in Filipino that is aligned with the national kindergarten curriculum of the Department of Education.
The Batibot app can be downloaded for free on Android devices.
The Batibot app has interactive features like the classic game "Alin Ang Naiba," where children are asked to identify what is different from a group of objects and pictures. Kindergartners can also practice writing by tracing letters on their device, and sing along to Batibot songs via the app's videoke feature.
Meanwhile, the "Kuwentong Batibot" feature provides children with access to stories in Filipino, with the aim of establishing a firm foundation for early and emergent literacy.
#LearnSmart
The Batibot app is one of the key features of the Smart TechnoCart, a mobile digital laboratory launched last June to enhance learning among kindergartners through mobile devices and applications.
Each Smart TechnoCart contains 20 tablets which come preloaded with the Batibot app. It also has a laptop and projector for use by the teacher; a Smart Bro pocket WiFi with prepaid load for connectivity; and the Smart One Campus, a learning management system that helps administrators and teachers track and measure their students' academic performance.
The Smart TechnoCart's compact and portable design makes it easy for teachers to transfer the laboratory from one classroom to another. So far, Smart has deployed Smart TechnoCarts in 15 public kindergarten schools identified by the Department of Education as initial beneficiaries.
Interested parties may also sponsor Smart TechnoCarts for school beneficiaries.
"Through our umbrella program for education called #LearnSmart, we're trying to make learning fun, engaging, and interactive for students with the help of digital and mobile technologies," said Smart public affairs head Mon Isberto.
"By digitizing Batibot, Smart is addressing the need of children for localized educational content. We also hope to make learning a shared experience between the parents and teachers, who grew up with the Batibot TV show, and their kids and students, who can now enjoy the Batibot experience on mobile devices," he added.
Pinoy kids' learning partner
Feny de los Angeles, COLF director and former research and curriculum director of the Philippine Children's Television Foundation which produced Batibot, said the TV show had been a "playmate" and learning partner of generations of Filipino children for nearly two decades.
"All those years, Batibot had been a trusted partner of parents who are their children's first teachers – from infancy through the early childhood years. Now that the kindergarten program is a national program of the public school system, we would like to continue this tradition of supporting children as they begin their journey in schools and, we hope, as lifelong learners," de los Angeles said.
"This time, we also see the urgency of supporting very young children as they enjoy their digital play experiences in a language that we hope they would learn to love and be comfortable with – Filipino," she added.
To know more about Smart's education initiatives, as well as how to sponsor Smart TechnoCarts for schools, please visit www.smart.com.ph/learnsmart