It's very hard & unfair for me to review 'Buffet 101' in just one article, but I will try my best. The reason is that the sheer scale & variety of dishes offered is so large, I wasn't able to try them all, even though I wanted to. What I can tell you, is that being an avid buffet enthusiast, Buffet 101 offers some of the most decadent, luxurious & delectable dishes I have had so far in my life.
The viands are international. For the Chinese section the dim sum stands out. Try to look for the chicken feet as they have been steam to perfection that there is no hint of chewiness, only soft gelatinous sinew of chicken. There is a huge fish, one which I could not identify because it's being mauled by diners even after a few seconds that it has been set down, like a school of hungry piranhas. This fish's meat is the whitest & softest thing I have ever had! The red meat of Hong Kong style pork belly was very authentic, as I also tried that during my Hong Kong vacation.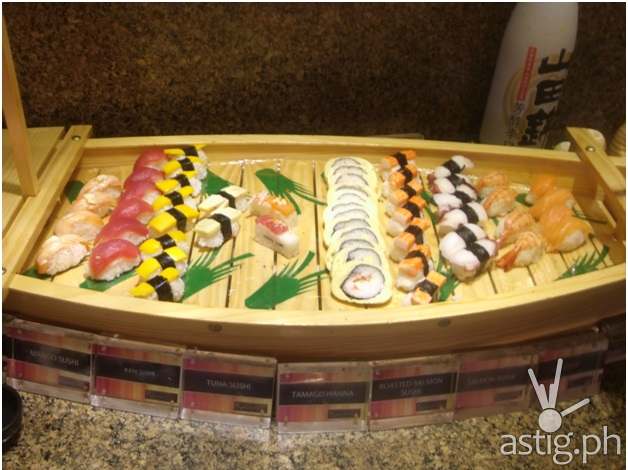 The Japanese section had an excellent sushi boat & the sashimi was equally fresh, cold, fatty & delicious. Meat lovers will enjoy the American section for their selection of prime cuts of meat. Meat loaf, turkey, steaks, you name it, they've got it. The meat is sooo tender, the fat just drips right of. In the Filipino section you can try regular favorites (mine anyways :)) crispy pata & lechon. For vegetarian lovers, do not fret as their salad selection is excellent as well.
Unlike most buffet's, the drinks are unlimited & included. You can choose to make watermelon, mango, melon shakes or have your fill with sodas & other juices. They also have a cute quirk of choosing fresh, raw seafood where you can point & the chef cooks & delivers it to your table. I enjoyed their barbecued prawn in sea salt.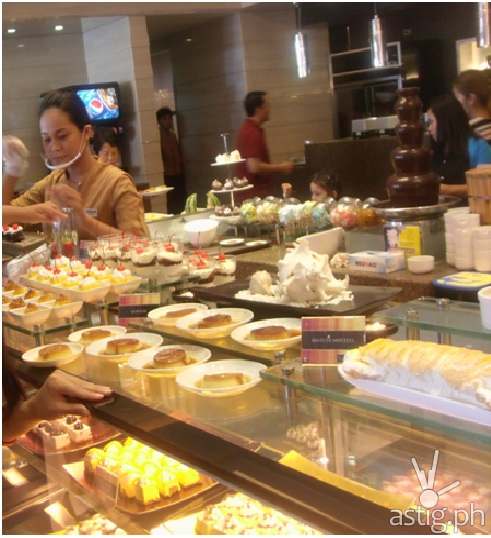 If I were to give this restaurant a score of 9.9 out of 10, the .1 flaw will come from the dessert table. Don't get me wrong though as the desserts include your choices of cheesecakes, cakes, ice cream, pastries, & finger foods enough to make your local dentist put his kid through college, it's just that the main courses were so awesome, my expectations for dessert became impossibly high.
The ambiance gets full score as well, as the chandeliers adds a touch of elegance to tables. The comfort rooms are spotless & parking is numerous. Not to mention the convenience of walking off everything you ate right beside the Mall of Asia.
From now on, Buffet 101 will be the benchmark for which all other buffets will be compared 🙂
[stextbox id="astig"]Weekdays lunch & dinner is P699 & P950 respectively, while its P100 more expensive on weekends. Kids below 3.5 feet eat free 🙂
Operating hours: Mon – Sun: 11:00 am – 2:00 pm, 5:30 pm – 11:00 pm
Phone: +63.2 556.2888(SM) / +63.2 961.2291 (Magnolia)
Address: Building K, San Miguel by the Bay, Seaside Boulevard, SM Mall of Asia Complex, Pasay City, 1300, Metro Manila

[/stextbox]