Parokya ni Edgar frontman Chito Miranda revealed on twitter that a political camp offered him 2 million pesos to promote a presidential candidate on twitter.
"I was offered P2M to tweet for a presidential candidate. Di ko tinanggap kasi gusto ko suportahan si Duterte o si Miriam kahit walang bayad," the rockband vocalist said in a Twitter post.

Miranda refused the offer by saying "no"  because he wants to give his support to Senator Miriam Defensor-Santiago or former Davao City Mayor Rodrigo Duterte. He also declared that he was clueless to the identity of the camp or the presidential candidate.
"For those who are asking kung sino yung nag-offer, di ko rin alam kasi ayaw sabihin nung agency. They wanted to see muna kung game ako."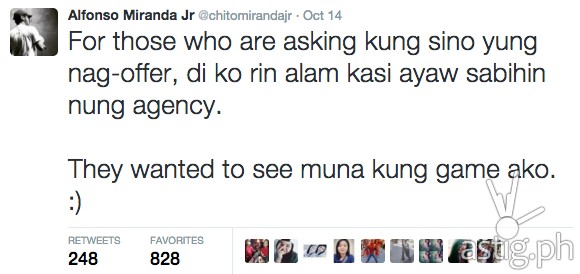 Its undeniably true that Miranda and his band Parokya ni Edgar is one of the most influential icons in the industry right now especially for the youth who were indulge and have grown in their songs such as Harana, Gitara, Buloy, Mr. Suave among others. So earning his support will be an advantage to a candidate.
In the end, Miranda jokingly tweeted that he would rather vote for nuisance candidates like Lucifer Arcanghel or Daniel Magtira claiming to be Kris Aquino's husband rather than the presidential candidate who tried to gain his support.
"Pero sabagay, ok din si Lucifer, si Inter-Galactic, or yung nagpapanggap na asawa ni Kris Aquino. Hahaha! #Halalan2016, he posted."

To date, Davao Mayor Rodrigo Duterte already announced that he will not run for president while Senator Miriam Defensor-Santiago declared his candidacy for presidential race with Bongbong Marcos as her vice-president.
Who do you think tried to buy Chito Miranda's support? Comment your thoughts.