What do you normally expect from someone who just came home from abroad? Chocolates, right? Yeah. However, when I last came home from the USA I barely had any chocolates on me. What I did have though, is something better. Imagine, I had this huge travel bag with me and what do you find when you open it? Boxes upon boxes of frozen beef steak.
Who doesn't love a good steak? The moment you taste the juicy tenderness of really good steak, you forgot the fact that a poor, innocent cow had to die to take you to heaven.
Cooking steak has always been my speciality – I have tried cooking all types of steak. In fact I am so crazy about steak that I do not just do it with beef, I have also done pork and fish. So when my nutritionist friend Cheshire invited me to have cooking classes with Chef John Havens at Cru Steakhouse in Marriott Hotel Manila, I was psyched.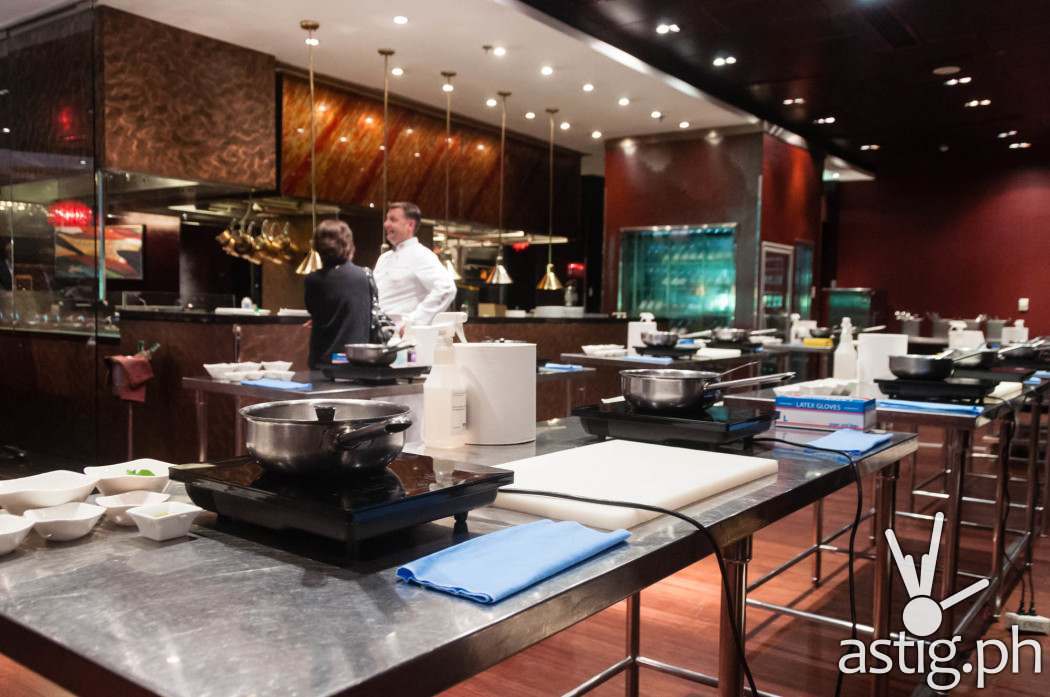 What's so special about John? Well, he just happens to be with Certified Angus Beef, you know, the folks who certify the best type of cattle?
Which makes John Havens the beef expert. He tells me that he can talk about beef all day long, and I believe him.
The event was exclusive to family, friends, and co-workers from A List ProHealth, Chershire's health consulting company. We were really looking forward to seeing Chef Meik Brammer, the head honcho at Marriott Cafe. Unfortunately he was off that day, though Marriott Manila's General Manager Brendan Mahoney was there to oversee things.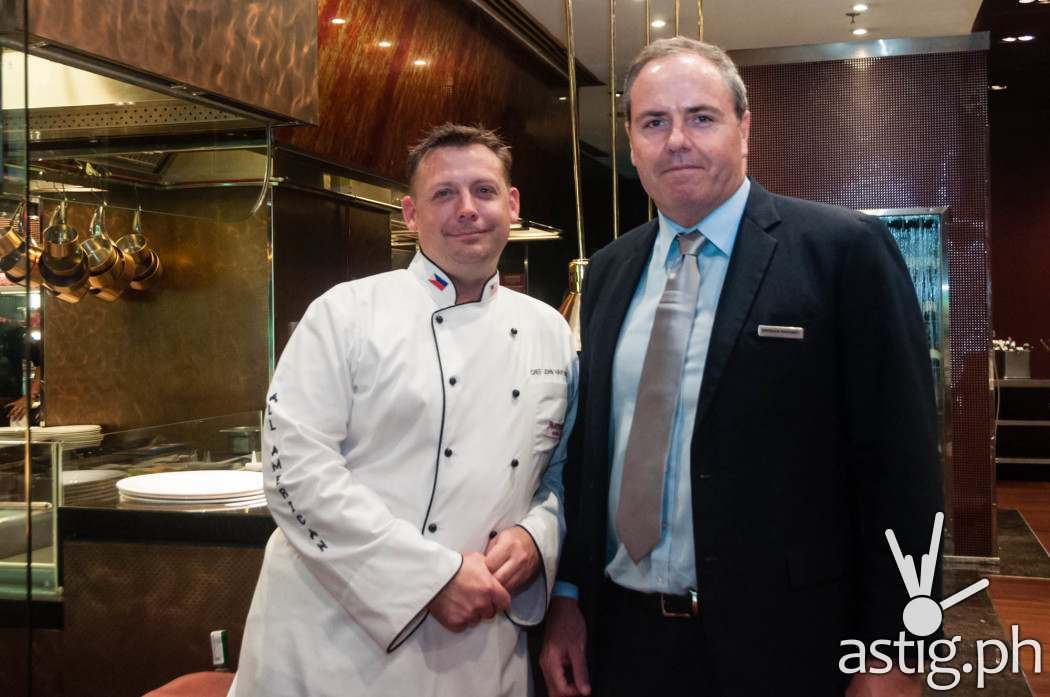 We were taught how to cook steak properly, first doing it with tuna then moving onto beef and tater tots. For those who are not familiar with tater tots, it is a type of side dish made out of deep-fried potatoes.
I have cooked tuna steaks at home, and usually I do it with a salt and pepper rub, cooked to medium doneness. It was my first time to try cooking tuna steak with a different type of rub, consisting of herbs and spices. I cooked mine to medium-rare doneness, which, according to Chef John, is the proper way to enjoy a fish like tuna.
According to him, meats like beef and tuna are best enjoyed rare, because that's where most of the flavor comes out. I could totally do that with tuna since I'm used to eating sushi, which is raw tuna and salmon. However, I have always preferred my beef to be medium-rare.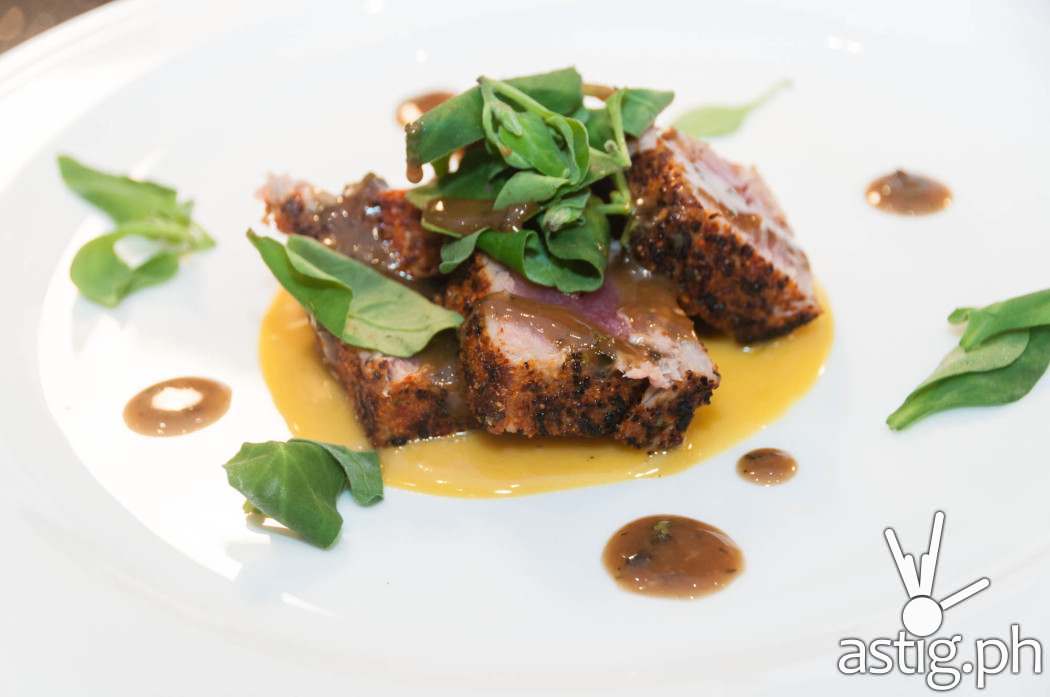 I learned about the "flank steak", a secondary type of cut. Usually when I go to a good steak house I order the medallion or the tenderloin. The reason is because it is rarer and tastier. Secondary cuts like the flank steak usually go for half the price, but tastes just about as good.
Also when choosing steak you need to factor in what you call "marbling". This refers to the amount of fat present in the cut. You know the steaks of white swirling within your beef? That's fat. The more fat your beef has, the less tender it is, however, it is more flavorful. Which means that a lot of the flavor comes from fat. Hence, the opposite is also true. The leaner your meat, the less flavorful it becomes, but it is also more tender.
How do you check for done-ness? There are two ways. One is to use a thermometer, and the other way is to test it by touch. The softer the meat, the rarer it is. Chef John Havens used his special barbecue sauce for our steak. Taken by itself the sauce is amazing. It has the right amount of sweet, salty, and spicy plus a unique bite which could be coming from the Jack Daniel's used in it.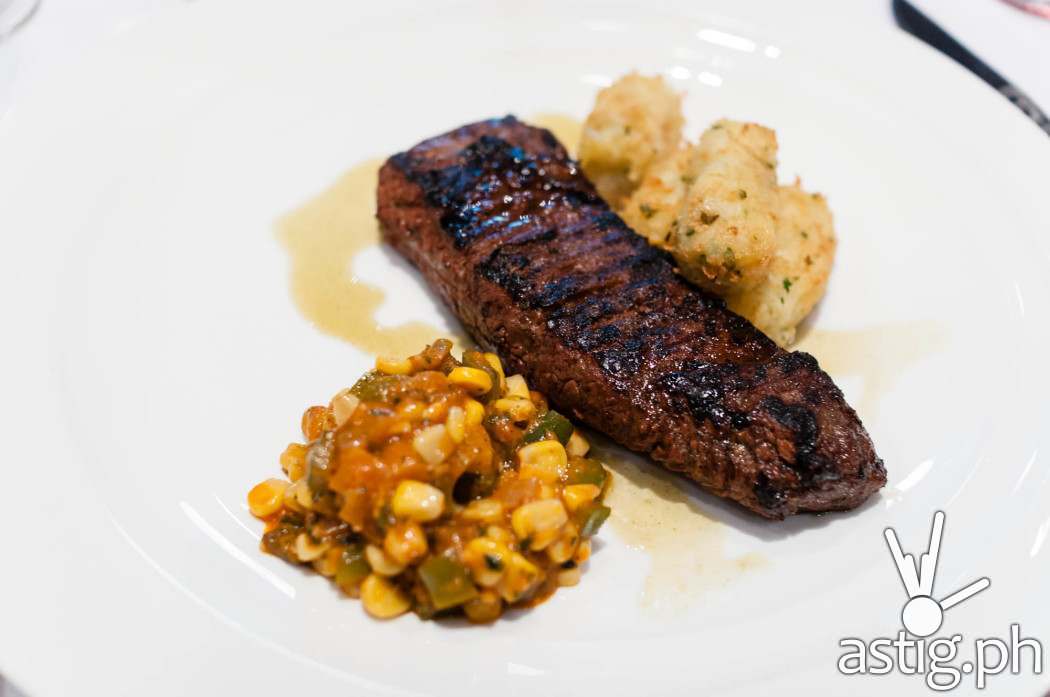 I normally prefer steaks seasoned with nothing but salt and pepper because I feel I can taste the beef better that way. However, I could appreciate John's approach. He only used a fair amount of sauce to give flavor to the beef's crust, as opposed to those rib and steak houses where they pour massive amounts of sauce, so you never really get to taste the beef.
I can see how this kind of preparation can appeal to a certain audience. Me and my friends have been planning to grill some steaks for quite some time now – perhaps I will do steak two-way, one with plain salt and pepper and another with barbecue sauce. I have a feeling my friends would prefer the latter.
We enjoyed our steaks along with Beringer wines. I learned a lot that day about proper pairing. According to Kathy from Beringer, you know you have a good pairing if the wine tastes the same before and after you taste the food. If the wine starts tasting metallic after you take a bite, then you do not have a good paring.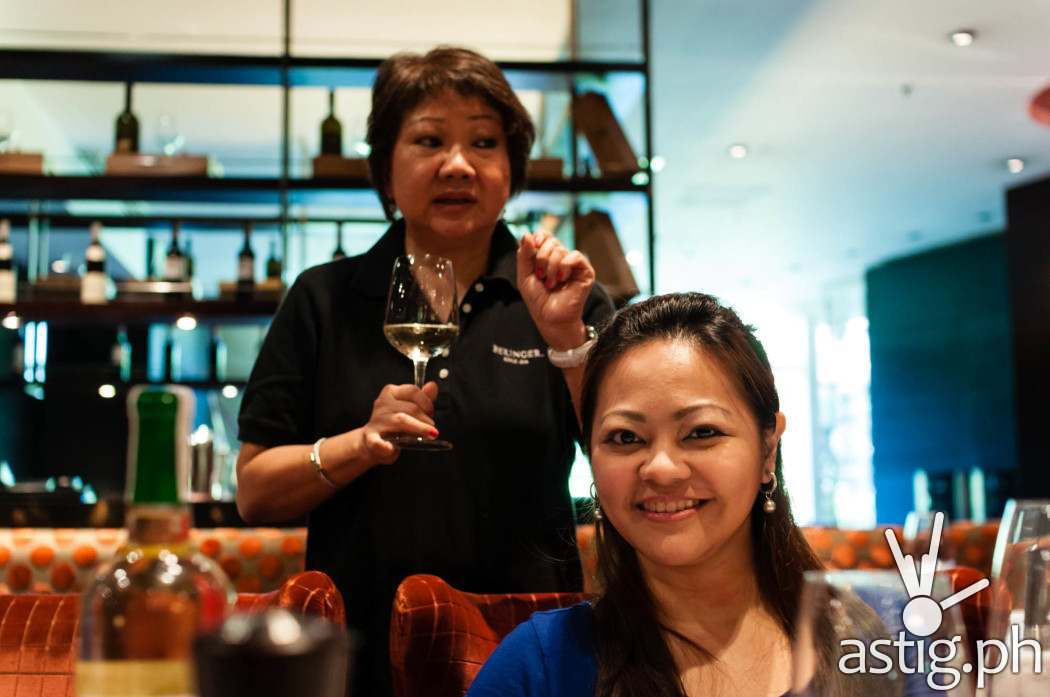 White wine normally  has less alcohol content than red wine, so when you are just starting your meal usually you serve white wine first, then move on to red wine later on. Unless you are so used to drinking wine, you might just end up being woozy by the time you get to the main course.
She also taught us how to properly use hold glasses from the stem. You would not want to transfer heat from your hands to the glass, which is where the stem comes in. I think that totally makes sense, since you do not normally put ice into your wine, so it starts loosing its coldness once you pour it into the glass. Although the white wine that we had was chilld, the red wine was not. I am not sure why, I would have really wanted it chilled.
According to Kathy, what they say about only using red wine with red meat is false. It really is up to you how you enjoy your food. Cheshire really enjoyed the sweetness of the white wine that it was all she had. I, on the other hand, preferred the tone-down dryness of red wine.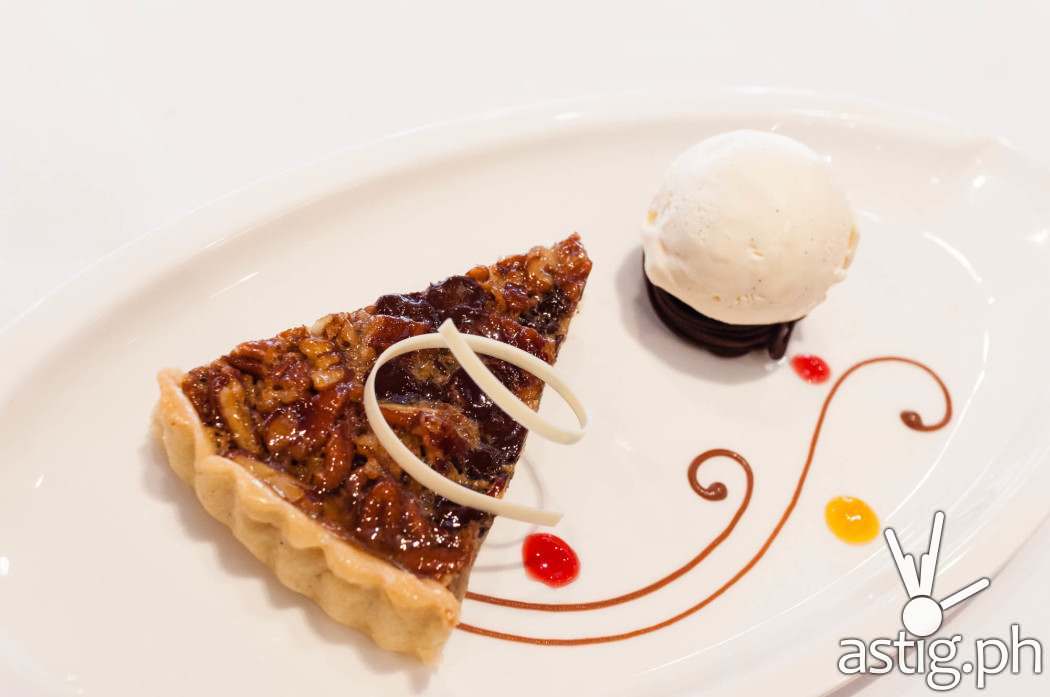 We puncutated the meal with pecan pie served with ice cream. It is the same pie that was served during Marriott Hotel's All American, All Good event. For some reason, I did not appreciate it back then, even if my friends were going crazy about it. Perhaps it's because I had too much to eat, but when I tasted it again, I realized why – the pecan pie has bits of chocolate in it which makes it surprising and enjoyable. Using vanilla ice cream instead of something like a vanilla sauce made it extra exciting.
How do you like your steak? Do you prefer salt and pepper or barbecue? Share your thoughts in the comments area below!
Cooking class at Cru Steakhouse photo gallery