StarStudio Magazine goes all-out with Teen King Daniel Padilla in its July 2014 issue with an exclusive feature on his big and beautiful new home.
Join Daniel as he takes readers on a journey of all the homes he's lived in—but never owned until now—along with the struggles he had experienced in each one, and the feeling of success that came with finally owning his very first home.
Daniel gives StarStudio the first top-to-bottom look at the house and its interiors, which were done mostly by his mom, singer-actress Karla Estrada. There's also a special feature on Daniel's thoughts on screen partner Kathryn Bernardo and a look back at his musical journey with his band mates from Parking 5.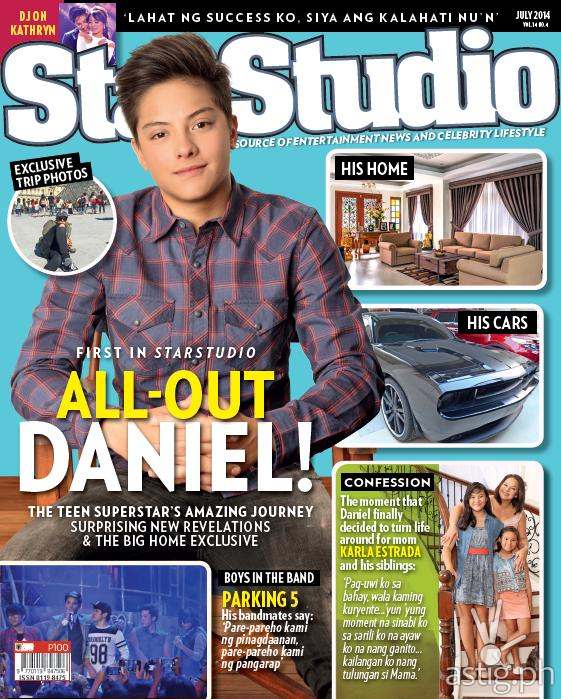 See today's hottest teen idol, budding recording and concert royalty, and endorsement prince as he's never been seen before in an exclusive, all-access 36-page feature.
Also in this issue is a feature on another young sensation facing a different kind of struggle. Meet Jamvhille Sebastian, one half of the YouTube tandem known as Jamich, as he shares the heart-wrenching story of living with cancer, along with the lessons he learned and the wisdom he gained from what he went through.
Popular radio DJ, host, and author, DJ Chacha of MOR 101.9 also shares her own story. StarStudio zooms in on her joys and triumphs as a single mother.
The magazine's latest issue also contains a Style section that takes you behind the scenes of the recent Philippine Fashion Week.
Come along on all these highly personal, emotional, and revealing journeys with the stars. Savor the StarStudio experience from ABS-CBN Publishing and grab a copy of the July 2014 issue from bookstores, convenience stores, or magazine stands nationwide.