Schneider Electric held its  2017 Go Green in the City competition at the Ascott Hotel in Bonifacio Global last June 3 and declared Team Green Zone from the De La Salle University-Manila as winner.
Go Green in the City 2013 winners
Alyssa Vintola and Lorenz Payonga from Ateneo de Manila University, hosted the event. They were the firtst Filipino team to win the global championship for their project  Oscillohump.
The panel of  judges were headed by Schneider Electric Philippines Country President Claude Mazallon, together with Schneider Electric CFO for the Philippines and Taiwan Junmin Shen, and Technical Assistant to the Office of the President, Department of Energy Special Assistant to the Secretary and Philippine National Oil Company Technical Consultant Arwin Ardon.
The three shortlisted teams were scored based on the idea and innovation they have presented, feasibility of the project,  their student profiles plus their potential to be part of Schneider Electric.
In the end the panel declared Team Green Zone from the De La Salle University-Manila as winner and awarded P 100,000 prize and mentorship from Schneider Electric Philippines' team of experts in preparation for the Asia Pacific Regional Finals on July 11, 2017 wherein they will  represent the Philippines.
Aaron Jules Del Rosario and Iliana Bernice Tan's  cooling project dubbed as "The Radiative-Heat-Recovering (RHR) Glass"  topped the shortlisted entries presented by University of the Philippines and Technological Institute of the Philippines.
Team Green Zone's Radiative-Heat-Recovering (RHR) Glass showcases a four-item design that altogether acts as an energy-absorbing insulation system. It reduces the total heat gain of a building while supplying energy for its own cooling system. The integration of transparent solar tube collectors and vacuum-insulated glasses gives RHR glass three main competitive advantages over existing cooling and building technologies — making it versatile, extractive, and sustainable.
Go Green in the City 2017 is the 7th edition of the ultimate global business case  competition that aims to involve the younger generation to act on the current global energy situation.
It allows Filipino students to contribute solutions to the global energy challenge while learning the world of smart cities and energy management.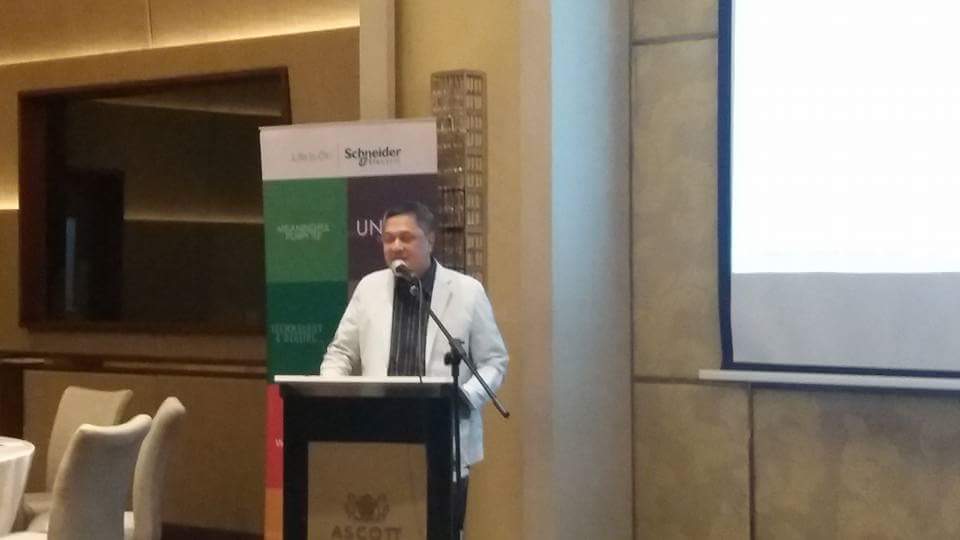 Claude Mazallon, Country Head, Schneider Electric Philippines said: "Go Green in the City is my favorite Schneider Electric event because it forecasts a message of hope for the future. It's so wonderful to see the youth so involved, committed, passionate, and creative about fixing the energy equation of the country. Innovation, energy management, and industry automation are in our DNA and this is one of the reasons why we launched the Go Green in the City Competition a few years ago. In 2013, the Filipino team won the global championship. In 2015, we won the regional competition and became the second runner-up in the global competition. Based on all the submissions this year, we've seen a lot of effort and passion. We are sure that the final Filipino team today will carry the flag of the Philippines very high in the regional and global competitions."